Bridgewater Named Starting QB For Broncos
Categories:
News
|
Published by:
Tyler Jackson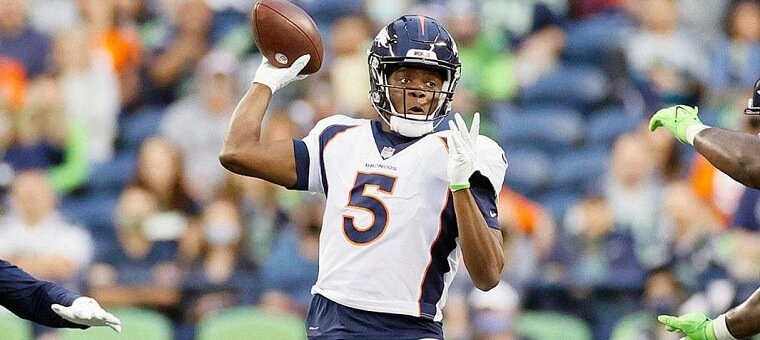 Teddy Bridgewater has officially been named the starting quarterback for the Denver Broncos, and he will be under center when the season begins on September 12.
Bridgewater was in a quarterback competition with Drew Lock in the preseason, but he was given the title earlier this week.
Denver acquired Bridgewater from the Carolina Panthers just days before the NFL Draft in exchange for a sixth-round pick, and he was immediately given a chance to earn a starting job. Bridgewater has had an interesting and tumultuous NFL career up to this point, but he is a quarterback with some experience.
Head coach Vic Fangio informed both Bridgewater and Lock of the decision on Wednesday morning and then let the team know. Fangio was always planning on making a decision before the final preseason game, and he wanted the team to be aware of his decision.

When speaking to the media after the decision was made public, Fangio said, "It was really, really close. … We had to make a decision, and we went with Teddy." Both quarterbacks played well during the first two preseason games, and Fangio repeatedly announced that it was a tough decision.
Bridgewater spent time working with former quarterback Peyton Manning this offseason, and he also brings plenty of experience with him to Denver. The Broncos have gotten off to slow starts over the last few years, and starting the seasoned veteran should help.
The Broncos are not expected to be a real threat to win the AFC West Division this season, but they could potentially be in the mix for a playoff spot. Finding a way to get better on the offensive side of football is the biggest challenge facing this team in 2021.
While speaking to the media after being named the starting quarterback, Bridgewater mentioned that part of his job will be to get Drew Lock ready to eventually be a starting quarterback again. Fangio made it clear that these two quarterbacks would not be splitting time, and Bridgewater will be the man under center unless things go South.
Lock Must Stay Ready
Drew Lock understandably expressed disappointment when the decision was made, but he knew that he was in a battle when Training Camp began. Denver was comfortable with Lock as the starting QB at the end of the 2020 season, but bringing in Bridgewater was a unique opportunity.
The biggest problem for Lock in his career with the Broncos has been taking care of the football. He has repeatedly showed off a big arm with accuracy, but he is a quarterback that continues to struggle with turnovers.
Lock has made 18 starts for the Denver Broncos, but he has also thrown 18 career interceptions in those games. Turning over the football has put the Broncos defense in a tough position too many times, and that is what he will need to work on over the next few weeks.
Bridgewater has dealt with plenty of injuries in his career, and Lock will need to stay ready in case he is ever pressed into action.
Why not check back for more Colorado sports betting news, free bet offers, and CO sportsbooks updates.

Relevant news