WynnBET Sportsbook
Bettors in the Rocky Mountain state of Colorado will be glad to hear that WynnBET sportsbook  – the mobile and online gambling operator – has opened its doors to users in the state. In this review, we'll walk you through everything you need to know about the sportsbook's services and special offers. You'll learn how to use the WynnBET promo code to your advantage, which devices you can play on, and every payment method available on the site.
WynnBET closed its online sportsbook in August 2023. We recommend looking at BetMGM or Caesars Sportsbook as a better alternative.
Whether you're a fan of the Broncos, Rapids, or just a sports fan that wants to bet on your favorite markets, then Wynn Sportsbook has something catered to you. Sports betting with the operator is only available on the WynnBET Android & iPhone app, for now, a desktop site will be launched in the coming months.
WynnBET is the official sportsbook from the world-famous Wynn Resorts. They own several casino properties in the US, including the Wynn Encore in Las Vegas, and the Wynn Macau. Famed for its luxury and appeal to the premium gambler, this only operator is now breaking into online sports betting and is rapidly growing across the US.
WynnBET Colorado Mobile App
As it stands, you can only wager in CO on the WynnBET platform via the app. So before, you can bet, you need to download the app.
WynnBET iPhone app
The Wynnbet app for iPhone is available in iTunes. They have a different app depending on the state you are in, so make sure you download the correct app. If you regularly travel, you may need to use 2,3, or 4 apps from the operator depending on your state. Head to wynnbet.com, select your state, then follow the link to the iTunes app store where you can download the app by pressing GET.
WynnBET Android app
Whilst you may find 1 or 2 variants of the WynnBET app for Android in Google Play, they aren't all there yet. Google has only recently allowed real money sports gambling apps in the Play Store. If you go to wynnbet.com, then select your state, you can then download the correct WynnBET APK. The APK is the package file that Android uses to download and install an app. You might need to allow Unknown Sources which is found in the settings on your device. Press download, open the APK then, install. Press open and create a betting account.
Playing on your mobile is a fantastic way to continue enjoying all the best sports action on the go. This includes soccer, NFL, betting on the NBA, NHL, and more. Unlike a desktop, where you need to be in one place to use it, mobile betting allows more freedom for users to bet when they want, where they want. So, if you're someone who travels often or prefers to play from your mobile, there's no better option than the WynnBET Android app or iOS app.
There is no difference in between the iOS app and the Android version. They both allow you to access the same range of wagering options available at the book. Design-wise, don't expect to be blown away. The app is more of a low-key, classy design. If you have ever set foot in one of the Wynn casinos, you will get a feeling that things are classy and understated. The design is easy on the eye and the app is very easy to use.
Menu-wise, it won't take you long to navigate the app. Unlike some competitors like BetMGM, Caesars Sportsbook, and DraftKings sportsbook app, Wynn has gone for a less is more approach. There is a sliding menu at the top of the screen and an easy-to-use sportsbook, search and live now option in the footer. We would love to see a bigger menu that makes it easy to get to the promos and in game options.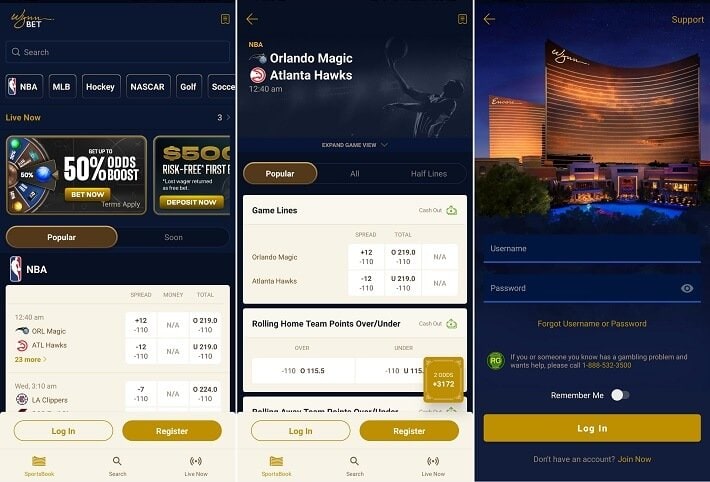 Sometimes less can be more and we weren't disappointed with the design overall. The mobile app from Wynn really has been built with the sports betting fan in mind. There are multiple bet types available with Wynn, all yield hundreds of ways to bet each day, including props, in-game wagering, and futures markets.
No matter which operating system you use, its vital you allow the book access to your location to prove you are in one of the legal states they operate in. This is called geolocation and is a legal requirement from any licensed sportsbook. Geolocation issues with sportsbooks are pretty common so if you need help, check out our guide.
Joining WynnBET Colorado
You can only join the sportsbook via the mobile site for now. Wynn has opted for a mobile-first approach on launch which we get. Over 90% of wagers now placed in the US are all done on mobile so this makes sense. A desktop version is coming in the next few months for those who prefer to use a larger screen when checking out betting options. You can sign up on the app in around 5 minutes or less.
To do this, go to wynnbet.com and select your state, download the app, then hit the Register button. Choose a username, set a password and confirm, add in your email, then proceed to step 2. Add in your name, DOB, mobile number, and last 4 digits of your SSN. Step 3, fill in your address and complete registration. That's all there is to it. Now you can fund your account and head on over and select your bets.
WynnBET Offers – Bonuses Available at the Sportsbook
In truth, WynnBET is quite a long way behind its competitors when it comes to bonuses and special offers. As mentioned, you can grab the welcome offer currently advertised at the online casino, but that's about the extent of their promotional offerings right now. You can check out the other bonuses available in CO with our CO sportsbook free bets info page.
There's a Spin Wheel, which is a popular feature among players at online casinos and this one works in a similar fashion to others you may have heard of. Simply – if you spin the wheel and land on a prize, you'll be gifted that prize. The rewards range from odds boosts to vacations at one of Wynn's resorts – like Wynn March Madness – so it's well worth checking out the Spin Wheel.
Since WynnBET doesn't provide a dedicated promotions page as such, keeping up to date with the latest special offers can be difficult. Users need to scroll down the page to find the various boosts on show, but it's not a particularly user-friendly way of doing things. They are also shown on the home page of the app near the top, but for us, this is one area where the operator needs to step it up a gear.
WynnBET Colorado Promo Code 2023
Often, online sportsbooks will offer promo codes for new and existing customers looking to get a boost on their wagers. While this is beneficial to users, it's not the only way to earn a bonus. WynnBET has decided to create a special promo that doesn't require you to enter a promo code, with your sole objective being this: playing on the site. Currently, there is no need to use a promo code with Wynn to claim the free bet offer. Just go to wynnbet.com and you can claim the offer after registration.
WynnBET offers players a huge special offer worth up to $100 in free bets when they deposit at least $20 into their account wallet. After depositing, players need to place a bet of $20 or more in the next 10 days. You have a wide range of choices when it comes to odds to place bets on too, starting at -150 and reaching up to +10,000.
If your bet loses, you'll still be rewarded. WynnBET will grant a single free bet of up to $100 to all players whose bet let them down. Again, you'll have 10 days to use these bonus funds. Keep in mind that boosted odds are not eligible for this promotion. Odds are again limited from -150 to +10,000.
Features
We touched on this a little earlier but will go into more detail now. Wynn's main feature on the sportsbook is the Odds Boost which you can claim by spinning the wheel. Get up to 50% on selected odds boosts and also be in with the chance to win prizes as well. WynnBET is also one of the popular sportsbooks with cash out where you can end your bet early with the book for a reduced payout. Its a great option if you think your bet may lose.
In-Game betting is available on the app. Whilst this isn't as good as say FanDuel, it is adequate. They don't cover as many markets and options as FanDuel do, but this is still fairly new to Wynn and we expect this to improve in time.
One area we were impressed with was the live stats. These updated very quickly and you can get up to the minute betting stats on the biggest sporting matches from all the top leagues, not just in the US but over the globe.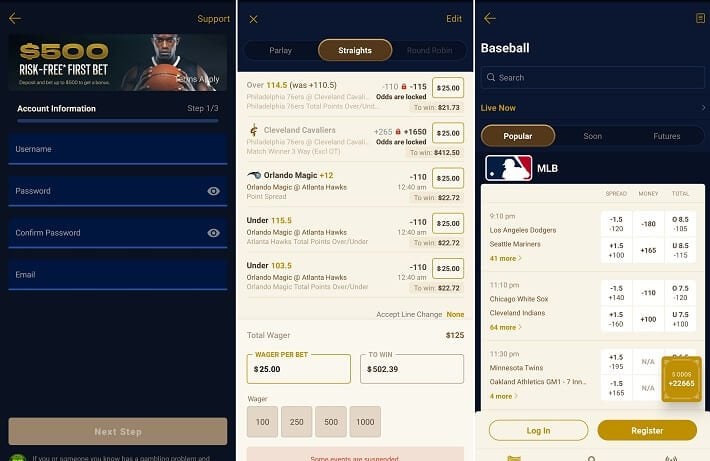 Markets At WynnBET – Finding Your Perfect Bet
Fans of the Denver Nuggets, Denver Broncos, and the Colorado Rapids will be glad to hear that they can bet on their favorite teams with WynnBET's online sportsbook. You can bet on the various outcomes that may occur during any given event like touchdowns and points scored. Live betting is also a feature of WynnBET, bringing users even closer to the games they love.
Much like parlay betting, live betting has become a popular way for customers to have a bet. Live wagering is a way of letting users predict immediate outcomes while the action unfolds. This results in a constantly refreshed, adrenalin-fuelled betting experience. It is just like being at the WynnBET Las Vegas Sportsbook, you can take part any time you like as long as there's a supported event running.
An important thing to remember, especially if you're new to the world of betting, is that markets are not the same thing as sports. The sport is the event you choose to bet within, like soccer, and the market is goals scored, result, etc. This applies to each sport and market at WynnBET.
Sports Available at WynnBET
We should mention the various sports on display at WynnBET, as they play a crucial role in the online sportsbook's success. Here, you can venture into the world of mobile soccer betting, MLB, NHL, NBA, NFL, UFC, PGA, and so many others. Football fans will be impressed with he range of NFL betting options available with the book. If you want, you can even wager bets on table tennis! No matter your sporting interest, WynnBET has something for you as long as you're a sports fan.
Look out for special events that don't come around often, by the way. There may be special offers during the World Cup or the Super Bowl that you won't want to miss out on.
WynnBET Online sports betting – Where is it Available?
WynnBETs online sportsbook is now available in the following state:
Colorado
Virginia
New Jersey
Indiana
Michigan
Tennessee
Casino players can also use the Wynn online casino in:
There is no WynnBET Casino in Colorado as iGaming is not legal in the state, only CO mobile sports betting.
You can rest assured that WynnBET is legal to use as it's regulated and licensed by the Colorado Limited Gaming Control Commission; providing a safety net for customers. The operator has partnered with Bronco Billy's Casino, which is one of the most popular casinos in Cripple Creek.
Payment Methods at WynnBET CO
Depositing and withdrawing funds works similarly to other online sportsbook. In terms of deposits, you can put funds into your account at the CO sportsbook using PayPal, online bank transfer, credit or debit card, Play+ prepaid card, VIP Preferred, e-check. Deposits should process instantly and minimum deposits start from $10.
When talking about withdrawals, you can do so using online bank transfers, PayPal, Play+ Prepaid card and VIP Preferred, e-check. By the way, if you don't deposit using a Play+ card or VIP Preferred, withdrawals via those methods will be closed.  The minimum amount you can withdraw from your account is $10, so the same as it is for deposits.
Be aware that withdrawal times vary depending on your chosen payment method, and e-wallets, and the fastest way to go. Online bank transfers can take days to process, whereas PayPal can complete transactions in just 24 hours.
WynnBET Customer Support Support
We always recommend that you should first head to the FAQ page, where the most common issues among users are answered and resolved. If you can't find your particular problem within the FAQ page and require further assistance, you can do so by sending a message or talking to an agent through live chat. By sending a message, you're essentially writing an email – so expect the response to come in the form of an email.
If you would rather speak to a support agent on the phone, call 201-383-2837 to get in touch with WynnBET's helpful telephone customer support team. We had one issue with a withdrawal which was quickly resolved and was in fact, our own fault. Go figure.
Final Words
At the end of the day, choosing a sportsbook all comes down to personal preference. Although admittedly, there are better options out there. WynnBET isn't able to compete with most of its major competitors when it comes to promotions, which is a huge part of being a successful online sports betting operator. The Wynn Resorts' online sportsbook has managed to obtain a solid player base, though, with users remaining loyal to the site in spite of its lack of bonuses.
That said, WynnBET sportsbook boasts a fantastic app in terms of ease of use and being able to place bets on all the most popular markets. The fact that you can wager anywhere you want from your mobile device, on both Android and iOS, makes WynnBET a brilliant choice for betting on the move. Thanks to the layout of WynnBet, reading football odds has never been easier, while the sportsbook free bet welcome offer is substantially more impressive than many others around at the moment.
Regarding customer support, WynnBET has all bases covered. Few online sportsbooks provide such thorough services, such as telephone support, live chat, and the ability to send a quick message. Overall, we recommend signing up with WynnBET if you want a betting app that offers most of today's popular features in a basic, accessible format.
FAQs
What is WynnBET?
WynnBET is the online sportsbook from hotel and casino operator Wynn Resorts.

Bet $100, Get $100 Free Bet
Get Bonus