Best Casinos In Cripple Creek
If you are a fan of slot machines, roulette, or blackjack, Cripple Creek is a fantastic place to visit. But with so much choice, what are the best casinos in Cripple Creek?
The best Cripple Creek Casinos are, of course, subjective and a lot could depend on what you are looking for. You may be a visitor looking for a nice hotel, a casino with a specific slot machine, or a Las Vegas style gambling experience. You may want to wake up to a nice breakfast (The Double Eagle Hotel claims to serve the best breakfast in Cripple Creek). Whatever you are looking for in a casino, this town will serve you well.
This mountain town in Colorado has nine casinos, all within walking distance along the renowned Bennett Avenue. These Colorado casinos offer bettors the opportunity to participate in exciting table games and unique slots.
OK, so it may not be Vegas but offers a great alternative to players in Colorado. If you want to experience a close to Vegas-style casinos in Colorado Springs, Cripple Creek, which is located just 50 miles away, is the best of what the Centennial State has to offer, including Black Hawk casinos. Traditionally a mining town, Cripple Creek comes to life at night with dazzling lights and a thriving casino scene. Players in CO can play games online too on a range of sweepstake online casinos, like BetRivers.net and Pulsz.com, that are now available to players.
The Colorado gambling law now permits sports betting, so you can use your CO sports betting app and place free bets online while visiting this casino town. Cripple Creek CO casino properties are open 24/7 with no last call. Additionally, Cripple Creek casinos Colorado has won numerous awards for the best games and gambling experiences.
But which is the best casino in Cripple Creek? We have provided a list of the locations we think players would have fun and be entertained for hours. You don't need a casino in Denver, Colorado, with this lively town.
Triple Crown Casinos
There isn't a single Triple Crown Casino in CO. Cripple Creek is home to a trifecta of Triple Crown casinos, which include Brass Ass Casino, Midnight Rose, and JP McGills Casino. Brass Ass Casino, in particular, is extremely popular among locals and visitors to the town. It is an old-west-style casino and is certainly one to add to your to visit list if you are heading this way.

Bronco Billy's is one of the hotel casinos in Cripple Creek, Colorado. The casino features a TwinSpires sportsbook retail betting kiosk, as well as having 24 rooms available, with a casino floor covering 48,000 square feet, with players able to enjoy:
800 slot machines
six roulette tables
three blackjack tables
a craps table
a live poker table (at Midnight Rose Casino)
Additionally, there is a video poker bar. Colorado casinos voted to lift wagering limits, so lifting $100 limits apply. Customers have the opportunity to join the Bronco Billy's VIP club, which gives you access to the hotel, dining comps, and daily giveaways. Some of these prizes include all-expenses-paid vacations and brand new cars.
McGills Hotel & Casino has a wide range of video poker available, so if you are a fan of that game that is the place for you.
Also, look out for Cripple Creek casino coupons, which can be used at Triple Crown casinos.
Wildwood Casino
The Wildwood casino offers an authentic Vegas-style gambling experience. The American Gaming Group opened this modern property in 2008. It makes this list due to its superb atmosphere, 24/7 table action, and massive jackpot payouts.
Wildwood is one of the biggest casinos in Cripple Creek, with a casino floor spanning 8,000 square feet, which includes:
eight blackjack tables
eight poker tables
two craps tables
a roulette table
513 slots and video poker machines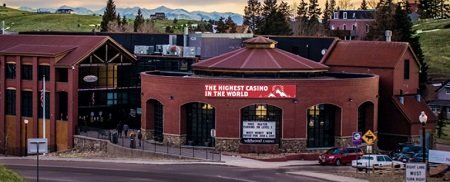 Players will also discover the strike-it-rich slot game on offer here. Additionally, if you are competitive, Wildwood has numerous tournaments, such as the King of the Mountain slots tournament. If you fancy your chances, this tournament gives you a chance to win a portion of $40,000 throughout the year.
There is also the Wildwood Hotel Cripple Creek which is part of the casino resort. This location offers guests free Wi-Fi and a 24/7 front desk.
Johnny Nolan's Casino
This property was built as a homage to its owner, Johnny Nolon, who came to prominence during the Gold Rush period. For 20 years, this historic casino has been providing fantastic odds in a family-style atmosphere. Johnny Nolons Casino is a favorite among locals, and bettors will discover some of the largest slot jackpots in Cripple Creek. However, there are notable games here, so if blackjack is your game, you will be disappointed.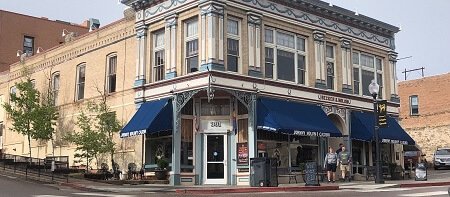 If you love slots, you will love this casino. There are over 200 slot and video poker machines covering 5,900 square feet of casino floor area. This gaming venue has claimed that its slots are 18% looser than the competition. Additionally, jackpots can reach up to $30,000, and players can benefit from promotions such as bonus cash for specific combinations on the machines.
Brass Ass Casino
The Brass Ass casino building has been a natural, historic landmark since 1961. While the building may be steeped in history, the casino itself provides a modern experience where players can get their gambling fix.
It is a smaller casino with 2,600 square feet of gaming floor. However, it manages to pack in a considerable amount of games. There are two poker tables available 24/7 if you are a fan of the classic card game. Additionally, you can also enjoy the following:
310 slot machines
six blackjack tables
two roulette tables
two craps tables
So, for a small casino, there is more than enough choice! The slots are some of the most fun titles around, and you have the chance of receiving some big payouts. There are numerous promotions and bonuses available, including a $10,000 gift card giveaway on select Fridays.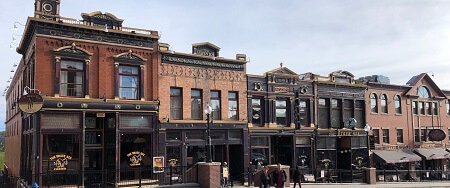 There is no accommodation available here; however, the Midnight Rose Hotel is nearby.
Century Casino
Century can be found in the middle of Cripple Creek at 200 E. Bennett Ave. Century Casino is arguably the most luxurious in the area, with a 21-room hotel offering a fantastic place to rest. The casino floor is extensive, covering a span of 15,000 square feet. It is open 24/7, and players will find the following:
445 slot machines
blackjack tables
roulette wheel
wild six card draw poker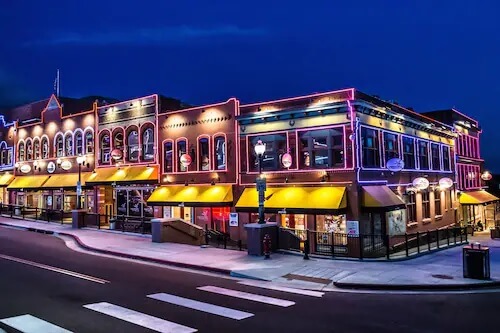 There is a wide range of blackjack games available, including Buffalo Blackjack Bonus and Double-Up Blackjack. Additionally, you can join the Century Gold Club loyalty scheme and earn points the more you play. You can then redeem these points for free dining and free play.
Century Casino Cripple Creek attracts a lot of attention as Century is a big name in the casino world. This Colorado casino is a favorite with both locals and visitors offering luxury and excitement in equal measure.
Cripple Creek Poker Tournaments
Colorado poker tournaments are thriving. Tournaments in the Centennial State have some of the highest stakes in the country. There are three Cripple Creek poker rooms, all offering a mixture of Texas Hold'em, Omaha Hi-Lo, and Seven-Card Stud Hi-Lo games.
In our view, the best place to play poker in Cripple Creek is at the Midnight Rose. They have the largest poker room in the area, and players get to participate in competitive tournaments. Please check the casino's website for the tournament schedule.
Coloradans and visitors to the state are spoilt for choice. Not only are there some amazingly fun casinos in Cripple Creek, but there are also some great venues in Black Hawk and Central City.
FAQs
How many casinos are in Cripple Creek Colorado?
There are 9 casinos in Cripple Creek, offering a variety of games for people to enjoy.
Which casinos in Cripple Creek have poker?
There are poker options at The Brass Ass casino and the Midnight Rose.