Colorado Poker Tournaments
The poker scene in Colorado has grown significantly since the popular card game was legalized in 1991.
Poker tournaments in Colorado are widely available at the state's casinos and suit players of all skill levels, whether you are an amateur or have desires to enter the WSOP main event. Colorado casino poker tournaments are offered frequently, from walk-in games to prestigious events such as the Colorado Poker Championship.
The Centennial State is home to some world-class poker rooms. Players can access these rooms any day of the week and play high-stakes games in an elegant environment—the games available range from Limit and no-limit Texas Hold'em, live tournaments, and more. Online poker is not yet legal in Colorado; however, following the success of the online industry in Pennsylvania and New Jersey, it is expected to be introduced in the state. Additionally, lawmakers may be encouraged by the success of CO sportsbook apps since the sports betting industry was launched and look to replicate that with poker.
First Bet Offer Up To $1,500 In Bonus Bets
Awesome mobile app
Huge choice of sport markets
Luckily, if Colorado residents search for 'poker tournaments near me,' they will find numerous casinos that offer cash tournaments. These casinos are located around three significant towns; Cripple Creek, Central City, and Black Hawk. There is no need to travel to poker tournaments in Las Vegas; there are plenty of quality poker room options in Colorado. This article will list the best live poker rooms available in Colorado, offering cash games in superb settings.
Colorado poker rooms have proved to be a big hit with Colorodians and visitors to the state. We take a look at some of the best poker rooms available in CO.
Live Poker in Colorado
There is a vibrant poker scene in Colorado, with plenty of tournament options available, giving players of all abilities a chance to win. The first limited-stakes casinos were launched in Central City, Cripple Creek, and Black Hawk, Colorado, in 1991. The rules back then were somewhat restrictive; the maximum bet allowed was $5, and casinos were required to shut from 2 a.m. to 8 a.m. Moreover, the only games that were legal to play were poker, slots, and blackjack.
Nowadays, if you want to play poker in Colorado, there are more options. In 2008 the CO poker industry expanded as voters passed Amendment 50. Consequently, the maximum bet was raised to $100, and casinos were allowed to stay open 24 hours a day. There are a total of six live poker rooms in Colorado, including:
Ameristar Casino Poker Room: Black Hawk
Golden Gates Casino Poker Parlour: Black Hawk
Isle Casino Poker Room: Black Hawk
Midnight Rose Poker Room: Cripple Creek
Sky Ute Casino Poker Room (tribal casino): Ignacio
Ute Mountain Casino Poker Room (tribal casino): Towaoc
There is currently work being done to remove the $100 betting limit at the above gaming properties. This would be good news for Colorado poker players as the live poker action would increase even more. This could also be good news for CO online poker, and players could access those WSOP free chips online in the Centennial State.
Black Hawk poker tournaments draw in the biggest crowds and attention out of the 3 CO gaming towns in the state.
Ameristar Poker Room – Black Hawk
There are plenty of Black Hawk Colorado poker tournaments to choose from, and the poker room at Ameristar is one of the biggest rooms available in the state. The Ameristar is home to 22 live tables for you to try, offering a variety of the best poker games and limits. The Ameristar venue is a stylish location, boasting striking skylight ceilings and grand stone fireplaces. The spread games include:
$1-3-100 Spread Hold
$2-5-100 Spread Hold
$2-5-100 Spread Big-O
$30-60 Limit Hold em
$50-100 Limit Hold em
Players at the Ameristar have the potential to earn $1 per hour in comps on all play in the poker room.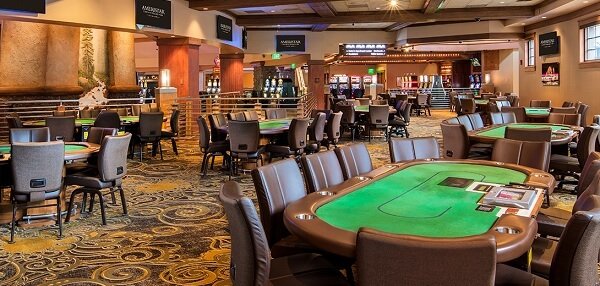 Golden Gates Casino Poker Room – Black Hawk
Another on the list of Black Hawk casinos, the Golden Gates casino is home to one of the most renowned poker rooms in the state. It has hosted televised games from the Colorado Poker Championship and the Heartland Poker Tour. There is also a poker parlor available at Golden Gates, with a luxurious log cabin design.
Golden Gates is open 24 hours a day, and players have access to no-limit hold 'em, limit hold 'em, and pot-limit Omaha cash games. With the added bonus of tableside food service, Golden Gates is one of the best venues for any poker player.
Isle Casino Poker Room – Black Hawk
Isle casino is home to 30 poker tables. Games such as Bonus 6, Texas Hold 'em, and Mississippi Stud are all available, while players can get their table games fix by playing several blackjack and roulette variants. The poker room offers free drinks with tableside service, numerous televisions, and a smoking terrace. Additionally, there is an Isle casino fan club. It is free to join, and new members get a free buffet after an hour of playing.
Midnight Rose Poker Room – Cripple Creek
We now come to the Cripple Creek Colorado poker tournaments. The Midnight Rose is intimate and attempts to create that feeling of playing with your friends, taking the edge of each hand. It is the only room available in Cripple Creek, with eight tables offering $1/$2-$50, $1/$2-$20, $1/$3-$100, Texas Hold'em daily. There are also $5/$10 Omaha Hi-Lo games on offer every Saturday.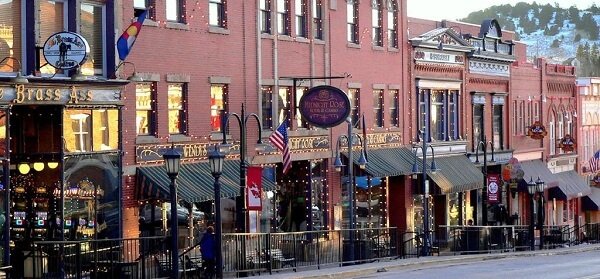 Emphasizing that Colorado has a thrilling poker scene, the state has tournaments with some of the country's highest stakes. The Midnight Rose offers these tournament options during the weekend, as an addition to the daily poker provided throughout the week.
As well as the Midnight Rose, you can also find poker rooms in Cripple Creek, CO at the Wildwood Casino, and The Brass Ass.
Cripple Creek poker tournaments, like all casino and poker tournaments in the US, have come under increased pressure over the last year or so and temporarily stopped. Denver poker rooms have also faced the same issues of having casinos shut down and restrictions placed on casinos.
FAQs
How do Colorado poker tournaments work?
The premise of a poker tournament in Colorado is the same as it would be when playing for cash at any other state where the card game is legal. Each player buys-in and will receive a set number of tournament chips. There are different types of tournaments. With cash games, players can buy in for different amounts and leave the table at any time; however, Texas Hold Em games have a start, middle, and end.
What bars and clubs in Colorado can have poker tournaments?
Legal poker tournaments are available in the six poker rooms in the Centennial State, which are:
Ameristar Casino Poker Room: Black Hawk
Golden Gates Casino Poker Parlour: Black Hawk
Isle Casino Poker Room: Black Hawk
Midnight Rose Poker Room: Cripple Creek
Sky Ute Casino Poker Room (tribal casino): Ignacio
Ute Mountain Casino Poker Room (tribal casino): Towaoc
Gaming is authorized in these locations, and responsible gaming practices are also in place.
How long do casino poker tournaments last at Colorado Belle?
This depends on what game you choose to play. If you are playing a regular cash game, you can leave at any time if you are happy with your lot. Alternatively, you can keep playing and betting if you want to try and reach a certain amount. Texas Hold Em games have a beginning, middle, and end and typically last around an hour depending on the number of people at the table.