Caesars Sportsbook
If you are in The Centennial State and are looking for a brand you trust to be your home for sportsbook betting then look no further than Caesars Online Sportsbook Colorado.
Caesars is the latest online sportsbook to reach the headlines across the country with a top-quality rebrand of the William Hill US online sportsbook. The operator is one of the most respected gambling brands on the planet. It shouldn't really have come as a surprise that they have replaced the William Hill Sports betting brand in the US with the Caesars name. Now available in AZ, CO, IN, IA, IL, KS, LA, MD, MI, NJ, NY, OH, PA, TN, VA, WV, & WY Caesars is looking to mount an assault on the US.
The new sports betting app by Caesars is available on Android and iPhone and has been upgraded with customized offers, flexible limits, and an increased range of betting lines. In another plus for players, the Caesars rewards will now stretch even further across the Casers sportsbook and Caesars casino allowing you to gain rewards, no matter if you win or lose.
Caesars Palace in Las Vegas may grab the headlines, but the online sportsbook is here to steal some of its thunder. In this review of the new Caesars Sportsbook App, we will see what's available from the operator, look at how to download the app, what the bonus is, and how it compares to other established US books.
Caesars sportsbook Overview
Caesars has made it no secret of their plans to hit the US sports betting industry hard. Taking over the William Hill brand has certainly given them a great start in this rapidly growing industry.
Mobile wagering is huge, and Caesars is looking to draw a lot of attention with their new, out-of-the-box sportsbook app. The Caesars Sportsbook App is available online and in mobile apps on Apple and Android. With an easy-to-navigate application and outstanding customer service lines which are toll-free, you will be an expert in the 2022 Caesars sportsbook before you know it.
Joining Caesars Sportsbook
To get the most out of your sports betting experience at Caesars, you will need a betting account. You can actually sign up with the operator from anywhere across the US, but you must be in AZ, CO, IN, IA, IL, KS, LA, MD, MI, NJ, NY, OH, PA, TN, VA, WV, or WY to place a bet. To create an account, fill out the registration form on the Caesars/William Hill sportsbook website caesars.com/sportsbook-and-casino. You will need to submit your details when signing up, including email, password, address, DOB, and some other basic personal details.
It is easy to create a playing account, then once you have joined, the next step is to make your first deposit! Caesars CO Sportsbook does offer a new player bonus in the form of a first bet on Caesars up to $1,000 which we cover below.
Caesars Sportsbook Mobile Betting
The Caesars online sportsbook is available as an online app for you to access now. There are downloadable apps for the 2 main software operating systems, iOS (iPhone & iPad), and Android smartphones & tablets.
Caesars Sportsbook iPhone mobile App
iOS users can now find the Caesars iPhone sports betting app in iTunes. You can go straight to the store to download it or get it via will caesars.com/sportsbook-and-casino. Sign up for an account, then find apps in the menu and select the download on the app store option. Go to iTunes and press GET to finish the installation.
Caesars Sportsbook Android mobile app
Good news Android users, Caesars sportsbook app is now available in Google Play Store. It can be a tad tricky to find as it doesn't yet show in all states, so is easy to download it direct from the Caesars site at caesars.com/sportsbook-and-casino. Head to the mobile site and make a betting account. Then select apps from the menu, and tap the Google Play icon. Go to the Play Store and press install.
Mobile betting features
Mobile betting is the future! Use your mobile device to access Caesar's mobile betting from wherever you are! Rome may not have been built in a day, but Caesars seem to have got their new mobile wagering app ready in next to no time.
The Caesars Sports mobile app is slick, silky, and really does look the part. The Android mobile app is just as good-looking as its apple version, making mobile betting easy with their updated app. The interface is very different from the old William Hill platform, and at first, we were a tad unsure if it was an improvement. Having used the app for a couple of weeks now, we are happy with the upgrade.
A fresh new logo and app icon join crisp typography and appealing pattern aesthetics giving Caesars sportsbook one hell of a makeover. The skin for the app is setting Caesars apart from other sportsbooks. Its cool grey, green, and gold color scheme, affirmed in the new logos, resonates with the premium style that Caesars is so well known for.
Design-wise, the app is very clean. Unlike some sportsbook apps, they can look cluttered and over complicated. Caesars is the opposite. It's quite basic in terms of looks but packs a lot under the hood. The menu is easy to use, placing a bet is simple, and it's easy to navigate around and find the sport, team, and market you want to back.
Operators have always tended to favor iPhone users and provided a better app for iOS, but this is not the case with Caesars. They treat everyone as an "Emperor", no matter what platform you are using.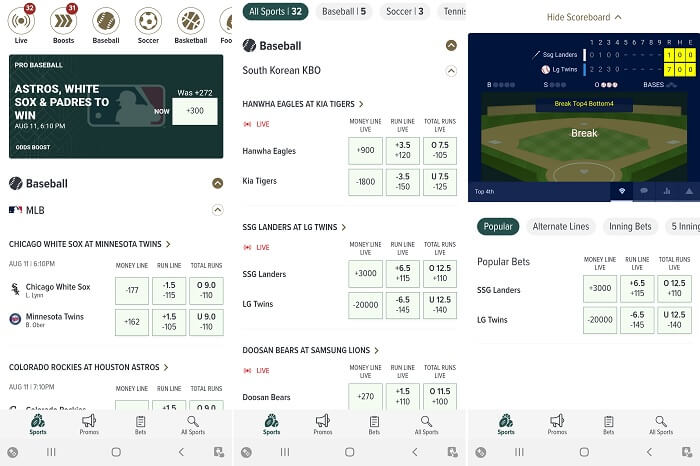 Caesars Sportsbook bonus code
The sportsbook is offering the first bet on Caesars up to $1,000 new customers who sign up online or mobile. On top of this, customers can also get 1,000 Reward Credits® & 1,000 Tier Credits. This is without a doubt one of the biggest bet credit offers that new players can get their hands on!
This offer is only valid on the player's first bet. To qualify for the offer, just place your first wager up to $1,000, and if you lose you will receive your money back as bet credits. If you win then enjoy your winnings!
Unfortunately, existing William Hill customers will not be able to claim this bonus, only brand new customers can claim the Caesars sportsbook promo code which is GUSA1000. There are a lot of other sportsbook promos you can get if you are after a new player bonus.
Who can download Caesars Sportsbook?
Anyone over the age of 21 who lives inside the following states can currently use the Caesars sportsbooks: Colorado, Indiana, Iowa, Michigan, New Jersey, Tennessee, Virginia, and West Virginia Caesars Sportsbook is looking to go live in Maryland later this year.
Legally you need to prove which state you are in to verify your Caesars Sports account, you can register for a Caesars sportsbook account outside of a permitted state, but you will not be able to place a bet unless you are inside the state. This is done via geolocation and varies on how to activate it, depending on if you are on a PC/Laptop, or mobile. To verify the location of your PC or Laptop you may have to use a geo-locator plug-in. Locating users on mobile phones is normally much easier; just ensure that you are allowing Caesars Sportsbook to have access to your location. If you have any problems accessing your Caesars account, you may want to read our Geolocation issues in sportsbooks guide.
What states is Caesars Sportsbook legal in?
Since taking over the reins from William Hill, Caesars automatically gained entry to several sports betting states. You can legally wager using the sportsbook online, and on the mobile app in:
Arizona
Colorado
Illinois
Indiana
Iowa
Kansas
Louisiana
Maryland
Michigan
New Jersey
New York
Ohio
Pennsylvania
Tennessee
Virginia
West Virginia
Wyoming
Players can use the Caesars Casino, but only in:
Michigan
New Jersey
Pennsylvania
West Virginia
Sportsbook Features
Caesars casino has had an inaugural reputation in the gambling world for over 60 years, and now that Caesars has launched its full sportsbook we are so excited for its updates. Sports betting made simple, one of the best loyalty programs around with a massive bet credit promo. What's not to like? So let's run down the kind of features you can get with this new sportsbook.
Sports betting football
Is it a coincidence that Caesar's sportsbook is rapidly expanding just before the 2021 NFL season? We think not. It's no surprise that football betting is the most lucrative market for players and bookies alike. Being the most gambled-upon sport in the US, there are plenty of professional and amateur gamblers that will be looking to get a kick out of the new Caesars online casino app.
The previous William Hill app was exceptional for football betting in the US. We can only imagine how good the Caesars sportsbook is going to become once its developments have been added.
You will soon be a Caesars sportsbook fan, with a multitude of wagers available across each NFL and Collegiate game. Expect money lines, parlay betting, points spreads, and totals! Take advantage of mobile betting with a huge selection of prop bets and the option to cash out your bet early. These are some of the best ways to get fair pay-outs. Examples include the first player to score a touchdown, total points scored by a player, or get even deeper with options such as most punts or who's gonna get the first sack!
Get your predictions in early and call future bets!
Colorado Sports betting
People of Colorado don't forget that Caesars sports will be looking to customize their offers directly to you! So whether it's the Nuggets, Broncos, Rockies, or the Rapids that you are backing, look out for in-app offers to get your mouth watering.
The Caesars sportsbook offers a great range, of US and international sports betting lines and looks set to develop their options even further. Caesars sportsbook has a huge array of sports leagues to add to your bet slip from your mobile device or web app. Be sure to keep an eye out for sportsbook offers on big nights in these different leagues.
Sports betting list
The following sports betting markets are available at Caesars online sportsbook in Colorado:
Aussie Rules
Auto racing
Badminton
Baseball
Boxing
Darts
Football
Golf
Hockey
Lacrosse
Rugby League
Rugby Union
Table Tennis
Tennis
Tokyo 2020 Olympics
Volleyball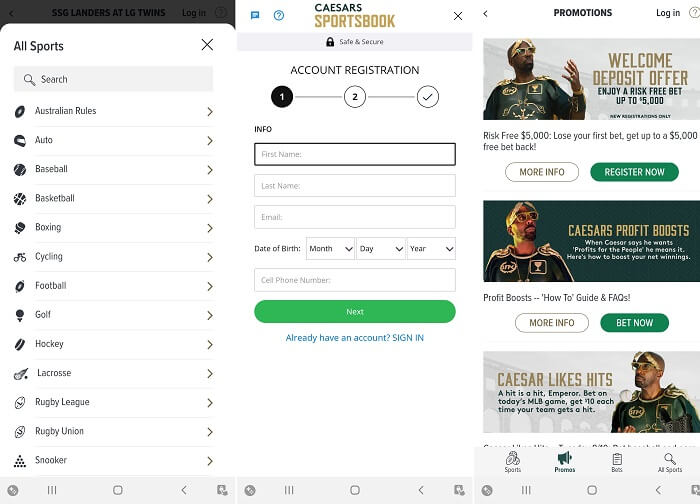 Caesars rewards – finally for sports betting
Caesars Entertainment is recognized across the globe as a first-class host. This is reflected in their quality rewards program 'Caesars Rewards.' At Caesars sportsbook, you can now earn and redeem reward credits online as well as more than 50 physical destinations across the USA.
The Caesars Rewards program will connect your online account to your Caesars card to give additional rewards when you spend at Caesars Resorts across the United States. So why not bring your unforgettable experiences from Isle Casino Hotel Black Hawk and Lady Luck Casino Black Hawk right to your home!
Claim your Caesars sportsbook bonus and you can earn points for every dollar you spend on the way, rank yourself up to exclusive Caesar Rewards that you won't be able to find anywhere else.
Work your way from Caesar's rewards gold card all the way up to the legendary 'Seven Stars.' Benefits you will receive on all tiers: Free or discounted hotel stays, free cash or bet credits on your birthday month, dining and shopping rewards, and plenty of partner rewards.
You can now access all your rewards in one place on the Caesars rewards mobile app available on both Android's Google Play store and the iTunes Apple store.
Banking Options (Payment methods)
Credit Card
Debit Card
Bank Transfer (Online Banking)
Caesars Sportsbook Prepaid card
Rewards Program bonus
ACH/E-check
Pay Near Me (Deposit cash at local drop-off points.)
Caesars are making moves!
Caesars is the official NFL partner for betting in the US. Their efforts to expand their brand awareness do not stop their thought. The New Orleans Saints and the Superdome also partnered up with Caesars giving them the rights to name the stadiums after themselves. The deal is estimated to be valued at $138 million. Expect to see the Caesars Superdome and Caesars sportsbook plastered across the NFL in 2022!
William Hill and Caesars Relationship
At the end of April Caesars bought out William Hill for $4 Billion. It was originally thought that Caesars would re-brand some part of William Hill so it's no surprise that they have made some moves.
Caesars is now on the way to representing all of the previous William Hill entities in the US and with l its overseas business looking to be cashed in. The European segment of William Hill looks set to be sold, expect increasing investments from Caesars into sports betting as they push to be top of the US market.
Caesars Casino
It's extremely difficult to cut off a Caesars sportsbook review without mentioning the famous Caesars casino. It is arguably one of the most well-known casino properties in the world, Caesars Las Vegas is a highly regarded gambling entity that has become a household name. Closer to home in Colorado, the Caesars Entertainment group owns Isle Casino and the Lady Luck Casino in Black Hawk. If you are lucky enough to live close enough to these, we recommend a visit. If not Caesars offers a superb online casino!
However, New Jersey and Pennsylvania are the only states where Caesars online casino is permitted. Players in Colorado can't play in the online casino.
As an experienced and trustworthy brand, there is no surprise that Caesars launched into the online casino game Caesars is without a doubt one of the best hosts of online casino games. Caesars online and mobile app lets you choose from world-famous slot machines, video poker, and other great table games. If you want the full Las Vegas experience from the comfort of your own home then here you go!
FAQ's
Is it legal to bet on Caesars sportsbook?
Yes, it is legal in the state borders of Colorado. Get on to that signup bonus!
Is it legal to bet on Caesars outside of Colorado?
Yes, in selected states where Caesars is authorized. You can register in any state where Caesars is legal or not. However, bets can only be placed in authorized states: AZ, CO, IN, IA, IL, KS, LA, MD, MI, NJ, NY, OH, PA, TN, VA, WV, & WY.
Can I use my Caesars prepaid card on the Caesars Sportsbook?
Of course, you can, just head to the make a deposit section on the Caesars casino or sportsbook.
How much can I bet at Caesars sportsbook?
The minimum deposit is $20. The maximum amount any player can bet at Caesars in Colorado or any other state is $500,000.
How do I contact Caesars sportsbook?
Customer service at Caesars is of the highest standard. On their website, you can find several toll-free options to contact them, including a live chat feature!

$1,000 First Bet on Caesars
Get Bonus