Bet on football straight from your mobile on these best-rated NFL betting apps
If you are looking to have a wager on football this weekend, there are now some awesome NFL betting apps and sites available.
Football is the nation's most popular sport, its action-packed nature and tactical prowess make it one of the finest sports ever to grace the planet. From New Jersey to Florida to Las Vegas, the NFL is hugely popular. With its awesome fans and huge popularity, there is no surprise that football is the most popular sports betting market.
The days of going into a sportsbook to place a bet are slowly fading away. Legal online sports betting is now available in many states across the United States, with some major states looking to follow suit. Step into the modern era and back your favorite team straight from on your mobile.
Betting on the NFL has always been the most popular sports betting market, and thanks to a range of new online sportsbooks, you can bet legally on the NFL using one of these licensed betting apps for the iPhone, or Android mobiles & tablets.
This guide is going to give all you football fans the information you need to get up and running for this year's NFL. Dive into our top 5 football betting apps, featuring the best sign-up offers, a guide to types of football betting, and tips that you need to know.
Our Top 5 NFL Betting apps
#1 DraftKings Sportsbook app
DraftKings Sportsbook is highly regarded as the best sports betting operator in the US, especially when it comes to betting on football. DraftKings name is etched into the DFS world and since sports betting was legalized in 2018, they have gone on to conquer the online wagering world too.
They were one of the first Sportsbooks to launch in the US, and their offerings reflect their experience. DraftKings is one of 3 organizations to become official sports betting partners of the NFL, so expect exclusive benefits, offerings, and media that many other sports betting operators may not be able to provide.
Betting on the NFL is really easy on the DK app. There are quick links right on the homepage to go straight to the action, as well as regular promos and offers. New players can get a $1,000 risk-free bet on sign-up, that can be used on any market, not just football.
Standout feature: In-game betting: Got a hunch who is going to score the next touchdown? The live odds are available across several lines during the game. This is available for most Sunday Night NFL games.
Website: sportsbook.draftkings.com
New player offer: $1,000 Risk-Free Bet
Apps: Android & iPhone available
#2 FanDuel Sportsbook app
FanDuel, without a doubt, is one of the big players in the sports betting market. The operator was one of the first to launch their mobile betting apps when legal sports betting went live. FanDuel is one of the 3 official sportsbook sponsors of the NFL, so it would be stupid not to have them in our top-ranked NFL betting apps.
Did you know that FanDuel Sportsbook is actually the most popular sportsbook apps available on the market? This is no surprise with FanDuel having some of the best offerings around. They offer some great odds and prices on football, and in particular the NFL.
With a visually appealing app that is easy to navigate; you can't go wrong with the FanDuel sportsbook app for iPhone & Android. They have a large range of wagering options and are sure to meet all of your footballing needs. Navigating around the app is easy. To see all the football betting options, open the menu and tap on football. You can see a list of all the games, tap the game to reveal more markets and betting opportunities.
Standout feature: Cash Out: Think your bet is slipping away? Can't wait until the next quarter? Cash-out your bet before full time for
Website: sportsbook.fanduel.com
New player offer: $1,000 Risk-Free Bet
Apps: Android & iPhone available
#3 Caesars Sportsbook app
Caesars sportsbook is our wildcard choice out of the best NFL betting apps. Having taken the reigns from William Hill, Caesers are now pushing to take a large share of the sports betting market. Caesars sportsbook is sure to come and take the sports betting world by storm. Caesars are investing a huge amount into promos to get the brand moving up the ranks, so expect great offers and a hefty welcome bonus.
The overtake of the already established William Hill application by Caesars is already looking very promising so expect Caesars to become one of the major players in the sports betting realm.

With a new easy-to-use app, great selection lines, and fantastic promos, we recommend that you sign up for an account to take advantage of their humongous welcome bonus. A $1500 risk-free bet! Yes, you read that correctly.
Caesars is also one of the three sports betting operators that are official partners of the NFL, and Caesars casino is the official casino partner too!
Standout feature: Caesars Rewards. One of the best rewards systems across all betting markets. Level up and gain exclusive rewards and offers to use across Caesars sportsbooks, online casinos, and the all-important Caesars casino resorts across the US!
Website: caesars.com/sportsbook-and-casino
New player offer: First bet on Caesars up to $1,250
Apps: Android & iPhone available
#4 PointsBet app
The sportsbook from down-under, Australian-based PointsBet has been providing football fans in the US with great service since 2019 and have since been expanding their operations into multiple states. The PointsBet app is slick and is very easy to use, providing you with an easy journey to make a great football selection.
When it comes to the selection of betting lines, PointsBet is fantastic, and the odds that they offer are even better. Scoring the highest on our odds score, if your looking for the top odds on the NFL then look no further.
Unique feature: Points Betting: Points Bet has one of the best USPs in the sports betting market with their feature called Points Betting. This feature makes for the ultimate fun as you can win huge amounts. The continuous style bet means that once you have passed your benchmark on points your winnings don' stop!
Bonus extra Feature: Name a bet in App. If you can't find a section that you would like to bet on then you can request to get your bet featured on the market!
Website: pointsbet.com
New player offer: 2 x Risk Free Bets Up To $2,000
Apps: Android & iPhone available
#5 BetMGM Sports app
Formerly PlayMGM, BetMGM is part of the world-famous MGM group. BetMGM is on the rise to be one of the best sportsbook and NFL apps striving through the crowded market with a quality design and constant offers.
MGM Sports has one of the best sportsbook apps and they offer one of the best designed mobile wagering apps on the market. BetMGM's app is aesthetically pleasing and well-balanced allowing you to access all your favorite football betting markets with ease.
The market selections for the NFL are robust with many excellent wagering options across several lines. To get the best out of your BetMGM experience, keep an eye out for great NFL promotions that are spread throughout the app

Unique feature: Parlay betting options. BetMGM has one of the strongest parlay betting features around. So why not build a perfect combination of bets that are right for you!
Website: betmgm.com
New player offer: $1,000 Risk-Free bet
Apps: Android & iPhone available
All of the operators listed above are licensed and legal in the US. They are proper sportsbooks, registered and located here in the US. You can bet safely, and securely at any of the apps listed above.
There are some other good options out there, including Barstool Sportsbook and Fox Bet.
What Makes A Good Football & NFL Betting App?
We want to ensure that you know exactly what to expect from a good football betting app. There are some apps out there that may not provide you with the value that you need. These are all factors we consider when looking at which sports betting app you should be using for wagering on the NFL.
Safety and Security
This may not be the first thing that springs to your mind but it is vital that you check the reliability of your site. We want to ensure that all players are protected when betting on the NFL online. This is why we only recommend the most reputable online betting sites to ensure your security is maximized.
All of the apps in our list have a reliable gambling regulator's license and are located in a legal jurisdiction. Alongside this, all of our recommendations have security systems such as SSL data encryption to ensure players' personal information and banking details are extremely well protected.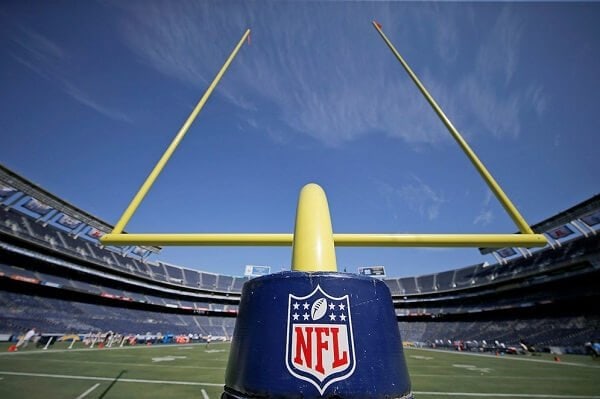 NFL Betting Options
It's pretty obvious that nearly all sportsbooks offer some betting options on the NFL. However, we can assure you that some apps can provide you with a much wider range of bets that often deviate from the standard money-line bets.
When considering our top-rated NFL betting apps we searched for platforms that allow you to bet on multiple different outcomes whether in-game or season long! We found Apps that had a larger range of prop bets, combo bets, special wagers, and NFL future bets compared to certain sportsbooks. The benefit of a greater range of options is pretty self-explanatory: the more choices, the greater freedom you have! Check out PointsBet and its name as a bet if you can't find your NFL bet of choice on the market!
Compatibility
NFL betting apps are the future of gambling in the US. Gone are the days of having to be organized and dropping $20 into the sportsbook prior to the game. Once you are rolling with an NFL mobile sportsbook app then you can have all the fun from the comfort of your own home.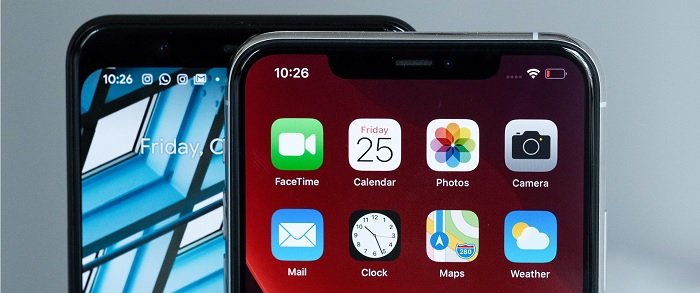 iOS (Apple) and Android (Google Play) users can take on the world from the palms of their hands as these two operating systems dominate the NFL sports betting app market. With easy-to-use interfaces, all users can take advantage of these applications which are at the front line of sports betting technology. It is important to mention that some mobile apps may not be compatible with older versions of mobile and tablet technology. As a rule of thumb, if your mobile or tablet is more than 5 -7 years old then, many of the applications may not be compatible with your device.
With great technology comes many updates
Due to the ever-evolving state of the technology and constant stream of new offers, the apps need updates. Expect to see new features like cash-out and in-game betting making the way into most of the apps we have recommended; so close your tabs on your laptop and get to the great selection of mobile betting apps.
As good as these updates may be at enhancing your experience, they may lead to your device becoming obsolete. It isn't too likely that updates will out-date your device but it is a possibility, so make sure you check the compatibility well before the next NFL game to avoid disappointment.
The security features of these applications are often updated over longer periods of time. To ensure the best protection and safety of your sensitive details then make sure you keep your application updated.
One more thing to consider is the amount of storage available on your mobile. Apps will struggle to update without enough storage space on your device. Ensure that your mobile storage isn't full and if it is then it's time to offload some of that old junk you've got lying around.
Bonuses
If you are new to NFL sports betting then you have a whole host of offers waiting for you to redeem. All of the best football betting apps will have a sign-up offer or a welcome bonus. So if you haven't yet got an account on any of our top 5 sites then click the links above, sign up, deposit, and enjoy your offer.
We value you, the players. Please do not settle for an average promotion; follow our advice for the best NFL betting app and claim the best offer for you! If the type of sign-up bonus or welcome offer is confusing you then look no further follow our free bets offer page.
Football Odds
For those of you who are new to the sports betting game, it might surprise you that not all sportsbook operators offer the same odds on various lines across the NFL and other sports. The odds offered are very dynamic and can fluctuate from operator to operator depending on the event, team, condition, and multiple other factors.
Special offer odds are offered across the best of NFL betting apps, keep your eyes peeled for boosted odds and special bonus odds. These offers vary across different applications but they are sure to boost your odds for the best payout possible. It makes sense to use at least 2 books when it comes to betting on any sport, not just football. Why you may ask? Well, you can compare the odds at both operators, and place your bet with the one offering the best odds.
Operators also run different promos, so you may get an operator offering a good price boost on the Broncos, and another operator offering odds boost on the Nuggets.
Banking options
The flexibility of banking options is key to ensuring the best experience on your choice of NFL betting app. Our recommended NFL betting apps have a range of payment methods for depositing and withdrawing your winnings from your NFL betting.
The most popular payment methods are listed below:
Visa
Mastercard
PayPal
Skrill
Neteller
Online Bank Transfers
Apple Pay
Pay Near me
Each application does vary, you can find a list of the available payment methods on our reviews on each app here…
The best NFL betting sites will allow you to withdraw quickly and efficiently. Normally bank transfers and card withdrawals can take between 2-5 days. For the fastest withdrawals, you should try to use e-wallets such as PayPal; this normally takes between 24-28 hours. Check out our PayPal guide….@
Want to find out more about cashier options at your favorite sportsbooks? Please have a look at our comprehensive guide to sportsbook cashiers…@
Customer Support
When you have signed up for one of our recommended NFL betting sites, you should expect the highest of customer support services.
Each of our recommended sportsbook operators has been tested to ensure that you will receive the help you need if you encounter any troubles. You can contact most NFL sportsbooks by phone, email, and live chat options. 24/7 support is available across several of the contact options with live chat being the most widely available across different sites.
Types of Football Bets available
Once you have chosen the NFL betting app most suitable for you, you'll be able to access huge amounts of different types of bets. Below you will find the most common bet types when placing a bet on football.
Moneyline Bets
Parlay Bets
Spread Bets
Futures Bets
In-Play Bets
Over/Under Bets
Prop Bets
Moneyline bets are usually the go-to bet type for a lot of football gamblers, but mixing things up can be a good strategy. Parlays are extremely popular and can provide some huge wins for a little return.
If you are looking to make some riskier bets wither a higher payout, futures bets on the NFL can be fun. For example, you could wager on the New York Giants, Denver Broncos, Dallas Cowboys, New England Patriots or whoever your NFL team is to win the Super Bowl before the regular season even begins. The betting odds on whichever betting site you are using will be high as you are predicting something well into the future. You could also use a futures bet to choose who you think will win an NFL playoff game, just make your NFL picks before the season starts.
The best NFL betting site will offer attractive point spread, live betting and unique player prop bets to keep NFL bettors engaged. Additionally, any online sportsbook must offer competitive NFL odds as there is lots of competition to attract users to bet on the most popular sport in the US.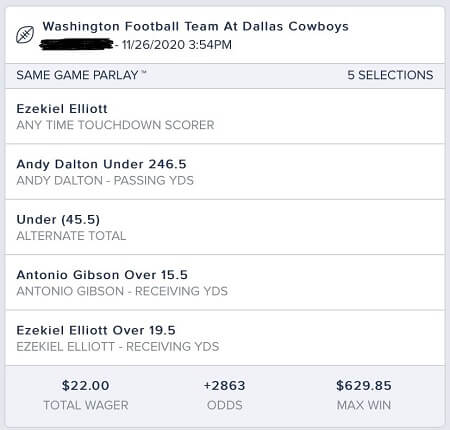 NFL Sports Betting Partners
The NFL announced its first 3 official sportsbook partners recently. These multi-year deals will give additional rights and bonuses to the 3 sportsbooks that you will not find anywhere else. The brands will be able to engage with fans through free-to-play NFL-themed games.
The deal will allow the operators to leverage NFL marks within the sports betting category and integrate relevant sports betting content into NFL media properties like the NFL app and NFL.com.
Draft King and FanDuel will be able to show highlights, footage, and statistics within their content. Caesars Entertainment and NFL are working on integrating NFL content to
Supporting NFL's commitments to retain the integrity of the game all the operators are supporting the NFL's policies and are collaborating on responsible gaming education, intelligence sharing, and advocacy efforts.
What the NFL is providing each sportsbook with?
Caesars Entertainment
Caesars expansion from casino to a respected sportsbook is reflected, with the operator becoming an Official Sports Betting Partner of the NFL. This will provide Caesars with a massive boost to their sports betting platform as it will put the operator in front of thousands of new fans every week.
Caesars casino has still retained its rights to use the official NFL trademarks across all its marketing and games. You can expect to see Caesar's brand at a lot of football events like the NFL Draft and the Pro Bowl. This includes unique experiences across a huge range of its casinos allowing them to provide NFL fans with entertainment elements such as celebrity chefs and premier music artists.
Finally, Caesars will be working to create iGaming opportunities as another branch to their olive tree with an aim to get as many opportunities for football fans to enjoy!
DraftKings
DraftKing has retained its exclusive deal with the NFL as the official fantasy partner with exclusive rights to NFL IP and marks. DraftKings' new Official sports betting partnership with the NFL is to provide them with huge amounts of marketing and branding opportunities.
Expect to see a serious increase in NFL-related content inside the sportsbook and Daily Fantasy Sports apps alongside an increase in NFL media properties with a significant presence within the NFL RedZone.
FanDuel
Having no previous relationship with the franchise, FanDuel is the NFL's newest partner. There will be a series of content integrations across the FanDuel application including both in-game and post-game highlights. These footage rights will increase the desirability of the FanDuel application and various platforms, providing more opportunities to watch and play along with the NFL.
NFL Betting Apps FAQs
Is NFL sportsbook app betting legal in the US?
Yes, sportsbook betting is now legal in over 13 states. Each sportsbook has to be legally registered within each state, so some sportsbooks are not available in certain states.
Can I register with more than one sportsbook app?
Yes, you can sign-up for all of the sportsbook apps. There are no exclusivity deals, so why not take advantage of the sign-up offers on multiple sportsbooks.
Is sports betting on a mobile app safe?
Yes, sports betting on mobile apps is extremely secure and it is much easier to track how much you are spending. Our recommended sportsbooks have great reputations for looking after their customers and resolving any troubles.