Best Online Betting Sites With Cash Out in December 2023
US Sports bettors have access to some awesome tools to help them try and beat the book. Without a doubt, one of the best tools is Cash Out. End your bet early for a return with these 5 best betting sites with cash out.
The best sports gambling apps offer features that allow bettors to place bets quickly or withdraw quickly. However, one feature that has become essential for the modern-day bettor is the cash out feature. Numerous sports betting apps and betting sites offer the cash-out option, and it has become a must-have feature.
Online betting sites with cash out allow you to settle your wagers before the action has finished. This means you can guarantee some profit or reduce any potential losses. It has grown to become a trendy way of wagering within the industry. Indeed, most bettors now will only join cash out sportsbooks or betting sites that at least offer partial cash out options.
So, if you are looking to bet for money and are wondering which legal US Sportsbooks offer cash out, this guide should help. We will cover factors such as when should you cash out a bet if you can use free bets or bet credits to cash out, and look at a range of cash out sports betting sites. Our experts have tried and tested all the licensed operators available in the US and these are hands down the best, most reliable sportsbooks to use.
US Sportsbooks with cash out
Most US sportsbooks offer the cash out feature as they recognize how important it has become. Our pick of the best cash out betting sites are:
Legal online sports betting is expanding across the United States. This means a betting site must try and offer incentives to attract new customers as the market has become highly competitive. Once they bring new players on board, they must keep them engaged by offering promotions such as free bet stakes and a maximum free bet. Another way operators can keep bettors coming back is by providing an efficient cash out service.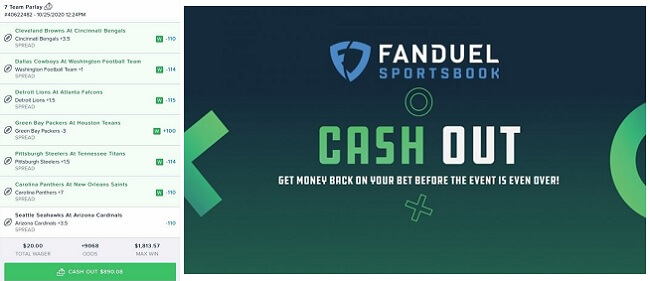 As we have mentioned above, you won't struggle to find betting sites for cash out or some form of in-game wagering. It is crucial players choose to use regulated and licensed sports betting platforms such as PointsBet, DraftKings, BetMGM, and FanDuel. Offshore betting sites like Bovada will offer some cash out amount, but you could be at risk of losing money as they are not licensed to operate in the US.
The best betting sites for cash out will be licensed, safe, and offer a quick way to get a qualifying bet settlement while the action is still going on.
How does cash out work?
Some betting sites may use a different name for the cash out option, but most will offer the feature in some form. For example, some sportsbooks may use 'buy out' or 'early settlement.' Whatever it is called, it performs the same service across all betting sites. The main principle behind the cash out option is to give players the ability to settle a bet, thus accepting a payout less than the original stake before the event finishes. The benefit of taking this option is that you guarantee some profit that you can bank regardless of how the wager eventually gets settled.
For instance, let's say you decide to place a bet at odds of +100 on an NFL game. You decide to put your faith in the Dallas Cowboys to beat the New England Patriots. The total amount you could win traditionally from this wager would be $20, as you would get $10 in winnings and your initial stake back. However, let's look at a situation where the Cowboys are up by 1 TD with 5 minutes left on the clock. You are in an excellent position to win the bet; however, you still fear the Patriots have some time to come back. You don't want to risk losing money, so you choose to use the cash out feature.
As the bet was looking good, the sportsbook payout would likely be favorable at the time you decided to cash out. You would usually be offered around $16, so you wouldn't be able to bank the $4 of profit, but you receive the money no matter how the match ends.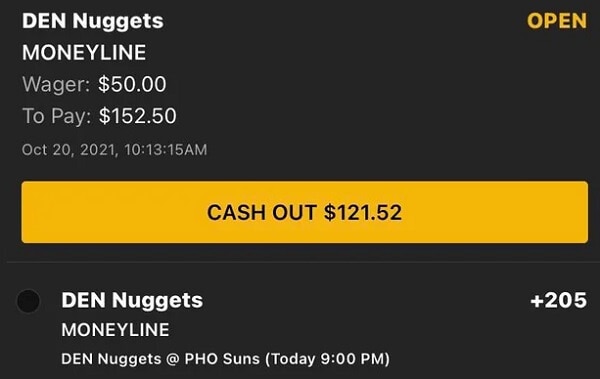 A betting site with a cash out option, even just partial cash, is popular among sports bettors as they offer an element of excitement and provide some guarantees of profits. You can also reduce your losses and at least take something from the bet, which is always a win in the gambling world.
Should you use cash out?
US gambling sites that offer cash out betting options are now widespread. When you have placed your wagers with a sportsbook, you will likely have the chance to settle them before the action is over. Although cash out is very popular, should you take the option if offered? Well, this depends on different factors that will play a role in your decision.
There are two significant benefits for players if they decide to utilize the cash out option. The first advantage is that users can firmly secure their winnings without worrying about how the wager may end up. Live sports events, by their nature, can change at any moment, particularly towards the end, so you reduce the variance by using cash out. Using cash out gives you some degree of control. Secondly, bettors mitigate losses if things are going quite badly. Losing a bet is never fun, but if you can take at least something the sportsbook offers, it is not a complete loss.
Sports wagering cash out has a considerable give-and-take element between the player and the sportsbook. When you feel you want to cash out a winning bet for a profit, the profit will naturally be lower than the maximum amount you would win if you let the bet play out. Essentially, the player is giving the betting site some return, while they take is that the player is also reducing their risk and winning some money no matter what.
Whether you are in New Jersey, Pennsylvania, Colorado, or any other US state where sports betting is legal, the final choice comes down to you and how confident you are to see the bet to the end. Alternatively, you could cut your losses, and use offers like a bet credits stake and take advantage of other bonuses if you don't feel you need to use cash out.
Why do sportsbooks offer cash out?
There are positives to both sportsbooks and the bettor when it comes to using cash out. The clear benefit to the player s that they can guarantee themselves a profit or reduce losses, and this also applies to the sportsbook. If an operator offers you the chance to cash out on a bet that is winning, it won't be for the entire amount, so this saves the bookmaker money if a bettor accepts their cash out offer. If the wager is losing and the bettor decides to cash out, the betting site guarantees their own win while also keeping the player engaged and not turning them off.
There are numerous free play bonuses from sportsbooks, and users can use these bonuses to their advantage with cash out. For example, if you use a significant US betting site such as BetMGM, they usually offer brilliant odds on futures bets. So, if you wager on a team to win the Super Bowl at the beginning of the NFL season and they make the playoffs, you can use your BetMGM sportsbook cash out to lock in a nice profit.
This may not be for the total amount of the initial bet; however, things can quickly change in the playoffs, and even though the team you bet on looks good, they could lose in the first round of the playoffs, and the bettor ends up with nothing.
How to use cash out effectively
There is no such thing as auto cash out, as the player must choose if they want to end their bet early. To do this,  you can see the cash out offer on your live betting slip or any active bets that are showing on your account. For example, if you have placed numerous football wagers, you will see your football betting slips' cash out option.
If a bookmaker offers the cash out option, you can hit the relevant button and choose to buy yourself out of the bet for the amount the operator offers. When you have confirmed you want to cash out, the money will instantly appear in your account.
Please note that cash out is not offered for every bet. Online betting sites have different rules and regulations for individual offers. Consequently, you must check the rules on what is offered and how the feature works at the sportsbook you are betting with.
How is cash out calculated?
A 'cash out calculator' works based on odds offered on any wager. The betting site will develop a value based on different factors and offer a price for the customer. With a cash out offer, the final price is what the book decides is the wager's current value.
As in-game wagering continues to grow in the licensed US betting market, sportsbooks are becoming more efficient with the live sports odds they provide. Sports betting platforms are also getting more proficient in the prices they offer for a cash out.
Determining a bet's value is simple with classic betting types such as Point Spread and Moneyline bets. However, sports betting sites let you cash out parlays early, and alongside Futures bets, these are slightly more complicated. Parlays have several legs, so if there are still lots of legs to play out, it becomes difficult for the bettor to decide if they should cash out or not. Future bets have a long time to run before they get settled, and many things can change in that time.
Ultimately, a cash out bet is decided by real-time odds.
FAQs
Can I go back on a cash out offer?
Any cash out offered by betting sites is final. Once you have accepted the offer, the bet becomes settled at the current confirmed price.
Why does cash out get suspended?
The cash out feature can be suspended or entirely removed when a live line is no longer available to wager on. This can occur during an event if, say, a goal is scored, which affects your bet outcome.
When can you cash out a bet?
You can use the cash out feature as long as the game is still taking place and hasn't finished.