The 6 best soccer betting apps in the US
Looking to wager on soccer this season from your mobile? We take a look at the best soccer betting apps for Android and iPhone that you can download and back your favorite team in no time.
The most-watched sport, the most participated sport, and the highest revenue-generating; it's not surprising that soccer dominates the world's sporting market. The simple game format combined with sheer technical ability delivered by the players can leave even the most uneducated sports fan bewildered by the beautiful game.
As easy as watching and picking up the rules, soccer is just as easy to bet on. Millions of Americans already turn to many free soccer wagering apps, with soccer now being one of the most bet on sports in the USA (after football, of course). With the Champions League and MLS season in full force, there has never been a perfect time to start your soccer betting career.
Soccer betting in the US has become so popular as of the simplistic format and invigorating tactics. We know several bettors who knew little about soccer and good soccer apps who now work full time as professional soccer bettors; crazy, right!
If you are looking to bet on soccer in the United States, it can often be challenging to locate the best online sportsbook apps that fit you. Everyone has their individual preferences, and many of you may already have some NFL betting apps that offer a selection of soccer betting. However, for a more detailed insight into the best soccer betting apps the USA has to offer, alongside some tips and tricks to make you smarter and better equipped, you should check this review to pick up some great information.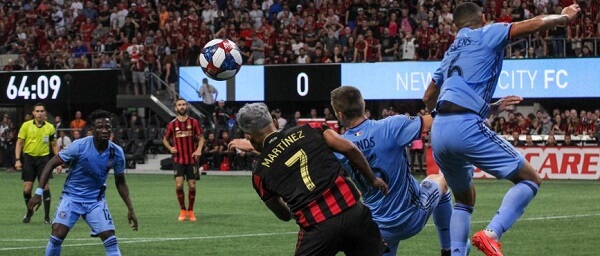 Let's take a look at these awesome soccer apps that are shaping the soccer betting market across the US. In our US soccer betting app guide, you can expect to find expert reviews and info on the best soccer betting apps based on reputation, reliability, odds, promos, and welcome bonuses.
All of the below apps can be downloaded directly from the App Store for iOS users or the Google Play Store for Android users.
Top 5 soccer betting apps
The following soccer betting apps are real money betting apps, which are legal to play in the USA, licensed in the correct states, and are entirely safe to use. Each mobile sportsbook app is available to download for free on Android and Apple devices.
FanDuel Sportsbook app
Since the inauguration of sports betting in the USA, FanDuel has encapsulated the betting world, making it the nation's most used and highest handle-taking sportsbook.
For soccer betting, FanDuel is a dream come true; their betting app is clean, easy to navigate, reliable, and, most importantly, strong when it comes to Major League Soccer and UEFA Champions League selections. The sportsbook has one of the best cash out features of any legal US sportsbook on the market.
Having dominated the sports betting market in the USA for some time, it is no surprise that FanDuel has a fantastic reputation when it comes to online soccer betting. FanDuel is our best soccer betting app available for android products.
Out of all apps for soccer betting, FanDuel has the best selection of leagues available; you can bet on all the major leagues like the Premier League all the way to more minor leagues internationally like the Bulgarian league; not forgetting that live betting is available on them all!
If you are looking for a wide range of detailed soccer betting options, FanDuel sportsbook app has you covered; choose from a whole host of options including, same game parlays, goals, team props, half betting, and even penalties!
Get the most for your money with FanDuel's premium odds boosts, which are updated regularly, especially when it comes to the big games. Expect to see boosted parlays each week for the Champions League and Major League soccer fixtures.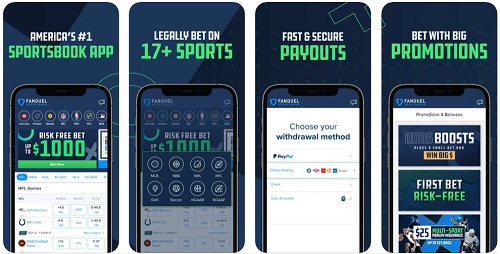 If you are a social butterfly, there are some serious free bets to be won with FanDuel. If you refer a friend to FanDuel sportsbook, you will receive $50 site credit on both the sportsbook and casino! A real win-win!
If you are a new customer to FanDuel, you can claim a massive $1,000 risk-free bet; This means you can place your first soccer bet online with little risk as you receive your stake back if your bet doesn't come in!
Download from fanduel.com/sportsbook
BetMGM Sportsbook app
BetMGM knows a thing or two about soccer sports betting; they really set the standard for online sportsbooks in the USA. In 2018 BetMGM emerged as an online sportsbook, and within a blink of an eye, they became one of the best sports betting apps and a household US gambling name.
Out of all the mobile sportsbook apps available on android, BetMGM is our number one. We nearly picked it to be our best apple app, too; it is that good. Once you download it, you will see a crisp yet elegant skin, a foolproof interface with a resilient core that is yet to let us down.
If you want to bet on soccer games, this is undoubtedly one of the best soccer betting apps on the market. BetMGM has all the best leagues and broad soccer betting lines like; Major League soccer specials, FIFA world cup soccer futures, English Premier League live betting and tons of prop bets. BetMGM is the best online sportsbook for a range of soccer matches and lines.
One of the critical elements in deciding a soccer betting app's credibility is the parlay options available; luckily, BetMGM is the king of parlay sports betting. Besides a plethora of betting lines and worldwide soccer matches, BetMGM supes up its parlays with regular odds boost and silky promos.
Currently, BetMGM is offering a fantastic one-game parlay insurance in the MLS where you will receive your stake back if one leg lets you down. If this didn't already get your mouth watering, BetMGM sportsbooks are giving up to 40% more profit on parlays with parlay plus! BetMGM's parlay power really puts other soccer betting apps to shame.
Who said Mondays were bad? If you spent $50 over the week on online sports betting, BetMGM gives you a $10 free bet on Monday to use across any of their betting markets.
If I hadn't made it clear enough, BetMGM sports app is one of the best soccer betting apps around and has a good shout for being one of the best online betting sites.
To make it a little bit sweeter, you can claim a risk-free bet of up to $1,000 as a welcome bonus if you are yet to sign up.
Download from betmgm.com
MaximBet Sportsbook app
Out of all of the best soccer betting apps, our wildcard pick comes in the form of MaximBet, an exciting up and comer in the sports betting world. Having established itself in September 2020, MaximBet is a new and exciting sportsbook that consistently offers excellent promos.
All newer online gambling sites offer wild promotions for sports bettors to take advantage of; this is one of the main reasons we have selected MaximBet. You can be sure to see some of the great promos and the best soccer betting odds being constantly churned out from the MaximBet HQ.
MaximBet is proactive in advertising, expressing that what happens in Vegas no longer stays in Vegas, and we couldn't agree more. Now is the time for you to finally get the opportunity to wager on your favorite soccer betting lines from the comfort of your own home. Say goodbye to the exclusivity of soccer wagers and access all your favorite soccer bets from the palm of your hand!
The MaximBet sportsbook app is one of the best-looking gambling apps around. Their user-friendly sportsbook app will make you feel at home in no time, especially with their top-shelf rewards program. When you sign up to MaximBet, you will register for Max Rewards, which gives back every time you bet online. Fill up your bankroll and redeem rewards from free bets to wager on your favorite soccer leagues.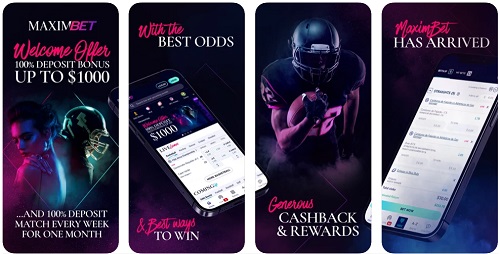 All your soccer betting needs are centralized into one simplified section with the MaximBet app; hop across the globe with a substantial selection of leagues and tremendous odds. MaximBet seriously has better odds than some of the big names for many betting markets; Especially when it comes to live odds; check out MaximBets great selection of live betting on the daily to ensure that you have the best odds available on the market.
Maxim bet boasts a more simplified selection of betting options available, but they make up for it with their fantastic Parlay party; earn more money back as free bets the further that your Parlay makes it! Choose a 7+ leg parlay, and you will receive a percentage of your stake back as a free bet the further you make it!
4 winning Legs – 25% of your stake back as a free bet
5 winning Legs – 50% of your stake back as a free bet
6 winning Legs – 75% of your stake back as a free bet
7 winning Legs – 100% of your stack back as a free bet
New customers can take advantage of the best welcome bonus available out of all online sportsbooks with MaximBet; claim a whopping 100% deposit bonus of up to $1,000. You are literally doubling your money with MaximBet!
Download from maximbet.com
DraftKings Sportsbook app
The old reliable DraftKings sportsbook app. Commonly known as the king of sports betting, DraftKings mobile app is a crowd-pleaser, providing you with all the essentials and much more to get deep into the online sports betting world.
DraftKings places itself in our best soccer betting apps with a highly dependable betting app that is an excellent fit for novices and experts alike. DraftKings is our second favorite out of the soccer betting apps for android users.
Hop across the world and wager on soccer odds across international tournaments like the world cup all the way back to your homeland of the USA; if you like hockey betting to, DraftKings in the app for you. It takes the top spot for our best hockey betting apps around.
DraftKings offers highly competitive odds and a massive range of betting opportunities as a pure soccer betting app. From your run-of-the-mill moneyline bet to daily fantasy soccer, DraftKings has you covered. DraftKings betting markets are made increasingly wide by the excellent range of soccer prop bets available, alongside some tasty soccer futures.
Betting on soccer is made available anytime with DraftKing's unique fantasy soccer betting. DraftKings is at the top of the pile of fantasy sports mobile betting apps, play in their free-to-play daily pools, or bet real money on a variety of fantasy soccer fixtures. The book has a wide range of banking options and is one of our recommended PayPal betting sportsbook operators.
If you are betting on soccer, keep your eye out for first-class promos that are regularly updated. DraftKings always have some excellent Champions league promos. Currently, you can land yourself a mega 50% profit boost on any 5+ leg champions league parlay; easy money!
Sign up now as a new customer and receive a risk-free bet of up to $1,000 to use across any of DraftKings sports betting markets.
Download from sportsbook.draftkings.com
BetRivers Sportsbook app
Rounding off our top soccer betting apps, we have BetRivers. Last but not least beneficial to your sports betting armory; BetRivers has an excellent app for betting on soccer.
When you download it, you will feel right at home; its warm layout and well-rounded features make it just as desirable as any soccer betting apps on the market.
When choosing soccer betting apps, it is vital that you are provided with a solid live betting selection. BetRivers sportsbook app offers live betting across all their soccer betting options. Before you know it, you will be using the live betting features to wager on their massive range of leagues, from Hungarian cup games all the way to the K-League 1 in South Korea. Combine multiple betting options from one game in their new same game parlays.
Soccer betting and other online betting are made much easier with the BetRivers statistics section. You can get ahead and research detailed quantitative facts upon each team from across the world. You can even dig deep into player statistics and stadium figures so that you are making informed judgments when betting on soccer.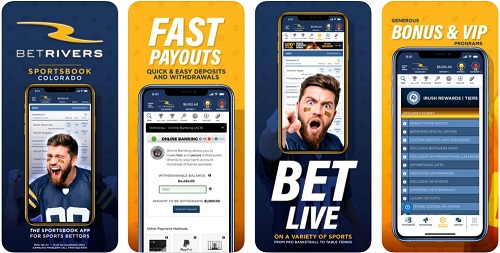 Although BetRivers haven't got the most incredible selection of soccer betting promotions, you can't count them out in the future. Currently, they have some of the best NBA and NFL promos available so expect to see an increase in soccer promos, especially live betting, closer to the significant events.
BetRivers have one of the best reward systems that can be found on betting sites. Irish rewards is a phenomenal way to earn prizes and free-bet tokens as you play for fun; perfect for those bonus targets you can work towards!
Suppose you've got a friend who's looking to get started with new betting sites; get yourself a $100 bonus for referring them to BetRivers! Both you and your friend will receive a cracking $100 free bet to use on the sportsbook site, and all you have to do is share your sign-up code!
However, you can get an even bigger bonus as a new customer! BetRivers will give you a truly remarkable 100% deposit bonus up to $250 when you sign up as a new customer! Double the bets, double the winnings!
Download from betrivers.com
Other notable apps that offer a good range of soccer markets are Caesars Sportsbook, Fox Bet and Bally Bet. Both of these offer all of the major international leagues such as the Premier League, La Liga, Serie A and the Bundesliga.
Live Betting on Soccer
When you are looking for a sports betting app make sure the one you choose offers live betting. Live betting, also referred to as in-game betting, takes the excitement of wagering on soccer to a whole new level. The best sports betting app will allow to respond to events in real-time. Add in the convenience of using a mobile sports app and you can wager anywhere with a strong internet connection as you soccer match unfold before you.
Any decent soccer betting site will provide live betting odds. In addition to updating the odds on moneyline and spreads to respond to what is happening on the pitch, live wagering opens up new possibilities for unique props that are not available before the game begins.
Some examples of props you might find:
Win First Half
Next Team to Score
Win Second Half
Half Time Full Time Result
The best betting app should offer interesting mobile sports betting options and odds that aren't too different from those set before the game. Obviously spreads and moneylines will be adjusted if one team is clearly playing better, just ensure the live odds still reflect a fair implied probability.
Our number one tip for online soccer betting!
It is always nice to take not of some betting tips before placing a sports bet. Regardless of whether you are looking to bet on soccer primarily or you are looking to use loads of features on a betting site, the best way for you to maximize your chances of winning big is to download and sign up to multiple sportsbooks.
Genuinely, the benefits of having multiple betting sites outweigh the use of a single sportsbook app by a ton! Firstly you can claim a ton of welcome bonuses; welcome bonuses are usually the best promos you can get your hands-on, and there is nothing wrong with claiming them on as many soccer betting sites as possible. $500 spread across multiple sites can become a serious amount of cash to play with! You can check out the best sportsbook promo offers right here.
The most significant benefit of having multiple soccer betting apps is the ability to claim in-app/ongoing promos to get the best soccer betting odds. Each sportsbook will have a variety of promos that are available for a limited time; promos on live betting can be live for as little as ten minutes! Save yourself some time and disappointment and sign-up for a range of sportsbooks before the events that you want to wager on!
Having multiple sportsbooks is exceptionally vital when it comes to significant events like finals and international tournaments. Each sportsbook will compete to provide the best promo, and then it's up to you to decide which you will prosper with!
FAQs
Is sports betting legal on soccer betting sites?
Sports betting on soccer is now legal in lots of states across the US. The best soccer betting sites will offer a wide range of bet types and soccer leagues for you to choose from.
Has every state legalized sports betting?
Sports betting is not legal in every state in the US. For more information on which states are have legalized sports betting, please visit: https://gamble-usa.com/
Exactly what are risk-free bets?
Risk-free bets mean that whatever you wager (reg. $100) will be returned as a free bet or site credit if your tie loses. If your tie wins, then you're in the money! Risk-free bets are rare and are most commonly found as a welcome bonus. Please be aware of the restrictions that each sportsbook may place on a risk-free bet. You may not be able to use your risk-free bet on live betting, and you may have to wager on odds above a certain threshold.