FanDuel Sportsbook
Sports betting fans in The Centennial State can now bet using the FanDuel Colorado sportsbook. Offering up legal online sports betting on mobile and online, the daily fantasy sports giant is operating in partnership with Twin River Holdings, which owns three Black Hawk casinos. FanDuel acts as one of the online sports betting arms of the Golden Gulch, Mardi Gras, and Golden Gates casinos.
The FanDuel Group is one of the most well-known sports betting brands in the United States. It is always ranked as one of the best sports betting sites available alongside sports betting operators such as DraftKings and Caesars Sportsbook. As legal sports betting grows and expands outside of Las Vegas, FanDuel is looking to grow along with it by offering things such as FanDuel TV and agreeing to sponsorship deals with major domestic sports leagues and franchises. The brand has now entered the Colorado sports betting industry.
Residents & visitors to Colorado can now experience what it is like to place a bet on this CO online sportsbook. Read our FanDuel Sportsbook review to find out more about the bonuses and promotions, payment methods, types of sports bets, and more. Should you place your wagers with them over the main rival DraftKings CO Sportsbook? We investigate in our complete review of this sports betting legal Colorado giant.
FanDuel Colorado Mobile App
FanDuel sportsbook has an app available for both iOS and Android devices, as well as live betting in a wide range of markets. If you are wondering how to use the FanDuel sportsbook app, don't panic. It is one of the easier CO sports betting apps out, and here is how you can download the app to your smartphone.
FanDuel Sportsbook iPhone app
Visit

sportsbook.fanduel.com

If you need a playing account, sign up via the Join now button
Click on the main menu and select iPhone app
Go to iTunes, press GET and install the app
FanDuel Sportsbook Android app
Visit

sportsbook.fanduel.com

If you need an account, sign up via the Join now button
Tap the main menu and select apps
Select the download for Android option
Press OK to install the fandualsportsbook.apk
Allow unknown sources in your phone's settings
Press open and install the APK
Google Play in the US does not yet allow sports betting apps to be in the app store, so the only way to get the official sportsbook app is via the APK from the mobile site.
Overview
FanDuel was already a top-rated site thanks to its daily fantasy sports play. Now it has added an online sportsbook so residents of Colorado can experience the excitement of real money sports betting. We are confident that if you have played on daily fantasy sports with FanDuel before, you are going to enjoy the sportsbook. If you are an existing FanDuel DFS player, you can use your existing DFS account details over on the sportsbook, there is no need to create a separate sports betting account.
Joining FanDuel Sportsbook CO
You can register for a FanDuel sportsbook account from anywhere across the United States. However, you can only place bets in Colorado, Indiana, New Jersey, Pennsylvania, Illinois, Tennessee, Iowa, West Virginia, Michigan, and Virginia. It is straightforward to sign up, and you will be able to place your first bet in a matter of minutes.
Just visit sportsbook.fanduel.com and hit the green sign-up button. You will then be required to provide some details such as your social security number along with your address, email, date of birth, and contact number. Following this, you will need to create a username and password, and then you can head to all of the Colorado sports betting action. Sign-up takes less than 5 minutes. You may be required to validate your account after joining which is standard procedure.
Where is FanDuel sportsbook legal?
The sportsbook from FanDuel is legally available in the following states:
Arizona
Colorado
Connecticut
Illinois
Indiana
Iowa
Kansas
Louisiana
Maryland
Michigan
New Hampshire
New Jersey
New York
New York
Ohio
Oregon
Pennsylvania
Tennessee
Virginia
West Virginia
Wyoming
FanDuel Sportsbook Mobile Betting
To place bets on the go with the FanDuel sportsbook in Colorado, you will need to have downloaded the FanDuel sportsbook mobile app to your mobile device. You will also need to allow the app to access your location so you can show you are in The Centennial State (or any of the other legal states) via geolocation. This can play up, if it does we have a sportsbook geolocation guide for you to check out. You only need to do this once and it's very easy to do on the FanDuel sportsbook android app and iPhone version.
The FanDuel app itself is user-friendly, and navigation is seamless. It is straightforward to find all of the sports betting options and markets available. In the top right-hand corner, you will find account info, which will have your details as well as your current balance. Underneath this, you will be able to see links to all of the major sports leagues as well as a 'live' link, which takes you to all of the in-play betting events.
There is a very noticeable horizontal menu bar where you can access all of the sports betting options. FanDuel places the most popular events of the day here. Players will be able to access other events as well as the popular ones listed. On all of the leading markets, such as NFL, NBA, and MLB, you will find the list of point spreads, moneylines, and totals. Furthermore, there is a more wagers filter that will show you additional markets. Players can also click on the 'live' and 'upcoming' tabs to see those menus.
At the bottom of the app screen, you will see the A-Z menu of every sport and some more account options. We loved playing the app when carrying out our review. The FanDuel CO sportsbook app provides a fantastic online platform for residents of Colorado to place bets on the move, and it certainly gets a thumbs up from us. The design and markets are the same across all platforms – mobile, Android & iPhone.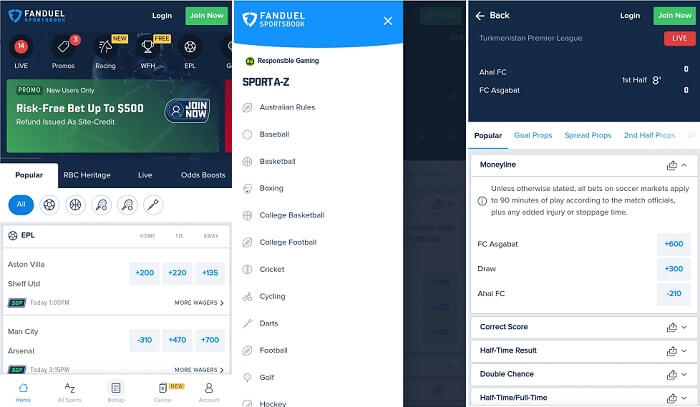 You can see icons in the footer menu to the FanDuel casino (previously Betfair casino) however you will not be able to play FanDuel casino games in Colorado. Online casino is not available in the state, but you can play real money slot games on FanDuel in New Jersey and Pennsylvania.
While we do like the app, we do prefer to use FanDuel's biggest competitor, DraftKings Sportsbook for our mobile betting. It's not that the FanDuel app is bad, we just feel DraftKings offer better lines and prefer the overall feel of the sportsbook. The app overall is very stable and hasn't caused too many issues for us. If it has, it has usually been easy to resolve. If you encounter problems with the app, we have a handy guide on FanDuel sportsbook app issues.
FanDuel Sportsbook Bonus Information
As more online sportsbooks launch in Colorado, these platforms need to offer a standout offer or promo to get your attention. FD is just one of several sport betting apps offering free bets and sportsbook promos that you can claim.
New players joining the book can benefit from a generous welcome bonus in the form of a $1,000 no-sweat first bet. Once you register at the site at sportsbook.fanduel.com, just make a deposit of $10 or more and place your first bet, you can then claim the bonus offer. There is no need to use a FanDuel sportsbook CO promo code. The offer is a $1,000 no-sweat bet, meaning if your first bet doesn't come in, you can get up to $1,000 back in free bets. This is a decent welcome bonus as it takes the pressure of new players making that first bet. Please note that this only applies to your first bet.
Other Promotions at FanDuel Sportsbook
Players must regularly check the promotions page on the FanDuel site. The sportsbook is continuously adding new offers and incentives to keep players engaged. Some of the promos you will be able to access include:
FanDuel Keep the cash: Sometimes, FanDuel will give you a chance to win $1 million. To be in with a chance, you will need to answer a range of questions based on an upcoming sports event or match. Distribute your cash at each end and, after the 20 questions, any remaining money is yours.
Multi-Sports Parlay Insurance: Here, you can place a parlay of 4+ legs in any sport. If you hit all legs except 1, get up to $25 back.
College hoops bonus: Every point your chosen team wins by, you get $3 in site credits. You need to place a Moneyline wager of at least $25 to qualify for this.
Daily odds boost: Increased prices across a range of different sports. We have always found FanDuel odds to be very competitive when compared to other betting sites.
Close Loss Insurance: If your chosen team loses by 6 points or less, you will get your original stake back as well as a free bet of up to $50.
The sports betting operator offers numerous seasonal betting promotions, so the focus will shift to different sports depending on what time of the year it is. For example, if the Soccer World Cup were taking place, FanDuel would run several promotions on international soccer matches.
FanDuel Loyalty Program
There is not currently a traditional FanDuel loyalty program available, or any way to collect points to earn a better ranking by betting more. However, there are regular new FanDuel promos as a type one-off loyalty promotion. Over the last year, the FanDuel CO Sportsbook as offered numerous 'bet match' offers for any bettor including:
A $20 site credit for your loyalty before the NFL playoffs
100% bet match offer before an NFL week of games, win or lose on a moneyline bet up to a maximum of $50
Following the Super Bowl, benefit from a full week of sports and receive a 100% bonus on your next deposit
Wager $20 or more on any MLB game and get $20 in site credit to use on any basketball college game
There was no FanDuel sportsbook promo code required to claim any of these offers as they were emailed out.
Types of Bets at FanDuel Sportsbook
All of the most common types of sports betting are available with FanDuel sports betting Colorado. These include:
Straight Bets: These are typically the most common bets at any sportsbook. These bets are single wagers which cover Moneylines, spreads, and totals. Moneylines are a straightforward call on the winner of a game. Spreads favor the underdog giving them an advantage to even the match. Totals is a bet on if the number of goals or points will be over or under the line.
Futures: These mean betting on the outcome of future events. So, for example, you could bet on the winner of the Super Bowl before the first game of the regular season has been played.
Props: These are bets within a game. You select a player you believe will score the first or last touchdown.
Parlays: These bets offer the highest payouts as they must win. The odds reflect this. FanDuel was one of the first sportsbooks in the US to offer a same game parlay, where bettors can combine multiple wagers on the same game.
Live Betting: Also known as 'in-play' or 'in-game' betting. This is a popular form of sports wagering as you can watch the action unfold. The odds constantly change, and it adds to the excitement.
Teasers: These bets are another form of parlay. The line on each selection is moved to your advantage, although the odds are lower than a typical parlay bet. When you come to choosing which game or event to bet on, you will be presented with several of the options above where applicable. FanDuel offers a great range of parlay betting options, which is why it's one of our top-ranked parlay betting sites and apps.
Sports Betting Markets at FanDuel
FanDuel puts a lot of focus on the significant US leagues. Players will have access to a vast range of big games and wagers. If you are a basketball fan, you can place player props bet and can also enjoy first-half betting. FanDuel covers a huge number of markets and is one of the most popular, and reliable NBA gambling app platforms. Every regular-season game in the NFL, MLB, NBA, and NHL will have moneylines, point spreads, and totals. There are also numerous options for college football and college basketball. Bettors in CO can bet on the Denver Broncos every week if they have faith!
Live or in-play betting also features heavily across these sports. Moreover, there is a range of futures markets, such as conference championships and end-of-season winners. FanDuel's app is excellent for football gamblers and it's our #2 ranked betting app for football.
The most popular international sports, such as soccer, golf, and tennis, also have a wide range of markets. If you are interested in soccer, you will be able to bet on games from the major European leagues and the MLS. Furthermore, international events like the World Cup and Champions League are also available. FanDuel is one of our favorite soccer betting apps available and we rank it number 1 in our soccer betting app guide.
You will be able to bet on the tour events for both golf and tennis, with more options available for the major events. Motor racing fans will enjoy placing a bet on NASCAR and Formula 1, while MMA and boxing are options for combat sports. There are other sports available such as darts, rugby, cricket, and Aussie rules football.
Banking at FanDuel Sportsbook Colorado
FanDuel holds a slight advantage over new regulated operators in the US because they have been taking payments for their daily fantasy sports platform for years. There are numerous ways to deposit with the book. Each method is secure. Bettors using the sportsbook in Colorado can make a deposit or withdrawal via the following methods:
Credit/Debit Card
ACH E-Check
FanDuel Prepaid Card
PayNearMe
Bank Transfers
FanDuel will automatically select the withdrawal method to be the same used for the deposit. With the PayNearMe option, you can request a bank transfer or head to the cage to pick up your cash. All payouts are done promptly. We have always found the FanDuel sportsbook withdrawal time to be adequate, and they usually happen within 24-48 hours. Withdrawing money from FanDuel is easy. Just log in to your account and visit the cashier section. Add in your withdrawal amount, select the method and press withdraw.
How long can you expect a withdrawal from FanDuel sportsbook to take? There are a few factors that dictate how fast you can make a withdrawal but typically between 12 hours up to 7 days via these methods:
PayPal – FanDuel typically approves the withdrawal 12 hours. Once it has been approved, you should see those funds arrive in your PayPal account within the hour
Prepaid Card – Sadly, withdrawal with prepaid cards can take up to 24hrs to be processed and approved. Thankfully, once approved, you will be able to access those funds immediately
Check – Your check should arrive within 7 to 10 business days, which is a rather long turn-around time by today's standards
ACH/eCheck – This method is also rather lengthy as it can take between 3-5 business days to process
Online Banking – Typically processed between 3-5 business days.
Cash at the counter
You can deposit and withdraw using FanDuel cash at the counter in Colorado. You can deposit cash, or collect your winnings by visiting The Celtic on Market & Off Track Betting in Denver or the Havana Park in Aurora, CO.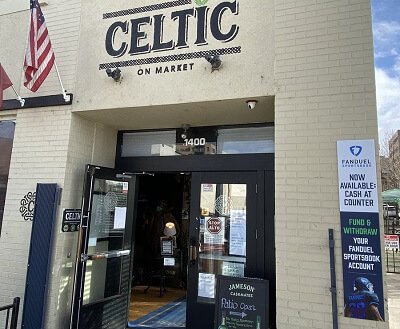 You can withdraw your winnings anytime through Prepaid card, PayPal, Check, and Online Banking. Always remember that you will not be able to withdraw using Online Banking, Prepaid Card, or via PayPal unless you have deposited using that method in the past.
Is FanDuel Sportsbook legal in Colorado?
Yes, they are licensed by the Colorado Limited Gaming Control Commission and the Colorado Division of Gaming (Gaming commissions website). The operator is in partnership with Golden Gates Casino who holds the master license and permits the sportsbook to offer legal online and mobile betting in the Centennial State. As well as being available online & mobile, the operator is also set to open retail sportsbooks in Colorado casinos in the future as well.
There is no FanDuel casino in Colorado as online casino gaming is not allowed in the state.
Colorado fantasy sports fans will be very aware of the FanDuel name. They are the most popular DFS name in the state and have drawn in a lot of players over to the FD sportsbook since going live.
Customer Support at FanDuel Sportsbook
Players can click the 'help' button on the website, which will bring up several options. These options include different topics you may need assistance with, such as 'account help' and 'deposits & withdrawals.' If you want to get in touch with FanDuel directly, there are several ways you can do this.
First, you can send an email to the support team at sportsbook@fanduel.com. Next, if you prefer to speak to somebody, you can call the helpline. Additionally, there is a live chat feature. This allows you to chat with a customer service representative instantly. We found this method to be excellent when conducting our review. The help desk is available 24/7. If your FanDuel account is suspended or restricted and you cannot use the above features, check out guide for contacts and tips.
Social media – Twitter @FDSportsbook
Conclusion
FanDuel has made the transition from a daily fantasy sports platform to a complete online sportsbook. The operator has already entered into partnership agreements in Colorado, so a retail book and apps are available. They provide bettors with a fantastic sports betting option. There is a generous welcome bonus in the form of a welcome offer bet and plenty of promotions for new and existing players. FanDuel is full of sports, markets, and features. It has everything you need to wager on your favorite team. Players in Colorado will not be disappointed.
As far as CO mobile sports betting goes, the FanDuel CO sportsbook app is a sensible choice. We would also suggest you check out the BetMGM mobile app as they have some insane promos and offers as well.
FAQs
Is the FanDuel sportsbook legit?
FanDuel is licensed by the Colorado Division of Gaming, meaning it is entirely safe and secure. It is one of the most well-known brands in the United States, thanks to its daily fantasy sports options. Following its success in other states such as New Jersey, it now has a fully functioning sportsbook site and app available in Colorado.
Can you use Cash Out on the FanDuel sportsbook app?
Yes. Cash-out is available on the app, and on the regular desktop site.
Is FanDuel sportsbook legal in Colorado?
Yes. From May 1, 2020, it became legal to place a bet at online sportsbooks in the Centennial State.
What states allow FanDuel sportsbooks?
FanDuel is currently available in AZ, CO, CT, IL, IN, IA, KS, LA, MA, MD, MI, NH, NJ, NY, PA, TN, VA, WV & WY.
What is the FanDuel welcome bonus?
FanDuel is offering new users a $1,000 in sign-up bonus when registering. This is a no sweat first bet that you can place on any market when you register.

No Sweat First Bet Up To $1,000
Get Bonus