The Best UFC Betting Apps for US Bettors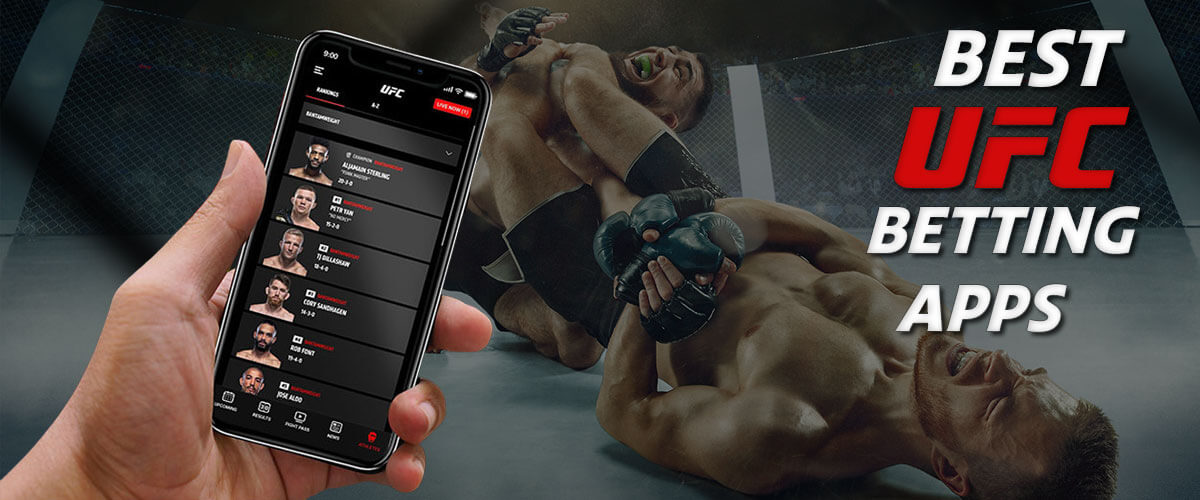 If you plan to have a wager on the big fight this weekend, then using a dedicated MMA or UFC Betting App is, without a doubt, the best way to back your favorite fighter.
Undoubtedly, UFC (Ultimate Fighting Championship) is one of the most astounding spectacles in the sporting world; its popularity and tribe-like following are spreading rapidly across the globe. The UFC plays host to the highest caliber of MMA fights year-long; its unpredictable nature and star-studded lineups make UFC betting a great way to earn some cash.
MMA betting has become the number one combat sport for gamblers across the USA, with boxing now trailing behind in the shadows. Whether you want to bet on the winner, the method of victory, or round-specific bets, the best bookmakers will provide you with great odds on all of these selections. Mobile betting is getting increasingly popular in the sport, too, and operators are getting in on the act.
Most US Sportsbooks now take bets on the UFC, but some are better than others. With that in mind, we have put together this guide for MMA fans to find what are the best UFC and MMA betting apps on the market.
Best Apps For UFC & MMA Betting
What Apps Can I Use to Bet on UFC Fights?
Let's be honest; we all have googled "best UFC betting app Reddit," and we end up lost in the archives of Reddit without any real answers. If you are looking for the best apps out there to bet on the UFC, save yourself time and effort, and check out our top 5 recommendations for UFC betting apps.
🥇DraftKings Sportsbook App
🥈FanDuel Sportsbook App
🥉BetMGM Sportsbook App
🎖️Caesars Sportsbook App
🏅PointsBet Sportsbook App

We will make life easier and show you the best app to bet on UFC; alongside this, we select apps that have the best welcome bonuses, the best UFC betting lines, and the best odds for UFC betting in the US. Everybody wants to be the best pound-for-pound fighter, but as you well know, that's not possible. So here are our top 5 options to get involved in the action:
#1 DraftKings Sportsbook App

If you are a UFC fan, you have probably already heard of DraftKings; their partnership with the UFC is worth $350 million, which sees their logo placed all around the octagon.
The UFC shows DraftKings odds live on television broadcasts which is excellent for giving you an idea of the standard odds available. Draftkings offer competitive UFC betting odds on an easy-to-use mobile betting app and a slick online betting site.
You will find all your odds tucked away into one easy-to-manage MMA betting section, which includes not only UFC betting but MMA betting alternatives like PFL and Bellator.
Being the official UFC partner, DraftKings, ironically, is the king regarding UFC picks. DraftKings offers in-game promotions, enhanced UFC prop bets, and many other innovative UFC odds, including a weekly free-to-play UFC game.
If you are looking for UFC betting when there is no fixture on, you can head over to DraftKings to play their fantasy UFC games. DraftKings' daily fantasy MMA is like no other, and for sure, this makes DraftKings one of the best UFC betting apps.
What we think makes the DraftKings Sportsbook App of the best UFC betting apps is the fight parlays! You can build regular money line parlays and, most impressively, single-game parlays! Combine both types of parlay at up-and-coming UFC events and prepare yourself for enormous odds that you'll struggle to find anywhere else!
Alongside all of these great UFC betting options, you can get a great insight into each fight by looking at the DraftKings nation.
New to DraftKings? Then take advantage of their $1,000 deposit bonus and accumulate huge amounts of cash to place on UFC events.
Play-Through Bonus Up To $1,000
Huge welcome bonus
Quick payouts
#2 FanDuel Sportsbook App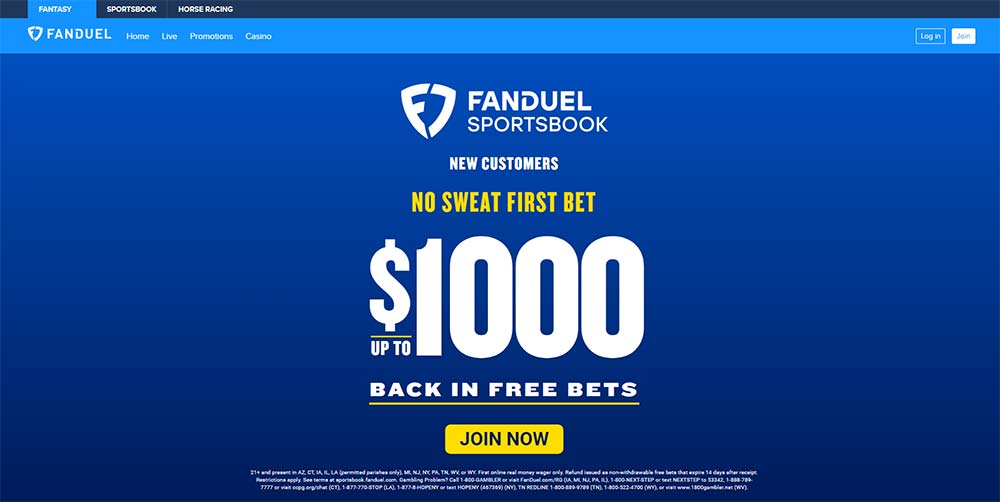 FanDuel Sportsbook App is one of the best apps for betting on MMA; This is no surprise as FanDuel is the most popular online betting site and mobile app in the USA.
Setting the standard of sports betting sites, FanDuel will always find its way into our best betting apps; inside, you will find an easy-to-navigate skin with clearly separated lines; they have separated marquee fights into a different section, so if you are looking to bet on the blockbuster fight you'll easily be able to find it.
FanDuel's first-class reputation transpires down through the MMA betting options; their promotions are second to none! Currently, you can get parlay insurance for up to $25 on real-money UFC betting. This means that if you place a 4+ leg parlay on the next UFC event and one leg lets you down, you will get a refund in site credit! An offer that can't be missed.
Out of all the UFC betting apps, FanDuel has the best boosts around. Make sure you check out their unique odds boosts before you place a bet on any other site! If you are lucky, they might have boosted the bet that you already want to place!
With a great choice of UFC betting lines and a substantial selection of Bellator options, you can be assured that FanDuel is needed in your armory of MMA betting apps.
Even better? If you are new to FanDuel, you can claim up to $1,000 as a no sweat bet!
No Sweat First Bet Up To $1,000
Clean layout
Easy to use betting app
#3 BetMGM Sportsbook App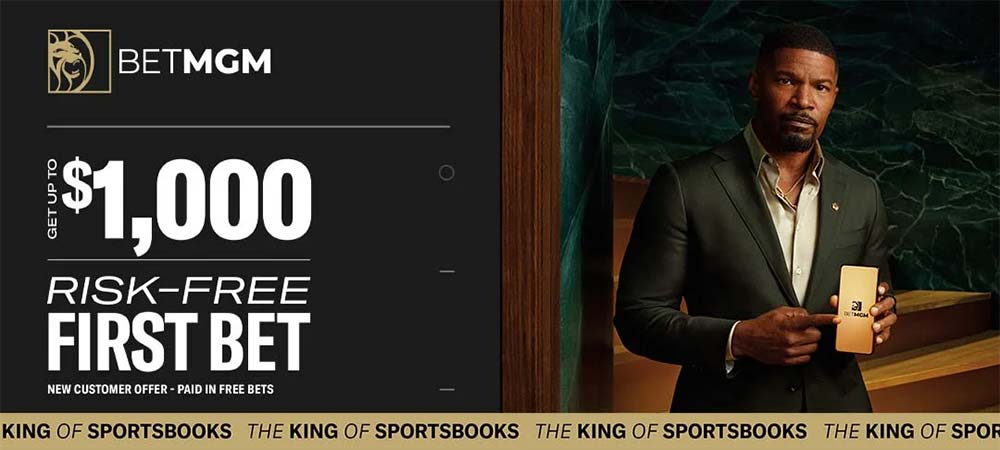 What better site to use than the world-famous MGM group's flagship sports betting site and app. The MGM group is one of the most influential organizations in the sporting world, and even more, they are significantly important in the world of MMA and UFC betting.
The MGM group has played host to vast amounts of UFC fights and MMA competitions; you would think they'd know how to deliver quality UFC betting sites and UFC betting apps.
Well, they sure do! If you are looking to bet on the web, BetMGM Sportsbook App is at the peak of the best betting for UFC. Their quality mobile betting app and well-designed online sports betting site are great for novices and professionals alike.
You can find a great selection of suggested UFC parlays alongside super-strong UFC Betting odds and the option to cash out on their online site.
Although their UFC prop bets aren't as strong as we'd like, their money line and parlay odds are first-class!
If you are looking for bonuses tailored to UFC betting, then keep your eye out on BetMGM, as they have delivered some breathtaking UFC boosts in the past.
Check out live MMA betting; whether you are watching UFC or another MMA fight, you can view live betting odds all the way from the preliminary card through to the main card. Use your sharp in-flight analysis to call an outcome at any point during the fight!
New players can claim a $1,000 bonus bet to place on their favorite MMA fight or anywhere across the sporting spectrum.
First Bet Offer Up To $1,500 In Bonus Bets
Awesome mobile app
Huge choice of sport markets
#4 Caesars Sportsbook App

One of the freshest sports betting apps around, Caesars Sportsbook App, is causing a stir in the sports betting world.
The internationally renowned Caesars group has recently taken over the William Hill Betting sites and apps. This can only mean one thing, huge promos! Dive into their user-friendly app that leaves room to desire on the eye, but its functionality is one the best around.
Caesars has many reasons that push it to be one of the best UFC betting apps, including live betting options, consistently good odds, and great prop bets ready to be deployed singularly or as parlays.
If you don't think good odds are enough, you should see the masses of top-shelf promos that are on offer. UFC betting is supercharged with regular odds boosts and even better parlay boosts. They have a featured UFC parlay boost that is one of a kind for each UFC event.
For UFC 266, they offered up a crazy promo of Brian Ortega, Curtis Blaydes & Nick Diaz, All to Win at a massive +650 ($100 maximum bet). Tasty! If you didn't already think that Caseras was one of the best UFC betting apps, then check out their welcome bonus.
The biggest promo around at the moment! Wager up to $1,250 for your first bet., and If your bet doesn't land. you'll get 100% of your stake back as a Free Bet.
On top of that, win or lose, you'll also get 1,000 Reward Credits and 1,000 Tier Credits.
Download the app & get a $1,250 bet on Caesars.
$1,000 First Bet on Caesars
Enormous Welcome Bonus
Price Boosts
#5 PointsBet Sportsbook App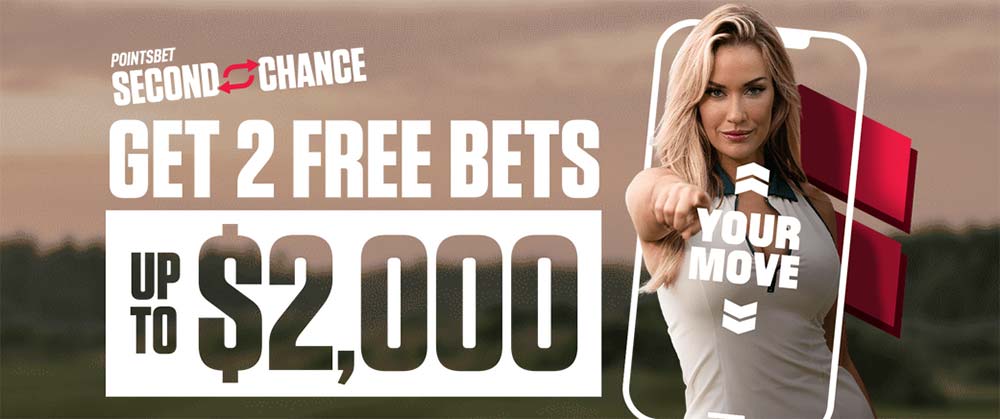 Although at the bottom of our list PointsBet is one of the top UFC betting apps. The Australian-based bookies sure know how to get us excited across all sports, and they certainly do the same with UFC betting.
Make no mistake, PointsBet is up there with the best sports betting sites with a fantastic mobile betting app that will satisfy all your sports betting needs. We love the look of PointsBet's app, and its usability is perfect for anyone looking for a new UFC betting app.
PointsBet Sportsbook app offers solid betting odds that are competitive with all other UFC betting sites and betting apps. They even provide money-back if your fight is a draw!
Why not get yourself some extra cash and rocket your odds up with Points bets, exclusive UFC boosts, and ongoing promo offers.
Definitely, one of the most remarkable features that are available for UFC betting on any MMA betting app is PointsBet's name a bet feature. If you can't find the bet you want to put on, you can request it inside the app or online, which is perfect for getting all of your crazy MMA betting predictions valued.
Keep your eye out for the PointsBet feature that is unique to PointsBet; this could supply you with some crazy UFC betting odds.
PointsBet offers an unmissable promo with new customers able to claim up to 5 x $50 second chance bets!
Barstool sportsbook also provides some decent coverage of the UFC.
Download the app & get up to $2,000 in free bets.
10 x $100 Second Chance Bets
Impressive free bet offer
Hundreds of betting markets
Types of UFC Bets
Now you know what the best apps and operators to use for betting on the UFC are, let's take a look at some of the different bet types you can place in more detail.
Moneyline
A money line bet is found in all UFC betting apps and UFC betting sites. Money line betting is selecting one fighter to win the fight in any single UFC event. It doesn't consider any other outcome in UFC events apart from the winner.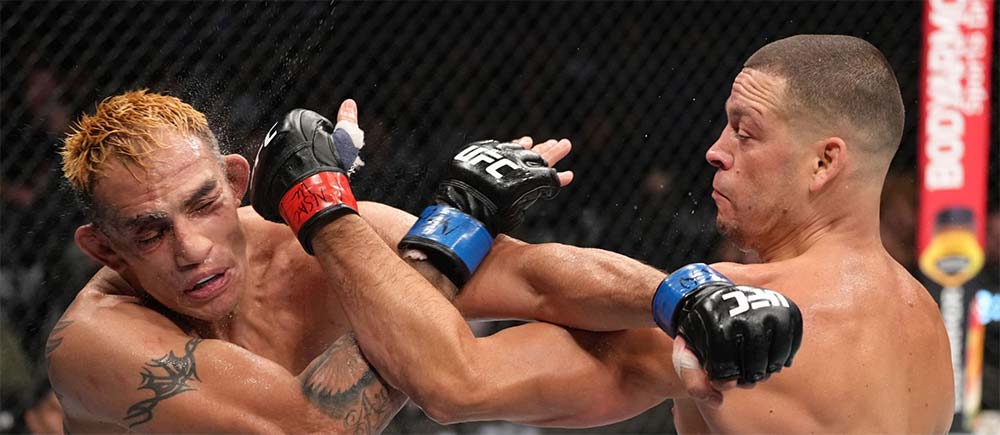 Method of Victory
In MMA and UFC, there are three ways to win a fight. Knockout, submission, and points; A method of victory selects one of these as the final outcome.
Select a method of victory in your UFC betting strategy and combine it with a money line to increase your odds.
Over / Under
Over and under betting can be related to several factors in UFC betting.
Sometimes you will find over / under options on punches landed or points given at the end. However, most often, over and under bets will be placed on rounds in the fight.
For example, under 2.5 rounds means that the bettor predicts the fight will last less than two and a half rounds.
Unlike other sports, UFC betting with over and under can actually go between rounds. Under 2.5 rounds means that your bet is valid until before the 2.5-minute mark in the second round.
Many bettors use over and under betting to increase their UFC odds in a single bout.
Round betting
In mixed Martial arts, each round is scored at the end, which creates a single winner for the round. Therefore you can bet on the outcome of each individual round.
Prop Bet
Prop bets are based on a particular event happening within the fight or event. Prop bets are not found on all UFC betting apps or online betting sites and can be challenging to find on some sportsbooks.
Sometimes promos for victory prop bets, such as Connor Mcgregor winning with a right-handed punch, are available, so keep your eyes peeled.
Parlay
Parlay bets allow you to make the most out of your UFC betting app and will enable you to combine several bets into one parlay bet.
Their potentially huge odds and fully customizable nature makes them great to use when betting on UFC fight night!
Parlay bets can be across the year, across the UFC event, or in a single fight.
UFC Betting Tips
Now you know the apps and the bet types, let's have a look at some pointers when it comes to wagering on the big event.
Have Multiple Apps Ready to Go!
The truth is there is no single best UFC betting app as they can all offer better odds on certain markets or outcomes.
However, when you harness the power of several UFC betting apps, you will get the best opportunities and experience that a single best UFC betting app could not offer.
Take advantage of the welcome bonuses and ongoing promos across all the sites; if you bet smart, you will be able to get yourself better odds, bonus bets, parlay insurances, and odd boosts all year round by following up several apps promos.
Even if you are a complete beginner, it is worth investing in 3-5 UFC betting apps to ensure you get the most out of your online gambling experience.
Do Your Research
UFC fights are unpredictable in nature, but nonetheless, intelligent UFC betting has lots of research into it. Check out fighters' forms, stories in the news, fitness doubts, and pundits tips to make sure your sports betting knowledge is fully stocked up.
The more research you do, the better-informed decision you can make within your UFC betting app; this does not guarantee you a win but will give you a clearer understanding of smart UFC bets.
What Makes a Good a Good UFC Betting Site
There are many factors to consider when searching for the best UFC betting site. We have not placed the sportsbooks on this page at random. We spend a lot of time researching them and ensuring they are an excellent platform to place your UFC bet.
Safety
Since online legal sports betting launched in the US, many sites have tried to launch without the necessary licensing and safety processes. It is vital that bettors feel safe and secure when they bet UFC. We only recommend UFC apps that have an excellent safety record and are fully licensed to operate.
UFC Betting Coverage
The UFC betting market is rapidly growing in the United States. It has become an increasingly attractive betting option for many casual bettors. Nowadays, you should be able to wager on any UFC fighter you like for an event, rather than the big names such as Conor McGregor, Jon Jones or Kamaru Usman. There should also be options for all cards and not just those in Las Vegas.
FAQ's
Can a UFC fighter bet on themselves to win?
No, it is illegal for UFC fighters to bet on themselves. It is clearly outlined in a fighter's contract that any involvement with gambling will lead to them being banned from all competitions. This also extends to the teams surrounding the fighters to avoid collusion or throwing fights.

The recent match-fixing allegations for fighters coached by James Krause highlight these rules perfectly.
Can you bet on UFC fights?
Yes, there are many different ways to bet on UFC fights. These can be a straight-up Moneyline Bet, Parlay, Over / Under, Method of Victory, and Round Betting.

Several Sportsbook offer variations of these kinds of bets to offer hundreds of unique betting options on each and every UFC fight.
What does winning by points mean in UFC?
If the MMA fight lasts all of the rounds, then the fight goes to the judge's scorecard. The judges then decide the result of the UFC fight depending on who won each round, with a 10-9 points system in place for each round.
What happens to my bet if the UFC fight is a tie?
In the event of a tie or a draw, the most likely outcome is that you will lose your bet. Some bookies, including PointsBet, offer your money back for a tie.

Thankfully tied decisions are a very rare occurrence in a UFC fight, given that they are 3 or 5 rounds and use a 10-9 points system.
How to bet on UFC fights?
To make a bet on the UFC, firstly, you need to sign up for a recommended US sportsbook we have outlined in this guide; secondly, research your fights and understand the various betting options.

When depositing to fund the bet, make sure to claim any welcome offers or bonuses, add your UFC bets and stake to your betslip, and confirm your bet selections.
What is the best sport betting app?
The best sports betting app is the Draftkings Sportsbook App; the vast range of sports available, the superb welcome bonuses, and the excellent phone app combine to provide a magnificent sports betting product.