A look at the best parlay betting apps & sites
Parlay betting is growing to be one of the most popular bet types in the US. Not every book offers parlay betting, and some are much better to use when it comes to placing a parlay.
Some betting apps are clumsy and difficult to use for parlays and can make what should be an easy job, hard work. We have searched through all the best available sports betting apps and sports betting sites to bring you the ultimate parlay sportsbooks and parlay betting apps that you can get your hands on.
Online sports betting in the US is growing rapidly. From beginning with Daily Fantasy Sports in New Jersey it has now spread to several states so people want more knowledge of the various bet types and how to wager online. Gambling is no longer restricted to Las Vegas as legal sports betting has exploded in recent years. One of the things that has appealed to players since this expansion has been combining popular bet types, such as parlays, with mobile betting.
Are you new to parlay betting or want to improve your parlay knowledge and skills? This review has you covered; we'll get you on the way to maximizing your sports betting experience.
Americans across the country are realizing the advantages of mobile sports betting, with retail sportsbooks no longer being the favorite place to take a punt on your favorite teams; This is no surprise with the vast number of good betting sites, all available right on your smartphone.
Our top 3 parlay betting apps
After diving into all the favorite online sports betting apps available, we have pulled together our top 3 parlay mobile betting apps available across the US.
These sports betting apps have been recommended for their parlay choice, ease of use, and other factors like promos that we think are important to you as a customer.
The below apps can be downloaded from the App Store for iOS users or the Google Play Store for Android users.
DraftKings sportsbook app
One of the nation's favorites, DraftKings is one of the most famous sportsbooks for a good reason. Having established their place in the sports betting market with their quality fantasy sports selection, DraftKings sportsbook app is a solid all-around contender in the online sports betting world.
Draftkings minimalistic sportsbook app is excellent for any player to place a parlay bet; we found this the most straightforward app to navigate when placing parlay bets due to its simplistic layout of lines and options.
Out of all the NFL betting websites, Draftkings, an official NFL partner, is our favorite, so if you're looking for NFL Parlays, this is the one for you!
For the best parlay odds and great promos, get the Drafking sportsbook to maximize your winnings!
DraftKings offers parlay insurance; this means that if one leg lets you down, you will have your bet refunded, up to $25. Although parlay insurance isn't going to fix your heartbreak, it's not a bad consolation prize if you don't lose out on anything!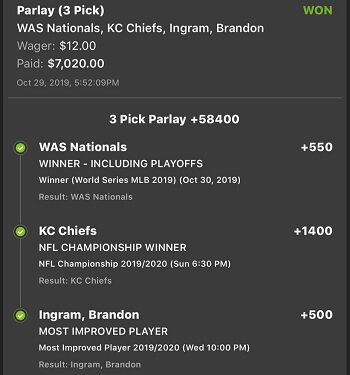 BetRivers sportsbook app
If you are yet to hear about the BetRivers sportsbook app, then get to know it! BetRivers has one of the best sports betting apps you will find on the market. A great weapon to have in your sports betting armory.
Inside this user-friendly app are hundreds of lines, including a massive array of prop bets, all with top-tier odds, perfect for building Parlays.
What makes BetRivers standout is its bonus features, including a cashout and a weekly parlay boost.
Cash-out allows you to cash your bet in along the way; this helps massively if you are unsure about your final fixture; when used correctly, the cash-out feature is an excellent tool for any player.
The weekly parlay boost is your chance to supercharge your odds, apply it to your favorite parlay bet each week, and get odds that are better than you'll find on any other sports betting operator.
BetMGM sportsbook app
When it comes to sports betting apps, the BetMGM always finds itself on the podium. As one of the most established sports entertainment and gambling organizations in the world. BetMGM set the bar high with fair odds and a great selection of lines to choose from; this is an excellent app for a novice and an expert alike.
The friendly user interface is a standout feature; you will be familiar with the slick design within minutes. Even if you are struggling to find a specific section, there is a search bar that will help you get right into the nooks and crannies of your favorite sports.
BetMGM sportsbook mobile app users will get access to the same game parlays, allowing you to rack up your odds using multiple outcomes from a single game!
If you are struggling for inspiration, delve into the parlay generator for a random parlay to get your ideas flowing.
Our top 3 parlay betting sites
We know that not everyone likes to wager on their phone, some prefer to use a laptop or computer. So we have found the best parlay betting sports betting sites for you also.
We want you to be comfortable with the site within a blink of an eye. That's why in our review of sports betting sites, not only do we check the strength or the parlay, we take into account the reliability and usability of the site as this is very important to us.
No Sweat First Bet Up To $1,000
Clean layout
Easy to use betting app
$1,000 First Bet on Caesars
Enormous Welcome Bonus
Price Boosts
10 x $100 Second Chance Bets
Impressive free bet offer
Hundreds of betting markets
FanDuel Sportsbook
FanDuel is the nation's favorite sportsbook with the most users out of any online sports betting site. FanDuel is like the mother of the group, being the reliable member that doesn't let you down.
We love the FanDuel site for placing parlays; this is largely down to the easy interface and consistent speeds, perfect for all you beginners!
Expect to see multiple promotions inside the app and a massive $1,000 risk-free bet when you sign up with no promo code required! There is tons of cash to be won here!
FanDuel were the trendsetters for "same game parlays" in the US sports betting market. Bering the first to offer the same game parlays, it's no surprise that they provide some of the most substantial options and odds in the single-game parlay department.

On the opposite end of the spectrum, FanDuel allows you to create some whacky parlays; you can combine legs from various events taking place weeks to seasons apart!
Caesars sportsbook
Caesars Sportsbook is one of the premium gambling operators in the US and is internationally renowned for its casinos. Recently Caesars took over William Hill Sportsbook in the US and presented us with the brand new Caesars sportsbook stand-alone website.
If you love to strike a bargain, then Caesars sportsbook is the place to get your hands on the best offers! The Caesars takeover from William Hill has made sure there is some unique promotions throughout the year; they already have a very tasty welcome bonus of a first bet on Caesars up to $1,250.
Caesars online site has a cool new skin with William Hills' key infrastructure still at the heart; you can be sure that Caesars sportsbook is one of the best sports betting sites for online parlay betting.
Caesars rewards is one the best loyalty programs out there; watch yourself rank up and earn prizes from free bets to casino and hotel stays!
As one of the best online sports betting sites, it is no surprise that the sports betting Parlay options and other betting lines are strong; you will find all your sports parlay needs inside with a vast variety of sports and events from across the world.
As an official NFL partner, we recommend Caesars for anyone looking to find promos on NFL betting websites for this season!
PointsBet
Our final recommended best online betting site for parlay betting is PointsBet. Out of all the online betting sites, PointsBet Sportsbook is undoubtedly one of the easiest to use; we were able to find our favorite sports and lines to build an excellent parlay bet within minutes.
It's great to see that the odds on PointsBet remain very competitive, don't forget to check out their excellent in-house special bets, which you can even combine to create an awesome parlay with sky-high odds!
Although this random selection may give you tremendous odds, we wouldn't recommend using it all of the time. We want you to have the best chance to win your parlay, so we recommend the jackpot parlay as a way to gain inspiration, but we think you should build your own parlay rather than taking a random punt.
PointsBet is stacked full of features, including multiple bet types, pointsbetting, and one of the widest betting markets of any book.

Best sportsbook for parlay betting
Of course, the best sportsbook for parlay betting is only a matter of opinion, but we literally couldn't choose one! Some other notable sportsbooks that offer good parlay coverage include Bally Bet, Fox Bet and Barstool Sportsbook.
The nature of online parlay betting heavily depends on odds, promotions, and features. Due to the constantly changing promos, we think the best sportsbook for parlay betting will change week after week!
All of the sportsbooks that we have recommended are outstanding for parlay betting. Honestly, we think you should try them out and make the decision yourself.
Best app for Parlay betting
Our favorite sports betting app for Parlay Betting was challenging to choose, all 3 of the apps we recommended are top quality, and we think you should use all 3!
However, if we had to choose one, it would be the DraftKings app, due to their excellent promos and not forgetting the cash-out feature!
When parlay gambling, we can not stress enough how good it is to have the option to cash out during your bet. If you are new to sports betting, our cash out betting guide will help you see why this is such a must-use feature.
The beauty of modern technology and online parlay betting combined with the cash-out feature on DraftKings allows you to cash in your bet while your bet is still running.
Picture this, your first two legs are in, and you are waiting on the final result, but a player is sent off from the team that you are backing! You either nervously stick it out or take a percentage of your winnings straight away and rejoice in your betting wisdom.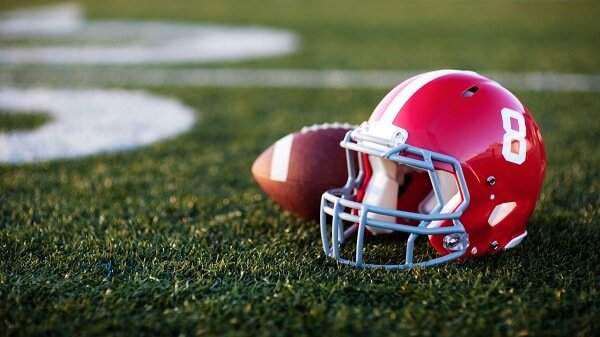 Which sportsbook offers the highest parlays?
Although some sportsbooks promise higher odds, it is near impossible to say which online sportsbook app or site will give you the highest parlay odds.
The odds market is super competitive, and online sportsbooks are constantly competing to offer the best odds.
You'll find that certain fixtures will have higher odds on one sportsbook compared to another, but then another fixture may be higher on the other. It really is situation-specific.
It may take a lot of research, but quite often, the best odds can be the deciding factor of which sportsbook to use. We recommend comparing the same parlay wagers across at least three sports betting apps or sites.
The difference may be more than you think! As parlays work on multiplying odds, a small odds difference on each fixture will soon add up in the total payout.
What is a Parlay?
In its simplest form, a Parlay bet is a feature that allows you to combine multiple bets into one. It is similar to a round robin, but you can add more legs to a parlay.
Parlays allow you to multiply the odds of each game against each other, creating a greater payout.
For those who like to back their favorites and want to boost their odds, then parlay betting is the way to go. Parlays can range from 2 bets to 15 or more. It doesn't take a genius to work out how big your odds will be if you combine 15 legs! For example, you could place an NFL parlay on a regular game week and include several matches whether it be New England Patriots, Green Bay Packers, Las Vegas Raiders and Miami Dolphins as one four leg parlay or you could add more.
It is several games rolled into one wager, and not just a bet on one game like the Super Bowl or one event like the World Series.
Check out the parlay calculator link at the bottom of the page if you want to work out the exact odds.
Types of parlay
Not are parlays are created equal. There are in fact several types of parlay bets available, including;
Double
A double is the simplest form of parlay bet. Doubles combine two lots of odds. Almost all online sportsbooks will offer this.
Treble
Yep, you guessed it! A treble is a combination of three bets together in a parlay, again offered by pretty much all sportsbooks.
Each way
Each-way betting allows you to Bet your stake across multiple results on the same line. You must double your stake to activate an each-way bet; this ensures that half of your stake is placed on the winning result, while half of your stake is split across the second and third positions.
Often most popular in horse racing or other types of finishing position-based sports. For example, if you had Lewis Hamilton to win the Grand Prix each way, you would still win a portion of your odds if he came 2nd or 3rd.
Same game parlays
Same game parlays are becoming an extremely useful tool for sports bettors to take advantage of. They are extremely popular in team games, same game parlays allow you to combine multiple outcomes from a single game.
For example, in a soccer game, you can combine two-goal scorers, a yellow card, and the match result to create a wicked bet within one fixture. There is also same game parlay insurance offered by some sportsbooks which means you can guarantee yourself a profit if one leg loses.
Our parlay tips
Follow these tips to maximize your parlay betting;
Having multiple accounts
We recommend having accounts with multiple sportsbooks for the best sports betting experience, whether you are using sports betting app or a sports betting site.
By having multiple accounts, you can claim the free bets and welcome bonuses with each sportsbook and give yourself the best promos to use across your favorite sports. Make sure to check each sportsbook for special offers that are added each day or week.
A big bonus of having multiple accounts is comparing the odds for your parlay across different sites. Try the same selections across a few sites and see which gives you the best odds to maximize your winnings.
Timing your parlay
If you place your parlay an hour before, a day before, or a week before, all will bring back varied results as odds fluctuate as the build-up to the event begins.
If you are betting on sports like NFL and soccer, you may want to wait until just before the game when the lineups come out; sometimes a missing superstar or trouble in the dressing room may affect a team's performance.
However, there is no definitive answer to placing your parlay bets at the best time; it can be hard to predict the dynamic nature of sports! But that's why we love sport!
Do your research
This is our most important tip for anyone who's looking to place a parlay bet. Looking into each fixture or event a little closer will provide yourself with the best chance of winning your parlay bets.
We always look into a team form over the last 3-5 games to see how they are performing; although this is not detrimental to the result, it gives you a clearer idea of a team's recent form despite the odds.
Keep your eye out for in-form players, injuries, suspensions, and other individual factors that may influence a result.
Benefits of Online Parlay Betting
If you are looking to place a parlay sports bet, you will be pleased to know there are plenty of pros to doing this online. First, it is really straightforward to place parlay bets online. However, there is no bigger benefit as a sports bettor than having the ability to get out of your parlay when the first few bets come through. What we mean by this is if you place a four-team parlay and the first three legs all win, you can guarantee a return by hedging the other side on the last leg of the wager.
In terms of overall betting options, that is a significant benefit. Many players who place parlays always have hedging in mind, because it enables them to lock in a profit even if their overall parlay would have lost. There are also some sports betting legal sites that allow users to edit their parlays and more legs to the parlay which couldn't be done in person. This is another advantage of using a mobile sports betting app to wager.
By adding another leg to the parlay, you can increase your odds and thereby the potential payout compared to the original bet. Finally, once you submit your parlay online, you can withdraw your winnings within minutes if it is successful. Again, this is something that can't be done in-person and really highlights the benefits of using mobile apps while betting. That flexibility is vital.
Are there restrictions on Parlay Betting Apps?
You must check the rules of each sports betting site regarding all parlay wagers before you begin betting. These online sites typically have different rules. For example, one we often come across is a lot of online sportsbooks do not allow users to place parlays on futures wagers.
The only slight exception to this is DraftKings. The DraftKings sportsbook does permit certain futures parlays but state they reserve the right to restrict certain bets. So, you may receive a message from DraftKings that your parlay bet is "too closely correlated." If you bet on the Eagles to win the NFC East, and added a parlay for them to win the NFC and progress to the Super Bowl, the operator may determine that bet is too similar and you would be blocked from placing that parlay.
A lot of sites also have differing rules surrounding same game or single game parlays and multi-sport parlays. All legal sports betting sites don't allow correlated parlays, as they see this as a way of trying to cheat the system and of course they don't want to be losing a lot of money.
As we have mentioned above, you should always check each Sportsbook's rules and regulations regarding parlay betting.
FAQ's
Are parlay bets the best type of wager to place?

This is very subjective as single bets are often easier to win, but parlay bets can provide huge returns if you get them right. Creating an account with a parlay betting app or choosing numerous parlay betting apps will also give you more choice. Look out for parlay insurance to give you an extra layer of security if your bet loses.
Are mobile sports betting apps safe?
Every sports betting app that we recommend is registered, licensed, and safe to use.
Are online sports betting websites safe?
Every sports betting site that we recommend is registered, licensed, and safe to use.
How much does a Parlay pay?
A parlays payout depends on the legs that you have selected and combined. You can expect to see a larger payout for parlay bets than you may find with other bets.
What is the best app for a Same Game Parlay?
All of the apps listed on this page are excellent options for placing a same game parlay. However, FanDuel introduced this type of wager and have the most choice when it comes to a single game parlay wager.