Best Central City Casinos
Central City Casinos are some of the most popular gambling destinations in Colorado, but which is the best Casino to play in?
Colorado may not be known for its thriving casino culture. Central City began life as a mining town during the infamous Gold Rush. However, to this day, bettors flock to central city gambling locations to try and win their fortunes. Additionally, Central City CO casinos provide lots of fun and entertainment as well as classic casino games.
All of the casinos are within a short walk of each other, meaning there is no need to travel around for hours searching for casinos in Central City. Colorado itself has a couple of American Indian reservations with some towns that permit gambling, such as Black Hawk casinos or casinos in Cripple Creek. Additionally, Colorado is one of many states that now offer online gambling so that residents can enjoy table games and poker via CO online betting apps.
This casino town provides a raft of your favorite casino games. You could choose from a themed slot machine, to a fast-paced card game, video poker and more. If you are an online casino user but want that real life casino experience, you will be able to experience that with any Colorado casino listed on this page.
But for those who yearn for a more traditional experience, Central City Colorado has plenty of things to do. The town never sleeps, with 24/7 entertainment, Colorado poker tournaments, and unique slots to keep visitors occupied continuously. Online casinos are not yet legal in the state, but players can play sweepstake casino games online to get a taste of their favorite games; BetRivers.net, Pulsz Casino, and sites like Chumba are a great introduction to this sphere.
When people think of a casino holiday, they typically think of Las Vegas or Atlantic City. However, Colorado is quickly becoming a popular destination among gamblers. With Central City Colorado hotels casinos, and kid-friendly casinos in Colorado making it accessible for families, it is easy to see why. So, people may be asking what is the best casino in central city CO? This guide will look at Central City casinos in Colorado and why you should give them a try.
Now that sports betting is legal in Colorado, casinos are now able to have retail sportsbooks. Currently, there are no physical sportsbooks in Central City casinos, but you can wager anywhere in The Centennial State online at one of the several licensed CO sports betting apps.
Easy Street Casino
Easy StreetStreet is a family-friendly casino with a busy arcade suitable for children and a diner-style Millie's Restaurant. This casino is also home to the infamous Gold Coin Bar, which has been attracting visitors for years. Easy StreetStreet may not be as grand as other casinos, but it is a welcoming venue where guests can enjoy a pleasant gambling experience.
If you prefer a larger space, you can visit its sister casino, the Bonanza, which is slightly bigger. In terms of gaming options, Easy Street offers:
180 slot and video machines
An arcade for guests under 21 years old
This casino is open seven days a week; however, opening hours may vary, so make sure you check before you travel.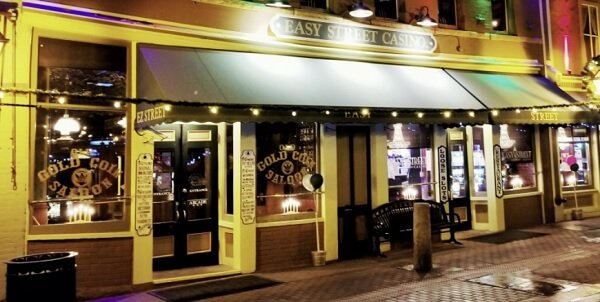 Century Casino Hotel
Century Casino Central City provides a boutique-style hotel with 26 rooms. Guests have the opportunity to choose from three top-quality dining options, including two American cuisine-themed restaurants in addition to an on-site bar. Century is a well-known brand, and there is also a Century Casino Blackhawk Colorado.
The Central Casino in Cripple Creek agreed to a partnership with Circa Sports and its sportsbook and mobile app. When using the app, customers can access a wide range of betting options and live in-play odds. Additionally, players can participate in parlays, futures bets, under/overs, and point spreads. Banking is also done remotely, so you can withdraw and deposit funds on the go. Currently, there is no retail sportsbook at Century Casino in Central City.
Regarding amenities, this casino offers:
A large slot floor with over 500 slot and video machines
Numerous table games, including poker, blackjack, craps, and roulette
Players can access these games 24 hours a day, seven days a week. Like the other casinos on this list, Century Casino is located on Main Street. The beauty of Central City is people can visit different locations as they are across the StreetStreet from each other.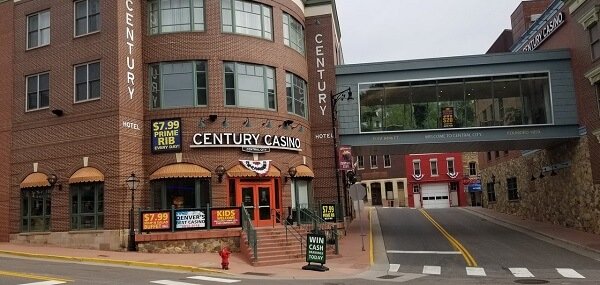 Grand Z Casino
Grand Z is the biggest casino in Central City and is the sister casino of Johnny Z's. Additionally, Grand Z is home to The Mile High Club, which is the only entertainment venue in town that features live dance acts from around the country. This hotel in Central City CO has 119 renovated deluxe rooms and suites. Additionally, there are three top-quality dining options for guests to choose from, including the flagship restaurant The Grand Bistro.
Grand Z has moved into the sports betting world by recently announcing a partnership with IGT to place self-service PlaySports kiosks in the hotel, in addition to an app. The mobile betting app will be branded Play Maverick Sports and will launch soon. Players at this casino will discover:
700 slot machines
Several table games including blackjack, poker, craps, and roulette
Grand Z is one of the locations not on Main Street; you can find it at 321 Gregory Street. The Grand Z Casino Hotel also provides excellent accommodation for those that require it.

Dostal Alley Casino
Dostal Alley is unique, as it is the only casino in Central City that has a microbrewery. The brewery utilizes wild, local hops that grow around the city. Dostal Alley is one of the oldest casinos in the town and is also the smallest. It is full of character, so it may appeal to visitors looking for a more authentic experience.
The food choices are nothing fancy; to go along with the local ale, you can choose from pizzas, calzones, and sandwiches. Dostal has agreed to a partnership with Betsson for sports betting that is expected to launch in 2022.
The casino offers 60 slots and video poker machines and is open seven days a week; however, hours may vary.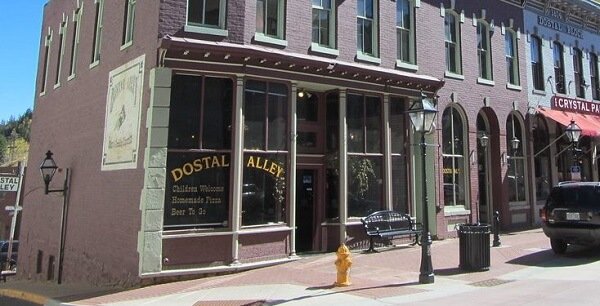 Famous Bonanza Casino
This is the larger sister casino to Easy Street and is unsurprisingly located across the road. It offers an alternative experience from its sister site regarding games and dining options. There are over 200 slot and video machines at Famous Bonanza, and it is open seven days a week; hours may vary.

FAQs
How many casinos are in Central City, Colorado?
There are six casinos in Central City. This old mining town is just 30 miles outside of Denver and is well worth a trip. Colorado casinos are well known for providing an all round level of entertainment, similar to Atlantic City in New York.
How many casinos in Central City and Blackhawk?
There are six casinos in Central City and 18 casinos in Blackhawk. Blackhawk is a much bigger place where people regularly visit in search of entertainment and live casino action. Some famous casinos in Black Hawk include Ameristar, Monarch Casino and Black Hawk Station Casino. Colorado is also home to Cripple Creek casinos.
Which casinos in Central City have penny slots?
Dostal Alley and Century Casino both have numerous penny slots. Century Casino is the bigger of the two, with free parking and a large hotel. Century Casino is located at 102 Main Street.