PointsBet Sportsbook
PointsBet is a unique sports betting offering due to its signature product, Pointsbetting. Now live in Colorado, this is an innovative type of gambling that has the potential for customers to earn massive wins on spread bets. Even though this is a big focus of the PointsBet brand, they offer loads of betting options. They are a sportsbook ready to step up and rival the likes of FanDuel & DraftKings.
PointsBet Colorado sportsbook officially launched on November 18, 2020, offering mobile and online betting in The Centennial State.
Those who access the PointsBet sportsbook in Colorado will find a fantastic sportsbook that is easy to use. Even if you visit the sportsbook with no intention of using the points betting feature, all of the most common types of sports bet are available. Furthermore, PointsBet offers generous welcome bonuses and boosts, which players can access via the website or the mobile app. The app is available to download on both iOS and Android devices. Sports betting is currently open to players aged 21 or over in CO, IL, IN, IA, KS, MD, MI, NJ, NY, PA, VA & WV.
Read our PointsBet sportsbook review to find out about the latest bonus bets, sports betting markets, types of bets, and more. If you are new to online sports betting and one to give PointsBet a try, you will find all the critical information on this page. We have been betting with PointsBet for over 12 months and love the app setup and sportsbook.
PointsBet Colorado Mobile App
Any good sportsbook now needs to have a killer mobile app. Luckily, the good folks at PointsBet know this and have made a fantastic mobile app available to download on Android and the iPhone. Follow this guide to download the PointsBet CO sportsbook app:
PointsBet Colorado iPhone app
Go to the

iTunes

app store
Press GET to download & install the app
Launch the app, press Join
Create a playing account
Fund your account
PointsBet Colorado Android app
Visit

pointsbet.com

& create an account
Open the main menu on the left
Scroll to Download app
Press download for Android
Open the PointsBetAndroidApp.apk
Press Install, press open
Log in and fund your account
Android users may need to allow unknown sources from the security settings on your phone. You won't find the app in the Google Play Store in the US because Google does not allow any sports betting apps to be in the app store. This is the way to get the official app and it is 100% safe to download the APK from the operator's mobile site.
Joining PointsBet CO Sportsbook
Creating a PointsBet account is a straightforward process. Players in Colorado need to head to the website at pointsbet.com and click on the 'sign up now' button. Next, you need to choose which state you are in ( you can register in any state but need to be in Colorado, Illinois, Indiana, Iowa, or New Jersey to bet). Additionally, you will need to provide a few details, including your name and email address. We signed up in less than 5 minutes and had our bets on before kickoff, it's that quick to join.
To complete your registration, you will be required to provide your gender, date of birth, cell number, last 4 of your SSN, and your address. All that is left is to select a username and password, and you can then start placing some sports bets. We recommend you set a strong password just to be on the safe side. Make sure all of your information is correct when joining, as failure to do so can get your PoinstBet account suspended.
You can sign up from any state but you do need to be in a legal state to place a bet. PointsBet can determine your location by geolocation software on your mobile or by using a plugin on your browser on the regular site. You also need to be aged 21 or over to legally bet in Colorado – online or on mobile.
PointsBet Sportsbook Mobile Betting
If an online sportsbook wants to be well recognized, they need to offer an excellent mobile app. PointsBet delivers a slick, easy to use app that provides a great gambling platform for people on the go. It is visually one of the best-looking sports betting apps available at the moment. We love the design of the PointsBet Android app, we even prefer the design to the popular app from DraftKings.
On the left-hand side, you will find the main menu, which is where you can navigate from to find your way around. From here, you can visit the PointsBet card, Revis betting academy, Topgolf, In-play, and the blog. You will also see a list of the days' most popular events and all of the major sports. It is straightforward to find the sport of your choice. For example, if you want to place a wager on football, tap the football option, and see all of the upcoming games. If there is a particular game you want to bet on, hit it, and all of the betting markets and odds will appear on your screen. The operator has one of the easiest football wagering apps going, it's so straightforward to use.
All of the traditional bet types are available on the app, including  Futures, In-play, Moneyline, Parlays, Point spread, Props, Straight bets, and Total (over/under). Furthermore, you can use the PointsBetting feature exclusive to this sportsbook. The sportsbook is the only brand offering this type of bet anywhere in the United States. It is available on mobile, Android, iPhone, and on the regular site.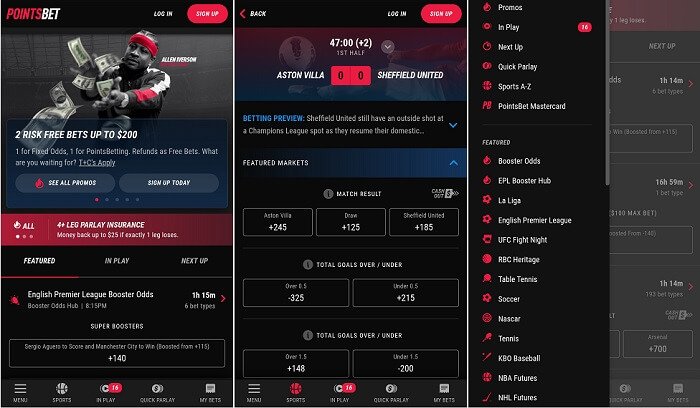 The PointsBet sportsbook app is available to download for both Android & iOS devices and is so easy to use, even a rookie to betting can use it. The design is impressive and we love the black color scheme. It just works. The in play betting is instantly accessible by the main menu on the bottom of the screen and we have always found the lines to be good with the sportsbook. As far as mobile betting apps go, it is one of the best for those looking to wager on their mobile in Colorado.
PointsBet Sportsbook Bonus Information
New customers will be able to access two generous welcome bonuses. One applies to standard betting, and the other is for PointsBetting. To claim either bonus, you will need to visit the PointsBet website and create your account. So, how does the bet work?
New customers can place their first fixed odds bet, and they will receive a refund of up to $500 in the form of 5 x $100 second chance bets. The same rules apply to your first Points Betting wager. You will also receive a $500 refund if the bet loses.
These fixed-odds bet credit bets are a fantastic way to get your new PointsBet account off to a great start. If these bets come in, then you are off and running. If they don't come in, you get a second bite at the cherry with the free bets. That is the beauty of bet credit bets. Any refunds will be processed as bonus bets within 24 hours of the bet being settled. If you want to grab some more sportsbook offers in Colorado, we got you covered!
PointsBet Sportsbook Promo Code
New players joining the CO sportsbook claim the welcome offer without the need to use a specific promo code.
Other Promotions at PointsBet Colorado
As well as a generous welcome offer, PointsBet keeps existing players engaged with regular promotions. Promotions can change depending on the sports season. Some promos include:
Early Payouts: If you bet on a soccer match and a team takes a two-goal lead, you will get paid. If the team doesn't eventually win, it makes no difference to you as you will already have your cash.
PointsBet Offer: All point spreads in the NBA are -105 lines, which are more favorable than the typical -110 lines at other online sportsbooks in Colorado.
Place a parlay: Place a parlay wager of five legs or more. If just one part lets you down, you can get a refund on your bet up to $50.
Daily booster odds: Make sure you look out for enhanced odds on player and

parlay bets

.
PoinstBet Refer a friend: If you invite a new customer to sign up with the operator, you will receive $50 in bonus bets after your friend deposits $50 or more.
As well as the above, the book also offers a loyalty scheme called PointsBet Rewards. Every time you place a bet, you can earn points that can be converted into cash. You will receive one point for every $5 you wager on a fixed odds bet. This exclusive rewards program is well worth using and a great way to reward loyal players.
PoinstBet has signed exclusive marketing deals with the Denver Nuggets, Colorado Avalanche, and the University of Colorado in Boulder, You can expect to find some very good colorado avalanche promotions with the book.
PointsBet Available states
The online sportsbook from PointsBet is legal and now available in several US states, including:
Colorado
Illinois
Indiana
Iowa
Kansas
Maryland
Michigan
New Jersey
New York
Pennsylvania
Virginia
West Virginia
How Does PointsBetting Work?
There are two different types of wagers at PointsBet. First, you have the classic form, where you can place all of the traditional bets such as moneylines, futures, and point spreads. These are the same as at any other online sportsbook. However, PointsBet also offers another unique option; PointsBetting.
The premise of this involves winning or losing more money based on how far off your prediction was from the totals score or spread. Unlike how a fixed-odds bet works, each point over or under becomes a multiplier of the original stake.
To put this in practical terms,  if you took the over on 24 and the match ended with 31 points, you'd win 7x your bet. If that same game resulted in 21 points, you'd lose 3x your stake. This is a risk-and-reward call on the bettors' behalf. Your potential winnings could be much higher, but the same applies if your bet loses. It amplifies your returns compared to the usual -110 lines on under or over bets, which feature at most online sportsbooks.
PointsBet Colorado Features
PointsBet is known for its trademark black, red, and white color scheme. The site is clean and doesn't overload you with information. The leading sports betting markets appear on the homepage, with menus visible that will take you to the others. Moreover, you will notice the fixed-odds bets on the homepage and the spreads, moneylines, and totals on display. More bets will be shown when you click on an event.
This will bring up the PointsBetting menu alongside the fixed-odds markets. If you decide to bet under the points betting market, it will be red; if you bet over, it will be blue.
On the right-hand side of the betting markets, you will discover the 'up next' section, which will show all of the upcoming events, focusing on major leagues. The site is not cluttered, so new players will be able to navigate their way around. We are massive fans of the Quick Parlay Builder and In-Play Parlay Builder. They are a great way to get your wager on in next to no time.
Types of Bet at PointsBet Sportsbook CO
You can find a list of all the different bet types on The Revis Betting Academy section of the PointsBet website. All of the fixed-odds bets include:
Moneylines
Point Spreads
Parlays
Totals
Pick your total
Pick your spread
Futures
Props
There are a couple of niche bets from the list above. The pick your spread from PointsBet gives you the chance to move the lines. If a team is a 10-point favorite, but you would rather bet on them as a 5-point favorite at reduced odds, or a 15-point favorite at increased odds, you can. PointsBet also has a cash-out betting feature so bettors can end their bet early.
PointsBet also offers the pick your total betting option, which allows you to move the totals number in the same way, and the odds will adjust accordingly.
PointsBet heavily focuses on prop betting. These are bets that are placed when a game is taking place, rather than bets on the whole match or event. Most sports betting sites offer prop bets, but Points Bet provides more variety than most. Some prop bets they offer include:
Quarterback completion percentage.
Player rushing yard and receiving yards.
Time of the first touchdown (in seconds).
Player shooting percentages (field goal percentage, free-throw percentage, three-pointer percentage, etc.).
The time of the first basket by player.
Player points multiples (first-quarter points multiplied by second-quarter points).
Time, in minutes, played for players to pass.
Longest made field goal distance in feet.
Player points, assists, and rebounds.
Players can easily access the Prop bets option from the homepage. If you click on an event, this will also bring up all of the sports betting options, including prop bets.
Sports Betting Markets at PointsBet
PointsBet offers all the major sports you would expect to find on an online sportsbook in the United States. You will see a list of sports if you access the menu at the top left of the site. The first sports you will notice are football, basketball, hockey, and baseball. You will notice a lack of horse racing on the app and regular site, if you are a fan of betting on the horses, you would be better checking out TVG as an alternate.
PointsBet places a sharp focus on major sports leagues and top college action. Players can expect a vast range of betting markets on each game. Additional markets are available when the playoffs arrive, with futures markets including the winners of the Super Bowl, World Series, NBA Championship, and the Stanley Cup.
The sportsbook also features markets on some international sports. Soccer betting, particularly, features heavily at PointsBet, with markets open on the big European leagues and the MLS. Furthermore, there is always a flurry of action around significant tournaments such as the World Cup.
PointsBet covers golf, including the significant tour events, as well as NASCAR and Formula 1. For combat sports, you can access betting options for boxing and MMA, including the UFC. The app ranks high as one of our favorite MMA betting apps. Other niche sports available include cycling, cricket, rugby, and darts. We have always been impressed with the PointsBet sportsbook NBA championship odds, especially when compared to other sportsbooks like BetMGM and those on the FanDuel sportsbook app.
Banking at PointsBet CO Sportsbook
PointsBet is a regulated and licensed sportsbook in Colorado, so all of their deposit and withdrawal options are safe. Deposit methods include:
Debit/Credit Cards: Any deposit you make via a Visa or Mastercard will be made instantly. You need to enter your card details online, and the funds will be transferred straight away. Not all companies will accept direct deposits to gambling sites, so please check before attempting.
ACH/E-Check: This is an electronic version of a paper check. This online banking method allows you direct funds from your bank account to your PointsBet CO account.
PointsBet Mastercard: This is a branded prepaid card. You can load funds onto this via a debit and credit card. It is an excellent option if your card-issuing company won't allow deposits to gambling sites. You then need to transfer the funds from the card into your sports betting account. You will see the option to get a prepaid card in the deposit section of the PointsBet website.
If you don't want to use any form of online banking, you can make a deposit in person. PointsBet has a physical location at the Double Eagle Hotel & Casino, and from there, you can make deposits and withdrawals. We would love to see PayPal added as a deposit option to the sportsbook in the future. You can use PayPal to top up your PointsBet Mastercard in the meantime.
Is PointsBetlegal in Colorado?
They sure are. They received their license through their partnership with the Double Edge Casino, Cripple Creek who owns the master license. There is no retail sportsbook inside the Double Edge casino yet, but it is hoped there will be one in the near future.
The responsible bodies for licensing in the state are the Colorado Limited Gaming Control Commission and the Colorado Division of Gaming. You can find out more on the Gaming commissions website.
Pointsbet is licensed for online and mobile betting in the state of Colorado, as well as New Jersey, Indiana, Michigan, Illinois, and Iowa. They officially launched the Colorado online sportsbook and mobile app on November 18, 2020.
Customer Support at PointsBet
If you have a question regarding your PointsBet CO account, the site has a 'help' section. The topics covered here include betting, your account, and new rules and regulations. If your issue is still not resolved, you can get in touch with the customer service team via the following methods:
Email: Click the email option, and this will generate an email directed to service@pointsbet.com. They will typically respond within 48 hours.
Live Chat: Click the 'live chat' option, and a chat window will appear. This puts you in direct contact with a PointsBet customer service agent. You just need to enter your name, email address, and your query.
Social Media: Twitter @PointsBetUSA
Conclusion
The PointsBet sportsbook is a fantastic sports betting option for customers in Colorado. Its unique PointsBetting feature ensures this sportsbook stands out and adds an element of excitement for bettors. Moreover, the additional prop bets options and pick your own spread bet make PointsBet an attractive proposition.
New players can claim two bet credit bets to boost their chances of getting their account off to a winning start. Essentially these work out as free bets. Along with the numerous promotions on offer, PointsBet is well worth a try. They are one of the best new sportsbooks to hit Colorado and a must-use sportsbook for any betting fan.

10 x $100 Second Chance Bets
Get Bonus