Broncos Mourn Passing of Greg Knapp
Categories:
News
|
Published by:
Tyler Jackson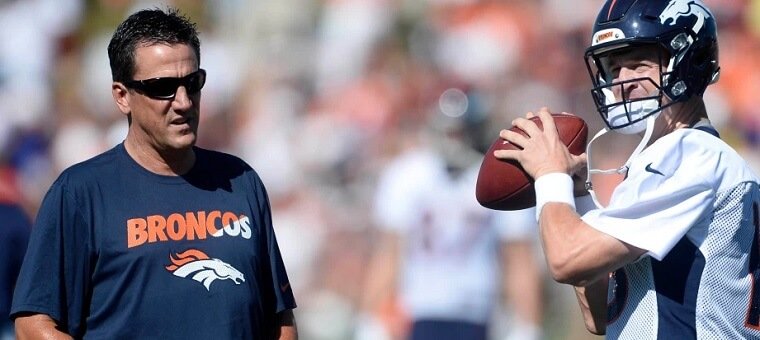 The Denver Broncos are joining the National Football League in mourning the sudden and tragic death of former coach Greg Knapp.
Knapp was the quarterbacks' coach for the Broncos during their run to the Super Bowl championship just a few seasons ago.
Knapp was credited for his work with future Hall of Fame quarterback Peyton Manning during that season and is well-respected around the league. He had been serving as the passing game coordinator with the New York Jets, beginning in January of this year.

The Broncos issued a statement after the news of his death was announced, stating, "The Denver Broncos are heartbroken by the sudden, tragic passing of Greg Knapp, who was an outstanding coach and an even better person." The statement continued saying, "In his four years as our quarterbacks' coach, Greg was an instrumental part of two Super Bowl appearances and our championship run in 2015. The job he did coaching quarterbacks during our Super Bowl 50 season was masterful."
Knapp was injured in a bicycling accident after he was struck by a truck on July 17. After a brief battle in the hospital, the 58-year old coach ultimately succumbed to the injuries.
During the course of his 26-year career as a coach in the National Football League, Knapp worked with seven different franchises. Knapp was a former quarterback at Sacramento State and was able to turn that into a highly successful coaching career in the league.
Knapp began his coaching career with the San Francisco 49ers, and he got to work with Hall of Fame quarterback Steve Young to begin his career. During his time in the league, Knapp was able to help a number of quarterbacks to have some of their most successful seasons of their careers.
The Broncos hired Knapp as quarterbacks coach in 2013, which was the second season for Peyton Manning in Denver. The coach and player were able to quickly form a bond that helped guide the team to the Super Bowl.
Most assistant coaches don't receive much recognition for the overall success of the team, but that wasn't the case with Knapp. The Broncos likely would not have been able to win the Super Bowl that season if it weren't for the work that Knapp did with Manning.
Jets Must Move Forward
Even though Knapp has bounced around during his coaching career, it wasn't because teams did not want his services. He was a highly sought-after quarterbacks coach, and his next role was set to be transforming the struggling offense of the New York Jets.
The Jets drafted quarterback Zach Wilson with the number two overall pick in the 2021 NFL Draft, and he has spent the last few months working with Knapp. This is going to leave a massive hole with the Jets franchise, and they will have to find a way to move forward immediately.
Knapp suffered this injury near his home in North Carolina, but he was just days away from heading to Jets' Training Camp. New York has not yet announced a new quarterbacks coach, but one will have to be hired soon.
Why not check back for more Colorado sports betting news, free bet offers, and CO sportsbooks updates.

Relevant news