Full Capacity Coming to Folsom Field
Categories:
News
|
Published by:
Tyler Jackson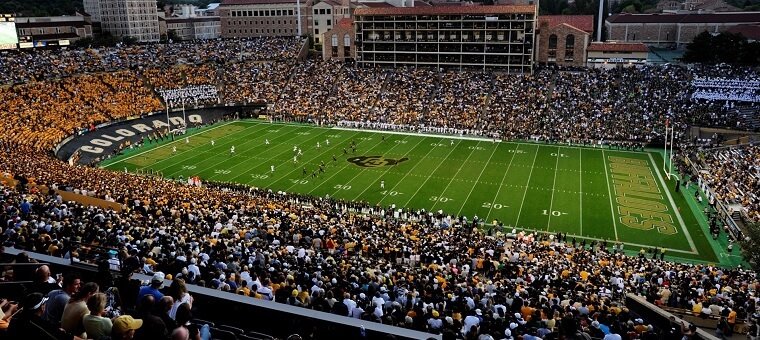 The University of Colorado made an announcement earlier this week, and it signals the next step in a return to normalcy for fans of the Colorado Buffaloes.
The university announced this week that 100% capacity will be allowed at all sporting events, beginning this Fall during the college football season.
Colorado has been hit hard by the COVID-19 pandemic, but a return to normalcy seems closer than ever before. The state has lifted all COVID-19 restrictions, and that has allowed the university to remove the capacity limitations.

In an announcement from the university, athletic director Rick George stated, "All of us, the student-athletes, coaches, and staff, are looking forward to welcoming back our fans to every one of our venues after playing before mostly empty seats last year."
The biggest news from this announcement obviously relates to the college football season, but indoor sports won't have capacity restrictions either. It has been nearly 500 days since a University of Colorado sporting event was able to be attended with 100% capacity.
The 2021 college football season is set to begin on September 13 as the Buffaloes host Northern Colorado. It's unclear at this time if the stadium will be packed, but the option is there for Buffaloes fans.
COVID-19 protocols will be in place for the upcoming 2021 athletic seasons at Colorado, but it's not yet clear what those protocols might be. The Boulder County Health Department will work with the university to have a plan in place before the season begins.
Last season, the Pac-12 Conference didn't allow any fans to attend the regular season football games, and it was a solid season for the Buffaloes. Family members were able to attend just one game at the end of the season, and Colorado was nearly able to win the Pac-12.
The University of Colorado also announced that season tickets are now on sale on the school's website for the upcoming football season. The Buffaloes are also set to play at Empower Field at Mile High this year, and fans can purchase tickets to that game.
COVID-19 protocols will still be in place in some capacity, but allowing 100% of fans to attend home football games will provide a huge boost to the team and to the university.
PointsBet Deal Now in Play
Last year, PointsBet and the University of Colorado made major headlines when they agreed to a sports betting partnership. This deal was the first of its kind in the United States, and it was one that came with a lot of scrutiny.
The COVID-19 pandemic kept this partnership from really taking off, but that won't be the case this year. Fans at Colorado sporting events this year will see plenty of PointsBet signage, but that is about the extent of it.
According to state law, PointsBet will not be able to offer sports betting at Folsom Field or the other University of Colorado sporting venues. PointsBet will receive plenty of brand recognition through this partnership, but it won't affect retail betting in the state.
Why not check back for more Colorado sports betting news, free bet offers, and CO sportsbooks updates.

Relevant news