Troubleshooting GeoComply Tips
If you are trying to bet online or on your mobile, then GeoComply is a name you will be familiar with. It's the software that locates players and proves you are in a state where sports betting is legal.
Since legal sports betting started rolling out across the US, GeoComply has been at the forefront of player location for sportsbooks and mobile betting apps. But it's not without its problems. Sportsbook geolocation issues are well documented and customers have been very vocal about issues they have been having. Especially with GeoComply. If you have seen the geocomply no token message, you will know what we mean.
Jurisdiction awareness is critical for online sportsbooks in the United States. It assists in ensuring that players reside in the borders of 20+ states that offer regulated sports betting; these online sportsbooks will utilize the GeoComply software. It's the best option an operator has towards confirming a player's location. However, GeoComply malfunctions regularly for players & the sportsbook. It's because the software corresponds with numerous technologies to receive an accurate location.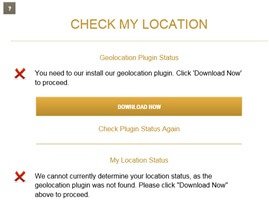 If the software malfunctions or throws up a glitch, there are several options bettors have towards troubleshooting and solving the issue. We've detailed those troubleshooting options down below and will run down 7 tips to help combat your GeoComply problems.
Step 1 – Alter the DNS Router Settings
If geolocations continue to malfunction, the issue could be router-based. By altering the DNS Router Settings, accurate geolocation can be assessed. It's known that the Verizon FIOS-G3100 Gigabyte Router doesn't provide precise locations for GeoComply and is a nightmare for any site or program that requires location settings.. DNS Router Settings can be altered in the settings for Windows, Mac, iOS, or Android. You can find a handy guide on how to do this here.
Step 2 – Check Your Location To State Borders
Accurate location readings from GeoComply are inefficient for players located near the border of their state. For instance, bettors located in New Jersey have reported their location appearing in New York City. It's prompted those individuals to contact their internet provider and check their IP address location. You may also need to contact GeoComply or the sportsbook you are betting at to confirm the address they have for you.
GeoComply can also play up if you are near water. So if you live near a river or lake, make sure your location is working properly. Google Maps can be used to check your location and see if this points you in the place you are.
Bet $100, Get $100 Free Bet
Simple, easy to use wagering app
In-Game betting
Step 3 – An Operating System Update is Needed
GeoComply cannot ascertain an accurate reading on locations when outdated operating systems are in effect. The most recent variant of that software is required. This applies to Windows, Mac, iPhones (or any iOS device, and Android smartphones. Make sure you update your OS and are using the latest, most stable version of the software.

Step 4- Browser Cache Could be Causing Delays
The installed browsers on your desktop or smartphone won't be capable of loading webpages when the cache has built over months. It's required that players clear their cache once a month to ensure GeoComply works accurately. The cache can be wiped from the setting menu of your browser. On chrome, this can be done in setting, More tools, then Clear browsing data.
Step 5 – Uninstall and reinstall the software
Uninstall & Redownload the GeoComply Software sometimes seems to be the best trick to get GeoComply to work. It's not uncommon for software to play up or not do as you want it to. To detect if the malfunction is software-based, uninstall the program. If the malfunction continues once the software is reinstalled, then the problem is consumer-based. It's easy to remove the GeoComply browser plugin for chrome, and then re-download it directly from the operator you are trying to bet with.
To uninstall the plugin, go to settings, control panel, find the player location program then select uninstall. It's wise to restart your device after this.
On a mobile, it's easy to uninstall the app, then download it again from Google Play, or iTunes depending on your OS.
Step 6 – Select Another Device if Troubleshooting Tips Fail
For individuals that cannot solve the issues with GeoComply on their PC or laptop, it's best suited that they select another device, preferably a mobile.GeoCOmply has been notoriously bad on Google Chromebooks and Macs and players are constantly reporting issues. Not everyone likes to wager from their cell, but if you struggle with the desktop GeoComply, using a sportsbook app may just be the next best thing for now.
Step 7 – Contact Customer Support if Needed
If you have exhausted all your options and still need help, then the next port of call is contacting customer support. It's possible to contact GeoComply directly via phone. However, for a faster response, we recommend messaging support through the GeoComply Twitter Handle, or their support page here.
GeoComply is an essential piece of software for legal sports betting and online casinos in the US, but it's not without its problem. Like all technology, it's great when it works, it's a real dumpster fire when it doesn't.