Geolocation Issues Sportsbooks
Are you going crazy trying to get your bet on but having annoying geolocation issues? Don't worry, we are here to help.
Your thinking, how can an online technology company get this so wrong? What the hell is going on?? Don't panic, you're not alone. Geolocation issues with online sportsbooks, apps, and betting sites are pretty common. Luckily, it is quite easy to fix as well.
If you are asking yourself why do sportsbooks need to know my location, it's because sports betting is not legal in all US states. It is a legal requirement of a sportsbook to be able to confirm you are physically in a regulated state. Sports betting is now legal online & mobile in over 20 US states, including Colorado, NJ, IN, PA, IL, IO, WV, and PA.
Throughout life, you will always find some products that are better than others. Some boxers are better than others, football teams are better than others, and that's also the case with sportsbook operators. Some sportsbooks use awful companies to use geolocating software, some use better ones.
Best online sportsbooks & apps using geolocation
First Bet Offer Up To $1,500 In Bonus Bets
Awesome mobile app
Huge choice of sport markets
Play-Through Bonus Up To $1,000
Huge welcome bonus
Quick payouts
The 2 best operators we have used extensively in several states and had the least problems with are:
Worst online sportsbook & app using geolocation
The unfortunate title has to go to FanDuel sportsbook, who we have had the most issues with. Some of the most annoying error messages we have come across from the operator is FanDuel sportsbook geocomply no token, bet rejected geocomply no token, and Unable to Verify Location. To say this is annoying when trying to place a wager mid-game is an understatement. You can be sat at the bar in Denver, watching the game, and just want to bet. Open the app, try and place the bet and hit one of these errors.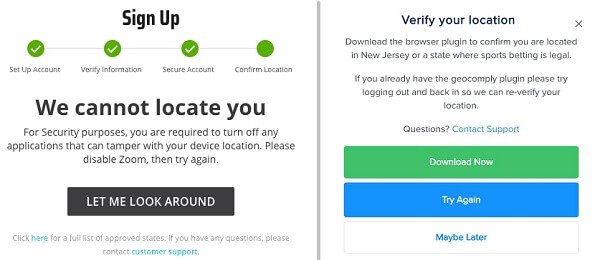 Fixing geolocation errors
So what we can we do about it? Well, the best thing we can advise is, first of all, use one of the 2 best sportsbooks using geolocation software (or geofencing as it's sometimes referred to), which are the DraftKings sportsbook app, or BetMGM sports app. Secondly, you can use at least 2 sportsbooks, then if one is playing up (even the best have issues sometimes), you always have a backup.
Laptop or PC
When you are betting on a computer, PC, or laptop, an operator can pinpoint your location using your IP address. Every internet connection will have its own unique IP address that is listed with your provider. Every house will have its own unique IP address, and this location is stored with your provider. If you live close to a state border, your IP may be incorrectly listed in the wrong state. The only way to fix this is to speak to your provider.
If you are using Wi-Fi on your laptop, then this may also cause issues if the signal is weak. You may also have problems if you are near a large body of water. All of these problems can lead to geolocation problems. It is quite easy to fix. You can use a geolocation plugin, such as GeoComply, which is a browser attachment and normally cures the problem 9/10. Player location checks using geocomply are easy to do and can save you a lot of hassle.
You also may need to change the DNS settings on your computer. You can follow this guide for more info.
Mobile
If you are trying to bet from your mobile, then things can be a tad easier. Located within your cell (well, any modern handset) will be a GPS receiver. Using satellites and a mix of 4G/5G signal, or Wi-Fi, an operator can pinpoint your exact location. Think Google Maps or, dare we say it, Pokemon Go. They know exactly where you are to within a few inches. Each CO sports betting app will need to get access to your location to prove you are in a legal state.
Allowing location settings on an iPhone, iPad, or iPod:
Open up settings, then follow these steps: Settings » Privacy » Location services (set to on) » Access the app and confirm to share your location.
Make sure your device is not jailbroken or running any similar software, as this is well known to mess up location settings on an iPhone and iPad.
Allowing location settings on an Android mobile or tablet (Samsung, Nokia, HTC, OnePlus, etc):
Open the setting option, then select Settings » Location (set to on) » App permissions » Locate the app, then Select Allow all the time or when using the app.
This process may vary from manufacturer to manufacturer on Android, but the process is still the same.
If, after doing this, you still have problems, you may have an issue with your GPS receiver. But you can try these steps:
Uninstall the app and reinstall
Restart your mobile
Force stop the app (find the app in your app list and press Force Stop)
Try another app that checks location (Google maps)
Turn GPS on and off
You can also download apps to help confirm your location, such as GeoGuard from iTunes or in Google Play.

GeoComply not working
GeoComply is the biggest iGaming geolocation company operating in the US. A lot of operators (sportsbooks, online casinos, and poker) rely on geocomply software to confirm players' locations. And like geolocation, sometimes GeoComply doesn't work. If you find that you are having issues with GeoComply, the easiest thing to do is uninstall the app (available on Android & iOS) and then reinstall it. You can also uninstall and reinstall the desktop software.
99% of the time, doing this will fix the issues. If you still need help, you can always reach out to the team on Twitter @GeoComplyHelp, who can assist you. Normally the apps stop working correctly as there has been an update and you are running an older version.
Is there a way around geolocation?
As we mentioned earlier, confirming your location is a legal requirement by a sportsbook to prove you are in a state where sports betting is legal. If you are inside your house, the bar, a casino in Black Hawk, works office, car, or stadium, and you cant place your bet, it's annoying. Bettors in the past have always tried to find ways around geolocation by using dodgy offshore operators who will take bets from most states.
They have also tried to use a VPN to try and trick or fluff your location. A VPN will use servers located in other areas to try and place you somewhere that you are not. Legal sportsbooks do not allow the use of VPNs. You do need to be in one of the legalized states before you can bet.
If you try and use a VPN to place bets with a sportsbook where betting is not legally allowed, you can have your account suspended indefinitely. Spoofing your location to gamble online is not recommended. You can't use a geocomply VPN to spoof your location, the operators and geocomply will pick up on this, and your bets won't be placed.
If you are in a legal state and still experiencing issues, you can also try one of these recommended sportsbook operators who have all excelled in our geolocation testing
Since sports betting went live in Colorado, we have used all the available sportsbooks, and DraftKings geolocation has always performed the best for us, closely followed by BetMGM geolocation. This has been on the iPhone, a Samsung Galaxy, and also a laptop. Like any operator, DraftKings checking your location is vital before being able to actually place your bet. We did use the Draftkings geolocation plugin on a chrome browser which worked pretty darn well.
Player location checks are essential to confirm where you are before an operator accepts your bets. If they are found to be taking wagers from anyone outside of a state they are not licensed in, they will have their license revoked, so you can see why they are so keen to make sure you are betting legally. Sure, no operator wants to cause bettors trouble in placing a bet, but as it heavily relies on technology, sometimes, this breaks.
A sportsbook will sometimes ask you to confirm your location straight after registration, and many encourage the use of a plugin right away. This is normal, so don't panic.