Broncos Use Franchise Tag on Simmons
Categories:
News
|
Published by:
Tyler Jackson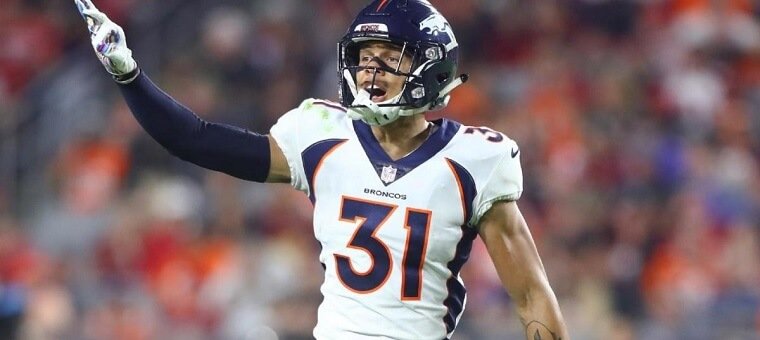 Safety Justin Simmons is set to return to the Denver Broncos in 2021, as the team used the franchise tag on him for the second straight season.
Simmons was expected to become an unrestricted free agent, but the team was able to block him from that by placing the tag on him.
Now the two sides will look to agree on a long-term contract extension, and they have until July 15 to do so. If there is no agreement made before that time, Simmons will play under the franchise tag and become a free agent following the 2021 season.

NFL teams had until Tuesday to use the franchise tag on potential free agents, and the Broncos were the first team to exercise that right. General manager George Paton made it clear that the team is hoping to keep Simmons around long-term, but it's unclear what the player thinks of those plans.
Simmons is an important member of the Broncos both on and off the field and was the Walter Payton Man of the Year nominee by the team. He has yet to miss a single snap in each of the past three seasons, and there was simply no way that the Broncos were going to let a player of his caliber walk away.
The Broncos selected Simmons in the third round of the 2016 NFL Draft, and he has been an important part of their defense ever since. Denver was forced to use the franchise tag on Simmons in 2020, and he was paid $11.4 million because of that distinction.
After recording his third straight season with at least 90 tackles, Simmons will receive a 20% increase in salary for being tagged for a second consecutive year. Denver still has a number of roster questions and concerns, but Simmons will remain the starting safety next season.
Miller Coming Back?
Paton also has a big decision to make in regards to linebacker Von Miller. Paton has already indicated that the team wants Miller back for the 2021 season, but there are several questions that must be answered before that point.
Miller missed the entire 2020 season with an injury, but the biggest concern is potential legal charges stemming from an investigation. Law enforcement in Parker, Colo., is investigating Miller, but there has not been an announcement on what charges could potentially be filed.
Miller has been a Pro Bowl selection eight times during his career with the Broncos and is considered the leader on that defensive unit. Denver is also considering potentially looking into cutting some salary from Miller in an effort to keep him around for another season.
If charges are filed against Miller, then discipline from the league is also expected to come as a form of punishment. This is one reason that the team is looking to wait it out until more information is revealed before making a decision about the future of Miller.
Why not check back for more Colorado sports betting news, free bet offers, and CO sportsbooks updates.
Relevant news