MaximBet Sportsbook
SportsBetting.com has officially rebranded to MaximBet! The operator is now live in Colorado and offers mobile and CO online sports betting in The Centennial State. The website is now live in Colorado, formally launching in the Centennial State on September 18 under the sports betting brand. The plan for the site is to now expand across the US, following the introduction of its CO sports betting app. The Carousel Group owns MaximBet, and the online sportsbook aims to go live in all states that have legalized online sports betting.
In January 2023, MaximBet closed its doors in Colorado. Don't panic, there are plenty of alternative CO Sportsbooks available.
The MaximBet platform is unique. It has utilized its in-house team to develop innovative betting software. The company has also revealed that bettors can expect great value odds on over 10,000 sports events every month. The brand is a collaboration between the popular magazine Maxim and the Carousel Group.
The MaximBet app is available for iOS and Android devices, offering mobile betting options on numerous sports such as football, basketball, and baseball. New players can take advantage of a generous welcome bonus in the form of risk-free bets.
Our MaximBet review will look at how this new platform stands up against other prominent online sportsbooks, such as BetMGM and the BetRivers sportsbook. We will explore if there are any MaximBet promos and if this new book can make a mark in the CO sports betting market.
MaximBet Mobile App
When SportsBetting.com went live in CO in September 2020, remarkably, they launched without a mobile app, only a mobile site. Fast forward a few months and they now have an iPhone app and a dedicated app for Android smartphones & tablets. There is now a MaximBet app available to download by following these steps:
MaximBet iPhone App
You can get the new app from MaximBet from the iTunes app store in a matter of minutes. Head to the mobile site at maximbet.com and register your account to secure your bonus. Then, open the main menu and tap on app. Select iOS and follow the link to iTunes. Press GET, download the app, log in and place your wagers.
MaximBet Android App
Like any real money gambling app, you won't find the MaximBet Android app in the Google Play Store yet as they don't allow any gambling apps in the app store. You can download the app directly from the operator by following these steps.
Go to

maximbet.com

 and Join to get your account
Open the menu and scroll to app
Select Download for Android
Let the MaximBet.apk download and press open
Press OK to install the apk
Let the app install, open, and log in
You may need to install a GeoGuard app as well, or another geolocation plugin to use alongside the Android or iPhone MaximBet app. This app is used to confirm your location within CO borders. Geolocation in sportsbooks is a common thing as it is a legal requirement by the operator to confirm you are in a legalized state and one where the sportsbook is licensed. There are other geolocation apps like GeoComply that you can use as well if required.
The mobile app from MaximBet is currently only available in Colorado but will be available in Indiana, Iowa, and NJ later in the year. We are hoping the operator will be available in Pennsylvania and Michigan in the future.
The MaximBet mobile site and apps look pretty awesome. We are big fans of the design and love the awesome layout. It's easy to navigate around the app thanks to the handy menu and a search bar at the top of the screen. The lobby shows all the popular and big games taking place today and it is very well laid out.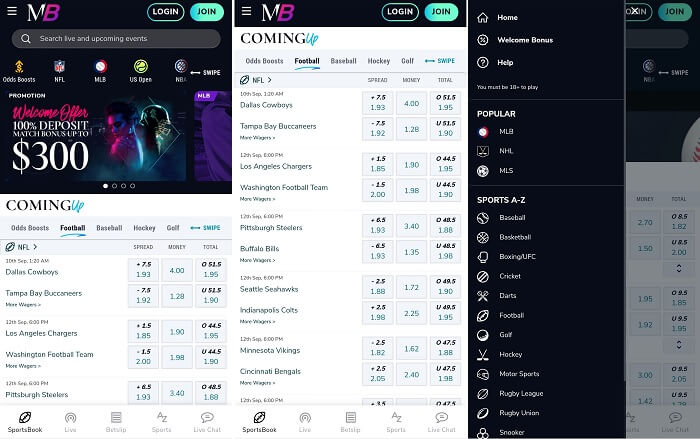 Joining MaximBet Colorado
Before you can place a bet with the sportsbook, you will need to open a playing account. We signed up at maximbet.com CO in a few minutes. To register, click on the green join button, then add in your email, set a password, add your name and DOB, put in the last 4 digits from your SSN, and finally your address. Accept the T&Cs and create an account. The site will take a minute to confirm your details and confirm your eligibility to bet in the state.
You don't need to be a CO resident to wager at the book. You do however need to be aged 21 or over and physically in the state when it comes to placing your wager. You can however create an account with them from anywhere across the states.
Once all that is complete, you will now have an active account and can make your first deposit and place your first bet.
MaximBet Bonus Information
Sign up at maximbet.com and you can get a 100% Deposit Match Bonus up to $1,000! How does it work? Join MaximBet and deposit $10 or more, Maximbet will then give you 100% more, up to $500 in Free Bet Credits after your first deposit. Deposit once more, and you will receive a 100% matched bet up to $250. Players conducting a third and a fourth deposit will get a match up to $125 respectively.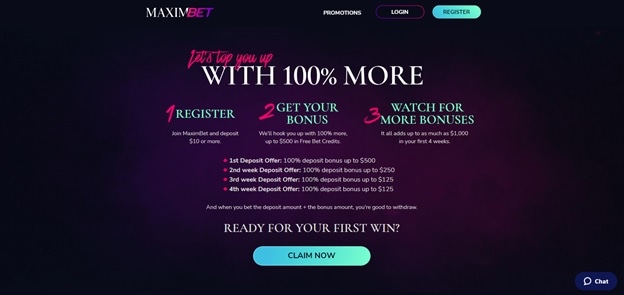 This is one of the best offers we have seen at any online sportsbooks, essentially because it is a win-win scenario for the customer. If you win, you build up your winnings as you usually would and start making a profit. The book prides itself on offering the best odds in Colorado sports betting, as well as fast payouts and high bet limits. It does score well in our overall sportsbook ratings when compared to the competition in the state.
For more offers available from other CO operators, have a look at our Sports Betting Bonuses page.
MaximBet Promo Code
There is currently no MaximBet bonus code, or Carousel Group promo code needed to claim the free bets offer at MaximBet. If you opt-in when creating your online sports betting account, you can claim the offer that way. Additionally, if you visit the website and click on the promotions button, you can see the details of the offer. Once you have made a deposit, you can start betting using your free bets option and building up those winnings.
Features
MaximBet CO sportsbook has unique features that cater to every bettor's needs. The sportsbook has been designed to work on all devices, and both seasoned bettors and those new to gambling have been taken care of. Those who are used to betting online will expect to see the latest sports news, statistics, and betting data. At the same time, customers who are venturing into sports betting for the first time will be hoping to access tips, expert blogs, and reviews. MaximBet app also features a sports betting cash out feature where you can finish your bet early if you think you are going to lose the bet.
The site adopts encryption technology and top-quality data security methods to keep players safe and to abide by responsible gaming practices. The Carousel Group owns the site and has numerous subsidiaries, one of which is CG Solutions, based in Europe.
This is significant as European countries such as the United Kingdom remain, market leaders when it comes to betting. This can only be good news for the US market, which is massive and has enormous potential with online sports betting set to grow.
MaximBet also has a range of bet types available including singles, parlays, and multi-bets. The app is one of the easier parlay betting apps to use thanks to the simple layout. Making a parlay bet on the sportsbook is simple. Just tap the odds and combine your bets, then tap on betslip and select the parlay option.
Sports Markets at MaximBet colorado
Before their launch in Colorado, SportsBetting.com stated they would offer odds on over 10,000 sporting events across 19 sports every month. These comments have been well backed up and have carried on into the MaximBet platform. They offer one of the widest sports betting markets and betting options in CO, that includes:
Basketball
Baseball
Horse Racing
Tennis
Golf
Cycling
Formula 1
Darts
Hockey
Boxing
Cricket
Rugby
Table Tennis
Aussie Rules Football
The company regularly promotes football and soccer through its social media channels, so expect to see several betting options for both sports on the site. This is no surprise given that football is arguably the biggest sport in the US, while soccer is the biggest sport globally.
In addition to the significant sports, MaximBet also offers more niche sports such as cricket, darts, and cycling. This reflects their ethos of catering for sports bettors, whether they are amateurs or experienced. The Carousel Group is also planning to launch a site dedicated entirely to horse racing but has given no indication of when that might launch.
There has been no mention yet on whether the site plans to introduce Esports betting, but we wouldn't bet against that happening as the company wants to be known as fresh and innovative, and offering Esports betting would fit in with that mantra.
Pricing & Odds Boosts
It is clear from reading the PR around the launch that odds are a primary focus of MaximBet. A spokesman from the company stated that the in-house team has been given the job to ensure added value is prioritized. The site wants to attract a wide range of sports fans, so oddsmakers are planning to introduce methods to make sure their lines beat the industry average.
Odds boosts are now available on both the MaximBet website and apps. There is a dedicated odds boost tab (called TV Specials) that can be found in the main menu. Here you can find all the current odds boost offers that are available on several events and sports, including football, soccer, golf, and other sports. Not only can you find boosts for regular games, but they also run special promos like they did for the Super Bowl. For this epic event, they had a "2 weeks Marathon Odds Boost" promo available.
The operator adds a lot of emphasis on added value and consequently giving customers as many chances as possible to win which is great for a customer.
Custom Odds
As we mentioned in our review opening, MaximBet is unique because they use their own software and in-house odds team. Some of the most prominent brands in the industry use the same company to provide their software, as they are part of the same group.
This means a lot of online sports betting sites offer similar features. However, as MaximBet is producing all of its own software and betting lines in-house, it will stand out from the crowd. So college baseball odds may provide far better value with MaximBet than with another online sportsbook.
Where is MaximBet legal?
MaximBet has launched in Colorado and is legal and licensed to operate in the Centennial State, offering free CO sportsbook bets. It may have chosen Colorado as its 'guinea pig' state as the sports betting industry there is taking off, and there is a thriving gaming scene with numerous Black Hawk casino options.
The operator is licensed by the Colorado Division of Gaming through their partnership with Johnny Nolon's Casino in Cripple Creek. They do not have a physical sportsbook in the casino but may do in the future.
It seems likely that New Jersey will be the next port of call for the site, with MaximBet already having an office located there. However, the Carousel Group has expressed its desire to go live in all US states with sports betting regulations, so this could just be the start.
Banking
There has been a slight contradiction in what MaximBet has stated and the reality when it comes to payouts. The site has promised that the withdrawal times will be fast, but then also says that players will need to wait between three and five days to receive their winnings. While that is not an overly long period of time and does fall in line with common industry standards.
However, the most vital aspect of any payment method is safety. As maximbet.com is a fully licensed operator, it must adhere to stringent rules regarding player funds. We also know the site is fully encrypted, so personal data is protected.
We would expect to see any CO sportsbook accepting PayPal; however, MaximBet does not yet have this e-wallet service as a payment option. The deposit methods currently available are:
Visa
Mastercard
Skrill
ACH
These are standard payment options, and we would expect more methods to become available as the site expands across the country.
Customer Service
MaximBet is very active on social media. They have accounts on Facebook, Twitter (@MaximBetUSA), and Instagram (@sportsbettingcom). There is no active customer service section available on the site as of yet. We are confident there will be the typical communication options available when the customer service segment goes live, such as email, live chat, and telephone.
If you have any pressing questions, you could even start a sports betting Reddit discussion, and some users may be able to assist you.
Final Words
The CO sports betting market is already shaping up to be a very exciting one, with lots of operators keen to launch online. SportsBetting.com faced some tough competition in Colorado, so it will be interesting to see how a more fmaialr name, Maxim does with the MaximBet. There is already some very tough competition from well-respected, household sports betting names like FanDuel Sportsbook and BetMGM, but they have an excellent sportsbook and great proposition. We are keen to see how punters get on with CO's latest sportsbook.
FAQs
Is MaximBet legit?
Although new to the industry, MaximBet CO is a legitimate and safe online sports betting platform. It has obtained a license to operate in Colorado. To hold a license from strict regulatory bodies such as these proves they are a secure and legit betting site. The company has not been shy in promising a unique and fresh betting experience, and if it fulfills its potential, it could become one of the best betting sites in the industry.
The opening bonus offer is undoubtedly a great start, and we love the fact they offer thousands of betting options every month, so there is plenty of variety available.

100% Deposit Bonus Up To $1,000
Get Bonus