Best Prepaid Cards for Online Sportsbooks
For the longest time, an online gambling payment method has been the biggest of worries for most players. When paired with the complicated gambling online laws in the US, it becomes an even harder pill to swallow.
Interestingly, the prepaid card sportsbooks could be the perfect solution to this problem. All you have to do is enter the code or the PIN embossed on these cards to execute a deposit. In our guide today, we're going to cover everything you need to know about prepaid card deposits at an online sportsbook.
Are Prepaid Cards Accepted at Betting Sites?
Prepaid cards have been a reliable medium for deposits in the sports betting industry for a very long time. Not only that, but these cards can also help you pay other merchants.
The same is true in the US too. Most sports betting apps offer at least one prepaid card for deposits. However, we're going to cover all the available ones so that you know which betting sites that accept prepaid cards you should choose.
Which are the best prepaid cards for online betting?
In this section, we go over the majority of prepaid cards available in the US and how feasible they are for use in online sportsbooks.
Visa Prepaid Cards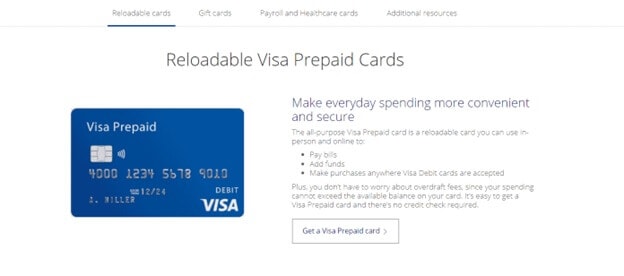 When it comes to cards, very few networks have made as powerful of an impact as Visa. It's the oldest card network in the world, and it still has the largest market share.
Among many components, Visa gift cards or prepaid cards are some of the most popular. Primarily because you don't need a bank account to use them. You can also get top-up enabled cards so that you don't have to buy gift cards as well as deal with the expiration date over and over again.
American Express Cards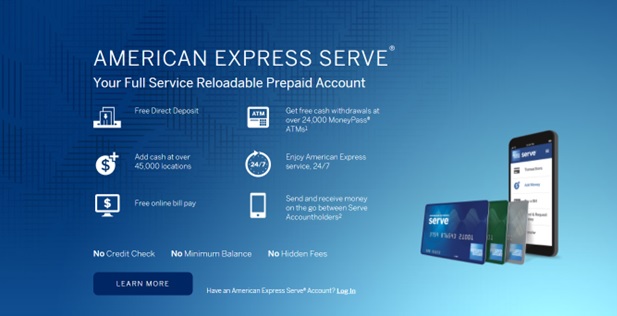 Right after Visa, American Express is the most popular card network in the US. History shows us that Amex is even older than Visa. It's just that it was an express mail service instead of a card service.
The problem with Amex cards is that there's a monthly fee, even with prepaid cards. It usually ranges between $6.95 and $7.95. On the bright side, plenty of online betting sites in the country accept it for your sportsbook account.
Neteller Prepaid Card
A prepaid card is a prepaid card, no matter who the provider is. When you think of Neteller, you think about the e-wallet instead of the prepaid cards, right? As it happens, Neteller is a strong contender in this regard.
It's the Net+ Virtual prepaid card we're talking about, powered by MasterCard. You can not only deposit in online sportsbooks but also withdraw money from ATMs!
Paysafecard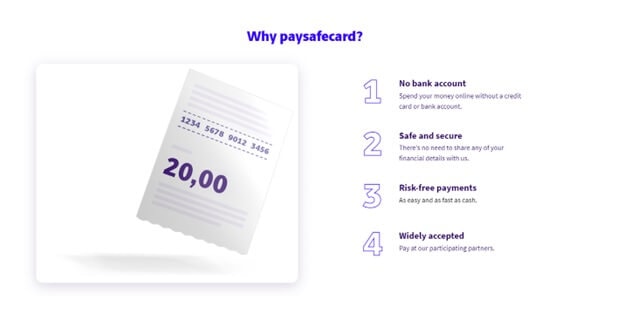 When it comes to prepaid cards, there's no method more popular than the Paysafecard. It pretty much started the prepaid craze in betting sites way back in 2000.
In the US, you can buy these prepaid cards from physical retailers or online sellers. The vouchers have unique 16-digit codes, just like your Visa gift card or MasterCard.
Skrill Prepaid Cards

As we covered both Neteller and Paysafecard, it only makes sense to cover Skrill prepaid cards as well. After all, all 3 of these payment methods are controlled by the same parent company, the Paysafe Group.
The Skrill prepaid card is very similar to the Neteller one, a MasterCard. You can order the card online and receive the delivery within 7 to 10 business days. Betting on NFL isn't very far for you now, is it?
EcoPayz x EcoVirtual Prepaid Cards
For funding one's online gambling account, very few names are as trustworthy as EcoPayz. The prepaid card component is known as ecoVirtualcard.
The ecoCard is one of the safest prepaid cards you can use at online betting sites. It supports all kinds of currencies. So, you're not only limited to soccer betting apps that accept USD.
Neosurf Prepaid Card
Neosurf is primarily known for its vouchers. Well, technically, these are prepaid cards too. Instead of a 16-digit code, you get a 10-character code making it simpler and more secure at the same time.
When you're logged in with your online betting credentials, simply visit the deposit page and select Neosurf. Then, enter the 10-character code to complete the process.
OneVanilla Prepaid Card
This is the newest kid on the block that made online sportsbooks accept prepaid cards. It was initially only available to Canadian players but now has full-fledged operations in the US as well.
These are prepaid cards you cannot reload. So, every time you need to top up your sportsbook account, you'll have to buy a new card. Otherwise, it's very secure and reliable for use 24/7. Don't confuse it with a Vanilla Visa gift card because that's a different entity.
Flexepin Vouchers
Flexpin is not as widely known as the other prepaid methods on our list. But you can rest assured that it's every bit competitive and competent to handle whatever you throw at it.
Like Paysafecard, it has a 16-digit security code printed on the vouchers. You can do a credit check online by entering the number as well. Flexepin delivers a direct deposit to your online sportsbook account instantly.
Play+ Prepaid Cards
Among online betting enthusiasts who prefer prepaid cards with little to no transaction fees, Play+ is a perfect choice. It's already extremely popular for its seamless deposit process and FDIC insured reloadable account.
If you get this card along with the account, you can conduct online deposits in the biggest brands like Caesars, DraftKings, FanDuel, and so on.
Play+ Prepaid Cards at Legal US Sportsbooks
As you can see, we kept the Play+ cards at the end of our list. It's not because it's the worst one but because it's the most convenient one. Plenty of online gambling operators offer customized cards for bettors. Let's take a look at a few of them.
First Bet Offer Up To $1,500 In Bonus Bets
Awesome mobile app
Huge choice of sport markets
Play-Through Bonus Up To $1,000
Huge welcome bonus
Quick payouts
$1,000 First Bet on Caesars
Enormous Welcome Bonus
Price Boosts
DraftKings Play+ Card
DraftKings is one of the forerunners in the American iGaming industry. You can easily get a DraftKings Play+ card by signing for a real money gaming account and choosing Play+ from the deposit page. It essentially connects your bank account to your gambling account without any restrictions.
FanDuel Play+ Card
Similar to DraftKings, FanDuel also offers a prepaid card for desktop as well as mobile betting users. It's available across many states, including AZ, TN, PA, MI, NJ, IL, IA, WV, etc.
The sign-up process for this one is very similar. You log into your account and visit the deposit page. Then, you choose Play+, provide your credentials, and top up your account directly from your bank accounts.
Borgata Play+ Card
Borgata is one of the lesser-known online gambling sites, but it certainly lets you experience online gambling to the fullest. Moreover, you get to procure your own Play+ prepaid cards to play with this operator. The process is identical to what we've covered in the previous sections.
Caesars Play+ Card
What was once a land-based casino only is now available online and across multiple states. It means you don't have to cross multiple state lines just to play at the Caesars anymore!
Not only do you not have to set foot outside your home, but you can also bet on NBA online using the gift cards belonging to Play+. You already know how to get them!
BetMGM Play+ Prepaid Card
Among parlay betting apps that accept prepaid cards, MGM International is one of the most popular in the US. It has a very rich heritage in Las Vegas and is considered one of the most luxurious betting experiences in the country.
To get the prepaid services from BetMGM Sportsbook, you can use Play+. All you have to do is choose Play+ at the best online betting platform in the country.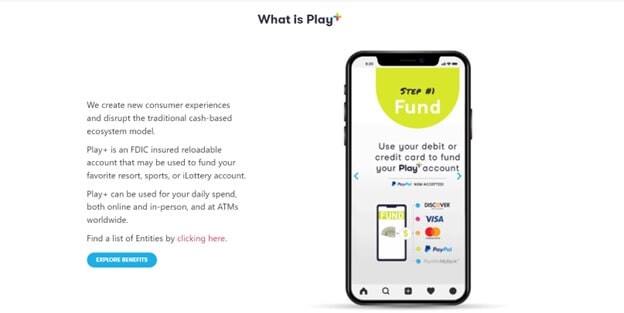 Best Prepaid Card to use for Online Sports Betting
From what you've read so far, what prepaid vouchers do you think are the most convenient for sports betting operators? For us, the vote goes to Play+. The reasons are:
It's very popular in the US
The majority of the default prepaid card is from Play+
The online accounts are IDFC insured
You can fund the account with debit cards or use a prepaid Mastercard
These are reloadable prepaid cards with personal details requirements
Most reputable online sportsbooks accept prepaid cards accept Play+
How to fund your Sportsbook Account with a Prepaid Card
Funding your account at an online betting site is the first thing you need to do to play the casino games or to participate in sports betting. Using a prepaid card for the deposit money process is as simple as you can imagine. Let's cover them in our step-by-step guide.
If you don't know which sports betting sites to go for, choose one from our list.
Signup for the books accepting prepaid cards.
Navigate to the banking page of the gambling sites. It might also be a deposit button.
Choose credit or debit cards. Or, go for the subject of our discussion today, the prepaid cards. You can go for prepaid Visa gift cards, online purchases of vouchers, virtual cards, or any other gift card that's accepted in the online gambling industry.
Enter the amount you want to deposit.
If you're using a prepaid Visa gift card, enter the card number. Even if it's not a prepaid Visa gift card and a prepaid Mastercard, the process is the same.
Choose whether the deposit is for the betting app, mobile sportsbook, or a online site. Not all operators may ask for the distinction but a few will.
Do the credit check beforehand to ensure a seamless deposit at a betting site.
Do prepaid cards support withdrawals?
The widely accepted nature of prepaid card payments makes us think that they're suitable for withdrawals too. Unfortunately, they're not. Whether it's a prepaid Mastercard or a prepaid Visa or even widely accepted disposable prepaid cards, you cannot withdraw money from online sportsbooks.
It's because withdrawals require an account to route the money. For most online gamblers, there are no accounts on the end of the prepaid cards. Hence, you'd need to use an alternative method for conducting online payments both ways.
Here are some alternatives to using a prepaid card at online betting platforms in the US:
Betting sites accepting Visa
Venmo sportsbooks
Gambling sites accepting Neteller
Skrill betting sites
Among the several prepaid cards for gambling covered, Play+ branded cards are the only ones supporting withdrawals. However, players will need to order a physical card from the cashier page, and then request a payout. Cashing out is as simple as visiting an ATM and entering your credentials.
Benefits of prepaid cards sportsbooks
Sportsbooks that accept prepaid cards are undoubtedly very convenient. But what are the other reasons you'd want to use a prepaid Visa or a gift card or any other prepaid card at betting sites? Let's find out.
They're Very Safe
If you're reluctant about sharing your debit card details or bank account credentials with an online sportsbook , there is no better option than a betting site that accepts prepaid cards. You just use the numbers printed on the gift card and you're good to go.
Easy to Get
If you have a bad credit score or just a dark past regarding your finances, it might be hard to get a credit card to use at the best online sportsbooks. What you can do instead is use a prepaid payment method at online betting sites.
You can get the cards from physical retailers as well as online vendors who sell gift cards. No documentation is necessary.
Mobile Friendly
A mobile sportsbook is now a more appropriate choice for betting on the UFC or on football for obvious reasons. You can access the account any time you want, from anywhere you want.
The prepaid Visa or other gift cards are mobile-friendly nowadays. It means you can even enjoy the sports betting bonuses you're going to get against your real money deposit from your phone!
Promotions
Sportsbooks accepting prepaid cards will most likely offer promotions and bonuses for online gaming in the USA. Unless it's a very strict operator, most of them are available to you whether you use a Visa gift card or any other widely accepted payment method. For example, the BetMGM bonus code and the FanDuel promo code apply on your first prepaid card deposit.
Summary
Using a prepaid card or a debit card that's prepaid is a great way to enhance your online betting experience. The deposits are quick and require no additional documents from your end. The only drawback is that most cannot be used for withdrawals. But that's why we have the alternatives lined up for you!