How to Restore Your FanDuel Suspended or Locked Account
Online sports betting is one of the best ways sports fans can get returns from something they're passionate about. Many sports betting sites operate in the US, and FanDuel has secured its position as one of the best in the business.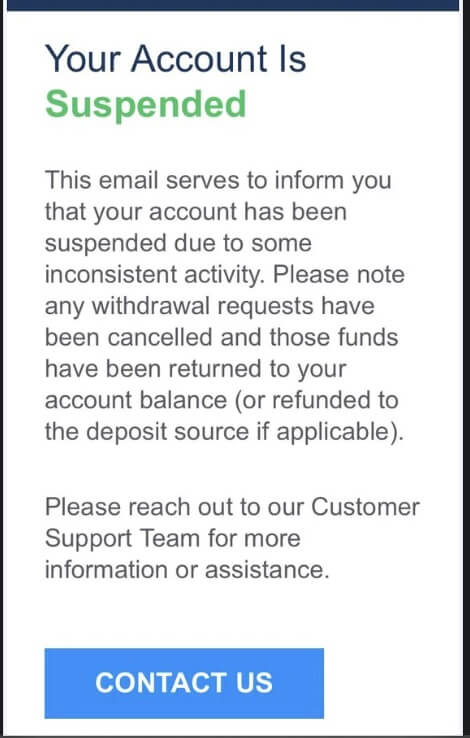 There is nothing more exhilarating than visiting the FanDuel Twitter page and finding out that there is a unique FanDuel bonus offer on a day you intend to place a bet. However, nothing prepares you for when you log in and get the "Your account has been suspended" text on the screen.
Not only is this frustrating, but the only way you can resolve it is by contacting support and waiting for their response. Also, the chances of FanDuel restoring a restricted account is low, and many players always have to turn to other betting sites.
For readers who try our tips and are waiting for favorable responses from the FanDuel support team, we have a list of excellent alternative sportsbooks that offer exceptional welcome bonuses and free bets when you register using our unique link.
First Bet Offer Up To $1,500 In Bonus Bets
Awesome mobile app
Huge choice of sport markets
Common Actions that Get Your FanDuel Account Suspended
FanDuel has several reasons it suspends an account, but it doesn't always let bettors know this reason from the onset. If you're one of the bettors with a restricted FanDuel Sportsbook account, contacting support will give you more insight as to why your account was restricted, and it can be any of the following reasons:
Creating Multiple Accounts to Your Name
Sportsbooks invest a lot into getting the best technology to identify users operating duplicate accounts on their platform. FanDuel assesses various details such as SSN, IP address, and home address to determine if the same user is operating two or more accounts.
If FanDuel determines you have more than one account, it will ban the accounts. However, you can dispute a ban by sending a message to the support team. Bettors who open a second account without the intent to cheat or gain an advantage (such as claiming another welcome offer) can reactivate their original account on the sportsbook.
Falsifying Details to Access FanDuel
Registering on FanDuel with false information is a valid reason for the operator to suspend your account. There are different reasons why sportsbooks need correct information, including preventing identity theft, ensuring compliance with regulatory standards, and preventing underage gambling.
You can contact the support team to resolve FanDuel issues with incorrect information. The suspension for wrong details is usually temporary, but you must provide identification documents for verification to unlock the account.
Accessing from a State Where Gambling is Illegal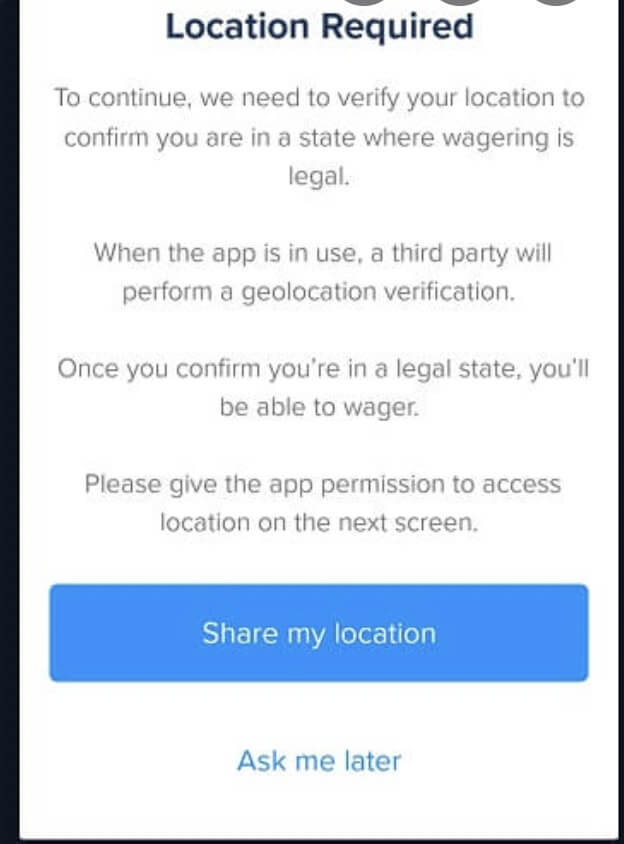 Sportsbooks are bound by the laws of the country they operate in, and some of these laws restrict their operations in specific regions or states. For FanDuel, its operations are only permissible in Indiana, Colorado, Iowa, Kansas, New York, Michigan, Pennsylvania, West Virginia, Illinois, Tennessee, Louisiana, Virginia, and New Jersey.
Bettors who stay outside these states may choose to beat the FanDuel geolocation feature using a VPN to change their IP addresses. Although this may work for a while, the operator will ban your account once it is flagged.
Providing Wrong Login Credentials
Providing the wrong login details when trying to login will get your FanDuel sportsbook account suspended. This is a safety feature to help prevent unauthorized access to your account.
You can contact the support team to resolve the issue if you're responsible for getting the account locked. You will need to prove that you're the account owner, after which you should receive an email with a link to reset your password. Once you complete the process, your account will be unlocked and ready for use.
Going on a Hot Streak
Consistently winning on a sportsbook is great for a bettor, but it puts a hole in the operator's pocket. Betting sites like FanDuel can only remain profitable when bettors accrue more losses than their wins. Therefore, these operators are on high alert for players who're on a winning streak on their platform.
In most cases, the restriction on your account after going on a winning run is permanent. Hence, you need to find an alternative sports betting site. You can consider other top sites like BetMGM, Caesars sportsbook, or DraftKings sportsbook. However, these sites also restrict accounts if they notice too many wins, so bet smart.
Frequently Requesting Chargebacks
Depositing funds without an intent to bet and requesting chargebacks is an issue all sportsbooks take seriously. Individuals can perpetuate fraud in many ways, and requesting chargebacks is a proven method. So, how does this work?
For example, a bettor may deposit money in their FanDuel account and then place bets on some matches. However, these bets don't play out positively, and the bettor sends a message to their bank stating that the charges were deducted without authorization and requesting a chargeback.
These chargebacks negatively impact the sportsbook since they result in a bad reputation, difficulty offering customer support, and regulatory compliance issues. Your account will get flagged and banned if you continue requesting chargebacks on FanDuel.
Expiration of Your Verification Documents
Online betting sites require proof of identification before opening an account for you. FanDuel accepts documents like a driver's license as your identity verification document. A driver's license is great for verifying your identity and address, but it has an expiry date.
When your identification document expires, the operator will need you to update your details. The most effective way to get bettors to update these details is by locking the account. If your account gets locked, you must first resolve the issue with your driver's license. Once this is complete, contact customer support to assist you in unlocking your FanDuel account.
How to Restore Your Locked or Suspended FanDuel Account
Reactivating your FanDuel account requires the assistance of the customer support team. According to the FanDuel support page, restricting the activation of locked accounts to the support team helps secure the account and prevent unauthorized individuals from activating a locked account.
The FanDuel website has features that make it easy to contact its customer support team. You can click on the "Email Support" button to trigger a new email in your default email app if you want to send an email. The FanDuel support email will automatically appear in the "To" field.
You can also click the Chat with an expert or FanDuel Coach buttons for live chat. This option is available 24/7, so you can contact a representative whenever you have time. Regardless of the option you choose, you're only going to get the operator to start an investigation, and a response to your request may come within minutes, hours, or days, depending on the number of pending requests.
One clear thing is that FanDuel reserves the right to decide the duration of an account suspension. Therefore, the reactivation of your FanDuel suspended account may take longer than you anticipate, even after providing all the necessary details and proving your case.
Will FanDuel Let You Register a New Account?
FanDuel will not let you register a new account on their platform. The sole reason for this is that it violates its terms of service. It would help if you went through the terms and conditions page of the sportsbook to learn more about the operator's stance on multiple accounts.
However, if you need to open a new account on FanDuel, it implies that your previous account has been banned. Any user whose account is banned from the site can no longer play on FanDuel, so you must seek alternative betting sites.
Other Options if You Fail to Recover Suspended FanDuel Account
We know you love FanDuel and want to reactivate your account, but FanDuel may see things differently. It is common for the operator to deny requests to reactivate an account, and opening another account on the site will cause issues.
If FanDuel suspends your account and won't reactivate it, then save your time by opening a new sports betting account. Our recommendations for top sportsbooks include the following:
The sportsbooks we recommend all operate in Colorado, so you don't have to worry about accessing their services illegally from your location. They also have a welcome bonus for new sign ups.
FAQ
What should you do if you cannot restore your FanDuel account?
You've received a permanent ban if you're not allowed to reactivate your FanDuel sportsbook account. Bettors in this situation need to open a new account on another betting site since FanDuel will not accept a request for a new account. You can via the best CO betting apps here to find an alternative.
What is the FanDuel age requirement?
Bettors who reside in the US and intend to gamble on FanDuel can only do so if they're 21 or above. FanDuel will need to verify your age to accept you on its platform, so you'll need to provide your social security number, DOB, and a driver's license or passport. If the operator determines you've provided the wrong details, you will be suspended from the site.
Does a FanDuel suspended account cause me to lose my funds?
Loss of funds due to suspension usually happens when you get a permanent ban on FanDuel. However, FanDuel may decide to refund bettors if their account is closed. This refund is subject to conditions from the operator and the reason behind the FanDuel account closure.
Is there a maximum duration for FanDuel suspensions?
FanDuel doesn't have a period within which suspensions must be lifted, so you have to wait till the operator decides to greenlight the removal of account restrictions. For players who activate the self-exclusion feature, the account must remain deactivated for at least 12 months before FanDuel will consider reactivating it.
How do I resolve issues with a hacked FanDuel account?
The key to resolving issues with a hacked account is notifying the support team early. If you get an email for an unauthorized withdrawal, you must quickly inform the support team so they can deactivate the account and stop the withdrawal request.
FanDuel will refund any money withdrawn from the account if you let them know on time, but for bettors who realize it too late, getting your funds back may take a while. An excellent tip is to set up two-factor authentication to prevent unauthorized access or withdrawals from your account.
Can I delete my FanDuel account?
FanDuel doesn't allow you to delete an account, but you can close the account. The option to close an account is available from the Account Settings section of your FanDuel account. Once you complete the account closure form, the operator will close the account. If you decide to return to gambling on FanDuel, you must reopen the closed account and not create a new account on the site.
Can I operate more than one account with FanDuel?
No, you can only have one account on FanDuel. A closed/inactive account on FanDuel still counts as an account, preventing you from opening a new account. Your only option is to unlock/reactivate the closed account. If you're banned from reactivating the account for any reason, you cannot bet on FanDuel going forward.
What did I do to get my account banned on FanDuel?
FanDuel can ban your account if they notice suspicious betting patterns, fraud, or if they're unable to verify your identity. The operator requires players to upload an ID for verification, and you have three attempts to verify the account before it is locked. There are several other reasons, and only the support team can assist you in resolving the issue.
How can I unlock my FanDuel account?
To unlock a suspended, restricted, deactivated, or locked FanDuel sportsbook account, you need the expertise of the FanDuel support team. You can connect with a representative of the support team through the live chat feature or by sending an email to support@fanduel.com.