Recover Suspended DraftKings Account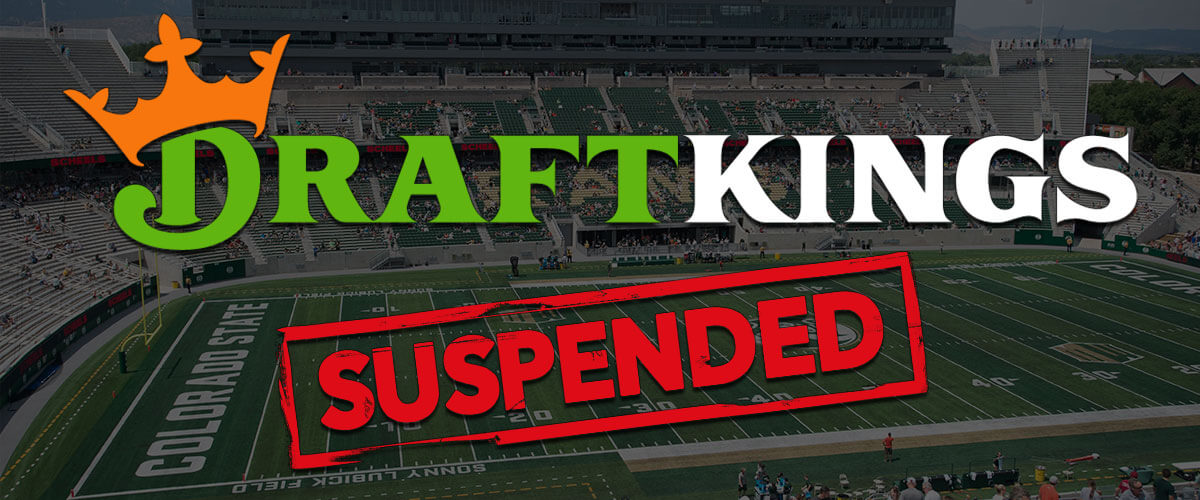 The DraftKings sportsbook app is available in almost all legal sports betting states in the US and holds a significant portion of the online gambling market share. The sportsbook covers a massive range of sports markets. It's the second largest daily fantasy sports provider after Fanduel and has an excellent casino section too. Free bets, odds boosts, parlay insurance, and more are claimable with a DraftKings sportsbook account.
With all these benefits, having their DraftKings account suspended is the last thing any bettor would want. Suspended accounts are a major roadblock to your betting experience and can be a hassle to resolve, if at all. Fortunately, online sports betting is booming, and bettors have increasingly more choices. If your DraftKings account has been suspended, you can check out FanDuel and Caesars as very good alternatives.
Play-Through Bonus Up To $1,000
Huge welcome bonus
Quick payouts
Keep reading to learn more about why your DraftKings account may have been suspended. We've put out some good tips which are always worth tailing for your account restoration efforts.
Reasons Why Your DraftKings Account may be Blocked or Suspended
Before you recover a suspended DraftKings account, it's essential to know what triggered it. An account suspension is usually a consequence of a wrong action, whether a conscious or an unconscious one. As such, this knowledge can be a lifesaver and help you avoid ever having your DraftKings account restricted in the first place.
Too Many Accounts
Sports gambling sites are pretty clear on the fact that multiple or duplicate accounts are not allowed. The reason is to curb instances of bonus abuse where a player tries to claim the same bonus more than once by opening multiple accounts.
This is one of the few times when an account suspension is merited. If you have done this, you'll have gone against DraftKings' terms of use. If the operator finds out, your account will be suspended immediately. You may even be banned from opening another account in the future.
Note that if someone else uses your IP address to log into their DraftKings account and access real money games, it could also trigger this kind of suspension.
Betting in Patterns
A suspicious activity is anything that raises a red flag on the system. DraftKings, like most legal online sportsbooks in the US, is very keen on maintaining a safe gambling environment. So anything that could indicate a security breach attempt will be considered suspicious activity. Consecutive failed login attempts is a common one.
Your wagering activity may also flag the system's red alerts. This usually happens if your betting pattern appears too mechanical, which could indicate the use of a bot. Suppose you only bet on certain games at specific times. Or you begin betting on markets you usually don't bet on, especially when you end up winning a lot. The sportsbook will block your account to prevent further suspicious activity while it investigates.
Accessing from Outside the Approved States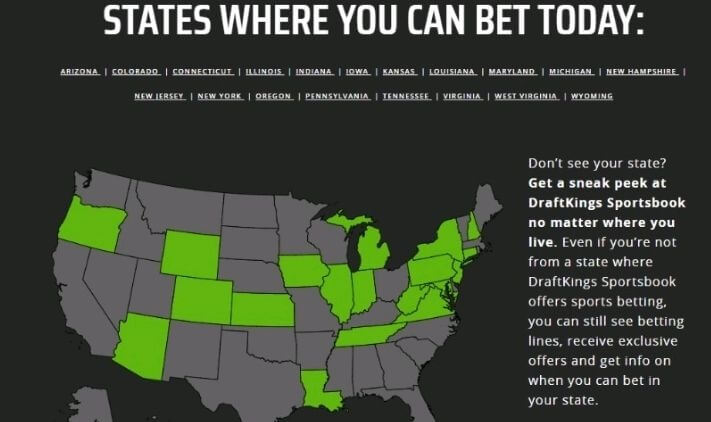 DraftKings legal betting is currently available in 19 states and is the most widespread sports betting operator at the moment. The sportsbook accepts customers from the following states:
Arizona, Colorado, Connecticut, Illinois, Indiana, Iowa, Kansas, Louisiana, Maryland, Michigan, New Hampshire, New Jersey, New York, Oregon, Pennsylvania, Tennessee, Virginia, West Virginia, and Wyoming.
Due to gaming enforcement rules within the US, if you reside outside of these areas, you will not be allowed to place sports bets or play casino games even though you may be able to create an account. DraftKings uses geolocation technology to confirm that you're betting from within the states mentioned above. Trying to place bets from excluded states will often result in having your account suspended.
Accessing DraftKings through VPN?
To DraftKings and other sportsbooks, accessing the site with a VPN is deceitful, especially when you use the service during the registration process to change your location. Although it's tempting, this is a bad idea. The sportsbook can easily figure this out, and you'll have your account immediately suspended. So you should check that you've disabled any VPN service on your device before you create a DraftKings account.
If you want to enjoy daily fantasy contests or place live bets on the top NFL or NHL events, you'll have to use other legal sports betting alternatives within your state. If you're a die-hard DraftKings fan, don't worry. The operator is spreading its tentacles across the legalized betting markets within the country. So you could become privy to DraftKings' membership perks very soon.
Winning Most of your Bets
Suspicious betting patterns are a common reason for having your DraftKings account locked or restricted. And for online sportsbooks, nothing is more suspicious than winning considerable amounts consistently.
If you didn't already know, sports betting companies are profit-driven. That's why betting odds have a vig (charge on bets) and games at the DraftKings casino have a house edge. So if you win a lot, your account will normally be restricted. This could be a simple limitation on your stake level or a full on account blocking.
It's not all for selfish motives, though. Online sports gambling sites need to check for match-fixing and third-party betting, which are illicit attempts against the business. Online hacking is another factor that can affect outcomes and is especially common with DraftKings casino games that run on software.
Failed Verification
Verification is a crucial step at legal sports betting sites. Whether at the DraftKings website or on the DraftKings app, you'll need to present some documentation for KYC verification. If you provide wrong or expired documentation, the operator may become suspicious of your account and block it.
In addition, there should be coherence between your ID document and the information provided during registration. Providing false information when signing up is reason enough for DraftKings to put your account on hold. So make sure to give honest answers when filling out the registration module.
Requested a Time-Out?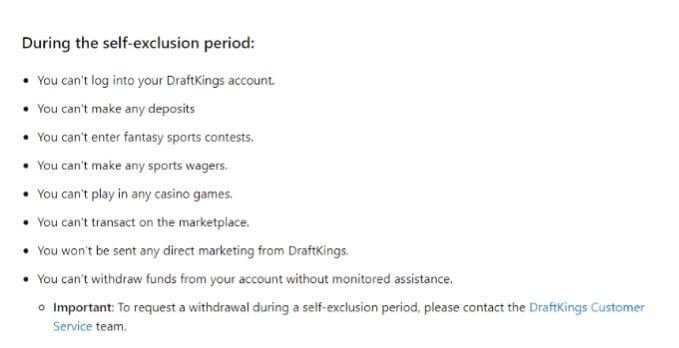 Self-exclusion is another reason why you'll have your account restricted. However, this will often be a conscious choice on your part. Bettors can decide to self-exclude or take time out from betting to limit excessive gambling activity. These are safer gambling tools like deposit limits, albeit more extreme, and they are always available at top sportsbooks like DraftKings. You simply have to activate the option under your profile. For fantasy sports, you can self-exclude for 3 or 6 months. The options for sports betting are 1 year or 5 years.
For the period that the self-exclusion or time-out option is active, your account will be restricted. When your account is suspended, you'll find that you cannot log in anymore. Or you won't be able to access games even if you're already logged in.
Getting Your DraftKings Suspension Lifted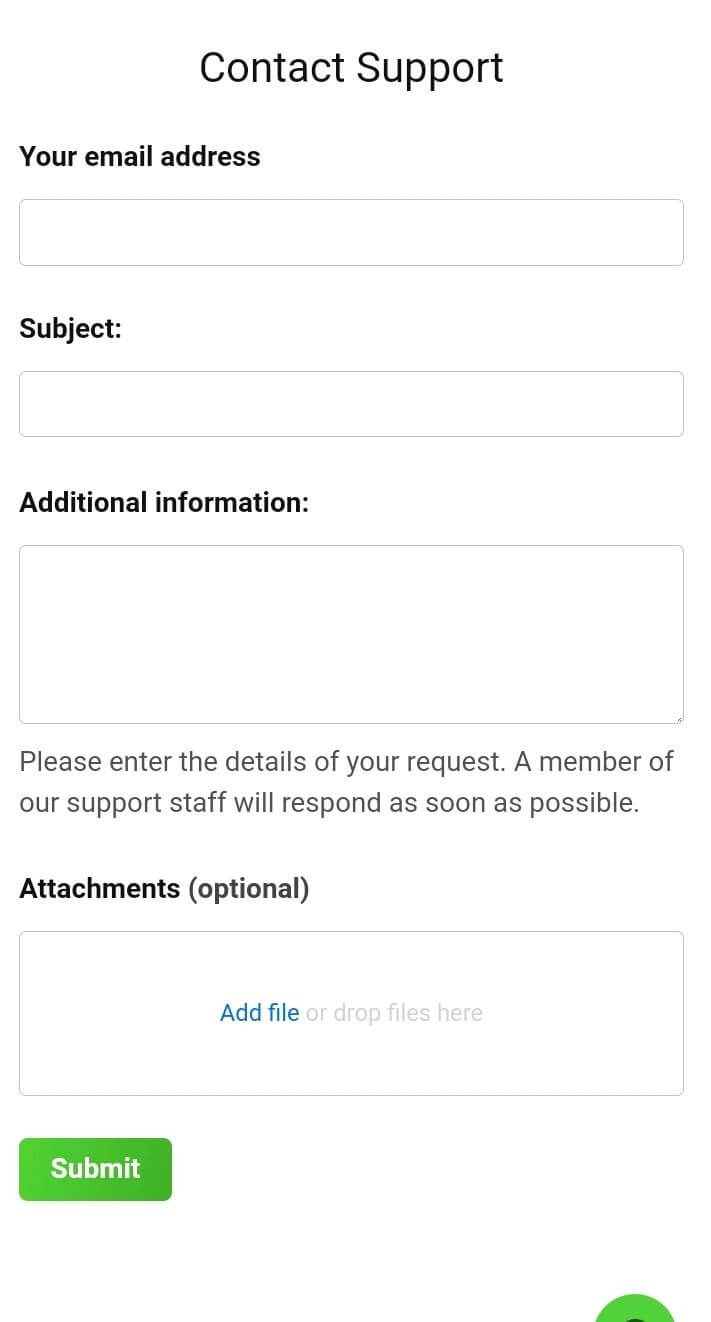 When you encounter a message that says your account has been suspended, the obvious thing to do is to contact customer support. Make sure you have some ID documents nearby to enable you to pass the security clearance. You should also scan the back of your mind to know if you've done anything we've discussed on this page. If you have, the sportsbook investigation will probably not end very favorably for you.
Suppose you've made a mistake like logging in with a VPN, you've been a victim of hacking, or face technical issues with the DraftKings app. In any of these scenarios, you've got a strong case and should be able to regain full access to your account. If the suspension was caused by entering the wrong username or password multiple times, you could simply do a password reset to get back in.
The chances of restoring your suspended account depend on whether your account has been temporarily suspended or permanently suspended. A temporary suspension means the issue is still under investigation. This allows room for you to make your case. On the other hand, a permanent suspension basically means the decision has been made and your account terminated. You can still message DraftKings customer support if you feel the restriction is unfair but don't get your hopes up. The chances of getting a permanently limited account backup are almost non-existent.
How about Creating a New Account with DraftKings?
DraftKings has a one-person, one-account policy. The tricky thing with having your account suspended is that your details haven't been wiped off the server, as would be the case if you decided to close your account of your own volition. Technically, you still hold an account, but the sportsbook has decided to no longer offer its services to you. So you can't open another one without violating its multiple account policy.
Play-Through Bonus Up To $1,000
Huge welcome bonus
Quick payouts
At this point, you may want to set your sports betting sights elsewhere. DraftKings is a fantastic sportsbook, but several others are neck to neck in terms of betting options, odds, free bet bonuses, and more. A FanDuel account is a superb alternative to your daily fantasy sports account. Caesars' free bet offers and odds boosts are just as exciting as those on the DraftKings app, and you can enjoy all the live betting and prop bet options on your favorite sporting event when you play at BetMGM. Prop bets are great, but the high-risk, high-reward points betting feature available at PointsBet offers some of the best online sportsbook entertainment on the market.
Other Options when Unable to Recover Suspended DraftKings Account
The Supreme Court ruling may have overturned PASPA back in 2018, but having your account restricted for one reason or another is just as bad as the restrictive law. Fortunately, a DraftKings account suspension doesn't affect your eligibility at other betting platforms. You can open an online sportsbook account with any of the following operators as alternatives to DraftKings:
Suspended DraftKings Account FAQs
Why is there a restriction on my DraftKings deposit?
Restrictions on DraftKings deposits are not uncommon. If you've set limits on your account, you cannot deposit above the indicated amount. The sportsbook itself may limit your transactions if your betting patterns show signs of problem gambling. A third option where your deposit may be restricted is if you haven't completed the verification process.
What is the minimum gambling age on DraftKings?
Individual state laws determine the minimum gambling age on DraftKings. However, in all the approved states, you need to be 21 years or older to bet or claim the welcome bonus and other promos.
Will I lose my money if my DraftKings account is suspended?
If your account is temporarily suspended, you may be able to restore it. In this case, you regain access to the sportsbook betting features and any money you've deposited or won through gameplay. On the other hand, a permanent suspension means you lose all of DraftKings benefits and no longer have access to any funds you have deposited or won on the sportsbook.
How long will my DraftKings account remain suspended?
Account suspension lasts for as long as it takes the sportsbook to investigate the reason behind the suspension. Depending on the issue, you may regain access to your account in a few minutes, or you may be locked out indefinitely.
Can I close down my DraftKings account?
You will not be able to close down an account restricted by DraftKings. A blocked account prevents you from performing any further action on the system. Just as you cannot log in, place bets, or claim bonuses, you cannot shut down the account.
How do I unlock my DraftKings sportsbook account?
You should contact the DraftKings support team as soon as you notice your account is locked. Email the sportsbook at support@draftkings.com, and wait to receive a reply within 48 hours. If DraftKings should permanently close your account, however, there is no way to unlock your account. You'll be better off joining an alternative sports betting app like FanDuel or PointsBet.