Peer-to-Peer Sports Betting & Top Apps in the US
The online gambling sector is very lucrative, with the global market racking in a whopping sum of more than $89 billion in 2021. According to estimates, it is predicted to reach $144.34 billion in 2023. All these show that there are more than enough opportunities in the sector. Many sports betting sites understand this and are looking for ways to get the lion's share of the market innovations.
One of the recent innovations is peer-to-peer betting which allows players to wager against themselves without involving a sportsbook. This concept has become legal in the US after it legalized sports betting in various states, thus indicating more opportunities for US sports betting sites.
Now, new sportsbooks are beginning to leverage this by establishing P2P betting exchanges and apps, with Prophet and Sporttrade kicking off in New Jersey this year. Interested sports bettors can wager against one another via these apps and exchanges. This benefits both bettors and sportsbooks since bettors get lower fees while the platforms get more market opportunities.
If you are new to P2P betting, this guide will show you all you need to know about it. We will look into the meaning of peer-to-peer sports betting, how peer-to-peer bet works, its legality in the US, the best apps to help you get started, and many more. Without further ado, let's get started!
100% Risk-Free Bet up to $250
Best alternative to legal sports betting
Ability to set your own odds and bets
What is Peer-to-Peer Sports Betting?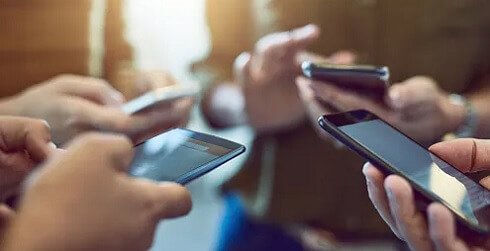 Peer-to-peer or P2P betting is a form of betting that takes place between individuals without the need for a sportsbook or other intermediaries. This type of betting existed for a while before it became more prominent. For instance, betting with your friend that your favorite team will win a match. This is a form of P2P betting, and in this case, you and your friend are referred to as peers.
Today, many sportsbooks are developing their betting exchanges to allow players to engage in P2P betting. When you register on a betting exchange and place bets on a match or event, you are also engaging in P2P betting. However, in this case, the betting exchange provides you with a range of special events that you would typically not have found elsewhere.
One of the unique ways betting exchanges have the edge over typical sports gambling sites is that you can request the odds you want on sports events. If you want to lay bets, you can provide the odds on events, allowing other sports bettors to wager on your sports event – thus making you act like a bookmaker yourself!
How Does P2P Betting Work?
Before registering and starting real money betting on an exchange, it is crucial to note how it works. The most important terms you'll need to learn are "back" bets and "lay" bets. Let's say you want to place a bet on Chelsea VS Man United in the premiership. You believe that Chelsea will secure the win.
You place a "back" wager on Chelsea to win the match, as you would on a normal sportsbook. If they win, you get a payout.
Another sports bettor on the peer-to-peer exchange does not believe Chelsea will win, so they place a "lay" on them. This is the same as wagering against them; if they lose, the bettor gets a payout.
For a P2P betting exchange to work as it should, there has to be liquidity. Presuming you want to bet $100 on Chelsea, another sports bettor or a group of others will have to "lay" on Chelsea for the same amount. Once this happens, your wager is "matched" by the betting exchange, and the P2P betting can kick off. Another major benefit of betting in this manner is that the betting exchange takes a much lower profit than the traditional sportsbook.
Is Peer-to-Peer Gambling Legal in the US?
Yes, peer-to-peer betting is legal in the United States as there is no law that prohibits wagering on these sites. But for now, it is only available in New Jersey. Still, this does not mean you won't be able to engage in P2P betting in states where sports betting is legal. The major issue with this is that there are many obstacles that prevent it.
The first is the Wire Act, which does not allow betting across numerous states. This means that a bettor in New Jersey will be limited to other bettors in the same state. That means there will be inadequate liquidity as the active bettors won't be enough to make it profitable. This is sure to make many players uninterested in the concept.
Also, there is the issue of the standard sports betting sites. These operators see betting exchanges as major competition since if they come into play fully, more sports bettors will lean towards them, considering the numerous benefits. Sports betting sites have a large say in matters like this, considering the amount of cash they bring into the state's economy.
Nonetheless, major moves are still being made to positively define the future of betting exchanges in the US. In August 2022, Prophet Exchange launched officially in the Garden State and plans to move into Indiana and more states in the future. Another betting exchange, Sporttrade, also launched on the 15th of September 2022 in New Jersey and will probably be looking to break into other markets in the future.
Moreover, operators like Smarkets, the UK betting exchange, and ZenSports have made it known that they plan to extend their services to the US markets. Eventually, we expect many of the big sports betting operators to create betting exchanges that support P2P betting. For instance, Betfair, the world's largest betting exchange, recently concluded its purchase of FanDuel, which Flutter Entertainment owned. This could mean it may soon introduce America to a new betting marketplace. All of these are indications that there is hope for peer-to-peer betting to grow even further in the future.
First Peer-to-Peer Legal Betting App Goes Live in the US!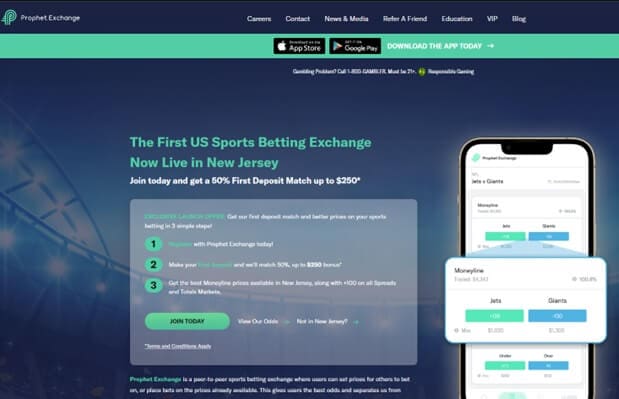 After a long wait, sports bettors in the US can now wager on the first legal p2p sports betting app, Prophet Exchange. This exchange marketplace started operations at the beginning of the 2022 NFL season and will allow bettors in New Jersey to enjoy p2p gambling. New players can sign up quickly and easily at prophetbettingexchange.com.
The platform was developed by Dean Sisun, a former investment banker, and Jake Benzaquen, a former financial consultant. This app, which recently kicked off in NJ, follows a concept similar to other popular exchanges in the UK. Here, you can set lines as we described above and allow other sports bettors to wager on these lines. This eradicates the need for a standard sportsbook, and Prophet will only take a 2% cut if a bettor wins. This is as opposed to the Vig at most sportsbooks which is usually above 5%. If you don't want to play as the oddsmaker, this betting exchange also allows you to play as the bettor.
The betting marketplace app is available on the Google Play store if you are an Android user and on the Apple Store for IOS users. We downloaded both apps, and we can tell you it is impressive. The design is excellent and works no differently from standard betting apps. Simply search for the available markets and make your wager. You'll find favorable odds on NBA, NHL, NFL, MLB, MMA, and NCAA basketball and football. While there isn't a big variety currently, the platform has indicated their coverage of additional markets in the future.
Navigation with the Prophet Exchange app is also a breeze, and pages are free from clutter. Since the app is properly structured, new users should have no problem finding their way around. We did not experience lags during our tests, and the pages loaded extremely fast. This platform is licensed via a deal with Caesars, so you can bet without worrying about your safety.
Players who want to make deposits can use wire transfers, cash at Harrah's Casino in Atlantic City, and online banking. These seem limited, but we expect many other options to be included as the exchange grows. The best part is that new players who register on this betting exchange get a risk free first bet of up to $250!
Note that this app is only available to players in New Jersey. But the operator has plans to extend its services to Indiana and other US states, as we mentioned earlier.
Key Features
Reduced Vig on wagers
Act as Oddsmaker and bettor
Variety of US-facing sports markets
100% Risk-Free Bet up to $250
Best alternative to legal sports betting
Ability to set your own odds and bets
Types of Peer-to-Peer Betting & Exchanges
There are numerous forms of P2P betting exchanges in the US market, all serving different functions. Learning about each one and how it works before you register is important. This way, you'll be able to leverage them to the fullest. Here's a look at some of the top options:
Daily Fantasy Sports
This is the first type of peer to peer betting platform you'll likely come across. It is also referred to as a Daily Fantasy Sports site. Here, players create custom leagues and bets to challenge other players in a race and get the highest points. The player who wins gets the payout.
Betting Exchanges
This is one of the most common types of p2p betting sites you'll find today. These platforms allow you to wager similar to how you would on a standard sportsbook. You can bet against other players on popular sports like football, soccer, basketball, etc. Betting exchanges will also allow you to wager on eSports which consists of video game tournaments and video games instead of your typical sports. This form of variety ensures every player will have something to wager on. Some popular betting exchanges include Prophet, Betfair, Matchbook, etc.
Crypto Betting Exchanges
Cryptocurrencies have exploded in popularity around the world. Today, most people have cryptos stashed up in crypto exchanges, and even sportsbooks have begun to accept it as a payment option. Now, you'll find many crypto exchanges which offer the same friendly bets and features as the standard betting exchanges. The only major difference is that these platforms work using Bitcoin technology.
They offer digital tokens, which sports bettors can use to wager on the platform. For instance, ZenSports, one of the top crypto exchanges today, has a digital currency named SPORTS. Players can use it to wager on their favorite teams at this betting exchange. However, these platforms, including ZenSports, also support using traditional currencies. This gives players multiple options since they can wager and earn cash using digital or their standard currency.
We believe this form of p2p betting will most likely become the more popular option in the US. This is because most crypto exchanges have already adopted the p2p formula for players who exchange cryptocurrencies with one another. It will be easy for these players to transition into gambling on one of these betting exchanges. We also believe that Betfair/FanDuel may leverage this trend later on. The future of betting exchanges looks excellent, and we can't wait to see how it all unfolds.
Other Peer-to-Peer Betting Apps
Peer-to-peer betting is a growing trend, and many operators have already jumped on the bandwagon to offer players their services. But like your typical sportsbook, not all offer the best experience, and some provide better services than others. Fortunately, our experts have evaluated some of the top choices and provided the apps worth downloading.
Note that we did not randomly select any app we came across. Instead, we evaluated the options using the following criteria:
Bonuses and promotions, along with terms and conditions
User experience and functionality
Customer support
Unique features
Payment methods
All the betting exchange apps we recommended below do well in all these areas. Knowing this, let's check out our top 3 p2p betting exchange apps you can download and get started on today.
Betfair Betting Exchange
This is the largest betting exchange you'll come across today. It was developed in 2000 and has built a stellar reputation to date. This platform started as a sportsbook in 1999 and is a part of the well-known Paddy Power Betfair PLC. Betfair performs excellently in all areas and covers over 29 markets with plenty of betting options.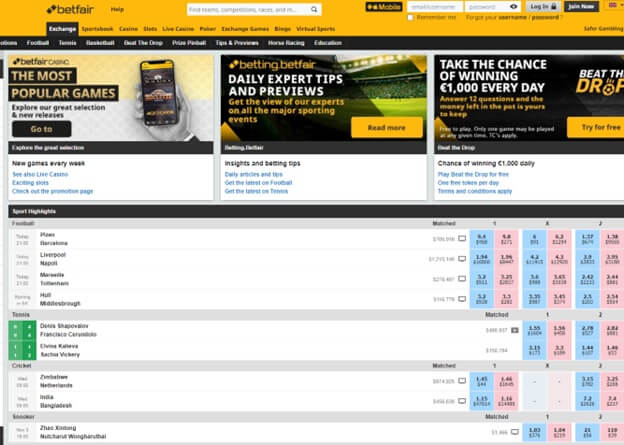 These include American Football, Basketball, Boxing, and Ice Hockey. There is also an option for live streaming and in-play betting if you love to wager on events live. New and existing players won't have issues navigating the app since it is well structured. What's more, it is available on IOS, Android, and Windows devices, all available on the website.
Standout Features
More than 30 unique markets
Competitive odds
Packed with numerous features
Largest betting exchange in the globe
Google Play Rating: 4.3
Apple Store Rating: 4.7
Yet, Betfair is not legal in the USA as of today.
Smarkets Betting Exchange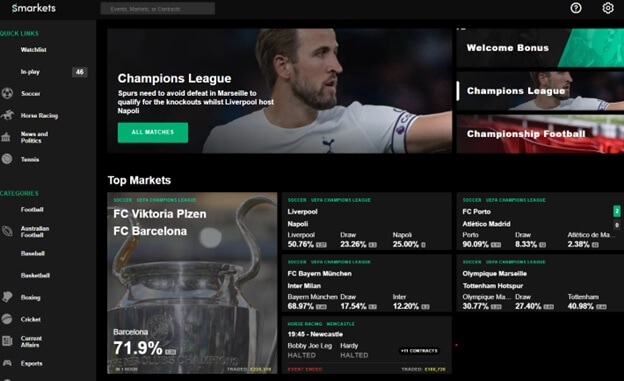 This is a betting exchange that is making waves in the industry. It gives priority to bettors and provides them with the best offers. The app requires a commission of 2%, which is very decent, and in some instances, this could drop to as low as 1%. Players will always have something to wager on as it covers a broad range of events with fantastic prices.
The website and mobile apps look appealing and have been designed to be extremely user-friendly. New and existing users won't have issues navigating the broad market and making wagers. On the downside, you may have to wait a while for some bets to be matched on this betting exchange.
Standout Features
Low commission of 2%
Good range of betting options
User-friendly platforms
Apple Store Rating: 4.8
Like Betfair, this betting exchange is still to acquire a license for the legal US market.
WagerLab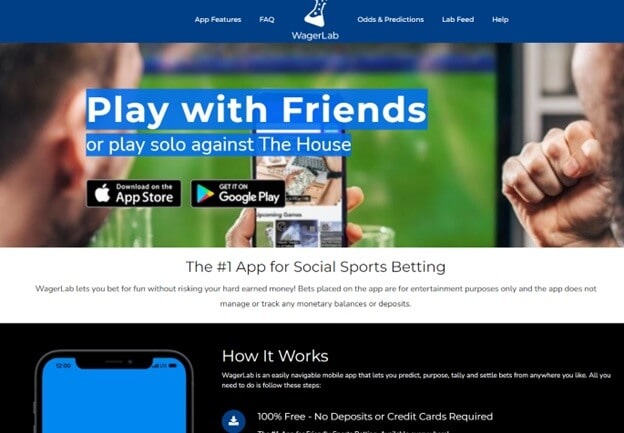 WagerLab is another renowned betting exchange that allows you to bet on more than 40 leagues right from your fingertips. These range from NBA, NFL, UFC, and NHL. The app is easy to use and is available to download for free on IOS and Android devices.
By allowing the app to access your phone contact list, you can easily wager with friends for unlimited social betting fun. With various events and categories to wager on, there will always be something to bet on here.
Standout Features
Bet with friends via contact list and social media
Prop bets covering social topics
Numerous bet types
Google Play Rating: 4.3
iTunes Rating: 4.7
This should be among the best p2p betting apps when it arrives in the US, but for now Prophet Exchange seems to be the only worthy alternative for Americans.
Advantages and Disadvantages of Peer-to-Peer Sports Betting
Placing bets on a betting exchange has innumerable benefits, but there are also a few drawbacks. Before you start to wager on any of these exchanges, it is essential to first note the pros and cons to better decide if it is right for you. Our experts have put together a list of the main ones below.
Advantages of P2P Sports Betting
Two-way Betting: In betting exchanges, you can bet on teams to win or lose. Every wager on a betting exchange is a two-way option. This is not a feature available on standard sports betting sites, which means more opportunities to make money.
Lower VIG: Since you are cutting off the standard sportsbook from the equation, the cut you pay from your winnings is lower. Sportsbooks can take cuts ranging from 5% to as high as 10%. This usually occurs regardless of the event's outcome, as the sportsbook makes profits. With betting exchanges, this is different as the fees are lower, with some ranging from 1-2% – and this only applies if your bet wins. There are even betting exchanges that don't take a margin which means more profit for you.
Decent Odds and Better Prices: You'll typically find better odds on betting exchanges than you would on a sports betting site. You will typically experience this when making longshot bets since the exchanges see it as an easy avenue to make money – thus offering reasonable odds to draw in bettors. In contrast, sportsbooks offer odds that help them make money, not the player.
No Limitations or Restrictions: Experienced bettors are bad news for most betting sites since the sportsbook aims to win. In most cases, these bettors end up getting their accounts limited or restricted. This is not the case when you play on a betting exchange, as the operator will never limit you. So long as you find another player to take the other side of your wager, you can continue to earn cash without worries.
Disadvantages of Betting Exchanges
Limited Bonus Variety: Unlike your standard sports betting site, betting exchanges offer limited bonuses. While some may offer you

betting bonuses

, the options are way more limited than you'll find on sportsbooks because of the peer-to-peer system.
Liquidity Problem: Most betting exchanges tend to have lower liquidity than the standard sportsbooks. This could lead to longer wait times to get your bets matched. You'll typically experience this issue when wagering on less popular sports that not everyone is interested in. Other times, it may be an issue of odds, and while the odds may seem great for you, nobody else feels the same. Standard sportsbooks thrive in this area, with opportunities available for all players.
Unfair Practices: It is easier for match-fixers to thrive in betting exchanges than traditional sportsbooks. Since anyone can be the layer, they can easily fix great odds to attract huge bets and conspire with the athlete in question to lose the game. This can result in bettors experiencing losses due to foul play.
Complex for Newbies: Players new to betting exchanges may find it difficult to understand them. However, this issue can easily be sorted if you are willing to invest time and learn how these platforms work.
100% Risk-Free Bet up to $250
Best alternative to legal sports betting
Ability to set your own odds and bets
FAQs
What is p2p gambling?
P2P gambling is a type of gambling between individuals without a sportsbook acting as an intermediary. Instead, bettors can use a betting exchange to match with other players and act as oddsmakers or bettors. This form of gambling offers numerous benefits, including lower Vigs and more flexibility.
Is p2p sports betting legal?
Yes, p2p sports betting is legal in most parts of the world, including the US. But if you want to engage in p2p betting in the US, you are limited to only New Jersey. There are indications that it will extend to multiple states later in the future.