The Loosest Slots in Black Hawk, Colorado
Black Hawk – a city in Gilpin County, Colorado – may not have the glitz and glamour of Las Vegas or Atlantic City, but it's still become a gambling hotspot for the good people of Denver.
Black Hawk is home to some of the most unique and exciting casinos in Colorado and is a hotbed of action that attracts players from all over the world. This guide will explore the casino options so that you know where to find the best slots in Black Hawk, Colorado. From the Isle Casino Hotel to the Madi Gras Casino, there a slot game aplenty in Black Hawk. Playing slots has been a popular pastime with gamblers for centuries, and we all love trying to land that big win. Black Hawk has an amazing choice of casinos, and they all have slots, but which slots are the best to play? Does playing on the best slots always guarantee you a winner? Well no, but it's always nice to know which has the loosest slots just in case Lady Luck is on your side.
You must make you aware however that things have changed at these casinos due to the COVID pandemic. Like everywhere else in the world, these casinos are experiencing a shortage of staff. Where previously there would have been casino staff on hand to answer any queries you had on the casino floor, these personnel have been reduced so it may be more of a challenge to get questions answered. Additionally, due to surging food costs when you want to grab a bite you may find the price of your favorite meal is more expensive when you last visited. The casino industry isn't immune to economic conditions, and the casinos in Black Hawk are facing the same problems as most casinos across the country. That doesn't mean you can't enjoy the many exciting games available, however.
Online casinos in Colorado are not available so players can only play slots found in one of the many casinos across the state, or on the growing number of legal sweepstake online casinos like BetRivers.net. There is good news for sports fans, as Mobile sports betting is available through Colorado. Anyone looking to play real money games online should check out the range of games on the sweepstake casinos which are pretty awesome.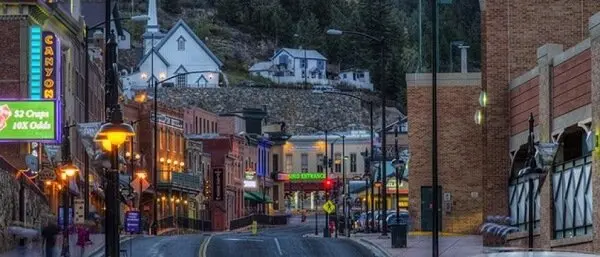 Loosest Slots in Black Hawk
Regular casino players are always on the lookout for the loosest slots in Black Hawk CO. Yet before we reveal which casino in Black Hawk has the loosest slots, let's briefly explain what a loose slot is.
Fundamentally, loose slot machines are the ones with a higher return to player RTP percentage. For example, a slot with an RTP of 92% is programmed to payout over the course of several million spins $92.00 for every $100 that goes into it. Therefore, a slot with an RTP of 95% pays $95 per $100 wagered. Comparing these two slots, players would classify the latter as a loose slot.
To be clear, the casino still holds an advantage, but over the long term, you won't lose as much playing a loose slot because the returns are more favorable to the player. Coming back to which Black Hawk casino has the loosest slots, we must consider that each establishment is competing with the others. It's a good selling point for a casino to claim that its slots are the loosest in town because it will attract more players.
The easiest way to achieve this is for the casino manager to fill the floor with the highest RTP slots in the business. Alternatively, some games allow for the RTP to be adjusted, meaning that although two casinos offer the same slot, one might be looser than the other.
For the record, there are multiple reviews on Trip Advisor that Z Casino offers the loosest slots in Black Hawk, which would make this the best payout casino in Black Hawk (based on slots). As both Ameristar and Monarch offer more table games and video poker, they should have decent payouts, too. For us, the loosest slots have all come from the Ameristar Casino.
Popular Slots at Black Hawk Casinos
This casino town in Colorado hosts 18 venues, so there are slots to suit all tastes and all bankroll sizes. While the collective total floor space in Black Hawk is only a fraction of Las Vegas, all the hot slots are right here. What are the best slot machines to play in Black Hawk? Ultimately, that's a personal choice, but these are some of the most popular titles we recommend checking out.
Buffalo Gold
Aristocrat's Buffalo series of slot machines are among the most played games in US casinos. They are known for delivering cutting-edge graphics, smooth gameplay, and plenty of additional features, including the Xtra Reel Power System. Buffalo Gold accepts wagers in many denominations, with the lowest cost per spin being $0.20 to $0.40.
To land the jackpot, you need 15 Golden Buffalo heads. That will most likely lead to a five-figure payout (depending on your stake level). Although Buffalo Gold has a generous RTP with pretty regular wins, there are times when the slot can run cold.
88 Fortunes
88 Fortunes is a favorite at both land-based and online casinos due to its four progressive jackpots. The game has a free spins feature that is triggered when you land three gong symbols on the first three reels. With payouts up to 1,000x, this feature can be most rewarding.
However, it's the pot of gold coins above the reels that draws every player's attention. Each time a wild lands on the reels, some coins flow up to the pot. If the lid closes, you activate the progressive jackpot game where you could win thousands of dollars if you hit the grand prize.
Lightning Link
Black Hawk casinos offer a selection of Lightning Link slots, including Tiki Fire, Heart Throb, Moon Race, Bengal Treasures, and several others. Despite the different themes, the bet levels and mode of gameplay are similar, so once you know how to play one Lightning Link slot, you'll soon get to grips with the others.
All of these video slots feature a generous free spins bonus round, which is triggered more regularly than most other bonus slot machines. Another interesting feature is that each Lightning Link slot is linked to the same progressive jackpot prize pool, so the pot grows reasonably fast. There's also a Tier 5 Jackpot available to players who achieve 1,000,000 Lightning Points in a season.
Best Casinos to play slots in Black Hawk
With more than a dozen land-based casinos, Black Hawk offers real money gamblers a variety of gaming options. Some casinos have been around since 1991, when gambling was first legalized in the county, while others are considerably newer.
Ameristar Casino
Address: 111 Richman St, Black Hawk, CO 80422
Owned by Penn National Gaming, Ameristar Casino is the largest in Black Hawk. It offers more than 1,250 slots, various card, and table games, video poker machines, and a poker room, with what's promised as the lowest rake in town. And, of course, the well-known Barstool sportsbook lounge that features a 24-foot video wall. There are some really good slots to play at the casino, in fact, there are over 1250 to choose from. Some of the best slots to play at Ameristar are 88 Fortunes, Lunar Festival, Buffalo Grand, Dragon Link, and the Buffalo Gold slot machine.
Although the Ameristar is no longer offering it's lunch and dinner buffet, you can eat at the Fireside Kitchen, the Centennial Market (closed Monday thru Thursday), and the Timberline Grill.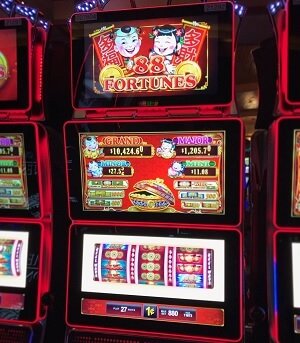 Monarch Casino
Address: 111 Richman St, Black Hawk, CO 80422
Monarch is the newest casino in Black Hawk. It swung its doors open in November 2020, which marked the completion of the first phase of its $442 expansion plan. Visitors can enjoy more than 900 top-quality slots, video poker games, table games, keno, and a poker room. There's also a sportsbook and a CO betting app – Bet Monarch.
The Monarch Casino building is hard to miss, with bright signage, a 23 story hotel and a large parking garage. It has one of the best buffets in Colorado, and although quite expensive, has some food items you find in other buffets in the state. The Monarch Casino has recently gone through a significant renovation project which has doubled the gaming space.
Z Casino
Address: 101 Gregory St, Black Hawk, CO 80422
With 400 slots and a plethora of table games, Grand Z Casino is a popular place to play. This owner also operates another venue in the central city called Johnny Z's Casino. Here you can explore 350 slot games. Furthermore, for Colorado sports betting enthusiasts, you can download the Play Maverick Sports app for iOS and Android devices.
Saratoga Casino
Address: 101 Main St, Black Hawk, CO 80422
This is another venue with more than 400 slots, ranging from the all-time classics to the latest titles. Saratoga also boasts several progressive slots, video poker, EZ Keno, craps, poker burnout, and blackjack. Fancy a wager on the football? Grab a sports betting bonus from the Betfred Sportsbook to hopefully increase your winnings. Betfred is one of the leading bookmakers in the United Kingdom, so a first-class wagering experience is guaranteed.
Century Casino
Address: 102 Main St, Central City, CO 80427
Another property with a wide range of casino games, with the gaming floor offering the latest slot games in addition to multiple classic slots titles. The casino floor is a buzz of activity, with video poker games, exciting table games and friendly dealers. This Colorado casino boasts some of the loosest slots around so is well worth a visit.
The Lodge Casino
Address: 240 Main St, Black Hawk, CO 80422
The Lodge Casino opened in 1998 and became the first casino in Black Hawk to offer hotel rooms. It is one of the bigger casinos available in Black Hawk, with a big gaming space and a 50 room hotel. There are three dining options on site: The White Buffalo Grille, the Seasons Buffet and for those who want a quick bite there is Jake's.
The Lodge Casino may not be everyone's first pick when it comes to finding the loosest slots, but they do have some excellent slot machines and lots of them have already paid out big. You can find over 975 slots to choose from, but some of the best to play are Double Gold, Double Diamond Strike, and the Triple Double Gold Doubloon machine. These 3 slots certainly pay the best when you check out the big recent wins:
| Actual Payout % | Machine # | Location | Machine Description | Total Payouts | YTD Total Payouts |
| --- | --- | --- | --- | --- | --- |
| 188% | 191086 | BB-03 | DOUBLE GOLD | $510,352.17 | $4,964,580.67 |
| 112% | 191361 | BB-13 | DOUBLE DIAMOND STRIKE | $229,420.00 | $2,605,066.00 |
| 115% | 190408 | BB-15 | TRIPLE DOUBLE GOLD DOUBLOON | $148,775.75 | $2,178,496.20 |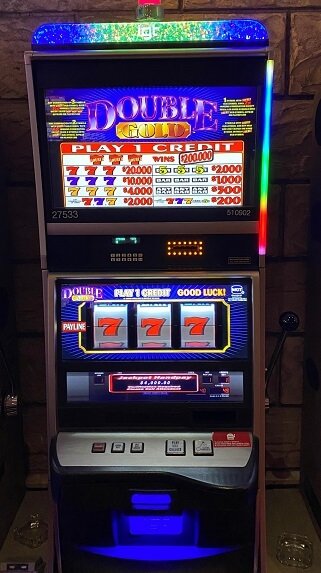 Penny slots in Black Hawk
The term 'penny slot' has changed over the years, which has led to some confusion. The true meaning of a penny slot is a game that you can play for 1c – hence the term penny. There are a small handful of these games in Black Hawk, but you need to look around for slot machines with non-fixed paylines. Then if you play only one payline on the minimum bet, it will cost you 1c.
These days, many players refer to penny slots as games that accept bets under $1.00. So, they would classify Buffalo Gold as a penny slot as the minimum bet is $0.20. It must be said that penny slots are slowly dying out, although Las Vegas still has a fair few of them.
FAQs
How to tell which slot machine will hit?
Every slot player wants to know which machine will hit. Many even ask casino employees to point them to the hot slots that are due to drop. Unfortunately, there's no way of telling in today's age of video slots. A game could pay a series of big wins in quick succession or it might run dry for a while. Ultimately, it's all about your luck on the day.
What slot machines win the most?
This depends on what context 'the most' is used in. For the best (or most) payouts, you want to play slot games with a high RTP. If you are referring to most as the amount you can win, then progressive jackpot games are the slots for you.
How do you find a loose slot machine at a casino?
As we highlighted in the article, a loose slot is defined as one with a higher RTP than another. With that in mind, you only need to compare the return to player values of each game to find the loose slots. Often casinos will strategically place them in a cluster of tight machines or one the end of aisles.