Un-Merry Christmas for Broncos, Nuggets
Categories:
News
|
Published by:
Tyler Jackson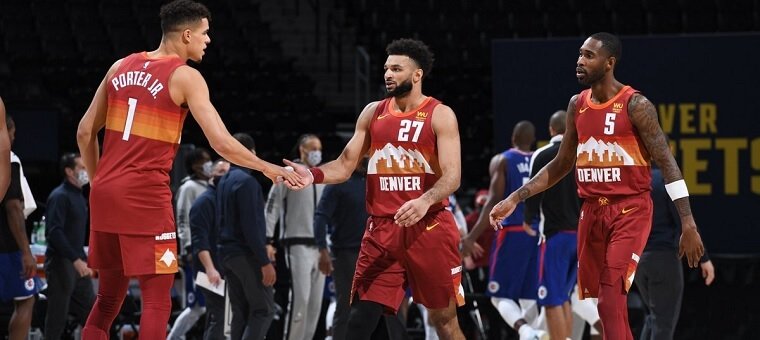 Christmas Day is supposed to be a time for receiving gifts, but that has not been the case for the Denver Broncos or the Denver Nuggets.
Both teams had a rough Christmas weekend, putting a damper on the celebrations for the fans of each team.
The Broncos were forced to place one of their most popular players on injured reserve, ending his season. Meanwhile, the Nuggets suffered a disappointing blowout loss on Christmas night, and they are off to a rough 0-2 start.
Thankfully, the Colorado Avalanche will get things going early next month because things have not been going well in Denver. 2020 was actually a good season for most professional sports teams in the Mile High City, but the year is not ending in a good way.

Lindsay Placed on IR
Denver Broncos running back Phillip Lindsay has been placed on injured reserve, and his 2020 season has come to an end. Lindsay was not expected to play in Week 16, but now he will officially be out for the season finale as well.
This is now the third straight season that Lindsay will end the season on injured reserve, and his future in Denver could be coming to an end soon. The Broncos brought in Melvin Gordon III as insurance to guard against a season-ending injury, and Lindsay could be replaced moving forward.
Lindsay is a fan favorite, and he is a local kid that was able to have his dreams come true by playing for the local team. He was born in Denver and is the all-time leading rusher at South High School in Denver.
It has been a frustrating season for Lindsay as he has only played in 11 games this season. His 502 rushing yards are second on the team to Gordon, but he has reached the end zone just one time.
Levante Bellamy was promoted to the active roster to replace Lindsay for the Week 16 game.
Nuggets Fall to 0-2
The Denver Nuggets advanced all the way to the Western Conference Finals earlier this year, and there were high expectations entering this season. The Nuggets still have a long season ahead of them, but it has been a rough start through two games.
Denver was hosting the LA Clippers on Friday night in the fifth of five Christmas Day games in the NBA. This was also a rematch of last year's playoff series in which the Nuggets stunned the Clippers in seven games.
Los Angeles was able to get some revenge on Friday night, leaving Denver with a 121-108 win. This followed up a 124-122 season-opening loss to the Sacramento Kings in a game in which the Nuggets were large favorites.
All-Star center Nikola Jokic has done his part for the Nuggets, but he hasn't gotten a ton of help from his teammates. Jokic is averaging a triple-double through the first two games, but making shots is a big key for the Nuggets moving forward.
The Nuggets will be back in action on Monday when they host the Houston Rockets.
Why not check back for more Colorado sports betting news, free bet offers, and CO sportsbooks updates.

Relevant news