theScoreBet Cleared in Colorado
Categories:
News
|
Published by:
Tyler Jackson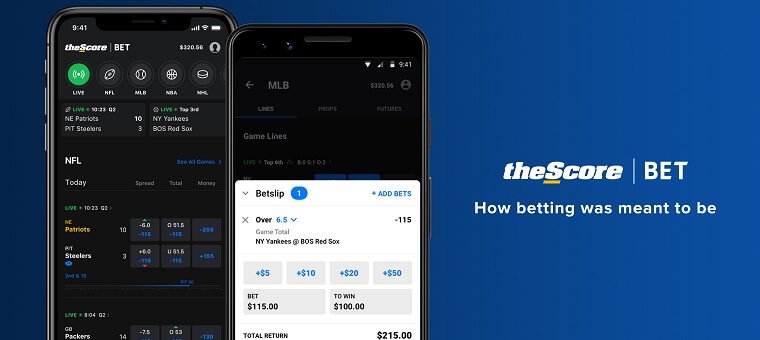 It's finally official; theScore Bet has received permission to offer mobile sports betting services in the state of Colorado.
It was less than a month ago when theScore Bet received their initial temporary sports betting license, but now they can take bets.
Score Media and Gaming Inc is the parent company behind the launch, and Score Digital Sports Ventures Inc is the official name of the new mobile app. theScore Bet is considered to be one of the up and coming sportsbooks in the US industry.
The Colorado Division of Gaming was taking a close look at the new CO sports betting app before giving them the official green light. According to the Colorado Division of Gaming, theScore Bet follows all sports betting rules and regulations.


It is still unclear when theScore Bet will officially launch in Colorado, but it is expected to happen sometime in August. Colorado has seen massive growth in the industry since May 1, and the launch of theScore Bet will continue that growth.
For theScore Bet to launch in Colorado, they first had to secure a partnership with a company that has a presence in Colorado. They sought out Jacobs Entertainment Inc., and that gave them the right to apply for a license.
Jacobs Entertainment operates two casinos in Colorado, and theScore Bet will provide sports betting services. The Lodge Casino and The Gilpin Casino are the two properties that are owned and operated by Jacobs Entertainment.
Smith Joining DenverSportsBetting
Former Denver Broncos wide-receiver, Rod Smith, is getting involved in the sports betting industry in the state of Colorado. Smith was named the chief brand ambassador of Denver Sports Betting.
Denver Sports Betting is a local sports wagering analyst website, and they are set to become even more popular with Smith now on board. Smith will be involved in future marketing content for Denver Sports Betting, and he will be the private dinner guest for fans that win some of the biggest competitions offered by the site.
Smith is a member of the Denver Broncos Ring of Honor and was a star wide receiver on two Super Bowl-winning teams. He was signed by the Broncos in 1994 and has called the Centennial State home since that time.
Denver Sports Betting has been heavily recruiting Smith to join their company, and it was essential to attract a football player. Gambling on the NFL will likely bring in the most betting handle and total revenue for sportsbooks and casinos throughout the state.
The Denver Broncos themselves have partnered with BetMGM, and there will be a brand new sport betting lounge at Empower Field at Mile High for the upcoming football season. Smith anticipates that the Denver Broncos will see a new wave of fans that will enjoy betting on the team while watching the games.
Denver Sports Betting considers themselves the lone media outlet in the entire state that solely focuses on sports betting.
There is a lot of competition in the state already with PointsBet, BetMGM, and DraftKings among the big-name players take legal wagers in the state.

Relevant news