Technical Issues FanDuel Sportsbook App
Alongside the hugely popular Daily Fantasy Sports services, FanDuel now operates one of the most popular sportsbooks in the US. They offer sports betting in AZ, CO, CT, IL, IN, IA, KS, LA, MI, NH, NJ, NY, PA, TN, VA, WV, and WY, in addition to online casinos (NJ, PA, WV & MI) and FanDuel Racing. Backed by parent company Flutter Entertainment company, FanDuel is a true heavyweight, and as such, its products, services, and web applications need to be top drawer.
However, even the best of the best suffer outages and other technical issues from time to time, so what do you do if the FanDuel Sportsbook app or FanDuel Casino app stops working? The first thing to do is not panic – this FanDuel App troubleshooting guide will walk you through the most common problems to help you get back on track – and back in the action.
Real money gambling apps not working effectively 100% of the time is nothing new, and the points that we raise in this guide equally apply when the DraftKings Sportsbook app stops working, as well as several others.
It's important to highlight that the problem could be at either end. It might be something related to the customer or their device, or it could be a problem the operator is having. In a situation where your FanDuel app isn't working, you must keep an open mind and explore all possibilities.
If you find you have had enough of the problems with FanDuel's app and seeing the FanDuel service unavailable, you can always check out these 3 recommended sports betting apps from BetMGM, Caesars, and BetRivers.
First Bet Offer Up To $1,500 In Bonus Bets
Awesome mobile app
Huge choice of sport markets
$1,000 First Bet on Caesars
Enormous Welcome Bonus
Price Boosts
FanDuel App Stops Working – Checklist
"Why does this always happen to me?" is the usual scream bettors let out if the FanDuel app stops for no apparent reason. As it happens, many others are saying the exact same thing. You are not alone in your frustration. So let's jump in with both feet and see what you can do about the problems. You can also learn how to restore a locked or restricted FanDuel account here.
Does FanDuel Sportsbook operate in the state?
As you are most likely aware, online sports wagering is legal in some states and not others. One of the reasons why FanDuel is one of America's top betting apps is because it's available in more locations than most of its competitors. With that said, there are still many US states that have not legalized online gambling.
If FanDuel is not licensed and regulated in the state where you are physically located, the app will display a 'Restricted Location' message, and the real-money wagering functionality is blocked. One annoyance that some bettors have endured with the FanDuel app is being blocked because they are a resident of a restricted state, even though they have traveled to a location where they can legally play. FanDuel explains in its support section that it may block apps if it cannot accurately determine a user's location.
Where can you wager using the FanDuel sportsbook? The operator is taking bets in the following states: AZ, CO, CT, IL, IN, IA, KS, LA, MI, NH, NJ, NY, PA, TN, VA, WV, and WY.

The good news is that this issue is generally quickly resolved by sharing your location settings with FanDuel. Here are a few troubleshooting tips to try if the 'Restricted Location' warning persists.
Reset your device by turning it off and on again
Clear the cache on your phone or tablet
Refresh the location settings on your device
Switch the wifi off and on again (if using wifi)
Try to access your FanDuel account from a different device
Are you still having location issues? Then check out sportsbook geolocation issues guide is where you need to head. If you use a jailbroken iPhone, running the FanDuel app won't be possible as it messes up with the location settings on your device.
Eligibility
Following on from having to be in a state where FanDuel is licensed, there is also a set of eligibility requirements in FanDuel's terms and conditions that you should be aware of. These include, among other things:
You must be a US citizen with a legit postal address.
When you make a deposit, you are not located in Hawaii or Idaho, Montana, Nevada, or Washington.
You are not subject to backup withholding tax.
You are over the legal gambling age for the state you are using the FanDuel Sportsbook app in.
If FanDuel has any reason to suspect any of the above, it can block customers from using the app until the problem is addressed. Keep in mind that the sportsbook is legal in additional states than the FanDuel slots app.
Bet Rejected – Price Not Valid
Ok, this has become one of the most annoying messages we have come across recently with FanDuel. Yes, books change pricing regularly, but even when you click accept changes, it still won't let you lay the bet. The error message comes when FanDuel has changed odds, and there is now a new price available. You say yes, that's ok, but it won't let you process and add to your betslip. This is a glitch on the platform, and no way around it, other than to use an alternative like Caesars Sportsboo or PointsBet.
Stable internet
A poor internet connection can make or break your sports betting experience, and this is no fault of FanDuel. If the app isn't working properly, it could be that your internet speed is running slow. A quick test you can do is to visit a website that you are familiar with to see if there is any change in speed there.

Additionally, if you are moving around while using the app, this can cause the signal to fluctuate between strong and weak. It's a waiting game if the internet signal is below average, and we don't recommend live betting at this time. It's still fine to place pre-match bets, although it may take a little longer to complete the wagering process.
FanDuel service unavailable, please try again later
As you can probably guess when seeing the FanDuel service unavailable, please try again later message, it means exactly that. The operator is experiencing problems and can't take your bet. They may be doing maintenance, the site and app may just be experiencing problems.
This happens with all operators, not just the FanDuel sportsbook. If you keep getting the service unavailable message, there is little you can do, other than wait till it's back up, or put your bet down with another book.
FanDuel is down
While rare, the FanDuel Sportsbook app not working could be the result of a site-wide outage. To confirm this, try logging into your account through a web browser. Of course, if this isn't working, it likely means that the servers are down. Unfortunately, there's little you can do in such instances other than sit and wait. Having a second sports betting or casino account up your sleeve is one way to avoid the disappointment of missing out on a wager, but this is optional.
You can check the website and mobile site at sportsbook.fanduel.com to see if there is a FanDuel outage, or if it is just a problem on your mobile.
How long will FanDuel be down?
When there is an outage, understandably, bettors want to know how long FanDuel will be down. Of course, this depends on the exact nature of the problem. Heading over to Twitter or another of FanDuel's social media accounts is the easiest way to access up-to-date information. You can try live chat, but this can sometimes be overwhelmed by calls, which is why we suggest Twitter.
FanDuel App is running slow
The primary cause for the FanDuel Sportsbook app running slow is due to heavy traffic. In fact, you'll notice this with many other apps and websites during peak times. With FanDuel, the most likely time is during the weekend, particularly on Sundays, when thousands of other bettors are wagering on football.
Once again, these issues are out of your control, and if it happens regularly, it may be worth considering another operator. However, it is usually bettors who enjoy in-game wagering that suffer the most but bear in mind; a slow app can cause issues if you want to cash out of your wagers.
An account problem
Another reason why the FanDuel app may not be working as normal is that there's an issue with your account. An example could be that it isn't fully verified or FanDuel suspects some suspicious activity like arbitrage betting to guarantee a profit from the FanDuel bonuses you claimed.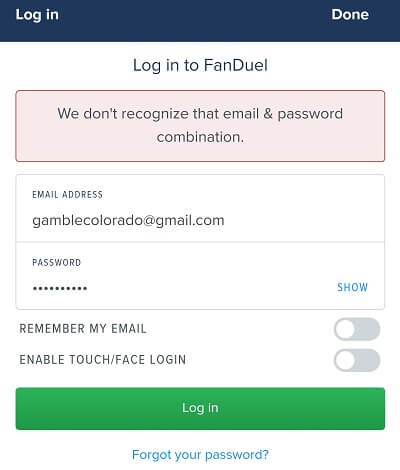 Additionally, it's worth considering that your account may have been compromised. There have been incidents in the past where operators block their apps after multiple failed login attempts. The only solution is to contact FanDuel customer support and find out what's up and work towards fixing it.
Keep the app up to date
FanDuel will occasionally update its app, which may be to fix some old bugs that have been discovered or to include some new features. Some apps may update automatically, depending on how your device is set up, but others – particularly the FanDuel Android app – may need to be updated manually. All you have to do is to uninstall the existing app and go to the FanDuel website and download the .APK again. The login details will be the same as before.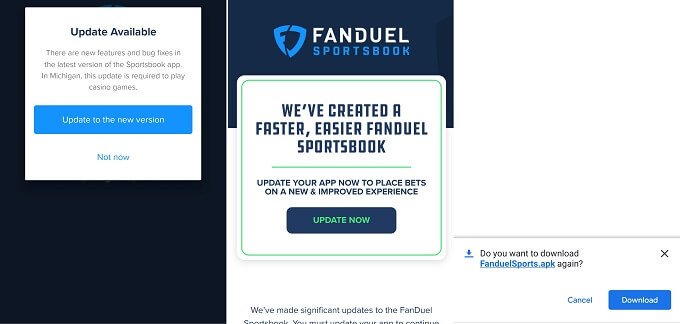 If you are running an older version of the app, you can run into the seamless login error message. If this happens, make sure you update to the latest release. If the problem persists, you may need to contact support or consider using an alternative book.
FanDuel Sportsbook app won't update
If you are trying to update the app and it just won't work or keeps freezing on the update, you may be feeling a tad annoyed. We have had a few problems where the sportsbook and casino app won't update (on Android & iPhone). This can be down to a lack of memory on your phone or a problem with FanDuel where it just doesn't push the update to your device.
Make sure you have free space on your phone as the new update can be larger than the old version. You may need to delete some of those dodgy vacation pictures or uninstall an app you no longer need. You can then uninstall the app, then download the app again from sportsbook.fanduel.com or iTunes & Google Play.
Other Mobile Sportsbook Apps
As we mentioned above, one of the reasons FanDuel is a market leader is because it's available in more states than most other US-based sports betting and casino apps. Still, there are a growing number of alternatives that match FanDuel in terms of betting bonuses, payment methods, odds, betting markets, and casino games. Here is a selection of licensed and regulated brands that compete with Fanduel:
Before diving in and switching brands, please note that no app is perfect and they do all have malfunctions here and there. Also, there are other variables to consider when choosing where to bet online.
You want to compare the strength of the welcome offer and other promotions. Are the terms friendly? Another thing is value, so you want to make sure the odds are competitive for the bets you want to place. Withdrawal times are also crucial – FanDuel promises fast payouts; therefore, check that the other apps are on par with this.