Building off the back of its hugely popular Daily Fantasy Sports app, DraftKings now offers casino gaming and online sports betting. Its award-winning mobile apps are known to be among the best in the business – lauded for their speed and performance. However, in this digital world, even the best apps suffer glitches and malfunctions from time to time.
This guide to DraftKings app troubleshooting will help you get back in the game sooner. We cover all of the most common technical issues that can occasionally pop up – usually at the most inconvenient moment – so you'll know what action to take.
Make no mistake, DraftKings Sportsbook is one of the leading names in online gambling in the United States. New customers can pick up generous DraftKings Sportsbook welcome offers and casino bonuses. There's also a stack of regular promos, which add value to your DK experience, and an exclusive VIP club. It's among our list of approved US mobile gambling apps, so this article is in no way critical of DraftKings – its intention is to assist if something does go awry.
The operator is one of the biggest and best in the US but faces still competition from William Hill & PointsBet, both of who have an awesome mobile app and great to run alongside DK, or as an alternative.
Getting started – the need-to-know essentials
Before jumping on the DraftKings app, many bettors like to check out the web-based mobile platform. However, due to gambling regulations in the US, the DraftKings Sportsbook nor DraftKings Casino are available in all states.
This leads some users to think that there's a problem with DraftKings, which isn't necessarily the case.
DraftKings Sportsbook App technical problems – Ultimate checklist
Technical issues with electronic gadgets happen all the time, and they are in no way exclusive to DK. Users of FanDuel, BetMGM, or any other gambling app, are just as likely to encounter similar glitches in the matrix.
Internet Connection
The most common problem when the DraftKings Sportsbook app stops working is the user's internet connection. This has nothing to do with the app itself, but we've all been there, shouting at our phone, "Why is this app not working?" only to realize that our connection is down.

Cell coverage is random, particularly if you are traveling while using the app. You may go through an area with poor reception, and this could be the issue. Alternatively, most WiFi connections drop out here and there. This is usually the main bug bearer and the reason why you can't get your wager down.
The best way to quickly check the quality of your connection is to open up a website that you regularly use. Immediately, you'll know from past experience if there's a loss of connection or the quality is poor. Make sure you haven't hit flight mode by accident. You can also toggle flight mode on and off. This will disconnect you from the nearest cell tower temporarily, then reconnect you.
Legal States
The reason why the DraftKings Sportsbook and DraftKings Casino cannot be played via a mobile, web-based browser is that it's more difficult to pinpoint exactly where the user is. Both DK apps have geolocating software built-in, which solves this issue.
The US has strict gambling laws which are governed at state level, and operators can face hefty fines if they are accepting real-money wagers from customers who are not physically located in the state where the sportsbook or casino is licensed and regulated.
For instance, you might be traveling from Colorado to Kansas while using the DraftKings app. Everything is working fine, but then you cross the state border and the app stops working. This is merely the geolocation software doing its job. DraftKings is legal in Colorado but not in Kansas.
Where can you wager using the DK sportsbook? The operator is taking bets in the following states: CO | NJ | IN | IL | PA | WV | TN | IA | NH | VA | MI
Where can you use the DK Casino? The casino is only available in the following states: NJ | PA | MI | WV
DraftKings unable to verify location
When you first use the DK Sportsbook or Casino app, DraftKings will ask to use your device's Location Services. It pays to be using a WiFi connection at this time because it's more accurate at detecting where you are. Also, make sure the Location Services are set to 'Always' or 'When using this app'. This can be done manually through Settings>Location.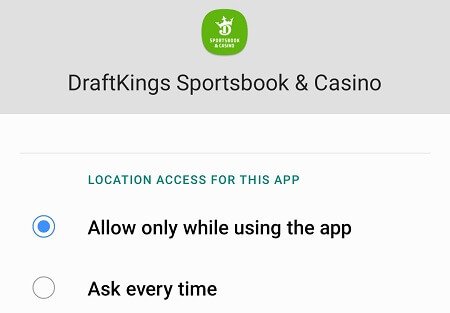 Having issues with sportsbooks not being able to confirm your location is a common problem. If you are experiencing these issues, our sportsbook geolocation 101 guide to fixing geo problems is where you need to head.
Latest Version
Like all apps, the DraftKings Sportsbook (and casino) is continually releasing new updates. Perhaps, a bug was discovered on a previous version, or the operator wants to introduce some new features. Older apps can appear to slow down in their performance, which dilutes the user experience, something that is particularly frustrating if you want to place live bets, for example.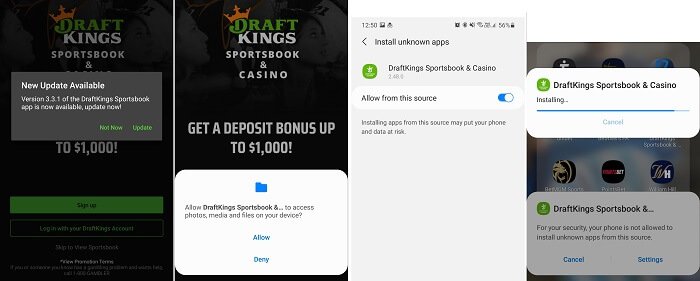 Whatever the reason, it's always a wise move to make certain you are using the latest version. For the DraftKings iOS apps, users may get a notification, or the app could auto-update as soon as an upgrade is released. However, due to the Android app not being available in the Play Store for all users and states, customers need to do a manual update using the link on the DK website. Go to sportsbook.draftkings.com and get the latest version.
Cannot Log In to the app
There are times when you fire up the application, but it won't let you log in. Of course, the first thing to do is check your username and password. With some devices, the keypad always capitalizes the first letter, so it could be something as straightforward as that.
However, if your details are correct, the issue is on DraftKings' side. The most likely cause is system maintenance, in which case, you have to sit it out and wait. All apps need to be maintained, but operators will schedule this for the least busy time. After all, if you can't place any wagers, DraftKings isn't making any money. Maintenance times vary from 15 minutes up to 1 hour. If still no joy, consider contacting support for advice.
Frozen Account
Although this rarely happens without warning, one reason for the DraftKings Casino or Sportsbook app not working is that your account has been frozen for some reason. A few possible scenarios are that DK suspects a player is abusing free bet promotions by match betting through another US sportsbook app, or several large bets were placed on an outsider, which won. Whatever the reason, a message generally pops up when you try to log in, telling you to contact DraftKings support. This isn't an app issue, which is the silver lining.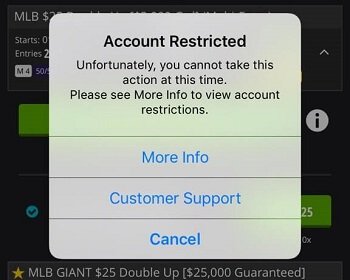 Why would your account be suspended? You may have been trying to use a VPN to bet in a state you are not allowed to. Your details that you entered may not be correct, or you may have had your account hacked. These are all possible reasons as to why you can't access your betting or DFS account.
DraftKings is Down
Even the world's biggest technology companies, like Google, Facebook, and Twitter, suffer from outages every now and then. This means that the issue is not exclusive to the DraftKings app, but all online services, including desktop websites and mobile platforms.
The first action to take if your DK app is unresponsive is to check the web-based platform by going to sportsbook.draftkings.com. If the site is the same, it's fair to conclude that the problem is site-wide. Social media is the best place to go for up-to-the-minute information. DraftKings has been known to report outages on its Twitter page to keep customers in the loop. You can also get reports from other users as to their experiences.
DraftKings App Running Slow
Rather than not working at all, some users have complained that the DraftKings app is running slow. There are multiple reasons as to why this can happen. On the users' side, it could be that the device you are using is slow. It may not have the RAM and processing power to run the app at the optimal speed. Uninstalling unused apps and clearing the cache on your device can sometimes help, in this regard.
Of course, the problem of the DraftKings app running slow may be on them. During busy times, particularly when live betting on a popular event, the servers can get overloaded with requests and actions. There is nothing you can do about this, other than to keep persevering until the app's speed returns to normal.
Alternatives to DraftKings
DraftKings is one of the leading mobile sports betting and casino apps in the US, but there are several others worthy of your attention. If you've used DK in the past and weren't overwhelmed with its performance, check out one of these top brands:
While the app is a crucial component of your online gambling experience, there are other factors to consider as well. These include the quality of bonuses and promotions, range of betting markets (sports) and games (casino), banking, payouts, and customer service. You want to compare each factor and choose the best one for you.
Technical problems, glitches, and issues can and do happen with all betting operators and it can be annoying when it does. Follow this troubleshooting guide and hopefully, you will be back to betting in next to no time.