Technical Issues BetMGM Sports App
BetMGM is now available in over 15 US states, which makes it one of the most widespread gambling apps in the country. Depending on where you are playing, BetMGM offers sports betting, online casino gaming, and poker – in some states, you can enjoy all three under one roof.
While there's no disputing that MGM is one of the biggest names in America's gambling industry, it's still not immune to technical problems and software malfunctions. In fact, during Super Bowl LV these BetMGM app issues came to the fore, with hundreds of customers unable to cash out their wagers or access BetMGM slots. This forced MGM to send out a public apology (via Twitter) to try and calm the storm.

The Super Bowl outage, which only affected bettors in Nevada, highlights that even the best US gambling apps can experience troubles from time to time. So, what do you do if 'BetMGM won't let me bet'? This troubleshooting guide will offer some tips and checks to hopefully get you back in the game. If you are questioning why is BetMGM not working, this can be for a number of reasons, as listed below.
Quick Checks when the BetMGM App is Not Working
Whether it's the BetMGM Michigan app not working or any other state, one thing is for certain – it's annoying and frustrating. However, you're not alone. The chances are other patrons have had or are having the exact same issues. Follow our 'quick checks' list for guidance. A good idea for any serious bettor is to run more than one betting app. That way if you find you are struggling to wager with one, you always have a backup available.
We recommend FanDuel Sportsbook app, and DraftKings Sportsbook app as great backup options. All these operators also have a new player free bet offer available too.
Play-Through Bonus Up To $1,000
Huge welcome bonus
Quick payouts
Check your location
As you probably know; online gambling is licensed and regulated at state level. To enforce this, sportsbook apps need to use location-tracking software to ensure you are where you should be. Of course, this software can glitch at times, too, particularly if you're near a border. You can try refreshing your location settings or using a Wi-Fi connection, as this will often have a verifiable address.
You can legally wager with BetMGM online & mobile in AZ, CO, DC, IL, IN, IA, KS, LA, MA, MD, MI, MS, NJ, OH, NV, NY, PA, TN, VA, WV, and WY
If you are in one of the above states and having issues with the BetMGM app detecting your location (the region fetch failed message is quite common), read our instructions to sort any sportsbook geolocation issues you may have.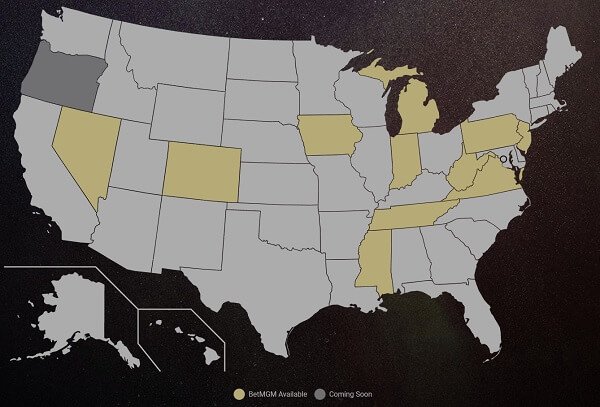 Is your account funded?
If you can log in to your account ok, make sure you have funds available. You may have thought a bet has landed and your winnings will be in your account, but in fact, your team lost the game, and you lost your bet. If you have deposited funds to your account, depending on the method, it may take anywhere from a few minutes to a few hours to clear.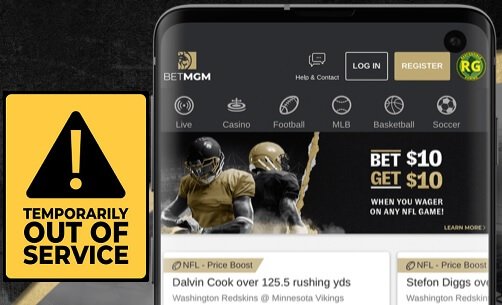 BetMGM Login Not Working
When you cannot log in to your account, there could be a number of reasons why BetMGM is not working. These are a few things to check first:
Check your internet connection
Check the permissions on your firewall software to ensure that it allows access to the app you want to use.
BetMGM VPN software can cause issues, so disable this if you have it active on your device.
Check you are entering the correct username and password.
Being able to load the app and get to the login screen but not being able to sign in can be a real pain in the butt. Make sure you are using the right email or user ID and password combo. You may need to do a password reset if you have forgotten your credentials. This is easy to do; just click on the I forgot my password option and follow the instructions on the email.
BetMGM Technical Error
Unfortunately, technical issues are part and parcel of the digital world, and they can be a reason as to why you find BetMGM not working. If this happens, we advise clearing the cache and cookies folder. Also, you can try using a different browser or uninstalling and then reinstalling the application. It's also worth restarting your device and checking that your security settings are not preventing the app from working.
If you keep getting the BetMGM connection to server dropped message pop up, don't launch your phone. This happens quite regularly. If this is only happening when using the app, you can try and use the mobile site at betmgm.com to see if you can place your wager. Sometimes we have found the app won't work, but the mobile site operates just fine. If you are one of the many people using an iPhone that has been jailbroken, this will not let the app run properly.
BetMGM not letting you place a wager?
If you find that BetMGM won't let you actually place a bet, then there could be something wrong with your account, or the bet may no longer be available. If you have added a selection to your betslip, but you can't actually submit it, normally, you will get a message to say the market is no longer available. Try to go back to the event and add the bet again.
Sometimes operators will limit and restrict your account, this can happen if you are on a good run of wins. You normally get an email or alert if your account has been limited, but you may also see "Your requested bet is over the allowed limit. The maximum stake has been adjusted below for you to resubmit your bet" on the bet slip. This means you can place a bet, but it's usually at a very low stake.
If this happens, there is not really much you can do other than to use another sportsbook app. Once your card has been marked, there is no way to get the limits lifted.
BetMGM App Running Slow
Sometimes the app will work, but it's terribly slow, which causes a different set of problems. Quite often, this is an issue with BetMGM rather than with you and your device. It could be that you are using the app during peak hours, and the sheer volume of traffic is slowing everything down. Of course, you still want to check your end. Are you using the latest update, as it could be a case that the older version of the app doesn't perform well on your handset or tablet.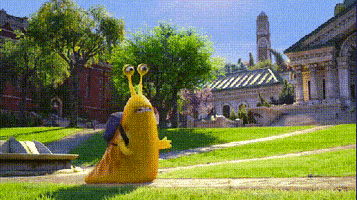 Update your app
One of the biggest reasons the app won't work is that you are using an older version of the app. You can check you are using the latest version by heading to the mobile site at betmgm.com, or by checking in the Google Play app store or iTunes. Updates are released regularly to patch security issues, speed the app up and add new features. When this happens, older versions can stop working or may even not work at all. It takes a few minutes to update the app, but it's well worth doing this for all apps, not just sports betting apps.
If you find the app keeps freezing or crashing, this may be an issue with the version of the app, it may be a problem with your handset. Try and close all the apps on your smartphone and open the app up. You can also try to uninstall the app, then download the latest version as well.
Is BetMGM down right now?
You're trying to log in, and the BetMGM connection to the server has been dropped. Is this a problem on your side or theirs? To easily check, close the app and open your browser. Try and access the BetMGM web-based platform.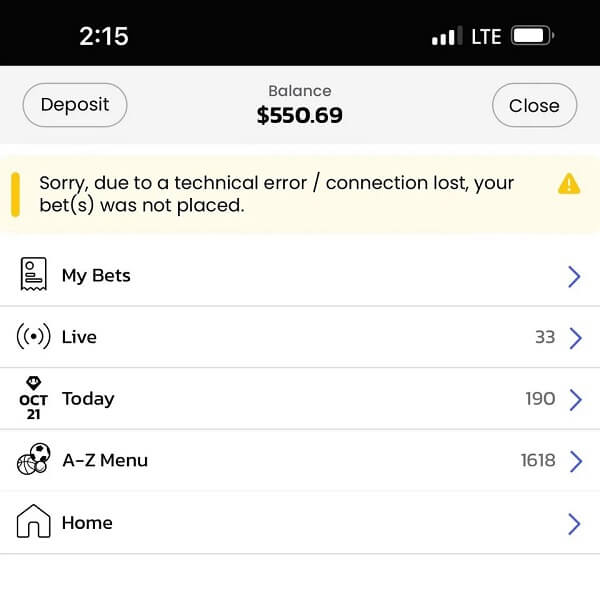 If you are still suffering from the connection to the server has been dropped BetMGM issue even on the web, then it means the problem is an outage on the operator's side. There is little that can be done about this other than waiting it out. BetMGM does have excellent technical support, but it can still take a few hours to resolve. Even the best servers and sites go down…..remember when you wanted to watch that film on Netflix but couldn't…….
Alternatives to BetMGM
The customer is king, and if BetMGM hasn't matched your expectations or you are continually having issues with the app, you might want to try another brand. Here are a few options worth considering.
*Please note that not all of these apps are currently available in all regulated states. Therefore, check availability before downloading.
Other possible issues with BetMGM
Sports betting is slowly being legalized in many states over the US, but this won't happen overnight. It can be tempting to use a VPN or a proxy to try and spoof or fake your location to show you are in a legal state when in fact, you aren't. If you are trying to use a VPN to access and bet with MGM online, you will be blocked from doing so. If you somehow manage to do access the site and log in and bet, if you are caught, your account will be suspended.
If your account is limited or blocked with BetMGM, it could be for trying to use a VPN, falsifying your details on sign up, using multiple accounts, or for a number of reasons. If you have a restricted account, the only way to unblock it is to reach out to the support team on the main site so they can investigate.