WOW Vegas Casino Alternatives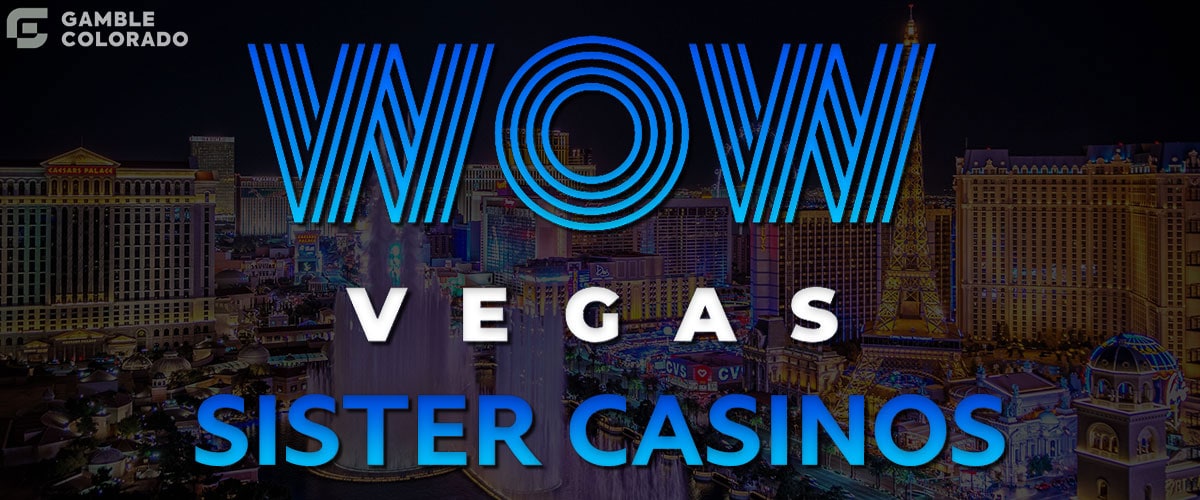 WOW Vegas is a popular sweepstakes casino with an extensive collection of over 400+ online casino games, including a wide range of slots and table games from two of the most iconic game providers.
One of the most notable features of WOW Vegas is it allows players to redeem real money prizes from their free play. While the free casino gaming site is one of the best in the US, the sweepstakes casino falls short in some areas.
For example, it has limited promotions compared to other sweepstakes casinos listed on our site, and relatively few gaming options are available. WOW Vegas also doesn't have a mobile app, which could be a dealbreaker for players who prefer to play on the go. These shortcomings may prompt some players to seek out other alternatives for their social gaming needs.
If you are like this and want to know alternatives that fit your preference, read on to know the perfect WOW Vegas Casino alternatives for you.
Pulsz Casino – Better Alternative for Mobile Players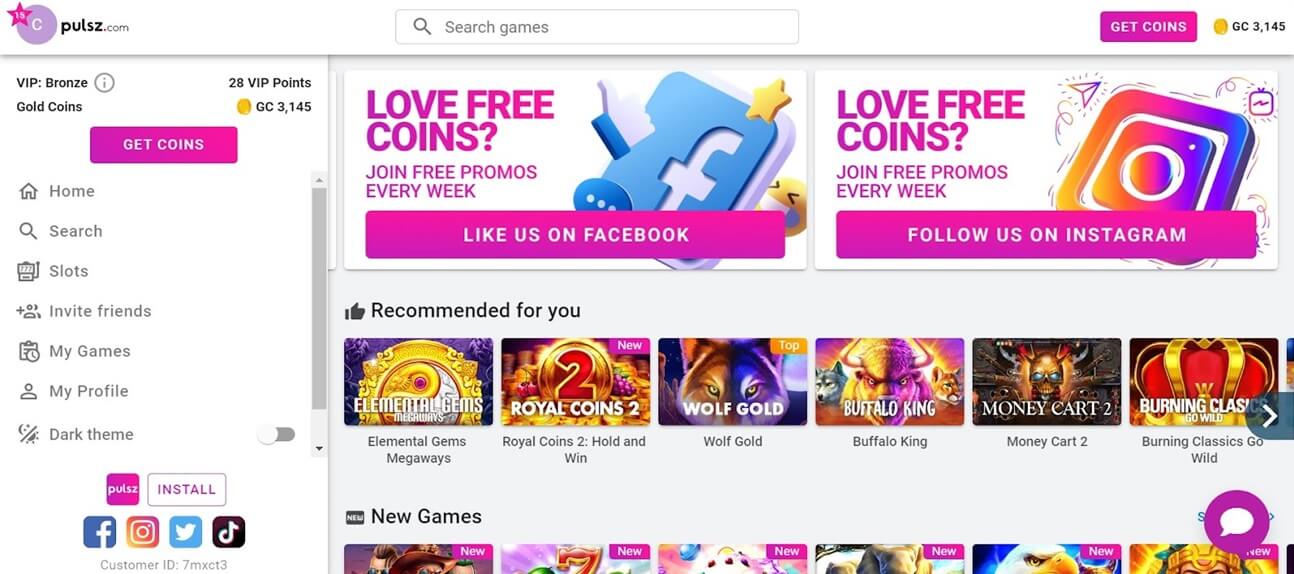 Pulsz Casino is a sweepstakes casino by Yellow Social Interactive that offers players free play on several casino games and also provides the opportunity to win real money from your gameplay. While its level of quality is on par with WOW Vegas, some features make Pulsz Casino a better alternative, especially for on-the-go players.
First, Pulsz Casino offers 400+ casino games, including online slots, table games, scratch cards, and video poker, which is more than WOW Vegas's 300+ game catalog consisting of only slots and table games.
Players also get a more lucrative no-deposit welcome bonus of 5,000 gold coins and 2.3 sweepstakes coins at Pulsz Casino instead of the 5,000 WOW Coins and 1 free sweepstakes coin WOW Vegas offer.
While these are great reasons to consider Pulsz a worthy alternative, the main advantage that Pulsz Casino has over WOW Vegas is its native mobile app, available on Android and iOS devices. Pulsz Casino app gives users access to play games on the go providing a seamless and more optimized mobile gaming experience you won't find on the WOW Vegas's website. The mobile app has over 600k downloads and a 4.4 rating making the Pulsz sweepstakes casino app one of the best in the social gaming market.
If you fancy what Pulsz has to offer, you can sign up and earn the no-deposit bonus by using our link, or you can also check out some great Pulsz alternatives.
Get Up To 367,000 GC + 32.3 Free SC
200+ free to play games
Real cash rewards
Pulsz Bingo – Better Alternative for Bingo Fans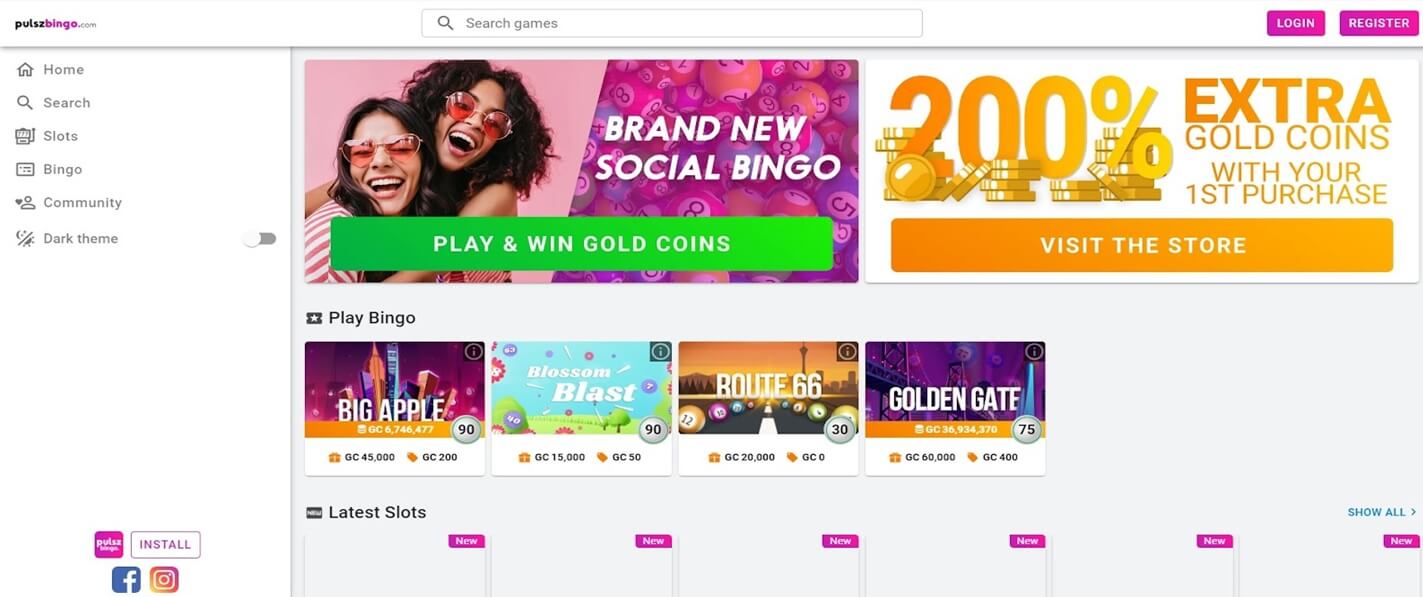 WOW Vegas and Pulsz Bingo are great sweepstakes casinos where players can play casino games for free and earn real money prizes, but they differ in many aspects. Pulsz Bingo offers four bingo rooms, with two more on the way, while WOW Vegas does not offer bingo games, making Pulsz Bingo an obvious choice for bingo lovers.
Additionally, Pulsz Bingo has a broader variety of games, including slot games, table, and scratch cards from a range of providers such as NetEnt, Pragmatic Play, and Habanero. Even though there is an extensive number of sweepstakes games at WOW Vegas, they lack variety as they are provided by only two studios – Pragmatic Play and BetSoft.
Regarding players' engagement, Pulsz Bingo also trumps WOW Vegas with its chat room features that allow players to engage with one another.
Although both casinos allow players to redeem real money, Pulsz Bingo's mix of bingo and casino games makes it an appealing choice for bingo lovers who want a more engaging gameplay. If you're a bingo fan, sign up for Pulsz Bingo by using the link below.
2 Sweeps Coins + 5,000 Gold Coins No Deposit
Real money bingo prizes
Huge range of top quality games
BetRivers.net – Better Alternative for a Wider Range of Online Slots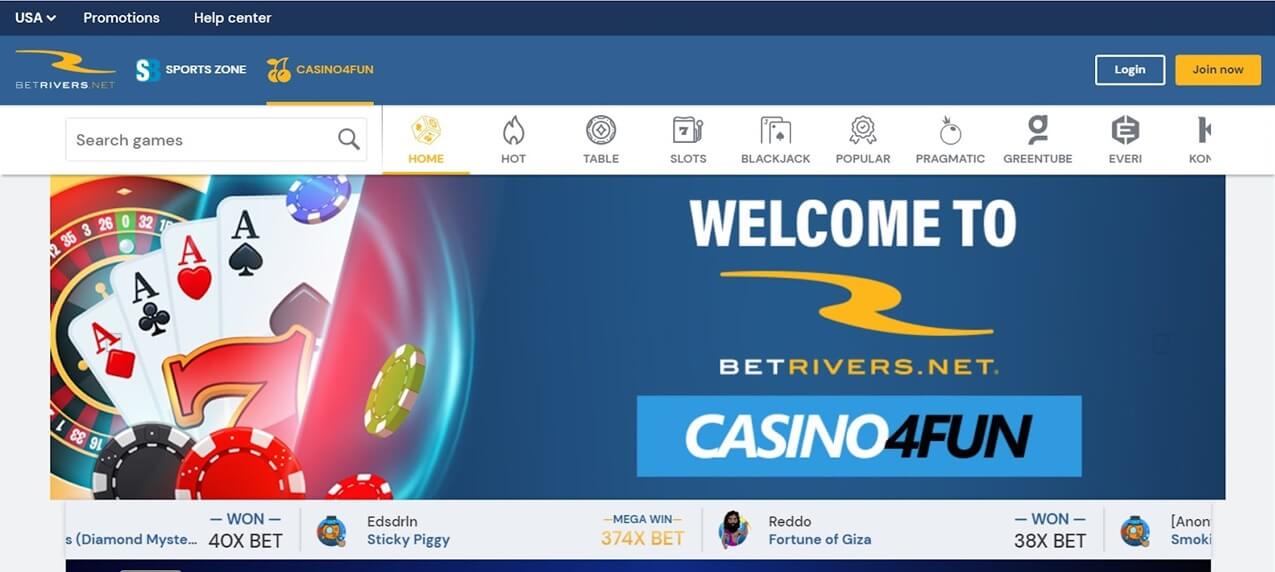 For players looking for a free and more diverse gaming experience, BetRivers.net is a better option with over 500 social casino games, including bingo, slots, table games, video poker, baccarat, and live dealer games. The social casino also offers free sports betting, which is a plus for sports fans. Although players cannot win real money, the site caters to those who want to explore various game options.
BetRivers.net is legal in all 50 states, meaning players nationwide can enjoy the free games. In contrast, WOW Vegas only caters to slot and table game fans, limiting its appeal to a narrower demographic. While players can win real money from WOW Vegas, this may not be enough if you seek more game options.
Free to Play Games
500+ casino games
Earn rewards and play slots for free
Fortune Coins – Better Alternative for Jackpot Games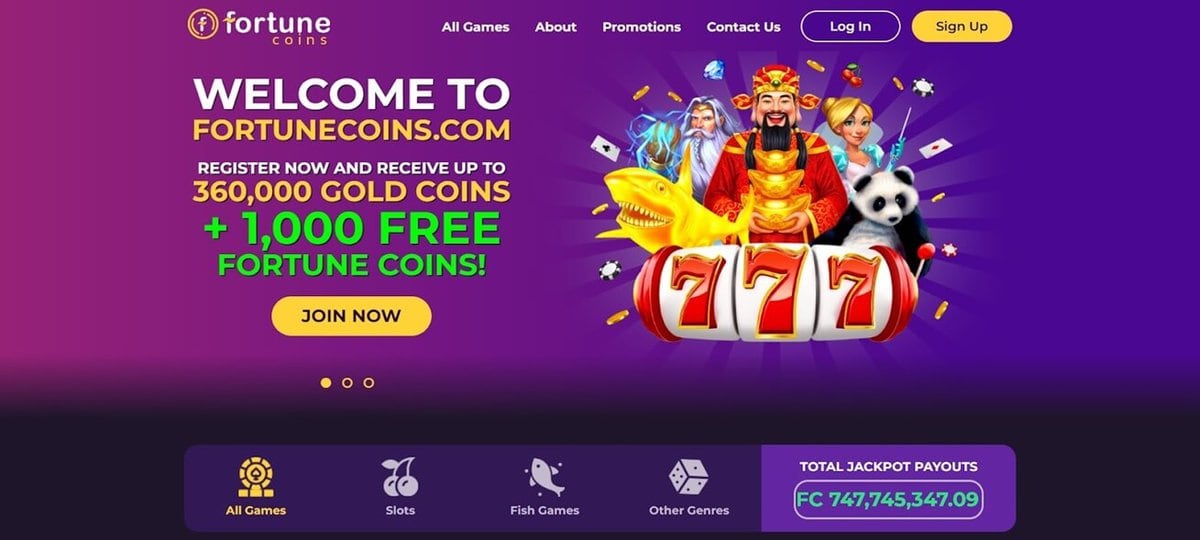 If you are the go-big-or-go-home type, Fortune Coins Casino is a better alternative you should look into. Despite having fewer games than WOW Vegas, Fortune Coins online sweepstakes casino offers a good variety of options such as video poker, card games, keno, and multiplayer fish games. The sweepstakes casino's 360,000 gold coins and 1,000 fortune coins no deposit bonus worth $10 offers players more opportunities to enjoy their favorite games than WOW Vegas's 5,000 WOW Coins and 1 SC no deposit welcome bonus.
The most significant advantage of Fortune Coins is its progressive jackpot slots which offer some of the highest payouts of any sweepstakes casino. With a total jackpot payout of over $750,000, Fortune Coins is the perfect place for players who are looking to win big.
360,000 Gold Coins + 1200 Fortune Coins
Real cash redemptions
Massive progressive jackpots
Stake.us – Better Alternative for Live Dealer Games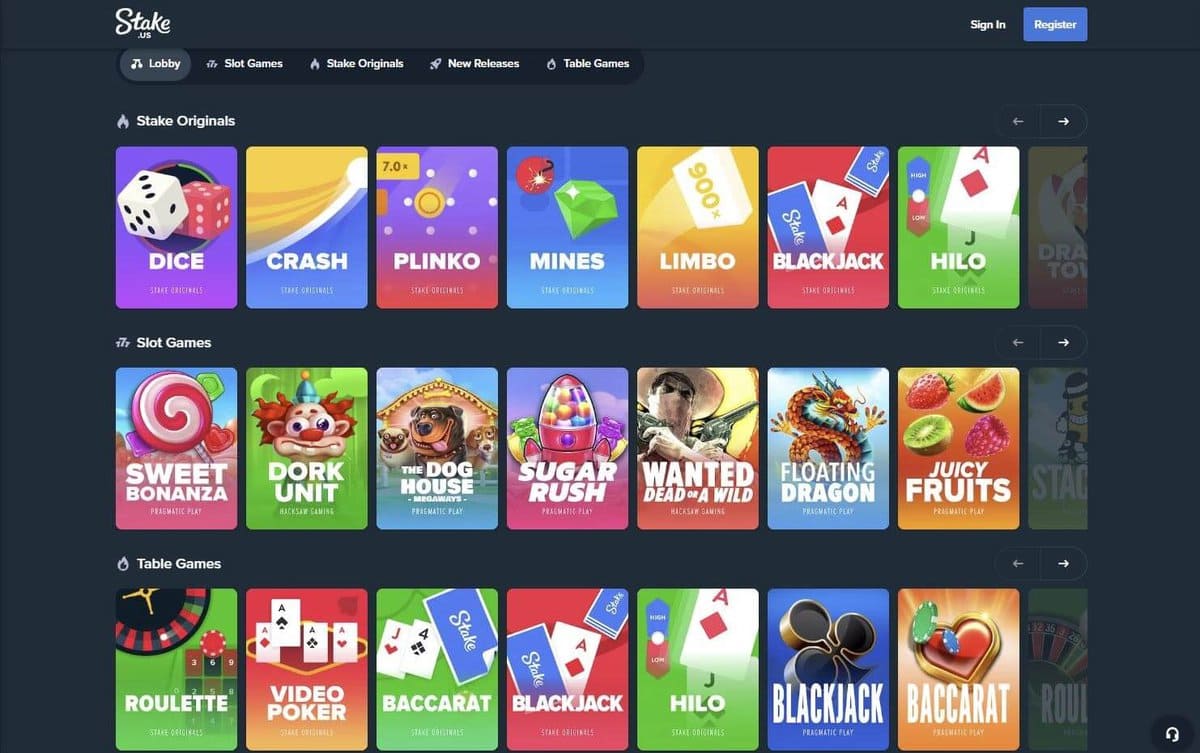 For players looking to have a real-life land-based casino experience online and for free, Stake.us is the free casino site for you. This crypto-based sweepstakes casino offers over 350 free casino games, including online slots and sweepstakes table games similar to what WOW Vegas has.
However, Stake.us has an edge over WOW Vegas by providing less common online casino games like Plinko, Dice, Limbo, and Crash. For those seeking a more immersive experience, Stake.us offers several live dealer games that allow players to interact with professional dealers in real-time.
Also, the site's chat room feature lets players chat with each other, providing an added layer of socialization that WOW Vegas lacks. Players can also win real money prizes and redeem them for cryptocurrencies like BTC, ETH, BCH, and LTC. The registration process over at Stake.us is fairly simple – just click on our sign-up link and follow the on-screen instructions.
Get 10GC & 1 Stake Cash No Deposit Bonus
Free SC and GC every day
Crypto Deposits & Withdrawlas
Awesome Website & App
NoLimitCoins – Better Alternative for Promotions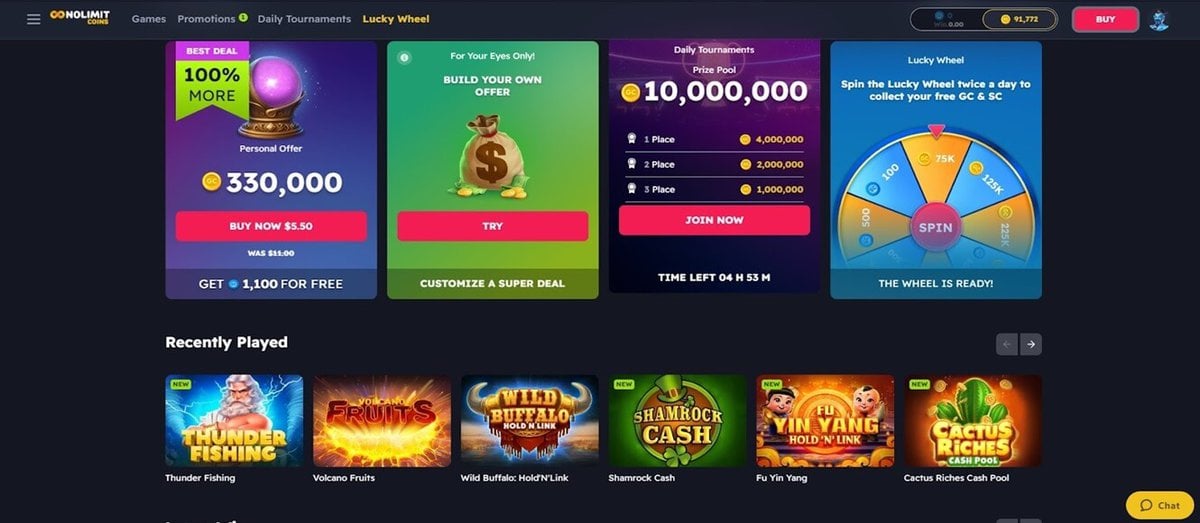 When it comes to sweepstakes casinos, NoLimitCoins Casino stands out as a better alternative for promotions compared to WOW Vegas. While both sweepstakes casino sites offer predominantly slot games, NoLimitCoins provides fish games for those seeking a change of pace. WOW Vegas has a plethora of free games, but the number of promotions that award free coins is limited.
On the contrary, NoLimitCoins has a generous welcome bonus of 10,000 gold coins and 1,000 super coins. In addition, NoLimitCoins offers several promotions, such as a daily lucky wheel spin, referral bonus, daily tournaments, and special personal offers when you purchase a gold coin package. These promotions make it easier for users to play games for free and win cash prizes without feeling pressured to buy gold coin packages. If NoLimitCoins strikes your fancy, click on our link below and redeem its hefty welcome bonus today.
1,000 SC + 100,000 GC
Fantastic ongoing bonuses
Amazing game choice
High 5 Casino – Better Alternative for Free Spins

If you are looking for a Sweepstakes casino offering the most comprehensive range of free spins, the winner is the High 5 Casino. Previously a social casino but freshly launched and now offering sweeps coins too, this casino uses an extra third currency called Diamonds which are earned for free; these can be exchanged for a variety of boosts which are essentially a range of "Sweep Coins" free spins on a slot of your choosing.
The best feature here is that the range of offers covers multiple games and currencies, and with the Boost feature, you can even tailor a specific free spin round to be active with extra features such as multipliers. If you have yet to check out High 5 Casino since its become a sweepstakes casino, we recommend getting an account promptly and make sure to check out the "Boosts on Demand" section once the account is set up.
5 FREE Sweeps Coins + 600 Diamonds + 250 Game Coins
Lots of bonuses
Daily rewards
Massive slots library
LuckyBird.io – Better Alternative for Crypto Casino Players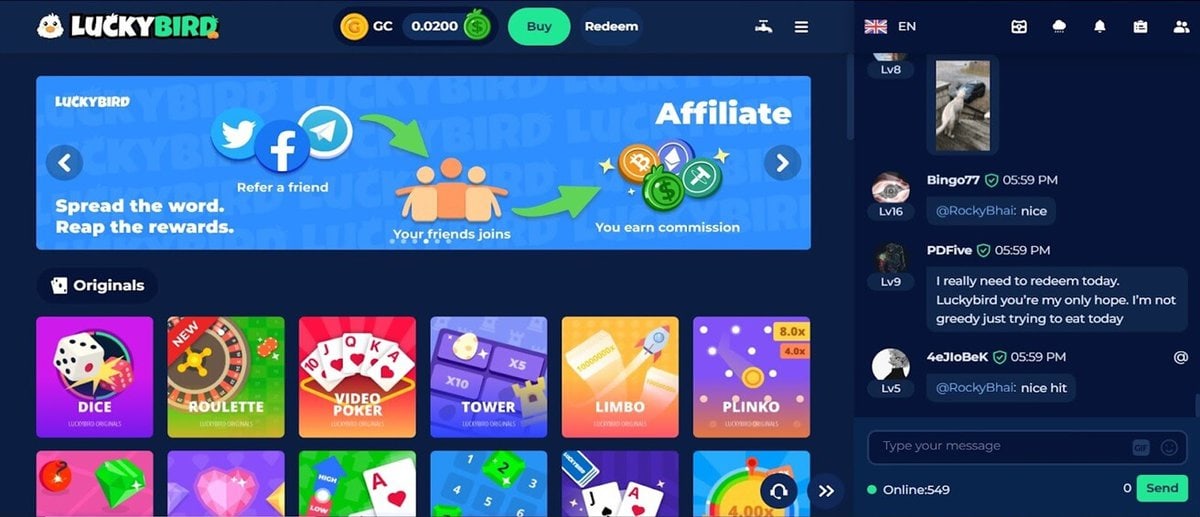 LuckyBird.io is one of the new sweeps cash casinos in the US with innovative features. Unlike WOW Vegas, LuckyBird.io offers complete anonymity as it only accepts cryptocurrencies as its payment method. This makes it perfect for players who value their privacy and want to keep their gaming activities off the grid.
Additionally, while LuckyBird.io has a limited number of free casino games compared to WOW Vegas, it makes up for it by having more comprehensive gaming options of 12, which are more than the two (slots and table games) offered by WOW Vegas.
Furthermore, LuckyBird.io has a VIP program that rewards loyal players, which WOW Vegas doesn't offer. LuckyBird.io is one of the best sweep cash casinos that allow users to remain 100% anonymous, as you don't need to submit any official document to play games or redeem cash prizes. Some available redemption methods are BTC, LTC, USDT, TRX, ETH, and DOGE. Check how Luckybird.io compares directly against other sweeps casinos in our in-depth guide.
So, if you want to start playing casino games for free while retaining your privacy, click the link below to claim the LuckyBird no-deposit welcome bonus.
Get 1000 GC & 0.2100 SC No Deposit Bonus
Crypto deposits & withdrawal options
Daily promos & offers
Why You Might Need WOW Vegas Casino Alternatives
WOW Vegas is a sweepstakes casino that offers players 300+ sweepstakes games, including online slots and 7 table games. The casino is legal in all US states except Washington and allows players to redeem cash prizes.
Despite these advantages, players might still need alternative options because WOW Vegas has limited gaming options. For example, the sweepstakes casino doesn't have bingo, live games, poker, and other casino games that players might be interested in.
While the limited gaming option is one reason players might need alternatives to WOW Vegas, there are other reasons why sweepstakes casinos like WOW Vegas are important. These include:
No mobile app for easy access
Limited promotions that provide free coins
No loyalty program for frequent players
Limited payment options compared to some alternatives
Don't get us wrong; WOW Vegas is one of the best sweepstakes casinos for players looking to play casino-style games for free. However, players who want a wider variety of games or better features might need to sign up for some of our recommended alternatives.
Games Similar to WOW Vegas
Love the casino games at WOW Vegas? Here are a few similar ones at our recommended sweepstakes casinos.
Online Slot Games
Slots are unarguably the king of casino games. From their simple and immersive gameplay to high rewards, what's not to love? Besides WOW Vegas having a very expansive slot catalog, alternative sites also provide similar high-quality games with some even sharing certain similarities.
Take Eye of Cleopatra, an Egyptian-themed Pragmatic Play slot you can play for free at WOW Vegas. If you like this kind of slot, you will love Playson's Legend of Cleopatra Megaways, which you can play at Pulsz Casino. While the two have similar themes, the latter has a much larger number of paylines of up to 200,704 and a max win of 6,584x your stake, which is way more than you get at WOW Vegas's Eye of Cleopatra which offers a 4,000x max payout.
Table Games
Table Games comprise mainly blackjack, poker, baccarat, and roulette, to mention a few. WOW Vegas casino has 7 titles fitting this gaming option, and many similar sites also have these.
Pulsz is a prime example with several blackjack and Texas Hold'em games. If you are okay playing without the option of winning real money, you can try out BetRivers.net, as it has 15+ table games.
Games You will Only Find at WOW Vegas Alternatives
Table and slot games are the only games present at WOW Vegas. This is a real kicker for players who want to play other types of casino games. Thankfully, our recommended free sweeps cash casinos make up for this. Check below to see other game categories you can play.
Fish Table Games
Fish table gaming is one of the popular skill-based casino-style games. Players shoot cannons and lasers at sea creatures to capture them and earn rewards. It's also a multiplayer game you can play with other live players, but sadly, you won't find it at WOW Vegas.
Alternatively, sites like Fortune Coins have two of these titles, with our personal favorite being Emily's Treasure which can be played with up to 4 live players. The game has a max win of 120x your coin at the base game, and there is a 4-layer jackpot prize too that can give as high as $17,000 in real money.
Live Dealer Games
Free live dealer games are the perfect alternatives for introverts who detest going out or players who live in states where land-based or traditional online casinos are still illegal. It gives players the real-life experience of throwing dice or predicting where the ball will land on the wheel without breaking the law or leaving their comfort zone.
Although rare compared to other sweepstakes games, you can still find many live dealer options like live blackjack, roulette, and baccarat at Stake.us. You get to interact with an actual dealer and players from across the nation as if in a real-life casino. BetRivers.net and Rush Games Casino are also great spots with 10+ live games. Although the only downside is, they are social casinos that don't allow real money redemption.
Bingo
Online bingo rooms don't get the credit they deserve in terms of rewards and exciting gameplay. Thankfully, we are seeing several sweepstakes casinos with this gaming option. Bingoport and Pulsz Bingo are two of the best sweeps casinos with extensive bingo rooms. Players can also win real cash prizes from playing at these sweepstakes casinos.
How to Play at Sites Like WOW Vegas Casino
Playing at sites similar to WOW Vegas does not need any special skills as they operate just like other sweepstakes casinos. However, in case you don't know how here is a rundown of how to play sweepstakes games at alternative casino apps.
Register an Account
Click on the link of any sweepstakes casino you choose and press the "Sign Up" or "Register" button on the homepage. Fill in the required information correctly before submitting the form. After doing this, a confirmation link will be sent to your mail. Click it to activate your account. Some online sweepstakes casinos allow users to register with their Facebook account or Gmail which makes things easier.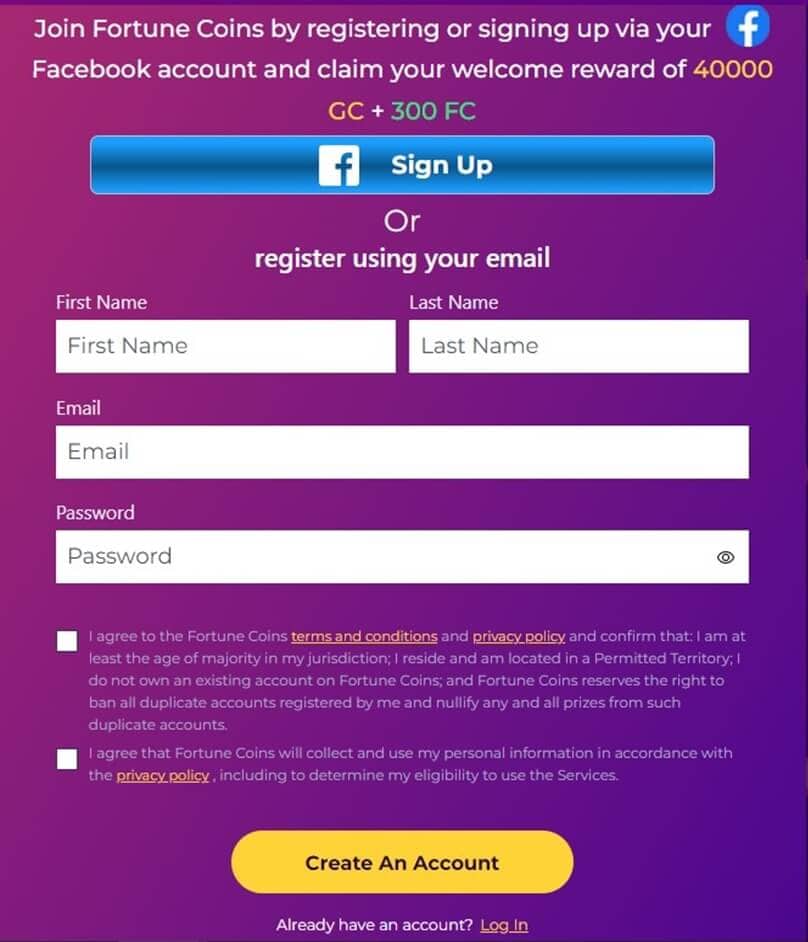 Claim the no-deposit bonus
If you use our unique link or bonus code, a special no-deposit bonus will be added to your account. The welcome offer provides players with free gold coins and sweeps coins they can use to play casino games. The gold coins are for entertainment only, while the sweeps coins allow players to redeem real cash prizes.
Play Casino-style Games
Scroll through the game catalog of your chosen casino and select the sweepstakes game of your choice.
Claim Other Promotions/Purchase Gold Coins Package
Sweepstakes casinos' games are free to play. You can claim several deposit and no-deposit bonuses to keep playing for free. Alternative sites to WOW Vegas casino have daily login bonuses, referral bonuses, social media contests, and more that offer free coins.
On the other hand, if you want to rely on something other than bonuses when playing casino games, you can purchase gold coins and get free sweeps cash with your purchase.
Verify Your Identity
After making the required minimum for redemption at sites like WOW Vegas, you can head to your account and click the "Redeem" button. For first-time redemption, a KYC is required. You will be asked to submit a government-issued ID, less than 3 months old utility bill, and bank statements. Sweepstakes casinos have different required minimums; for instance, with Fortune Coins you must have at least 5,000 fortune coins to withdraw $50 onwards.
Redeem Cash Prizes
After passing the verification, you can trade your sweepstakes coins for real money, which will be sent to your bank account or any other supported payment method. Some sweepstakes casinos allow players to redeem gift cards, shopping vouchers and even cryptocurrency.
WOW Vegas Casino Background Information
WOW Vegas is a sweepstakes casino launched in 2022 by WOW Entertainment. The sweeps cash site offers some of the best sweepstakes casino games for free to US customers outside Washington. Although players can play slots and table games for free, they are also given a chance to win cash prizes from the sweepstakes games.
🎰WOW Vegas Casino
🌐Sweepstakes Site

www.wowvegas.com

🏛️Parent Company
WOW Entertainment LTD
📅Year Founded
2022
🎲Games
300+ table and slot games
🎁Welcome Offer
5,000 WOW Coins + 1SC no deposit bonus and 200% first purchase bonus
🧑‍💻Software Provider
BetSoft and Pragmatic Play
🤝Sister Casinos
-
🎰Similar Casinos
Pulsz Casino, Fortune Coins, BetRivers.net, Stake.us, LuckyBird.io
FAQ's
Can I play at WOW Vegas legally in the US?
WOW Vegas uses the sweepstakes model, which makes it legal in all US states except Washington. Players 18 years and above can sign up and play without breaking state laws.
Is WOW Vegas safe?
WOW Vegas is owned by WOW Entertainment, a reputable company licensed by the Isle of Man Gambling Supervision Commission. The sweepstakes casino is legal in all US states except Washington and uses state-of-the-art data encryption to protect players' data and financial activities.
What is WOW Vegas's parent company?
WOW Entertainment owns and operates WOW Vegas Social Casino.
Are there alternative casinos like WOW Vegas with similar games?
You can find similar games to WOW Vegas at Fortune Coins, NoLimitCoins, and Stake.us. These sweepstakes casinos have some of the best casino gaming options and they also allow players to win cash prizes. BetRivers.net is also one of the best social casino sites in the US. However, you cannot win real money from playing there.
What are better casino alternatives to WOW Vegas Casino?
While not necessarily better, some sweepstakes casino apps offer online casino games and services you won't find at WOW Vegas; one example is Stake.us. The sweepstakes casino offers crypto-based payments instead of the traditional fiat banking options.
Are there cheats I can use on WOW Vegas sweepstakes games?
Sweepstakes casino games at WOW Vegas use true RNG to generate results, making cheating impossible. All games are also provably fair, as companies like BMM and iTechLabs have independently audited them. One legal hack you can use at WOW Vegas is to claim all deposits and no deposit bonuses to give you better leverage at winning real cash prizes.