Funzpoints Casino Hacks – 10 Cheats you Wish You Knew Already
Funzpoints is one of the renowned sweepstakes casinos available to US players. This free casino allows players from 49 of the 50 US states to play slot games for free. Since players can also win actual money from this social casino, users have been searching for hacks that would land them more winnings. Your search is over as we've brought you the holy grail you've been searching for.
Insights to Funzpoints Casino
Funzpoints is a sweepstakes casino where players can access casino games for free. This social casino is somewhat similar to real gambling sites like Unibet Casino but differs because you do not need to make any deposit or purchase to play and win. Likewise, since sweepstakes casinos are not considered real casinos, players from all US states aside from Idaho and Washington are allowed to join casinos like Funzpoints.
Funzpoints casino games are predominantly slot machines as opposed to sister sites like Chumba Casino and SugarHouse Casino4Fun, which have other games like live dealers, table, and card games. The type of game is not the only difference that FunzPoints have but also how it operates.
There are two modes in which players can access games at FunzPoints. The standard mode is where new players are automatically subscribed to. On this mode, you can play seven slot games and partake in the jackpot draws where you stand a chance to win premium sweeps coins that could be redeemed for real cash. The premium mode is a subscription-based package where players can unlock all available games at the sweepstake gambling site. Aside from unlocking all games, all the wins you made in this mode can be withdrawn to your bank account but are first kept as premium funzpoints.
Sweepstakes casinos operating in a similar way, that can also be hacked, but with more games and better bonuses include BetRivers.net, Pulsz Casino, and Fortune Coins Casino.
Hacking Funzpoints: Reality or a Myth?
You've come this far, which means you are really keen on knowing the online casino hacks you can use at Funzpoints. Before we get into that, it's only right to let you in on a secret. There are no hacks or cheats that can make you win real cash prizes or bonus cash at Funzpoints. The sweepstake casino is owned by Woopla Inc., a reputable Canadian software company known for creating many outstanding games with thrilling graphics. All slots at this online casino are also powered by the same company and certified by iTech Labs – a third-party audit company. This means the random number generator used in sweepstakes casino games has been tested millions of times and has proven only to give random results.

Due to this, it is impossible to use any mod software or cheat code to play at the gambling site. So, regardless of what you've read or heard, hacking Funzpoints is an impossible task. However, there are proven ways in which users – new players or existing ones – can up their chances to win real cash easily without risking much. These ways include using deposit offers, promo codes, and several strategies to increase the likelihood of winning most of your spins.
140,000 FREE Gold Coins
Real cash redemptions
Massive progressive jackpots
The 7 Steps Cheats to Win at Funzpoints Casino
Here is the part where we let you in to ways to win at Funzpoints.
Funzpoints Cheat #1
Upgrade to the Premium Mode: Although there is nothing wrong with playing with Funzpoints casino standard mode, the premium mode is where you can cheat off the online social casino. How? For one, you will be able to choose from all the over 50 casino games in its library instead of 7. With such a copious choice, you'd be able to choose games based on the other online casino hacks we will be letting you in on.
Having all the games at your disposal is not the only thing you can enjoy at Funzpoints casino. All the premium points you make from playing any online slots to win real cash prizes. So, unlike the standard mode where winning real money is limited to jackpot draws, you can win unlimited cash prizes by making enough premium points. While this legal cheat seems obvious, its only available to use at Funzpoints Casino.
FunzPoints Cheat #2
Play FunzPoints Slots with High RTP: Return To Players (RTP) is one of the oldest yet most effective ways to cheat online gambling sites. Before we talk about how you can use this as part of our online casino hacks, let's shed more light on what RTPs are. RTP refers to the percentage payout players can expect in the long run when playing online slots at Funzpoints Casino. The return to players for each online slot is different, but the industry standard is 96%.
A rule of thumb for this Funzpoints casino hack is always to play games with at least 96% RTP. What makes this a very effective hack to make more at this sweepstakes site is that most of the games here have above-average RTP. So, a nice cheat is to always check the RTPs of games before playing them.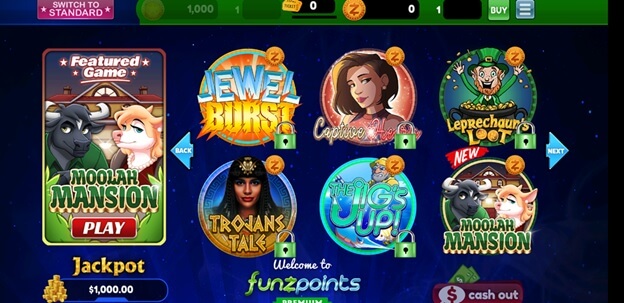 Funzpoints Cheat #3
Play Games with Higher Coins Denomination: Ever heard of "go big or go home?" this saying pretty much sums up what this cheat Funzpoints hack entails. Unlike what you've believed, playing online slots with low denomination might allow you to play Funzpoints games longer, but it's a different story when it comes to winning. Games' denominations are tied to their RTPs, so the higher the cost per spin, the higher the RTP. Instead of making small winnings by playing low denomination slots, you can win big with higher denomination games. To use this cheat, only play games with a high cost per spin; that way, when you land a winning combination, it would be worthwhile. One noteworthy thing about this cheat is that you don't need to use the "max play" option to make the most out of it.
The Exception to the Cheat: Unless you are playing progressive jackpot slots that can only be triggered when using the "max" option, do not use it as it can deplete your bankroll faster than you want it to.
Funzpoints Cheat #4
Use casino bonuses to your advantage: Although similar to the above cheat, this hack has nothing to do with the type of casino games you want to play. Instead of focusing on the in-game bonuses like before, you are claiming all necessary bonuses by the Funzpoints website. By claiming daily bonuses, spinning the bonus wheel every three hours to mystery gift prizes, and more, you gain more standard Funzpoints and premium Funzpoints. These bonuses would serve as free spins you can use on any online slots you want to play. The first step of this cheat is to claim the welcome bonus and then use it to play the casino games while claiming other bonuses.
Funzpoints Cheat #5
Play slots with many in-app bonuses: Online slots at FunzPoints are different in terms of mechanism and bonuses. This means you are short changing yourself if you don't play games with many in-app sports bonuses or casino offers. Instead, picking online casino games with lots of in-game bonus rounds like free spins, wilds, scatters, and multipliers is like cheating the system as you make more and enjoy casino-style games. Standard and premium Funzpoints players can check the number of bonuses and how they can be triggered by clicking on the "paytable" icon.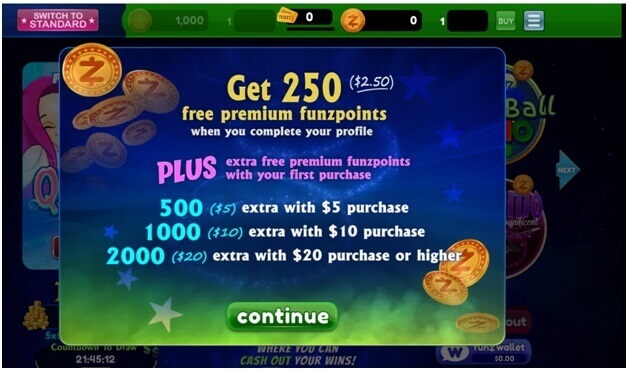 Funzpoints Cheat #6
Play all Lines of Online Slots: Paylines are the number of winning combinations that would trigger payouts in online slots. The number of winning combinations varies from slot to slot, and while some games have fixed paylines, others can be adjusted. Patrons can find these two types of paylines on the Funzpoints website, which is where this cheat comes in. Whenever you are playing adjustable payline online slots, don't be tempted to reduce the number of paylines. The trick is that the more active paylines you have, the better your odds of winning.
Funzpoints Cheat #7
Use the Games Volatility to your Advantage: Most online slots fall into one of the three categories of volatility indexes – low, high, and medium. Low volatility slots in sweepstakes sites are online slots with low risks and frequently present players with smaller winnings. High volatility is at the extreme end of the spectrum as you can win big but less frequently. Medium volatility games are games where you are awarded small winnings frequently and big wins once in a while. Online slots that fall in the medium volatility index present players with all the high and low volatility perks but with little of both risks. Armed with this knowledge, you can choose games based on how much you would like to win or lose.
Additional Tips to Win More at Funzpoints Casino
Learn Bankroll Management: All the Funzpoints online casino hacks we've discussed would mean nothing if players do not learn how to manage their bankroll. This skill is quite essential in playing at any gambling site as it prevents you from losing more than you want. Losing money at gambling sites is inevitable, and the same is somewhat true in Funzpoints casino, even if all games are available as free play. To increase your playtime to enhance the chance of winning real money, you need to work out a budget that you must stick to while playing online slots.
Learn the Game Mechanics: It's near impossible to win a game or earn cash prizes from a sweepstake casino if you don't understand the game's mechanics. Before playing, research the games' RTPs, house edge, volatility, and paylines. That way, you'd be better prepared for what to expect in the game.
Practice Before Playing: Before spending money by purchasing standard point bundles or upgrading your Funzpoints account, practice on different slots using the demo mode. This would give you a real-life experience and better prepare you for the game before putting in real money. It's noteworthy that you should only practice on the online slots you wish to play. Another reason to practice before playing an online slot is to test your strategy and see how well it works.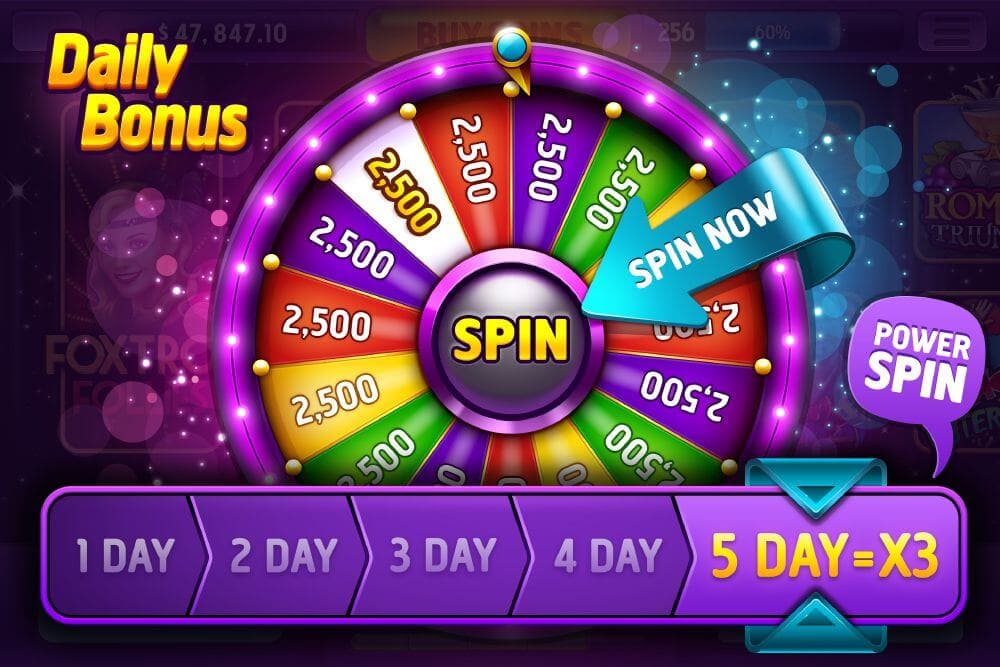 Funzpoints Casino Hacks FAQs
Can I win real cash at Funzpoints?
Yes, by winning enough premium funzpoints, you can convert them into real free money that can be sent via any banking method, like PayPal, of your choice.
How often can these cheats make win big?
There isn't a defined number of times these cheats can make you win big. However, since these are legal cheats that do not require you to add any plugin or software to your account, you can be sure of getting more chances to earn real money from your gameplay.
What are the best and most popular casino games I can use these hacks on?
While there aren't any precise hot popular casino games you should play, you stand a chance to win more free points and free money by playing games with high RTP. In addition, make good use of the welcome bonus as new players, deposit bonus, bonus cash, and the daily sweepstakes login prizes and other promotions that can be used as free spins at the sweepstakes gambling site.
Do I have to upgrade to premium to win real money?
Although upgrading to premium would give you more gaming options, and users can redeem all winnings for real money, you don't need to upgrade to win real cash. Standard mode players can win free money at the jackpot draw or when playing the booster games. If you are lucky enough to win the jackpot draw, your Funzpoints display name will be visible on the site.
What banking methods do Funzpoints accept?
If you want to upgrade your account, purchase standard points or redeem your points for real money, you can use your ACH, debit, or credit card. Any coin purchase reflects immediately in your account. A real money withdrawal could take about 2-5 business days before you see it in your bank account. To redeem real money, you must have made a minimum of 2,000 premium funzpoints which can be converted to $20.
Can I get free funzpoints?
Yes, there are other ways you can get both premium and standard funzpoints aside from deposit bonus and spinning the funzwheel. If you send a mail to Woopla Inc PO Box 537, Sydney Nova Scotia B1P 6H4 Canada with your funzpoints display username and mail. You will be awarded 500 premium funzpoints, 1,000 standard funzpoints, and ten tickets.