Risk-Free Bet Colorado: Best Risk-Free Bets Sportsbooks in 2023
If you're new to Colorado online sports betting and looking for risk-free bet sign-up bonuses, this guide is for you.
A risk-free bet is essentially two chances of winning a bet of the same amount. Risk-free bets give users a second chance if their first bet loses in the form of a free bet of equal value that users can place on any bet.
This guide will discuss each risk-free bet offer in Colorado, how they work, other welcome bonuses, and the best sportsbook apps available in the Mountain state.
Colorado Online Sportsbooks With Risk-Free Bets in October 2023
Colorado Sportsbooks have been migrating to risk-free bets as their primary deposit bonuses as they continue to grow in popularity. While many sports betting sites offered new users bonus money from a 100% deposit match, many changed due to users being able to game the system and get too many chances at winning free money.
Many users are looking for the best in risk-free bets, and the list above consists of sportsbooks with great online sports betting bonuses and a phenomenal platform.
#1 PointsBet Sportsbook – $2,000 Risk Free Bet
The PointsBet CO online sportsbook is powered by NBC Sports and features plenty of live streaming, stats, and other features that many online sportsbooks don't have. PointsBet has a phenomenal app that is organized very well and is visually appealing while also being efficient and effective during the overall user experience.
PointsBet features many sports betting markets and a solid lineup of betting options for Colorado sports bettors. All major sports betting events, including the Super Bowl, World Series, World Cup, NBA Finals, Stanley Cup, and Formula 1, are all offered on PointsBet.
Just look below at their massive list of available sports and even entertainment:

The PointsBet Sportsbook also has the best risk-free bet offer online, with two risk-free bets worth up to $2,000. This offer can be claimed by clicking the link below and using our promo code "GUSA" during the account registration process.
Colorado Retail Location(s): Double Eagle Hotel & Casino
#2 Caesars Sportsbook – First bet on Caesars up to $1,250
The Caesars Sportsbook CO, which was previously William Hill, is one of the largest books in the country after they rebranded to the Caesars Entertainment household name and used a marketing campaign too funny to forget. However, the marketing was just the bait; what reels in repeat customers is their phenomenal user interface that allows users to bet on the many different sports available seamlessly.
Similar to PointsBet, Caesars has a ton of available sports to place wagers on; however, its user interface is something that sets them apart from the rest of the top five. At the very top is a horizontal list of the most popular sections of betting, such as currently live events, specials like odds boosts, and the popular leagues or sports such as the MLB, NFL, soccer, and more! Directly underneath this list of icons features all available promotions in banners, and below are the most popular bets of the day.
Below is a visual representation of their home page: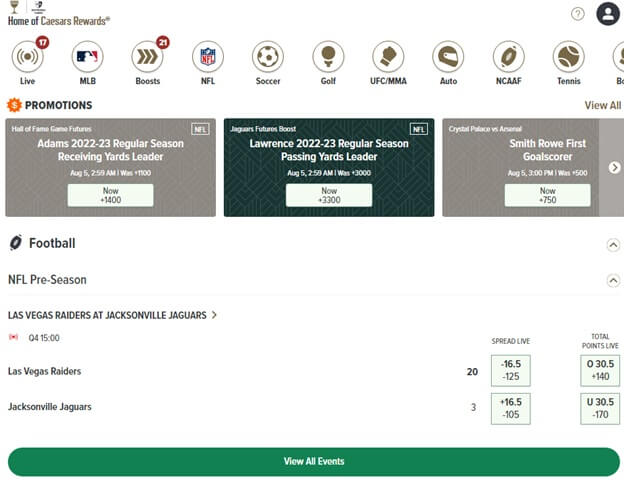 Caesars also has a tremendous risk-free welcome bonus in the form of a first bet on Caesars up to $1,250 and 1,000 Reward Credits & 1,000 Tier Credits. Claim this bonus by clicking the link below and using the bonus code "GUSAFULL" to get your risk-free bet on your first wager!
Colorado Retail Location(s): Lady Luck Casino & Isle Casino
#3 FanDuel Sportsbook – $1,000 Risk Free Bet
The FanDuel CO Sportsbook is probably the largest bookmaker on this list because they've had its hooks in the online betting space since it began as a daily fantasy sports website in 2009. Since then, FanDuel played the waiting game until 2018, when legislation allowed them to launch their online sportsbook.
FanDuel also has several retail sportsbooks across the country located inside well-known casinos they've partnered with, such as Mardis Gras Casino in BlackHawk, CO (I've been here, and it's a great location)! FanDuel is most known for its competitive odds, and the sheer number of bets available on every event offered because the book believes any bet should be available.
Below are a few of their exciting prop bets available that aren't featured everywhere, along with its create a bet feature: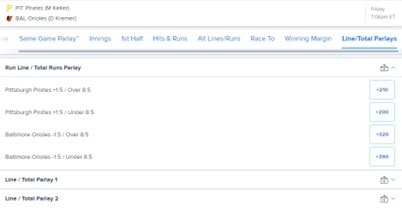 FanDuel's initial deposit bonus comes in the form of a risk-free bet worth up to $1,000. No FanDuel promo code is necessary for Colorado bettors; click the link and sign up for an account to get this exclusive offer.
Colorado Retail Location(s): Golden Gates Casino
#4 BetMGM Sportsbook – $1,000 risk-free bet
The BetMGM CO Sportsbook is the flagship online sports betting site of the international conglomerate MGM Entertainment, a name synonymous with gambling. BetMGM was created in 2018 but recently had a significant marketing push since 2020 that has pushed them to one of the largest bookmakers in the country.
The BetMGM Sportsbook's best quality can be summarized by its consistency. It's a jack of all trades featuring above-average betting options, markets, and promotions. The deposit options on BetMGM are comprehensive and feature many options such as e-wallets, debit or credit cards, bank transfers, and even cash at select locations.
Below is an image of the BetMGM deposit screen and its different deposit options: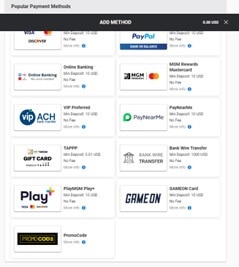 The BetMGM deposit bonus code is the same as FanDuel, with a risk-free first bet worth up to $1,000 that can only be used when you bet online. Sign up for a BetMGM online sportsbook account using the link below for the exclusive offer, and be sure to use the promo code "GAMBLEUSA" during the registration process.
#5 Barstool Sportsbook – $1,000 risk-free bet + $10 free no deposit
If you've ever been on social media websites like Twitter and Instagram, then you've probably heard of the media company Barstool Sports. Barstool began in 2003 as a campus lifestyle newspaper focused on entertainment and sports gambling and grew into a social media phenomenon that exudes ESPN's funniest, most exaggerated elements. In 2020, Barstool Sports partnered with Penn Gaming to create the one-of-a-kind Barstool Sportsbook.
Unlike many online casinos and sportsbooks, Barstool focuses on making the betting experience extremely fun but in out-of-the-box ways. One of them, in particular, is giving their podcast personalities parlays to create that users can choose to bet on at increased odds, allowing users to back their favorite hosts and potentially win more than they usually would!
Below is an image of one of their exciting promotions that give increased odds to people following one of their online media personality's bets: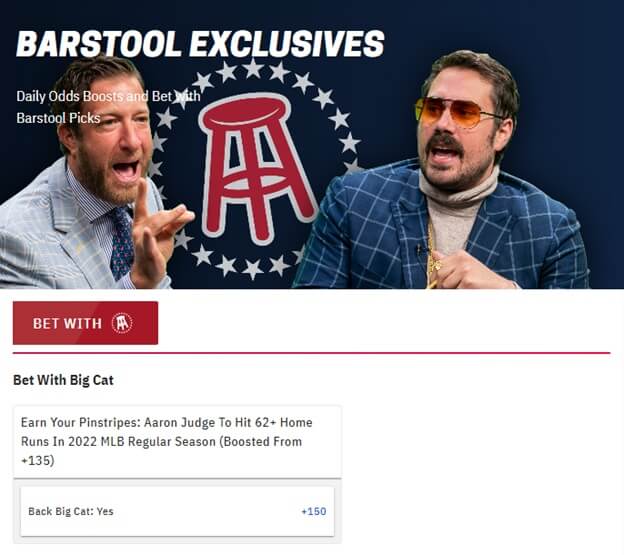 Similar to the last two sportsbooks, Barstool offers a risk-free first bet worth up to $1,000 but also throws in a $10 free bet bonus alongside it. No link or promo code is necessary for this great bonus (unlike the rest of the sign-up bonuses); go to the website and sign up for an account, which is the standard bonus.
Colorado Retail Location(s): Ameristar (Black Hawk, CO)
Other Risk-Free Bet Bonuses For Colorado Sports Bettors
The list above isn't comprised of the only online sportsbooks with risk-free welcome bonuses available in Colorado; there are a few more that every user should sign up for to get the most bonus cash possible.
Below are the other sportsbooks featuring this type of bonus; click the link to get the bonuses!
Fox Bet ($500 risk-free bet)
The Fox Bet online sportsbook is a run-of-the-mill sportsbook that is pretty average across the board, although they have excellent odds boosts!
theScore Bet ($500 risk-free bet)
theScore Bet online sportsbook is a mobile betting service that is app exclusive because its parent company, theScore, is a mobile sports news company. It has a solid number of betting types and options, although it is still a tier or two below the books on the list above.
Tipico Sports ($750 risk-free bet)
Tipico Sports is a sportsbook partnered with USA Today, a member of Turner Telecommunications, the networks that feature college sports tournaments like March Madness. Sports fans can also follow the Tipico blog, The Inside Edge, which provides insight into daily picks and trends.
Betway ($250 risk-free bet)
Betway Colorado is another online sportsbook that is worth your attention. Their risk-free bet might not be as generous as the above CO betting sites, but it has fair terms and conditions with minimal playthrough. Their overall product is also great, with daily odds boosts and wide sports coverage.

CO Risk-Free Bet Comparison Table
Below is a table that features every risk-free bet for sports betting in Colorado and includes our exclusive links to claim these bonuses. Some of these online sportsbooks also require a promo code during the registration process, so be sure to use that to get the best bonus possible!
| CO Sportsbook | Quality of Sportsbook (1-5 Stars) | Welcome Offer | Offer Promo Code |
| --- | --- | --- | --- |
| PointsBet | 5 Star | 2 risk-free bets worth up to $2,000 | GUSA |
| Caesars | 5 Star | Risk-free bet worth up to $1,500 | GUSAFULL |
| FanDuel | 5 Star | Risk-free bet worth up to $1,000 | Use Links |
| BetMGM | 4 Star | Risk-free bet worth up to $1,000 | GAMBLEUSA |
| Barstool | 4 Star | Risk-free bet worth up to $1,000 and a $10 free bet | Use Links |
| Tipico Sports | 3.5 Star | Risk-free bet worth up to $750 | Use Links |
| FoxBet | 3 Star | Risk-free bet worth up to $500 | Use Links |
| Betway | 3 Star | Risk-free bet worth up to $250 | Use Links |
| BetAmerica | 2.5 Star | Risk-free bet worth up to $100 | Use Links |
| theScore Bet | 3 Star | Risk-free bet worth up to $500 | Use Links |
Colorado Betting Apps with Risk-Free Bets
Most of the sportsbooks above have a mobile sports betting app for Colorado that is simple and easy to download. You'll need to go to either the Google Play Store or the Apple App Store and download the app by searching for it and clicking download.
Each app will have different iOS and APK (Android) requirements, so be sure your operating system is up to date for the phone or device you're using so there is no issue. Be sure to download the correct app for Colorado; some sports betting sites will have different apps for each state.
See the table below for each of the sportsbook apps available in Colorado, when their mobile apps launched in Colorado, and their retail partners:
Sportsbook App
Date Launched in CO
Retail Partners
Casino Locations
PointsBet Sportsbook
November 2020
Double Eagle Hotel & Casino
223 E Bennett Ave., Cripple Creek, CO
Caesars Sportsbook
June 2020
Lady Luck Casino & Isle Casino
340 Main St. Black Hawk, CO
401 Main St. Black Hawk, CO

FanDuel Sportsbook & Casino
May 2020
Golden Gates Casino
Black Hawk, CO
BetMGM Sportsbook
May 2020
N/A
N/A
Barstool Sportsbook & Casino
November 2020
Ameristar
111 Richman St. Black Hawk, CO
Tipico Sportsbook
August 2021
N/A
N/A
FoxBet Sportsbook & Casino
May 2020
N/A
N/A
Sky Ute Sportsbook
May 2020
Sky Ute Resort and Casino
14324 Hwy 172 North, Ignacio, CO
Betway CO Sports Betting
April 2021
N/A
N/A
How Do Risk-Free Bets Work?
If you've read thus far and aren't sure about risk-free bets, then let me explain. Some Colorado sportsbooks give new users a deposit bonus through a percentage match of bonus money on their first deposit; however, most offer risk-free bets.
A risk-free bet is a bet insured by mobile sports betting sites, meaning that if the bet loses, you will be reimbursed up to the bonus amount in the form of a free bet of equal value. Colorado sports betting sites are notorious for these bonus offers and should be taken advantage of.
One of the most significant benefits of risk-free bets is that it allows users to make a larger and riskier first bet, leading to more winnings. They can do this because the insurance gives users a second opportunity that can be used on a more conservative bet.
For example, a new user can use their $1,000 risk-free bet bonus on a three-leg parlay at +360 odds to win $4,600. If this bet loses, the player receives a site credit for $1,000 that can be used to make a qualifying bet.
When placing the bet using the site credit, there will often be an odds minimum of around -300, meaning users cannot use these credits on bets with odds -301 and higher. If your second bet wins, you will receive the winnings, but you will not receive the original stake of the bet because it was made in the form of a free bet.
To use the risk-free bet from your deposit bonus, make sure you've opted in during your first bet and that it follows the terms and conditions of the sportsbook.
Risk-Free Bets Terms and Conditions
Like every other bonus offer from companies worldwide, risk-free bets have terms and conditions that must be met to get them. Whether it's a new user bonus or a weekly promotion, read all the terms and conditions for each bonus you want to use to be sure you'll get it!
In the terms and conditions window, you will find all the restrictions are clear and concise, and there is a time limit for how long your bonus will last. Some restrictions that are similar to other sportsbooks are they cannot be cashed out early, they have minimum odds requirements, and how much of the bonus you can use based on the type of bet used.
For example, PointsBet allows users to place free bets on fixed odds (moneyline or prop bets), and points bets (spreads and over/under bets), but only a certain amount of your free bet credits can be used on each. Placing a free sports bet on a point spread can use up to $1,500 of your bet credits, while a fixed odds bet will only allow you to use $500.
Users can find the terms and conditions link in the promotion box underneath the offer, pictured in the first image below.

Are There Other Sports Betting Bonuses in CO?
Colorado's sports betting market is growing daily as more and more online sportsbooks open up their virtual doors in the mountain state. This section will focus on the rest of the online sportsbooks for Colorado bettors, and the different welcome bonus offers available.
Deposit Bonus
Deposit bonuses are the dying breed of welcome bonuses because of their utility and ability for big wins. The bonus will differ for each sportsbook; however, it will be in the form of bonus cash based on a percentage of your first deposit.
The best deposit bonus from Colorado sportsbooks is the MaximBet deposit bonus of a 100% match worth up to $1,000.
Colorado Sportsbooks that offer Deposit Bonuses

Free Bets
A free bet bonus offer is a simple and easy casino gambling bonus that's pretty straightforward, bet one amount and get a free bet of a higher amount. The bet will need to be placed on your first bet and will require a specific amount to get the bonus!
The best free bet bonus offer from a legal sports betting Colorado sportsbook comes from Betfred; bet $50 and get $250 in free bets.
Colorado Sportsbooks that offer Free Bets
WynnBet (Bet $50 and get $200 in free bets)
Bet365 (Bet $1 and get $200 in free bets)
BetFred (Bet $50 and get $250 in free bets)
Sports Illustrated Sportsbook (Bet $10 and get $60)
A few operators might even provide new users with a free bet, without requiring any real money deposit. Barstool is the only operator using this marketing strategy and it seems to work well so far. On the other hand, free bets for existing players are available on all the top risk-free bet sportsbooks in Colorado.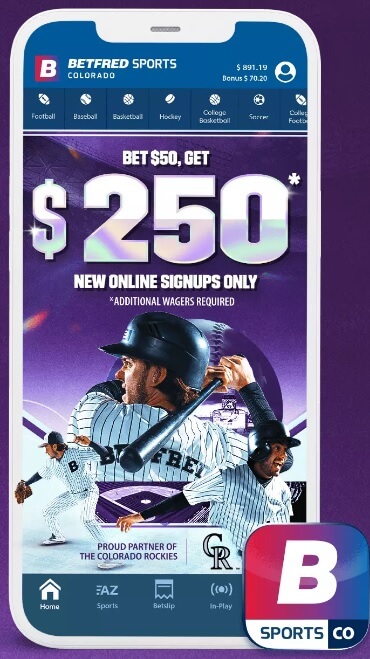 Risk-Free Bets vs. Deposit Match Sportsbooks
Colorado bettors need to understand that bonuses should be taken advantage of. Any savvy bettor should have an account with every sportsbook in town to harvest all the bonus cash possible. If you don't gamble on sports often but are looking to get into it, you may want to use a combination of the two.
I say this because the deposit bonuses allow users to split up their bonus cash in multiple increments and use it however they'd like. This is more beneficial for experienced bettors because a large deposit can be made to maximize bonus cash, then a more conservative betting strategy can be implemented to stretch it.
Risk-free betting allows new users to get their bearings with no pressure. You don't have to get the most from a bonus, and putting a $50 risk-free bet down to get your bearings is a good way to get acquainted with online sportsbooks because they all generally operate the same.
New players will want to start with a small to moderately sized risk-free first bet offer and place a bet on anything they'd like (try to keep it simple). If you lose this bet, you'll want to reflect on what went wrong (an unlikely prop bet, a large parlay, etc.) and then try again.
Be sure to only bet with money you can afford to lose because it's possible to lose both; however, congrats if you win either one of them! Keep playing on that book until you either lose your bankroll or want to cash out your winnings.
Now that you have experience, sign up for a Colorado sports betting site that offers a deposit match to use with everything you've learned. Bet the bonus cash lightly to try out more features like parlays and round robins, then maybe go big when you feel more comfortable.
Start Betting in Colorado With A Risk-Free Bet!
I couldn't recommend this type of bonus more; risk-free bet bonuses allow users a second chance, something every sports gambler has wished they've had on a bet they've made. It's becoming the predominant form of new user bonus for the more prominent sportsbooks, and it's looking like smaller bookmakers will follow suit due to popularity.
All the books above are legal sports betting sites licensed by the Colorado Division of Gaming. I've personally vetted them all, and the top five are some of the highest-tier sportsbooks in Colorado and the United States.
Sign up for an account now!
FAQs
Is Online sports betting legal?
Yes! Every bookmaker mentioned in this article are legal online sportsbooks licensed and regulated by the Colorado Division of Gaming (CDG).
Can a risk-free bet be split up into multiple bets?
Most of the time, no. However, please read the terms and conditions for more information and instructions on splitting them up (PointsBet, for example).
Do risk-free bet bonuses have a minimum bet amount?
Yes! The minimum bet to receive the bonus varies based on the sportsbook; however, the range is generally between $1 and $20. Check the terms and conditions of your online sportsbook to know the minimums and maximums, so you don't miss your chance on the bonus on your first bet!
What are the best Colorado sports betting sites?
The five best online sportsbooks for the Colorado market are:
PointsBet
Caesars
FanDuel
BetMGM
Barstool
What is the best kind of bonus offer?
I think the best bonus offer is deposit bonuses because they allow users to use their bonus cash however they'd like (most of the time). More flexibility is crucial to winning more because you're not pressured into betting big unless you're sure.