Recover Restricted or Locked PointsBet Account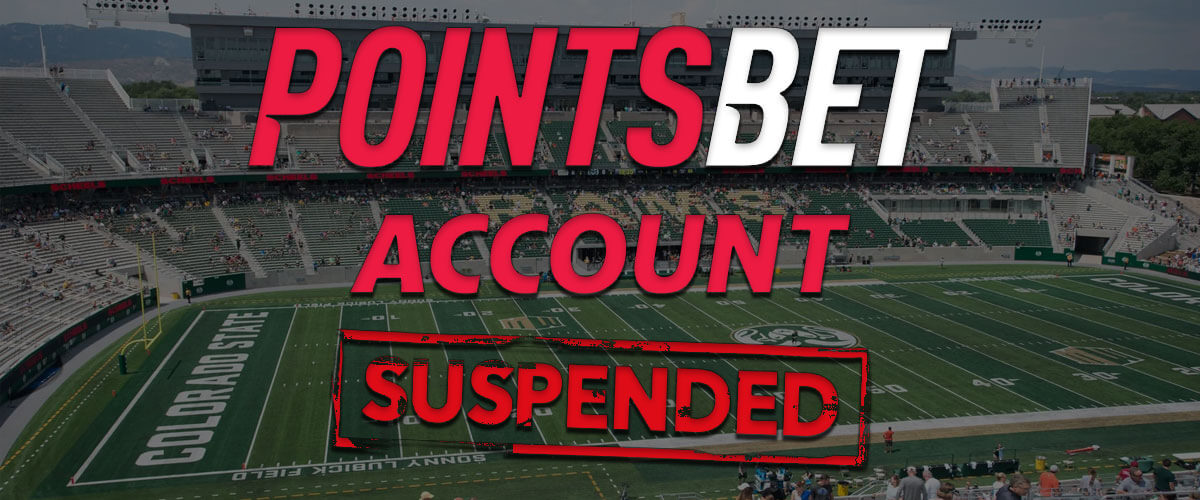 PointsBet is a popular choice among sports bettors in Colorado because of its distinct points betting system and stellar coverage. The gambling platform has a simple, fast-loading interface that makes wagering a thrilling experience. But did you know that PointsBet can unexpectedly close or suspend your betting account?
If your PointsBet account has been suspended, and you want to know why it has happened, you have come to the right place. In this guide, we'll highlight some common reasons PointsBet may suspend or lock your account and how to restore it.
But since there is a high chance that most people will not be able to retrieve their accounts, we'll also share a list of reliable and licensed betting platforms that Coloradans can join.
Up To $500 2nd Chance Bet
Fast payouts
Impressive In-Play betting
No Sweat First Bet Up To $1,000
Clean layout
Easy to use betting app
Play-Through Bonus Up To $1,000
Huge welcome bonus
Quick payouts
Why Do PointsBet Accounts Get Suspended or Closed?
Recently, there has been a surge of bettors claiming their PointsBet betting accounts have been suspended or banned. If you are one of them, we'll help you understand why PointsBet might suspend or close an account.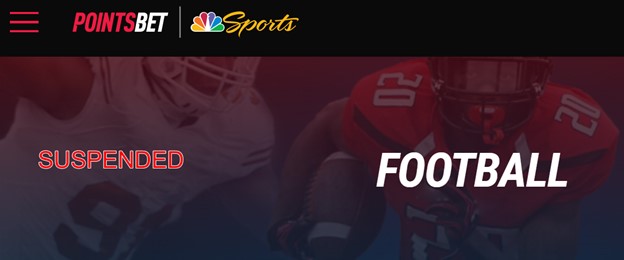 Irregular Betting
PointsBet reviews all betting accounts to monitor unusual activities. If the operator notices irregular betting, they will immediately suspend your account and conduct an investigation.
Here are the common irregular bets and betting patterns that might get your PointsBet account suspended without notice:
Equal or zero-margin bets
Placing wagers on all possible outcomes of a sports event
Hedge betting
Irregular bets will be canceled and forfeited at PonitsBet's discretion.
Trying to Deposit Funds With a Credit Card That Doesn't Match Your Account Details
PointsBet reserves the right to decline dishonored credit card transactions. The credit card you use to deposit funds into your PointsBet betting account must match the details you used during registration. If the details don't match, the operator will refuse the credit card and suspend your account until the third-party cardholder provides proof of consent. In this case, PointsBet may request that you provide an eligible copy of the front of the card you added to your account to lift the suspension.
If PointsBet discovers you have misused a credit card or used it fraudulently, they can withhold the funds in your account, including winnings and deposits. The operator will also report this matter to the relevant authority and permanently ban you from PointsBet. That means all the resulting and pending bets you had placed will be voided.
Depositing Funds Without Intention of Playing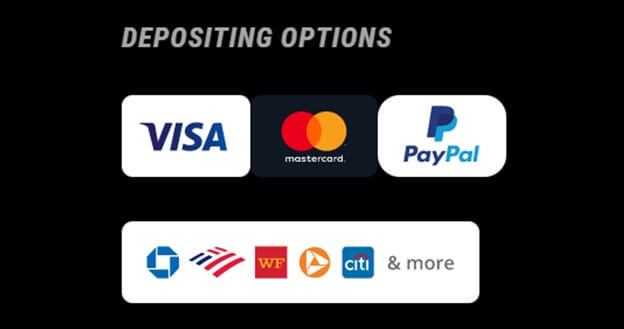 As set out in section 1.6.5 of PointsBet Ts and Cs, the operator will close your account if they believe you are depositing money without the intention of wagering. PointsBet will also return the funds to the payment method you used when making the deposit.
Some sports bettors use gambling platforms to launder money by converting dirty money into an electronic balance, then cashing it out. PointsBet does not do business with criminals because it does not want to risk damaging its reputation. The operator reports suspicious customers and transactions to the relevant authority and won't hesitate to close the account involved in money laundering or other fraudulent activities.
Chargeback Abuse
If you make any chargeback or cancel deposits without PointsBet's permission, you will reimburse the operator any loss suffered; this includes claims, costs, and expenses that PointsBet may incur while retrieving this money.
The operator may suspend your betting account if you dispute transactions relating to third parties. PointsBet will then conduct a transaction investigation and recover any losses they may incur during this process from your account. If you initiate an illegitimate chargeback, PointsBet will report you to the relevant law enforcement and the Colorado Division of Gaming.
Failing to Confirm Your Age and Identity
PointsBet asks you to provide details when signing up to confirm your identity. Failing to provide the information the operator needs may lead to account suspension.
PointsBets only allows people aged 21 or above to register an account or place bets on its platform as required by law. If they find you have not met the minimum age required to place wagers on their site, the operator will suspend your account without notice and report you to the relevant gaming authority. Underage gambling is charged under Colorado Statutes title 12, article 47, part 809.
PointsBet uses third-party service providers to verify your age and identity. You must pass the KYC verification process to place bets or receive winnings from this betting platform. Proof of address is also a crucial stage of Anti-Money Laundering and KYC. If you fail to meet the minimum Know Your Customer requirements, PointsBet has a right to suspend your account.
Providing Inaccurate Information and Not Updating Your Data
You have to provide accurate details during registration and immediately update your information if it changes, including your physical address and name. Failure to keep your data up to date will lead to PointsBet account suspension because the operator only allows people who reside in states where it is legal to access its platform.
PointsBet will also suspend or close your account if you provide inaccurate or false information during transactions or registration. Some bettors intentionally enter false data to create multiple accounts and access CO betting promotions for first-time users.
Self-Banning or Taking a Break From Sports Betting
PointsBet allows you to self-exclude yourself or take a break from gambling on their platform if you are a compulsive gambler or just need a break. The options for taking a break ranges between 3 and 30 days, while self-exclusion starts from one year to permanent. You will be unable to access PointsBet during this period.
Some of the reasons bettors self-exclude themselves or take a break from gambling include:
If gambling has made you careless of the welfare of your loved ones
Losing time from school or work due to gambling
Always gambling until all your money is gone
If you borrow money to finance your gambling
After filling out the self-exclusion form, PointsBet may decide to close your betting account permanently. The operator encourages responsible gambling and wants everyone to have an exhilarating sports betting experience without allowing gambling to control them.
How to Unlock An Account PointsBet Suspended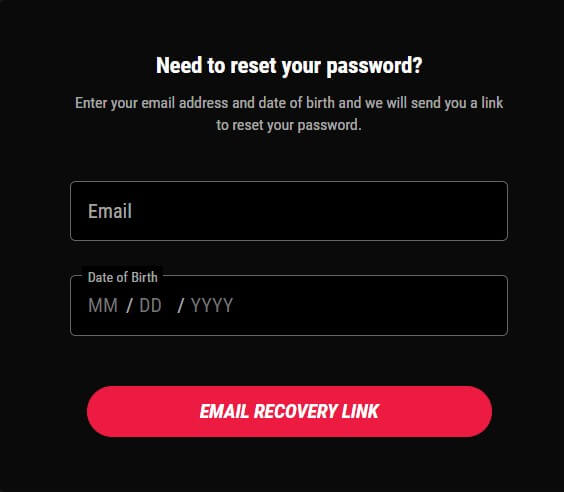 You will be unable to access your PointsBet betting account for one hour if it is locked due to entering incorrect login details thrice. When this happens, you can reset your password or wait 60 minutes to re-enter your account using the correct details.
If you cannot wait 60 minutes and want to enter your account immediately, follow the steps below to reset your password:
Step 1: Visit co.pointsbet.com and click on the Login button.
Step 2: Once you get to the login page, click on Forgot your password?
Step 3: Enter your date of birth and the email address you used during registration.
Step 4: Click the Email Recovery Link button. You'll receive an email with a link that you'll use to reset your password.
Step 5: Click the link and enter a new password that you will use to log into your PointsBet account.
Step 6: Enter the six-digit code you'll receive from PointsBet into the pop-up that will appear. You can now enter your PointsBet account using your new password.
If PointsBet has suspended your account and you want to reinstate it, you'll have to reach out to their customer support team using any of the following contact methods:
Social media: You can send a direct message to the PointsBet Twitter or Facebook page.
Email: You can shoot their customer support team an email at service@pointsbet.com.
Live Chat: PointsBet has a Live Chat feature on its site that Coloradans can use to talk with one of its customer support representatives.
The Live Chat option is the best method for those who want a quick response. To reach out to the PointsBet customer support team via this contact method, click Live Chat to initiate a live chat session that will allow you to talk with one of PointsBet's live customer service agents in real time. A virtual assistant will then ask you to describe your problem. You'll have to wait a couple of seconds before you start chatting with a live agent and find out if they can restore your account.
What to do if PointsBet Refuses to Restore Your Suspended Account
Contacting PointsBet customer service does not guarantee that you will restore your account because it depends on why the operator decided to suspend it. The operator also does not allow you to create a new account once they suspend the one you have, as each bettor is only allowed to register one account.
If you have tried to reinstate your account in vain, do not panic. There is a solution available for Coloradans with suspended PointsBet accounts. You can sign up with other sports betting apps that accept players from your state. We recommend you join any of the following sportsbooks:
All these sportsbooks have a simple registration process, user-friendly interface, and attractive promotions that you can use to boost your sports betting bankroll. The best part is that you can sign-up with all four platforms to access more bonuses, better odds, and enjoy more flexibility.
Tips to Avoid Account Suspension
Once you have signed up with an alternative sportsbook, ensure the operator does not suspend it. The following tips should help prevent this from happening:
Try to minimize withdrawals.
Only wager round number bets; for instance, $5, $20, and $100.
Avoid being labeled as a bonus abuser.
Diversify bets to eliminate patterns on your PointsBet account.
Bet on some of the special offers PointsBet promotes.
Build up your stakes and avoid starting with high-stakes bets immediately after you join a betting platform.
Be sure to carefully read the terms and conditions of your chosen sportsbook before using it to avoid violating them.
FAQ's
How do I close down my PointsBet account?
If you don't want to use the PointsBet sportsbook, you can reach out to their customer support team via the Live Chat feature. Alternatively, you can send an email to service@pointsbet.com. The support team will help you withdraw funds from your closed account.
Can PointsBet limit my deposits?
Yes. As stated in section 1.3.10, PointsBet may limit your deposits if they think you cannot exercise control over your gambling activity. PointsBet takes the security and safety of its players seriously, and the operator may contact players to confirm they are not betting over their limit.
What should I do if PointsBet fails to verify my identity during registration?
If you enter some details incorrectly when registering your account, PointsBet won't verify your identity. You may also fail the verification process if their system fails to find you in its database. In this case, you'll have to send your document to id@pointsbet.com. PointsBet needs you to provide your passport/ID and a bank statement/utility bill to manually verify your identity.
Can I bypass the geolocation requirements and access PointsBet using third-party mechanisms?
You must be in the state where you registered your PointsBet account to place bets on this sportsbook. If you use a third-party mechanism like VPN to bypass the geolocation requirements, PointsBet may close or suspend your account without notice. So if you are abroad or have traveled to a state where PointsBet does not offer sports betting services, the best thing to do is to avoid logging into your account.
For how long will PoinsBet suspend my account?
The duration will depend on the reason for suspension. If you've self-excluded yourself from gambling activities, the period of suspension you select during exclusion will be enforced. You can contact the PointsBet customer support team when this period ends to restore your account. If PointsBet permanently suspends your account, the operator will likely refuse to reinstate it.

If you have gotten your account locked due to failing the verification process, PointsBet may reinstate it immediately after you upload the documents they accept as proof of identity.
Can PointsBet suspend or terminate my PointsBet Rewards membership?
Yes. PointsBet may immediately suspend or terminate your PointsBet Rewards membership and ability to earn points if you are in breach of their Ts and Cs or if they suspect your conduct is offensive, fraudulent, or dishonest. If this happens, the operator will cancel the rewards points you have earned.