How to Recover Your Suspended or Blocked Caesars Account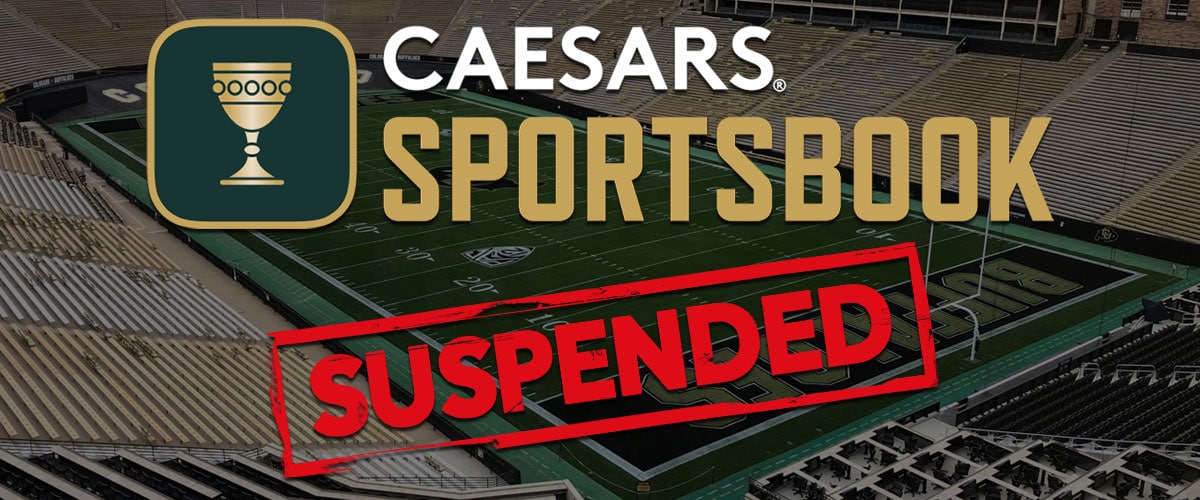 If you've watched any television in the last few years, you've more than likely seen the hundreds of advertisements that the Caesars Sportsbook runs daily. Since Caesars began operating in 2020, and popularity of the platform has grown exponentially as it has quickly become one of the leaders in the industry due to its phenomenal betting options, a large number of betting markets, and great rewards programs.
Because it's such a popular platform, millions of users in the U.S. have a Caesars Sportsbook account, which means some percentage of those users have had their account suspended or closed. If you're one of the users having account issues, read below for more information on why your account might be suspended or locked and ways to potentially unlock your Caesars account.
Unfortunately, recovering Caesar's accounts is a difficult task depending on why it's suspended. If your account cannot be recovered, or you don't want to deal with the account recovery process, try signing up for a new account somewhere else that's similar to BetMGM, which also features a top-of-the-line rewards service.
First Bet Offer Up To $1,500 In Bonus Bets
Awesome mobile app
Huge choice of sport markets
Up To $500 2nd Chance Bet
Fast payouts
Impressive In-Play betting
Possible Reasons for Suspended Caesars Account
There are plenty of different reasons why your Caesars Sportsbook CO account would be suspended or closed, and they all are essentially for violating the terms and conditions of the Caesars Sportsbook or online casino. Please read below for a list of reasons your account would be suspended or closed and how they might occur.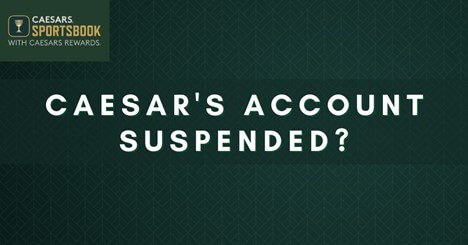 Creating More Than One Account with Caesars
Creating multiple accounts on any sportsbook in the United States is strictly forbidden and will almost always cause an immediate account closure (if you even manage to open multiple accounts). Caesars Sportsbook verifies your identity through the last four digits of your social security number, meaning that each account is tied to one individual's information to be sure they're not creating multiple accounts.
Caesars monitors an individual's information and IP address, meaning that they may flag your account if other accounts regularly sign in and place wagers from your computer or device. If you and a roommate use the same computer to place wagers from your individual accounts, be careful, your accounts may be flagged accidentally!
If you believe your account was flagged wrongfully, for this reason, contact the Caesars customer support team to try and clear things up, although it's doubtful they will unlock your account.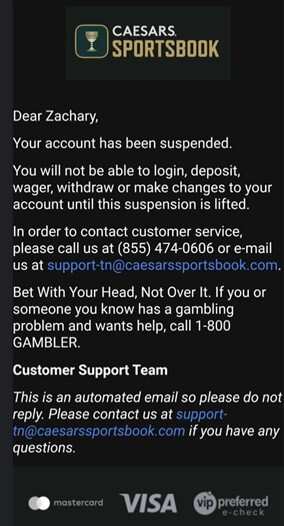 Following Suspicious Betting Patterns
A suspended account from Caesars Entertainment for suspicious activities is a less common issue; however, it's something the sports betting platform tracks to deter fraud and money laundering through accounts because they can be funded by cash. Caesars Sportsbook looks to obtain information about the bettor's real money gambling habits to be sure it's a real person making the bets and not just an online bot built to game the system.
While it's uncommon, accounts can be accidentally flagged for this reason if the Caesars Sportsbook believes you may be using bots, so stick to round dollar amounts, so it doesn't seem like you're being formulaic! If your account gets flagged, for this reason, you may request updates from the customer support team, but your account will likely be locked for an extended time period or permanently.
Your Account Details Do Not Match Records
One of the most common issues on the list includes incorrect details with a user's personal information, so when you first access your account, be sure to verify your identity correctly, or this may be an issue for you! All real money gaming activities online in the U.S. must be made by a legal user registered with an account (to deter underage gambling), so if any of your information is incorrect, Caesars will temporarily suspend your account.
If this issue happens to you, reach out to customer support and have your personal information and documentation ready and on hand. Generally, this issue can be fixed relatively quickly, and they may only suspend the user's ability to request withdrawals.
Trying to Access from an Excluded State (Physical Location)
To adhere to local gaming commissions, the government agency that licenses the Caesars Sportsbook, Caesars Interactive Entertainment, does reserve the right to track the user's location services through their device to be sure they're located in a legal gambling state. If you try to place a wager from a state where the betting app is not licensed, your account will be temporarily locked until your physical location can be verified in a legal state.
Suppose you're an account holder physically located in a legal state but still having trouble. In that case, your geolocation services may malfunction, or you might be located too close to a state border (which can be extremely frustrating for users in the Washington D.C./West Virginia area) to verify your location.
Several Failed Login Attempts
Several incorrect login attempts can cause your account to be temporarily disabled for a short period of time, whether it be a William Hill or Caesars Sportsbook account. Caesars Sportsbook does this as reasonable measures for the safety of its users to deter their accounts from being hacked.
If your account gets locked, for this reason, you will need to reset your password to recover your suspended Caesars account.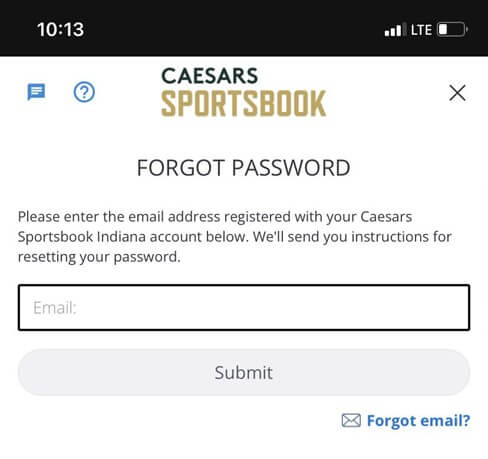 Attempting Access through a VPN (Location Services)
Suppose you're using a VPN on your mobile phone or mobile device to change your IP's online location to a legal betting state to access your Caesars Account. In that case, you risk your account being permanently locked and all your money forfeited. While gambling entails risk, there's no reason to risk your entire bankroll to place bets from an illegal state; you must be physically located in a legal state.
If your account is flagged for this reason, your account will be unrecoverable, so go to a Caesars or William Hill location in your area if available!
Winning Too Much or Often
Similar to suspicious activities and betting patterns, winning more money than losing at a very high clip may cause you to lose access to your account for an extended period or even permanently. While this may seem unfair, Caesars reserves the right to do this at its sole discretion, meaning it can do this to any user.
Unfortunately, if this happens to you, it's doubtful you will be able to recover your account until the suspension is over (if it's not permanently locked).
Excluded From Gambling Online
Under federal law, every legal online sportsbook must adhere to responsible gaming practices given to them by their supervising government agency, their local gaming commissions. Self-exclusion options help users protect themselves from a gambling problem that could cause personal or family problems.
Users are able to self-exclude themselves from their accounts for a specific time period or a specific dollar amount, meaning a user can set spending limits that will temporarily suspend (until the following week/month) their Caesars or William Hill account if they've exceeded the maximum amount. If you'd like to temporarily suspend your account (or self-suspension), go to the responsible gaming page and select the time you'd like to take a break.
Please note this may happen by error, so if you did not choose to be self-excluded, reach out to customer service for more information on what you can do.
Dormant Account
Dormant accounts on the Caesars casino and sportsbook may be subject to closure if it's not in use for an extended length of time. We are still determining why sportsbooks do this; however, if it happens to you, speaking with customer service is the quickest way to learn if your account can be recovered.
Remember to withdraw funds regularly, especially if you're not planning on playing again anytime soon, because Caesars may close your account if it's idle for too long!
How to Restore Your Locked or Suspended Caesars Account
Restoring a locked or suspended Caesars Sportsbook account can take time and effort. In many cases, users may not get the answer they want to hear because Caesars protects itself with a zero-tolerance policy on cheating and advantageous practices. For example, users who take advantage of loopholes in bonus bets promotional offers will generally only be given a warning after having their account suspended.
In most cases, law enforcement will only be contacted if you've cheated the system for thousands of dollars. While you will not lose any personal property, the intellectual property of your gambling account and the funds in your account will be lost if it's not recovered.
No matter the reason for your suspension, contacting customer service will be the only solution to fixing your issues. If your account is suspended, contact customer service through the live chat, toll-free phone number (1-800-342-7724), or email address (support@Caesarssportsbook.com) for more information. If there's an issue with verifying your identity, it will be a quick resolution; however, if it's for suspicious activity, it will be a lengthy process.
Locked accounts are permanent and cannot be reversed.
Will Caesars Allow You To Create a New Account?
Multiple accounts are strictly forbidden, and any account closure is permanent, so be sure to follow the terms and conditions to avoid any problems. Caesars Rewards accounts are the same; however, they are less likely to be closed but will receive a lengthy suspension when violations occur.
Alternatives if the Caesars Sportsbook Doesn't Restore Your Suspended Account
If your account is permanently locked or you don't feel like recovering your account, there are plenty of other options to use for online gambling! Read the table below for other comparable online sportsbooks where you can enjoy real money gambling, their individual strengths, and their welcome bonuses!
Suspended Caesars Account FAQs
Why has my Caesars deposit been restricted?
If the Caesars Sportsbook has restricted deposits on your account, there may have been a problem when they tried to verify your identity. If this happens to you, contact customer support with your personal information and documentation on hand to upload if necessary!
What to do if I cannot get my Caesars account back?
Unfortunately, suppose your account closure is permanent (which can be done by Caesars at their sole and absolute discretion). In that case, you will lose the money in your account statement and be forced to create a new account with a different sports betting service. If legal action is taken, you may also be banned from the Caesars gambling facilities.
What is the minimum age for gambling on Caesars?
All users on the Caesars Sportsbook and William Hill gambling apps must be at least 21 years old to bet on a sporting event or casino game.
Will I lose my funds if my Caesars account is suspended?
If your account is suspended temporarily, you will not lose access to the money in your account, however, if the account number is closed permanently, withdrawal requests will be impossible, and your money will be forfeited, so don't break the rules!
How long does Caesars suspension last?
The suspension length will vary based on the violation, meaning that a user who entered their address incorrectly when signing up will be suspended until they fix this issue. At the same time, a user suspended for winning too much might be suspended for a year, if not permanently.
Is there a solution if my Caesars account gets hacked?
If your Caesars Sportsbook account is hacked, try to reset the password to regain access. If this doesn't work, contact customer support and explain the situation with your information and documentation.
How can I contact Caesars customer support?
Users can contact Caesar's customer support through a live chat feature on the website or app, a toll-free telephone number (1-800-342-7724), or their email address (Support@Caesarssportsbook.com).
How to unlock Caesars account?
Unlocking a locked (locked, not suspended) Caesars or William Hill account is impossible because this will only happen when a user violates one of the most important terms and conditions, like creating multiple accounts or using a bot. If your account is locked, contact customer support for more information.