Recover Suspended Betway Account
Getting a hot betting tip or finding the perfect match to place your next bet is always great. Nothing can stop you from getting your next big payout – unless you discover your account has been suspended on your favorite sportsbook.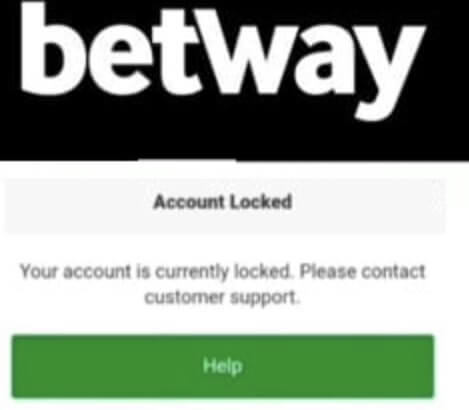 Betway is a top betting site that offers access to many of the best sports markets with excellent odds and bonuses. However, it is common for players to get banned from the sportsbook from time to time.
There are several reasons why this may happen, and some of these can be resolved without stress. Even so, some bettors aren't as lucky as others, and there is often a need to switch to another betting site when Betway decides to not reactivate your account. You should consider some of the sites we recommend to enjoy a seamless betting experience in such events.
Actions that Lead to a Suspended Betway Account
Betway CO app may block your account for different reasons, and learning about these reasons can help you avoid getting your account suspended in the first place.
For bettors reading this article, you may already be suspended on the site, but this is a great time to learn about the things to avoid going forward and how to unlock a restricted account. Some of the reasons you may be facing a Betway suspension include the following:
Making Deposits Without the Intent to Bet
Making a deposit without using it to place a bet and then withdrawing such a deposit is an action that can get your account banned. To a sportsbook like Betway, this action appears as a money laundering tactic. Online gambling sites must follow regulations within the states they operate, report suspicious activities, and prevent fraud, so blocking your account is a reasonable step.
Some players take this further by placing bets with the funds, incurring a loss, and then requesting a chargeback from their bank. They find a way to outsmart sports betting sites by stating that the transaction was unauthorized.
Creating Multiple Accounts to Gain an Advantage
Opening multiple accounts on a sports betting site is a common way to engage in bonus abuse. The Betway terms and conditions forbid bettors from having more than one account, so don't be surprised if they close any duplicate account you operate on their site.
To claim multiple welcome offers legally, you should create multiple accounts on different sports betting sites. We have reviews of the top sportsbook apps, their bonus offers, and promo codes that give you access to the best offers available.
Betting on Less Popular Markets
Betting on football, basketball, soccer, and other popular markets usually doesn't alert the Betway team unless you're winning too much. However, betting on unpopular divisions within these sports markets and gaining massive profits can be a problem.
For example, betting on the Bulgarian First Professional League for your soccer bets can flag the operator. Unlike the English Premier League, Spanish La Liga, or Italian Serie A, Betway and other sportsbooks don't research these leagues extensively, so you may have a chance at beating them in these markets.
Triggering a Responsible Gaming Feature
Responsible gambling features on Betway include self-exclusion and cooling-off. Triggering any of these features will cause your account to be suspended for the specified period. The cooling-off feature suspends the account for at least 72 hours, while self-exclusion suspends the account for a minimum of three months.
You can contact the Betway support team to reactivate your account, although it's usually automatically reactivated after the exclusion period. However, there is a permanent self-exclusion feature, and Betway states that accounts that trigger this feature cannot be reopened.
Accessing from an Excluded State
Betway only allows bettors from legal states to access its gambling platform. To bet on Betway, you must reside in Virginia, Arizona, Colorado, Indiana, New Jersey, Pennsylvania, or Iowa. The sportsbook may become available in other states soon, but for now, you can only bet on the site if you travel to or reside in one of the states mentioned.
Some bettors are notorious for accessing gambling sites using VPNs, which is illegal on all betting sites. The operator suspends accounts flagged for using VPN, and you'll need to contact the Betway support team for assistance lifting the restriction.
Getting More Wins than Losses
Betway will take notice if the wins on your account exceed the losses. As a business, bettors like you sink the company's profits, so they're wary. It is common for Betway to close accounts of such users, citing cheating as the only explanation for your winning streak.
Other issues that may cause them to suspend your account include suspicious betting patterns and inconsistent betting activities. If you're a bettor who consistently bets $10 every week, winning and losing some bets, changing your bets to $500 and going on a winning streak will surely attract attention.
Violating the Betway Terms & Conditions
Before you become a bettor on Betway, you must accept its terms and conditions. This is part of its registration process, so you don't have an argument if your betting account is flagged for breaching any of the terms or conditions of the sportsbook.
Violation of terms and conditions is a serious offense on any sportsbook, and in most cases, it can lead to a permanent ban on your account. Getting permanently banned on Betway prevents you from registering another account, so it is best to avoid this situation.
A few of the Betway terms and conditions include:
Bettors can only open one account.
You must be 21 or above to bet in the US.
Avoid making offensive comments.
You will not interfere with or disguise your IP address (use of VPN) to bypass the

sportsbook geolocation
Suspicious Betting Activity
Different events constitute suspicious betting activities on Betway, and being guilty of any of these actions will lead to an account suspension. Betway is constantly on the lookout for suspicious betting patterns among its users, and the operator has the right to punish bettors as it deems appropriate.
Examples of suspicious betting activities often include assumptions on the part of the Betway team, such as:
An assumption/belief that you're placing bets on behalf of another individual
You have insider information on a player's form, giving you an unfair advantage over the public.
The possibility that you control multiple betting accounts to conceal your winning streaks, betting patterns, or overall worth.
If your account is suspended for suspicious activity, Betway will request documents or additional information to aid its investigations. The sportsbook can also withhold payments pending the completion of its investigation.
Steps to Take To Recover Suspended Betway account
To restore your suspended account to a usable state, you need to send a request to the Betway customer support team. The team will let you know why your account was initially suspended and inform you of the steps you must take to resolve the process.
Communicating the issue to the support team is the only way to resolve or remove a restriction on your Betway account. This will trigger an investigation into the reason for your suspension, and the result of the investigation will determine if Betway will reactivate your account or not.
Bettors who are found to have violated a Betway service condition or used unauthorized third-party services are usually not allowed to reopen a suspended account. In such cases, you must seek other options.
Can I Register a New Account Instead of Reactivating the Old Account?
Betway will only let you reactivate a suspended account, but it won't allow you to open a new account. Bettors who still have a right to play on Betway will always be able to reopen their original account on the site.
If you find out that you cannot reactivate your original account, you should forget about betting on Betway. For the operator to prevent your account from being reopened, it means it doesn't want you as a customer any longer.
This isn't the end of the world for any bettor in this situation since there are other sports betting sites that will accept you as a member. Once you're set up on the new CO sportsbook site, remember to avoid the issues we identified earlier to avoid getting banned again.
Other Options if Betway Doesn't Restore Your Suspended Account
Up To $500 2nd Chance Bet
Fast payouts
Impressive In-Play betting
First Bet Offer Up To $1,500 In Bonus Bets
Awesome mobile app
Huge choice of sport markets
Free Bet Up To $500
Best eSports betting app
App that shows the long-standing experience of the brand
When dealing with a sports betting site, sometimes expect things to go differently than planned. With this in mind, you should research other sports betting sites whose services match everything you get on Betway.
Depending on the response from the Betway team, you may need to open a new account on one of these alternative sites. If Betway refuses to reactivate your suspended account, then you can sign up on any of these CO sports betting sites:
FAQ
Why is there a restriction on my Betway deposits?
Although you can set deposit limits on your Betway account, the operator can also place an involuntary deposit limit. In some cases, this limit may be due to your location (with Tennessee residents receiving a $2,500 monthly limit). However, in other cases, this deposit restriction is in place to reduce your winning potential on the site.
What is the age requirement for gambling on Betway?
Only players who're 21 or above can open an account and place bets on Betway. There is no way to bypass this restriction since you must provide your SSN and a valid means of identification when registering on the site. Betway will reject any application from a user below the legal age limit.
What happens to my money if Betway decides to close my account?
If your Betway account is closed, the operator will refund any money available in the account. However, the operator may request a refund of all winnings accrued during your time on the platform. These may be deducted from the funds available in the account, so you may not get any money from the operator.
What does it mean when my Betway account becomes dormant?
If you don't log into your Betway account for 12 months, the account becomes dormant. However, the operator gives you 24 months, after which you're forced to forfeit any unclaimed balance in the account.
Can I close down my Betway account?
You can close down your Betway account from the responsible gaming page of the site. An account that is closed by a user can be reactivated at a later date at the request of the bettor. However, reopening a closed account is only possible if the bettor hasn't applied for a permanent exclusion.
Can you operate duplicate Betway accounts?
No, Betway users are only allowed to operate one account. The operator will close additional accounts on the gambling site, and Betway will cancel the bets on all secondary accounts. Also, the details of the payment option you use to fund your Betway account must match your Betway account information, or else your account will be closed.
Why did Betway ban my account and can I reactivate it?
Your Betway account will only be banned if you've violated any of its terms and conditions or engaged in suspicious gambling activities. A ban on your account may or may not be lifted, depending on the severity of the reason for your ban. However, you cannot reactivate the account if you receive a permanent ban.
What channels are available to contact Betway customer support?
Betway has 24/7 support services, and you can contact customer service using live chat, phone call, support ticket, or email. All these are suitable options, and you can pick a preferred channel whenever you decide to get in touch.