Recover Suspended bet365 Account
bet365 is one of the few online betting sites whose services extend beyond US borders. The operator has a solid customer base in Europe, Asia, Africa, Oceania, and the Americas. Its influence in the betting community has allowed it to partner with and sponsor various English Premier League clubs, the Ultimate Fighting Championship (UFC), for better brand visibility and profits.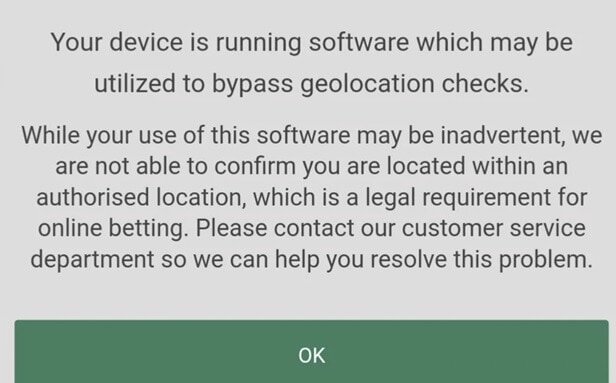 However, the operator isn't beyond blocking the accounts of bettors in a bid to protect its profits and prevent fraud. Being on the receiving end of an account restriction is never great, but we have some tips to help you through this ordeal.
While we tend to be optimistic in most cases, bet365 CO Sportsbook has the final say regarding a restricted account, and in many instances, more than clearing your name is needed for them to lift a suspension or ban. In this guide, we cover the various types of restrictions, reasons for restrictions and also provide a list of our favorite alternative online sportsbooks that you can visit for a fresh start – with free bets and welcome bonuses to give you the much-needed boost.
Proven Reasons why your bet365 Account may be Suspended
Whether you get back your bet365 account or not depends on the reason why the book decided to suspend your account. There are different types of suspensions, such as:
Betting markets restriction: If you're well-versed in football betting and bet365 notices too many wins, it shouldn't come as a surprise if you see that football betting is no longer accessible the next time you log in.
Cap on maximum winnings: This restricts the maximum amount you can win on any bet you place. As a result, betting is possible at high risk with low returns on bet365.
Cap on maximum stake: For players who place high-value bets and win too often, bet365 may decide to reduce the maximum amount you can bet. You can go from betting $5,000+ to less than $100.
Suspension: This is a temporary closure of your account, and you can resolve the issue by contacting support and providing all the documents they request.
Account Ban: This is the most frustrating punishment. bet365 will close the account and can return your deposits or choose to withhold all funds in the account. Your only solution is to find a

new betting site

.
A few of the frequent reasons why bet365 may place account restrictions include the following:
Operating More than One Account
Owning multiple accounts on bet365 or any other betting platform isn't allowed, and the operator will lock your accounts once they notice. The restriction to a single account is to help the operator monitor your betting patterns and determine if you're winning too much on their site.
As a new bettor, you may want multiple accounts to claim the bet365 welcome offer multiple times, but a better option is to open accounts on other sites. You may find a way to get around this restriction by opening an account in the name of a family member. However, since the IP addresses and betting patterns are often similar, the operator will flag these accounts and ban them.
Suspicious Activity Specific to Professional Gamblers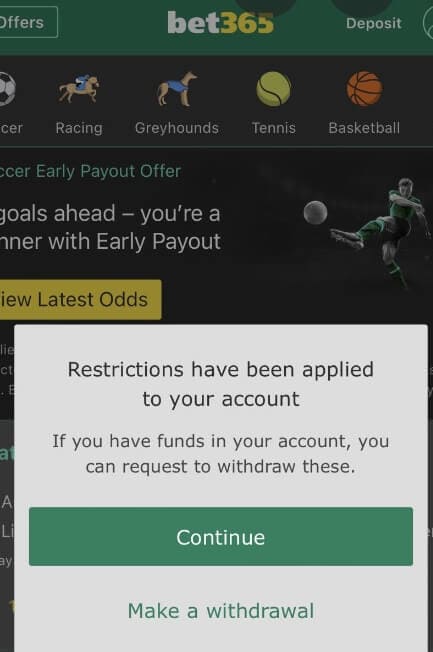 Visiting multiple pages, spending time on the site, and using bonuses are all signs of a recreational bettor. It shows that you do a bit of exploration to find the most profitable bets, and these are the kind of bettors gambling sites make money off.
However, professional bettors only spend a little time on betting sites. They usually have a specific page they visit, a specific time, and a betting market they focus on. Combining these actions with an arbitrage betting pattern and consecutive wins indicates that you're a professional gambler – the type bet365 doesn't want on its site.
Consecutive Incorrect Login Attempts
If you have accounts with multiple betting platforms, it is easy to lose track of what credentials you use for specific sites. On bet365, you have three login attempts, after which your account is locked for security reasons.
You can reach out to the support team to assist you in unlocking the account. However, if an account is initially locked, bet365 may go on to block it if you don't take immediate action. A great idea is to have a record of your accounts and credentials in a notebook or an app that only you can access to avoid this issue.
Using VPN to Open the Site
Virtual Private Networks (VPN) help bettors bypass geographic restrictions by masking IP addresses – and sports betting sites expressly ban these tools. A VPN can make it possible to use your bet365 account to gamble in US states or countries where this is illegal and bet365 is licensed, so once your account is flagged, it is blocked.
Depending on the punishment bet365 decides is the best, you may get your original deposit and lose your winnings and bonuses, or the operator may choose to block your account and seize all funds in the account. If you are not using a VPN, you can view possible sportsbook geolocation issues and how to troubleshoot them from our guide.
Winning Too Much
Bet365 isn't a charity organization, so don't expect them to overlook your account if you go on a winning streak. It doesn't matter if you're just lucky; bet365 can choose to restrict your betting account if your wins are much more than your losses on the platform.
If suspicious betting patterns accompany your wins, your account will likely be blocked. For example, if your account is flagged for patterns that depict arbitrage betting or arbing, it will get restricted. Arbing is noticeable if you bet unusual amounts or don't bet round numbers but instead place bets of $92.83, $155.34, or $209.14 and consistently win these bets.
The betting website is losing money due to your hot streak, so they will try to cut you off.
Not Following Terms & Conditions
When opening a bet365 account, you must read and accept the terms and conditions of the website and follow them during your time on the site. Since you agree to these terms, bet365 has the right to get your betting account restricted, suspended, or blocked if you fail to keep to its conditions.
Actions such as currency hedging, arbing, opening multiple accounts, and depositing without placing bets are some actions that bet365 forbids through its terms and conditions. Engaging in any of these actions entitles the operator to ban your betting account.
Using the Self-Exclusion or Taking a Break Feature
Online gambling operators allow you to take a break or activate a self-exclusion feature on your account as part of their responsible gambling program. Using any of these options will cause bet365 to restrict your account until you contact the support team.
However, you can also register for self-exclusion with regulatory boards like the Pennsylvania Gaming Control Board or the New Jersey Division of Gaming Enforcement. This registration will force gambling operators within your registered state to ban your betting account from accessing online gambling services.
Account restrictions may also take effect if you answer yes to any responsible gambling question on bet365.
Your Account is Dormant
If you fail to make a deposit, play a casino game, or place a sports bet for 365 consecutive days, bet365 will deem the account inactive. Letting the account remain inactive for too long will lead to it becoming dormant.
Although bet365 will close an account that becomes dormant, those with a positive balance will remain open while the operator will start deducting a monthly administration fee. Once the balance gets to zero and no action is taken, the account will be closed.
Thankfully, placing a bet, depositing into the account, or playing any casino game will reactivate a dormant account. bet365 also allows you to request administration fee refunds by reaching out to its support team.
How to Recover Suspended bet365 Account
The only option for players who want to restore a suspended or locked bet365 account is to reach out to the support team. The operator offers live chat, email, and telephone support to its players so that you can pick a suitable option.
You should note that the customer support team won't immediately unlock your account, but they will let you know if the suspension was an error or what terms of service you have disregarded. Once you get the facts of your suspension, you can begin the account recovery process.
However, restoring a suspended bet365 account is only an option if you have a valid case. If you violated a bet365 terms of service, you might not be able to use the account again.
Is Registering a New bet365 Account an Option?
Unfortunately, bet365 will not let you register a new account on its platform. Bettors who receive a suspension or restriction on their account can lift these restrictions, although it will take some time for the support team to review and lift the suspension.
In other cases, you may have closed the account by opting into a responsible gaming service, such as taking a break or self-exclusion. For these cases, you must wait for the minimum period before bet365 can reactivate the account.
For bettors whose accounts are banned, they cannot reactivate the account, and it will remain closed. However, a closed account doesn't give you the right to open a new account on bet365.
Other Options if bet365 Doesn't Restore Your Suspended Account
Up To $500 2nd Chance Bet
Fast payouts
Impressive In-Play betting
First Bet Offer Up To $1,500 In Bonus Bets
Awesome mobile app
Huge choice of sport markets
$1,000 First Bet on Caesars
Enormous Welcome Bonus
Price Boosts
If bet365 is taking too long to unlock your account or you're notified of a permanent ban on your account, you need to consider alternatives. Several excellent sportsbooks are operating in the US, and you can pick one to call home.
Some of the top alternative betting apps include:
These bonuses are subject to terms and conditions, so pick a bonus that meets your requirements. You can learn more about each sportsbook and its bonus through our reviews.
FAQ
How long does the bet365 suspension last?
The duration of your suspension is at the discretion of the bet365 team. However, providing all the necessary information to help with the investigation will significantly reduce the time it takes for them to remove the restrictions.
Is it possible to close my bet365 account?
Yes, you can close your bet365 account whenever you want. Closing your account is an option if you feel specific updates to the bet365 terms and conditions are unfair or you don't enjoy their services anymore. All you need to do is contact the support team and notify them that you need the account closed. Once you make this request, the operator will close your account as long as you don't have a negative balance on the account.
Can I use more than one account to gamble on bet365?
No, you can only have one account with bet365. Opening multiple accounts on bet365 is against its policy, and you can receive a permanent ban if you get caught.
Why did bet365 ban my account?
There are several reasons why bet365 may choose to ban your account. These include providing inaccurate account information, opening multiple accounts, bankruptcy, request from the police or regulatory body, dormancy, use of accounts in an unfair manner, and more.
How can I contact bet365 customer support?
bet365 has a 24/7 live chat feature for players; however, the email option and post will be the available options since your account is blocked. You can send a message to bet365 customer service email (supportusa-eng@customerservices365.com).
What should I do to unlock my bet365 account?
The only way to unlock your bet365 account if it gets restricted or suspended is to contact the customer service team. You can connect with the support team via the customer service chat or email, and provide all the necessary documents that will help them assist you in resolving the issue. However, unlocking a bet365 account can take a long time; sometimes, the account may never be unlocked.
We recommend you consider other sportsbooks like PointsBet, BetMGM, Betway, or FanDuel while you await positive feedback.