PlayUp Launches in Colorado
Categories:
News
|
Published by:
Tyler Jackson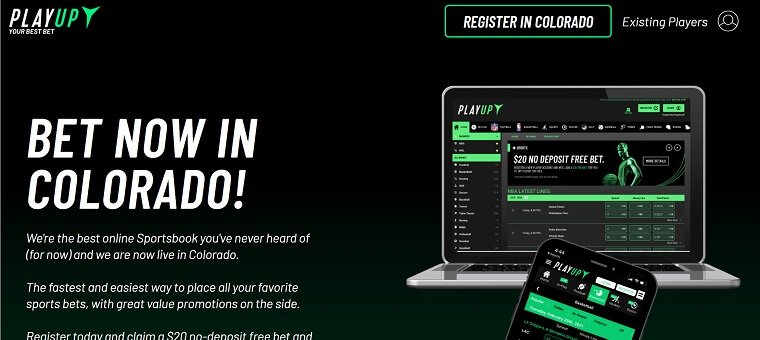 The sports betting industry in the state of Colorado is already one of the biggest in the US, but new operators continue to launch in the state.
Colorado has become a highly-competitive sport betting market, and PlayUp has now joined the market.
PlayUp is an Australian-based sports betting operator that has been exploring opportunities to enter the US sports betting market, and Colorado was always a target. After launching in Colorado, the company is expected to target the state of New Jersey next.

To gain market access into the state of Colorado, PlayUp partnered with the Bull Durham Saloon and Casino, which is one of several casinos in Blackhawk. This is a 10-year deal, and the early March launch allows PlayUp to be established in time for the start of March Madness.
While most new sportsbooks in the state of Colorado will be offering both in-person and online sports betting, that isn't the case with PlayUp. This will be an online-only sports betting option, but it could become one of the most popular in the state.
PlayUp recently raised $12.5 million in private capital to gain enough money to enter the US market. Breaking into the state of Colorado could be a challenge for the company, but it will also provide a big opportunity.
The total sports betting handle total in the state of Colorado in January was $326.9 million, shattering the previous record. More than $1.5 billion in total bets have been placed in the first nine months of sports betting.
Sports Betting at Buffalo Wild Wings
The next time you visit a Buffalo Wild Wings restaurant in the state of Colorado, you could be able to legally place a bet on sports. This promotion is not limited to just Colorado, as a total of six different states will see sports betting at the popular food chain.
This offer comes from BetMGM, which is the sports betting arm of MGM Resorts International. Buffalo Wild Wings is no stranger to offering similar offerings to sports betting, but this is an opportunity that has never been seen before in the United States.
The official "Blazin' Bets" product will be available to customers in Colorado, Indiana, Iowa, New Jersey, Tennessee, and West Virginia, and the launch was timed just days before the 2021 NCAA Men's Basketball Tournament.
To be able to place a bet on this new product, geolocation services must track your location to the inside of a Buffalo Wild Wings restaurant. This new promotion is expected to pave the way for similar deals, but companies will be keeping a close eye on the effectiveness of this promotion.
BetMGM is looking to build up its customer base through this new promotion, as there aren't retail locations in many of the states listed above. Obviously, attracting sports bettors to Buffalo Wild Wings will help the restaurant chain as well.
This deal was actually first agreed to in September 2019, but approval was needed from state regulators before the "Blazin' Bets" product could be launched.
Why not check back for more Colorado sports betting news, free bet offers, and CO sportsbooks updates.
Relevant news