Nuggets Making Noise in Northwest
Categories:
News
|
Published by:
Tyler Jackson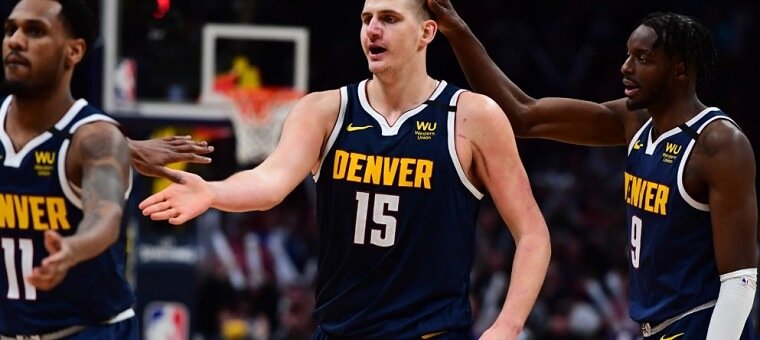 The Northwest Division has belonged to the Utah Jazz all season long, but the Denver Nuggets are attempting to make things interesting down the stretch.
Denver has moved to within just five games of Utah, and there is still plenty of time to make up ground before the playoffs begin.
Denver entered Saturday with a record of 34-18, and it had won eight straight games to keep pressure on its division rival. The Nuggets have done just about everything right during this winning streak, but they have also survived some close calls along the way.
The addition of Aaron Gordon has proven to be huge for the Nuggets as he gives this team another reliable scoring option. Gordon put up 24 points against his former team, the Orlando Magic, earlier this week, and he will be an even more important piece when the playoffs begin.

Denver has gone a perfect 6-0 since acquiring Gordon, and the trade has clearly worked out even though the Nuggets parted with Gary Harris. The Nuggets are eventually going to lose a game with Gordon in the lineup, but they have climbed to within a half-game of third place in the Western Conference.
Of course, All-Star center Nikola Jokic has been playing well, especially late in close games. Jokic leads the team with 26.3 points, 10.9 rebounds, and 8.8 assists per game and has been known to flirt with a triple-double on most nights.
Jamal Murray has also been great for the Nuggets of late, and he has pushed his scoring average up to 21 points per game. Gordon and Jokic handle all of the inside scoring for this team, but Murray is a key piece as he stretches opposing defenses.
Surprisingly, Denver is just 11th in the NBA in team defense, but it is one of the best scoring teams in the league. The Nuggets are averaging 115.6 points per game while allowing just 111.0 points per night.
Nuggets Not Done Making Moves
General manager Calvin Booth is still not content with the roster in Denver, and he made another move this week, although this move will not have the same impact as adding Gordon. Denver signed Shaquille Harrison on a two-way deal, and this move will add some depth to the backcourt.
Harrison actually spent the beginning of the 2020-21 season with the Utah Jazz, but he was only used in a limited role. The guard signed with the Phoenix Suns in 2016 after going undrafted out of Tulsa.
Denver had to clear space on its roster in order to add Harrison to the mix, and one of the newest members of the team has been released. Guard Gary Clark is no longer with the team after appearing in just two of the six games since coming over from Orlando in the trade with Gordon.
Greg Whittington was also released on Friday after appearing in just four games with the Nuggets this season.
Why not check back for more Colorado sports betting news, free bet offers, and CO sportsbooks updates.
Relevant news