Nuggets Look to Force Game 7
Categories:
News
|
Published by:
Tyler Jackson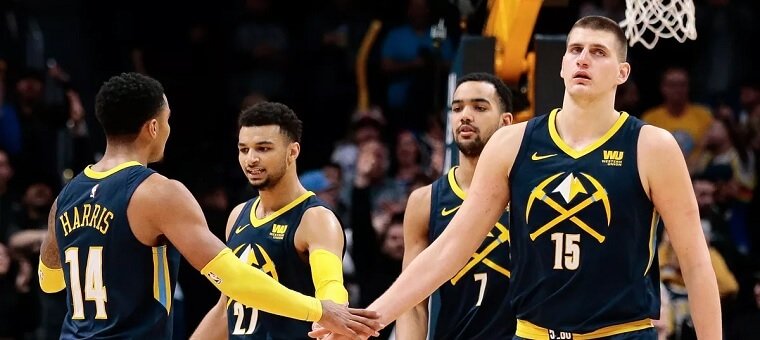 The Denver Nuggets are set to take on the LA Clippers on Sunday in Game 6 of their Western Conference semifinals series.
The Nuggets will be looking to keep their season alive and force a decisive Game 7 to take place on Tuesday.
It looked as if the Nuggets' season was going to come to an end on Friday night, but the team rallied for an impressive come-from-behind victory. Denver earned a 111-105 victory in Game 5 behind the terrific play of their two stars.
The Nuggets enter Game 6 as an 8.5-point underdog, according to FanDuel Sportsbook. This was the same spread listed for Game 5, which should give Nuggets fans some hope.
If the Nuggets are going to extend their season with a win on Sunday, they will once again need big games from both Nikola Jokic and Jamal Murray. Jokic and Murray combined for 48 points on Friday night, but they also got plenty of help from veteran Paul Millsap.

Murray leads the Nuggets with 26.5 points and 6.6 assists per game in this postseason, but the series against the Utah Jazz inflated these numbers. Murray has still played well, but the Nuggets might need another 40-point performance from their point guard.
Jokic has been the star for Denver all season long, and he is scoring more than 25 points in the playoffs. The Clippers don't have anyone to defend "The Joker," and he could have another big game on Sunday night.
The winner of this series will move on to play the Los Angeles Lakers in the Western Conference Finals. The Lakers eliminated the Houston Rockets in five games on Saturday night.
Broncos Ready For Season Opener
The Denver Broncos will kick off their 2020 regular season on Monday Night Football against the Tennessee Titans. Denver will have the edge of playing at home, but they will also be without one of their best players.
Star linebacker Von Miller had ankle surgery on Friday and is likely to miss the entire 2020 season. Miller's absence leaves a huge void on a defense that was much better than league average a season ago.
Denver will be facing one of the best rushing attacks in the NFL, and the 2019 rushing champion in Derrick Henry. Henry ran for more than 1,500 yards during the 2019 regular season, and the Broncos will have to find a way to get him to the ground.
On offense, the Broncos are handing the quarterback reins over to Drew Lock, and there is plenty of optimism. Denver threw for less than 200 yards per game a season ago, but the Broncos went out and got some playmakers this offseason.
Rookie wide receivers Jerry Jeudy of Alabama and KJ Hamler of Penn State can be terrific players in the NFL, and they will be top targets for Lock. The Broncos offense must find a way to help out the defense this season.
Relevant news