Elway, Ellis Test Positive For COVID-19
Categories:
News
|
Published by:
Tyler Jackson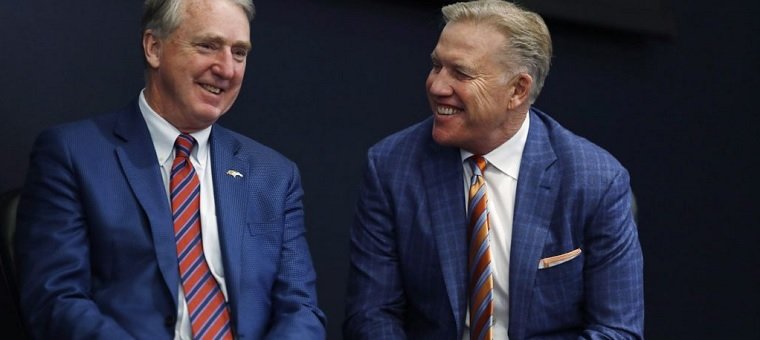 The ongoing COVID-19 pandemic has now hit the Denver Broncos organization, but this time it wasn't the players that were affected.
John Elway and Joe Ellis have both tested positive for COVID-19, and both men are currently isolating at home.
Elway is the general manager and president of football operations of the Denver Broncos. Ellis is the president and chief executive officer of the franchise.
Both of these men received news of their positive tests on Tuesday morning, and both of them have experienced mild symptoms from the virus. The Broncos have confirmed that neither Elway nor Ellis has had close contact with any player or member of the coaching staff since the symptoms began.

The Broncos closed their team facility on Tuesday for Election Day, but these two positive tests likely would have shut things down anyways. Coaches were told to work from home as the entire facility will undergo a deep cleaning procedure.
The Broncos released a statement on Tuesday announcing the two positive tests and also noting that the cases originated outside of the team facility. Contact tracing has been done in both instances, and very few people will be forced to quarantine.
The NFL is still investigating this outbreak, and it is also working closely with local and state health officials in Colorado. Both Ellis and Elway wear contact tracing devices when they are around the team facility, which made it easier to rule out any close contacts in the franchise.
COVID-19 protocols continue to be strict throughout the NFL, and the Broncos have followed all of those mandates. It is unclear when Elway or Ellis will be allowed to return to the team, but it will depend on when the symptoms subside.
Elway was inside of the team facility on Monday but left when he started to develop symptoms. Ellis has been away from the team since last Thursday and was forced to miss his first game in 26 years on Sunday.
Other Players/Staff in Isolation
The Broncos are scheduled to take on the Atlanta Falcons on Sunday, and that game is expected to go on as scheduled. The positive tests delivered to Elway and Ellis will have no impact on the schedule, but the team is also dealing with other COVID-19 cases.
Offensive guard Graham Glasgow tested positive for COVID-19 last week and has since been put on the reserve/COVID-19 list. Glasgow's positive test did not result in any other players being forced to quarantine or miss any action.
Coaches Mike Munchak and Ed Donatell are both currently isolating in response to the league's COVID-19 protocol. The team did not announce if the isolation requirement was based on a positive COVID-19 test or was the result of a close contact.
Last month, running backs coach Curtis Modkins tested positive for COVID-19, but he has since rejoined the team. Other teams have been hit much harder than the Broncos have, but this will be a situation that will need to be monitored over the next few days.
Check back for more legal Colorado sports betting news, free bet offers, and CO sportsbooks updates.
Relevant news