DraftKings Offering Big Prize Potential
Categories:
News
|
Published by:
Tyler Jackson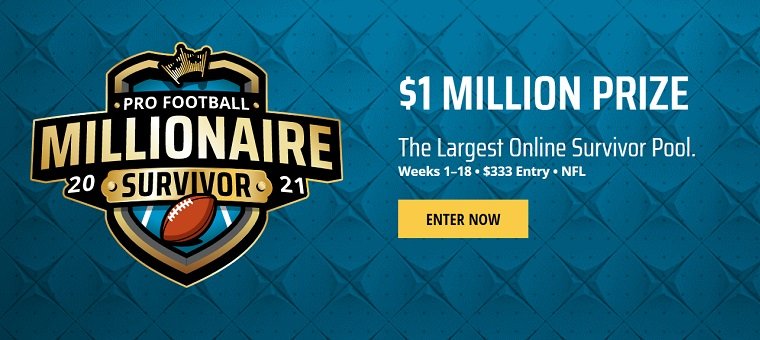 The NFL season always increases the stakes when it comes to the sports betting industry, and Colorado should post some impressive handle and revenue numbers beginning in September.
DraftKings Sportsbook is looking to raise the stakes a bit more by offering contests with millions in prize money available.
It was expected that the SuperBook would be offering its famous NFL contest in Colorado this year, but that is not the case. Circa Sports is another company that offers a similar contest, but it has not opened up an NFL contest in the Centennial State either.

DraftKings recently announced that the Pro Football Millionaire Survivor Pool is now open for the 2021 season, and that contest is available to residents of the state of Colorado. This is not a free contest to enter, and it comes with an entry fee of $333, with a limit of three submissions.
This type of contest requires participants to pick just one winner each week, and the same team cannot be used twice throughout the regular season. The player that lasts the longest throughout the year will receive a $1 million prize, or it will be split equally if there are a number of entrants that last the entire year.
There is also a Pro Football Millionaire Pick'Em contest being offered at DraftKings, and this requires participants to pick the winners of every football game each week. The entry fee for this contest is $1,500, and there is once again a limit of three entries. Sounds good? Get involved at sportsbook.draftkings.com today!
DraftKings already offers sports betting in the state of Colorado, but this is entirely different as it is being offered on the DFS side of the company. Typically these types of contests are reserved for the state of Nevada, but this will not require residents of the state to do any traveling.
Along with offering these terrific contests, DraftKings will also be running a number of promotions at the sportsbook when the NFL season begins. It's ranked as one of our top NFL sportsbook apps. Odds boosts on the Denver Broncos will likely be featured, but this site is known for offering free bets as well.
Tipico is Now 25th Sportsbook
The Tipico Sportsbook is now live in the state of Colorado, officially launching the website and mobile app last week. Tipico is now the 25th online sports betting option in the state, and this is the second state to offer a Tipico Sportsbook.
In order to gain market access into the state of Colorado, Tipico has formed a partnership with Century Casinos. Tipico is a German provider of sports betting, but it has plenty of years of international experience.
Tipico has a strong background in technology, and they offer a unique feature on the mobile app that should help attract new business. The company is offering just one mobile app, and customers in both New Jersey and Colorado can access their accounts on the same app.
Tipico offered a number of promotions last week when it first launched, and that should help it boost up the customer base. There is still a long way to go to catch up to the market leaders, but Tipico has some unique features that will be attractive.
Why not check back for more Colorado sports betting news, free bet offers, and CO sportsbooks updates.

Relevant news