Broncos Without Two Offensive Stars in Week 6
Categories:
News
|
Published by:
Tyler Jackson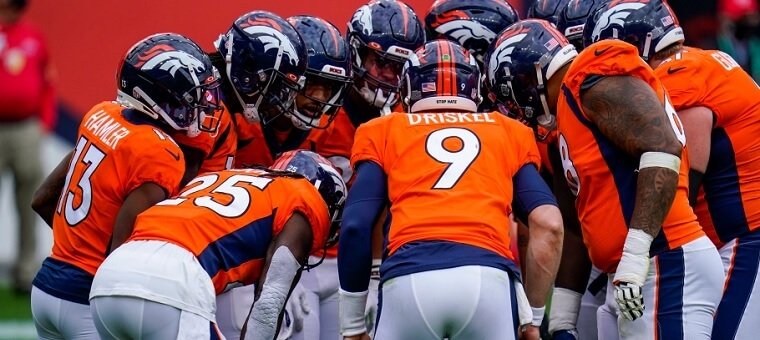 The Denver Broncos will be without running back Melvin Gordon and tight end Noah Fant in their Week 6 showdown against the New England Patriots.
This is a huge blow to an offense that has already struggled to score points this season.
Gordon did not travel with the team to face New England as he is battling an illness. Head coach Vic Fangio noted that the illness was not related to COVID-19, and the team expects to have him back next week.
Gordon is being treated for strep throat by Broncos team doctors, and he was unable to participate in the walk-through on Saturday morning. This is Gordon's first season with the Broncos, and he has quickly established himself as the leader of that offense.


Heading into Week 6, Gordon leads the team with 65 carries, 281 rushing yards, and three rushing touchdowns. The Broncos signed Gordon to a two-year, $16 million deal this offseason.
Earlier this week, Gordon was also cited by police for driving under the influence and speeding. According to police reports, Gordon was clocked at 71 mph in a 35 mph zone and was arrested on Tuesday night.
The team has not yet announced any disciplinary action against Gordon, but it could still be coming in the next few weeks. The NFL could also choose to suspend Gordon for up to three weeks, and that decision is expected to be made soon.
Tight end Noah Fant will miss this game due to an ankle injury, and the rookie has become the best weapon that the Broncos have in the passing game. Fant leads the team with 19 receptions and also has a pair of rushing touchdowns this season.
The offense will catch a break as starting quarterback Drew Lock is set to make his return to the lineup. Lock suffered a shoulder injury in Week 2, but he was a full participant at practice this week.
Denver was forced to start Brett Rypien and Jeff Driskel when Lock was out of the lineup, and the team got mixed results from the backups. At the running back position, Phillip Lindsay is expected to start in place of Gordon. Lindsay has run for over 1,000 yards in back-to-back seasons.
Patriots Still Dealing With COVID-19
The New England Patriots continue to be hit hard by COVID-19, and that will leave them shorthanded in this game as well. The Patriots announced on Saturday night that they have placed three additional players on the COVID-19/reserve list.
The three players that will not be available for this game are running back Sony Michel, defensive end Derek Rivers, and starting right guard Shaq Mason. All three players have either tested positive for COVID-19 or have been deemed a close contact.
New England was forced to cancel practice on Friday after center James Ferentz tested positive for the disease. The Patriots are expected to get quarterback Cam Newton and cornerback Stephon Gilmore back for this game.
Relevant news