Broncos Stars In News For Wrong Reasons
Categories:
News
|
Published by:
Tyler Jackson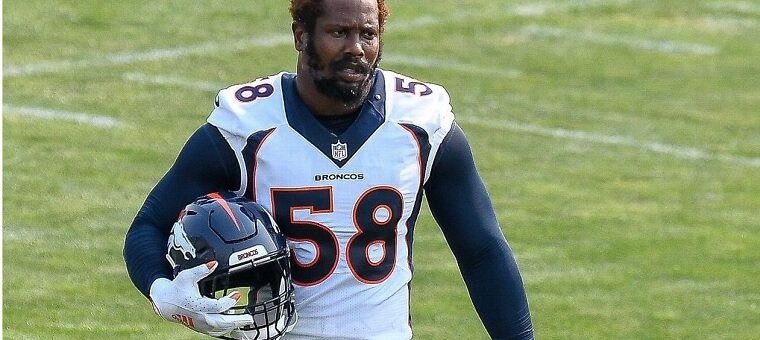 The 2020 season ended for the Denver Broncos two weeks ago, but two of the team's biggest stars have been in the news of late.
It's never good when the police get involved, but that has been the case for Von Miller and Melvin Gordon III.
John Elway recently announced that he was stepping away from the general manager role from the team, and the Broncos will look to hire someone new. There are plenty of roster concerns facing the team, and legal issues could complicate decisions for the new man in charge.

The NFL will also be keeping a close eye on the criminal investigations involving both Miller and Gordon, and there could be discipline handed down. These are developing stories that will have plenty of new updates and developments in the coming weeks.
Police Investigating Miller
On Friday, it was confirmed that Miller is the subject of a criminal investigation in Parker, Colo. Parker is a southeast suburb of Denver, and that the police department has confirmed that an investigation is underway.
At this time, it is unclear what the potential crime might be, and it is important to note that formal charges have not yet been filed. The Denver Broncos issued a statement on Friday and are looking into the matter as well.
Miller did not play for the Broncos during the 2020 season after suffering an ankle injury just days before the season opener. Miller did not respond to a comment in a request from ESPN and has not made a public statement.
In 2013, Miller was suspended for six games by the league after violating the substance abuse policy. Earlier that year, he also failed to appear in court for traffic violations, and an arrest warrant was issued.
Miller is headed into the final season of his six-year, $144.5 million contract that was signed prior to the 2016 season. The Broncos will have to decide in March if they wish to pick up his 2021 option, which would guarantee $7 million to the linebacker.
Gordon Pleads Not Guilty
Gordon recently pleaded not guilty in his DUI case stemming from an arrest on Oct. 13. That night, Gordon was arrested in downtown Denver and was also cited for speeding.
Gordon will have another hearing on Feb. 24, and a jury trial could take place on April 8 unless a decision is reached by that time. There is a chance that Gordon could face discipline during the 2021 season after avoiding it this year.
The Broncos signed Gordon to a two-year, $16 million deal during the 2020 offseason. Gordon led the team in several offensive categories, but this case could cause the Broncos to release him.
Gordon has apologized for his actions on the night of Oct. 13 but has still pled not guilty. It is believed that this case will be resolved before a jury trial is needed, but it is not clear what the outcome might be.
Why not check back for more Colorado sports betting news, free bet offers, and CO sportsbooks updates.
Relevant news