Betfred Sports to open betting lounge at Empower Field at Mile High
Categories:
News
|
Published by:
Tyler Jackson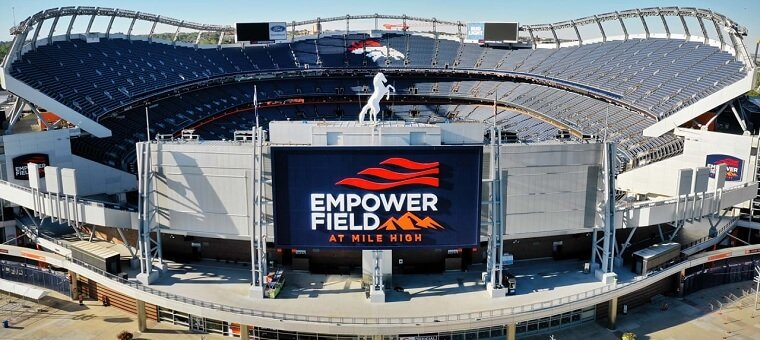 The 2021 NFL season could not have started off any better for the Denver Broncos, and now the fans are going to get a new experience this weekend.
The Broncos have been an active participant in the US sports betting industry, and things are now getting ready to take off at Empower Field at Mile High Stadium.
Betfred and the Broncos have announced that Betfred Sports South Lounge is set to open up prior to the game on Sunday against the New York Jets. This will be set up outside of the stadium and can be available for even those without a ticket to the game in Week 3.
Betfred has made a strong presence in the state of Colorado, and that will strengthen with the opening of this new lounge. The operator already has a deal in place with the Colorado Rockies, but joining forces with the Broncos should provide a massive boost.

The announcement of this new sportsbook lounge has been shared on social media by Betfred, and other information can be found on the Denver Broncos website as well. Former Broncos' great Rod Smith will be on hand to help promote the new lounge.
Not only will this new lounge be available this Sunday, but it will also be open on game days throughout the rest of the regular season. This area will only be available to those fans that are over 21, but other events besides sports betting will be taking place as well.
There is also a massive promotion being offered by Betfred to celebrate the launch this weekend as new customers can receive a risk-free bet worth up to $500. This bet can be made on-site, and employees of Betfred will be on hand to help customers get signed up.
When the National Football League allowed its teams to form partnerships with sports betting operators, the Broncos were one of the first to do so. Betfred is not yet a big name in the US sports betting scene, but it continues to make moves in the state of Colorado.
MaximBet Goes Live
The Colorado sports betting industry also had another exciting launch take place this week as MaximBet Sportsbook officially went live. MaximBet has been targeting a handful of states in the United States, but Colorado was the first market to see the product.
In order to gain access into a number of states throughout the US, MaximBet was able to form a partnership with Caesars Entertainment. This deal will allow MaximBet to enter up to as many as ten states, with Iowa and New Jersey next on the list.
Like most sportsbooks that enter the Colorado market, there are a number of terrific promotions available from MaximBet. The sportsbook will be hosting a Halloween party on October 30, and only those that are enrolled in the Rewards program will be eligible to attend.
It will likely take some time for MaximBet to become a force in the Colorado sports betting scene, but it will be a hit with a certain demographic.
Why not check back for more Colorado sports betting news, free bet offers, and CO sportsbooks updates.

Relevant news