Best Slots to Play on DraftKings Casino – The titles you should be playing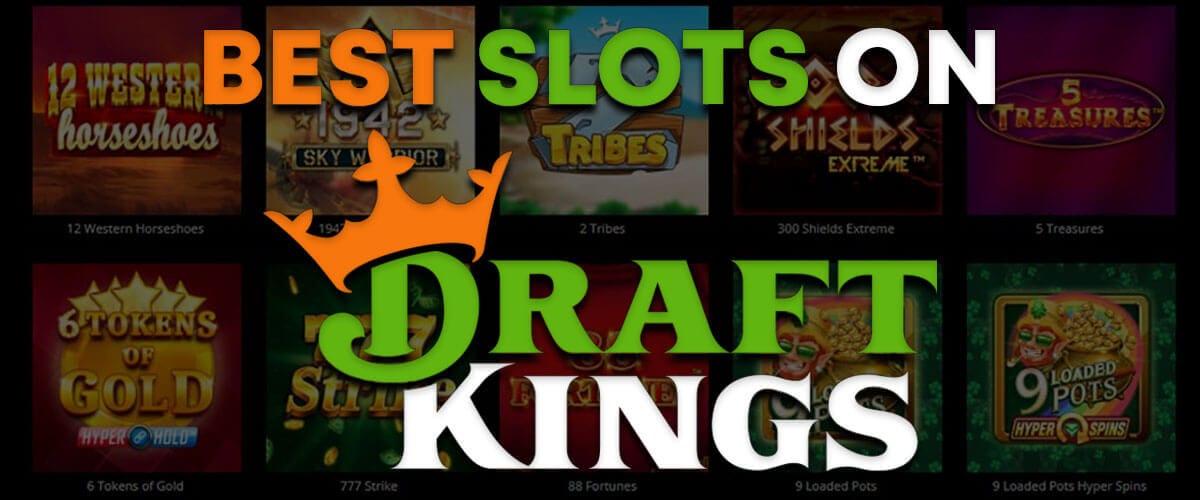 Draftkings is one of the top online casinos in the US. With over 1,000 online casino games to choose from, of which 900 are slots, it makes sense that DraftKings is one of the hottest casino sites in the country. If you are eager to play slots on DraftKings casino, it helps if you know which ones are best. By playing the best online casino games on DraftKings and receiving its lavish deposit bonus, there is no wrong time to sign up.
This article will discuss the best slots and their specific attributes that give rise to reputation. These factors include the slot's RTP, volatility, providers, bonus features, and gameplay.
Note: DraftKings Casino slots are legal in NJ, PA, MI CT, and WV as of today. For players outside the legal gambling states like Colorado, we recommend playing the same games for free or real cash in the following sweepstakes casinos:
List of the 15 Top DraftKings Casino Slots
Our team has put together fifteen of the best slots on Draftkings casino mobile app or desktop site. These online slot games were carefully constructed to satisfy a broad range of casino gamblers. We recommend some of the highest paying slots, megaways slots, progressive jackpots, high free spins slots, and much more.
You do not need to be an expert to play these slot titles. By knowing which slot games offer the best-winning odds and fun gameplay, our recommended list offers a fun experience either way.
Here is a list of the best slots on DraftKings Casino:
| 🎰Slot Name | 💯RTP | 💰Max Winnings | 🧑‍💻Developer |
| --- | --- | --- | --- |
| Mercy of The Gods | 96.64% | X1,600 per stake | NetEnt |
| Mega Joker | 99% | X2,000 per stake | NetEnt |
| 88 Fortunes | 96% | X1,000 per stake | SG Interactive |
| Cleopatra | 95.02% | X10,000 per stake | IGT |
| Gonzo's Quest | 96% | X2,500 per stake | NetEnt |
| Divine Fortune | 96.6% | X3500 per stake | NetEnt |
| Wheel of Fortune Megaways | 96.46% | X85,000 per stake | IGT |
| Starburst | 96.09% | X500 per stake | NetEnt |
| Bonanza | 96% | X10,000 per stake | Big Time Gaming |
| Guns n' Roses | 96.98% | X1,250 per stake | NetEnt |
| Dead or Alive | 96.82% | X12,000 per stake | NetEnt |
| Jumanji | 96.33% | X504 per stake | NetEnt |
| 9 Masks on Fire | 96.24% | X2,000 per stake | Microgaming |
| Hypernova Megaways | 96.09% | X2,000 per stake | ReelPlay |
| Book of OZ | 96.31% | X125,000 per stake | Microgaming |
#1 – Mercy of the Gods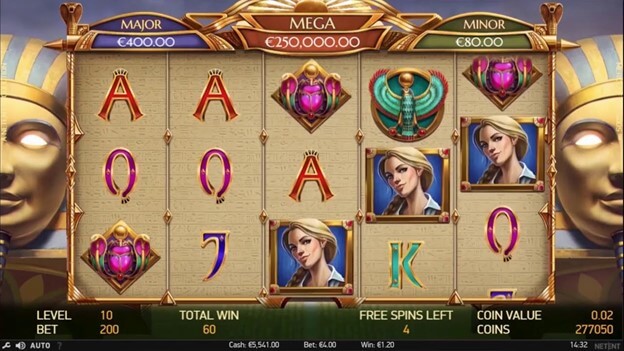 Mercy of the Gods is one of the most famous online progressive slot games for US gamblers, drawing almost equal attention as the well-known Divine fortune. This five reel, three row slot game offers 20 fixed paylines, an RTP of 96.64% and multiple re spin opportunities, creating medium to high volatility.
If the odds are not enough, the visuals and audio of this ancient Egyptian theme will be. Wild symbols like the scarab beetles, Horus falcons, and Tutankhamun encapsulates the Egyptian theme. With crisp graphics and unique features, Mercy of the Gods delivers both in looks and exciting gameplay. The bet size ranges from $0.20 to $100, with your maximum winning potential being 1,600 times the stake and unlimited for the jackpot.
#2 – Mega Joker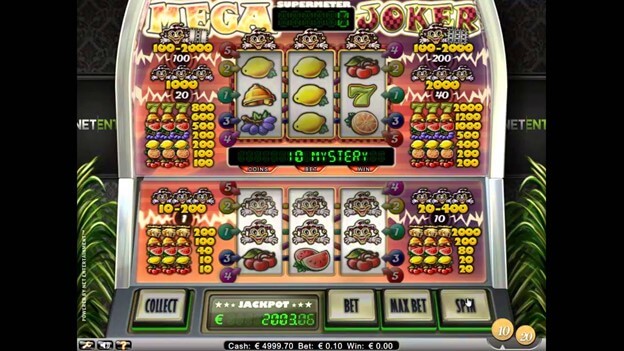 The highest RTP slot game on DraftKings is Mega Joker. It was released in 2011 by world-renowned gaming provider NetEnt. Its RTP ranges from 85.28% up to 99% if the maximum bet of $10 is placed. This return is uncontested by any legal online slot game, and it even offers a jackpot. However, the 3 reel, 3 row slot game only offers 5 paylines and has rather high volatility. Nevertheless, it is a game of great opportunity.
NetEnt focuses more on the odds than the visuals in this fruit machine slot game. It is an arcade-themed slot game filled with fruity fun and vintage-style slot machine sounds. This classic online slot has that nostalgic feeling of the old gaming days, popular under veterans but not so much with the newer generation.
#3 – 88 Fortunes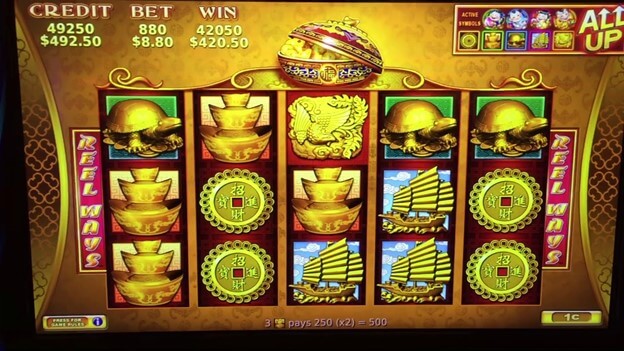 88 Fortunes, created by SG Interactive, is famously known as one of the best jackpot slots on Draftkings Casino and the US. This Asian-inspired, five reel slot title comes with fun gameplay that delivers four jackpot chances and an impressive 243 pay lines. Its Fu-bat jackpot round makes this slot game stand out above most others. Here, players get the opportunity to get their hands on the four major jackpot prizes, known as mini, minor, major and grand.
Besides its great winning potential, 88 Fortunes also offers exciting bonus rounds and free spins opportunities. It has a solid RTP of 96%, with the max bet being $88. The winning potential can be at most 1,000 times the bet. If you are looking to play DraftKings slots that tick all the boxes and offer a great winning chance, 88 Fortunes is amongst your best options.
#4 – Cleopatra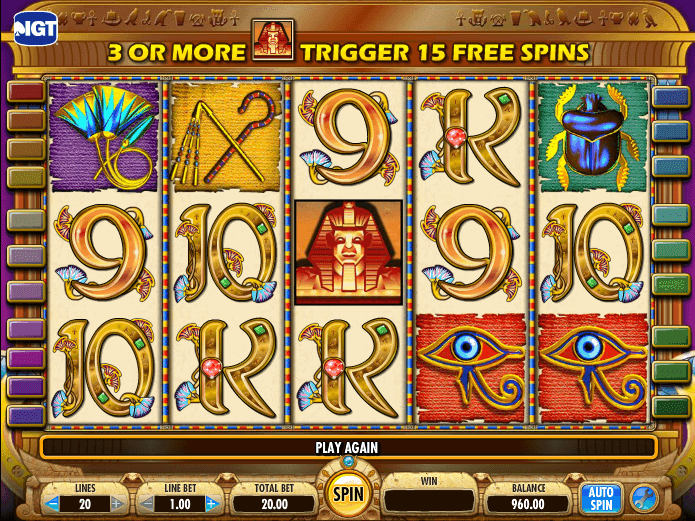 Cleopatra is a classic slot game loved by most gamblers on the DraftKings online casino. IGT has a knack for delivering top-quality slot titles, with Cleopatra being one of their best creations. Inspired by ancient Egypt, this slot game features golden wild symbols that embody the Egyptian culture. With an RTP of 95.02%, bonus rounds, bonus re triggers allowing a max of 180 free spins, it is no wonder why Cleopatra has become one of the most favorable land-based and online slot machines in the US.
The slot machine consists of 5 reel and three rows, offering 20 pay lines and a maximum win of x10,000 your stake. Minimum bets start at $0.20 and go past $10 a stake. With great odds, clear graphics, and amazing audio, this slot is an absolute classic that has been played for years and most probably years to come.
#5 – Gonzo's Quest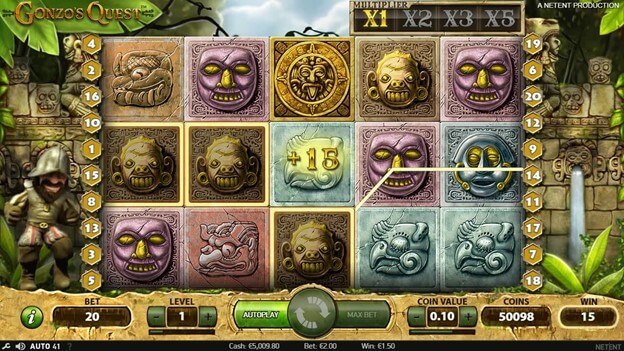 Gonzo's Quest is one of the US's most popular and well-known online slot machines. What sets it apart from most other online slot games is its stunning graphics and unique gameplay style as you travel through the Mayan ruins in search of El Dorado. NEtEnt created it as a video slot built with a mission and backstory to add to the adventured-filled slot game, which has earned itself a platinum release.
As for its winning potential, players have even more to celebrate. This five reel slot offers a just-above-average RTP of 96% with 20 pay lines. Players are limited to minimum bets of $0.20 and a max bet of $50. Players can also enjoy the free fall bonus, which sees potential winnings grow with an x15 multiplier. The same goes for free spins, as players can receive a total of 10 if they start an avalanche by hitting the three gold free fall symbols.
#6 – Divine Fortune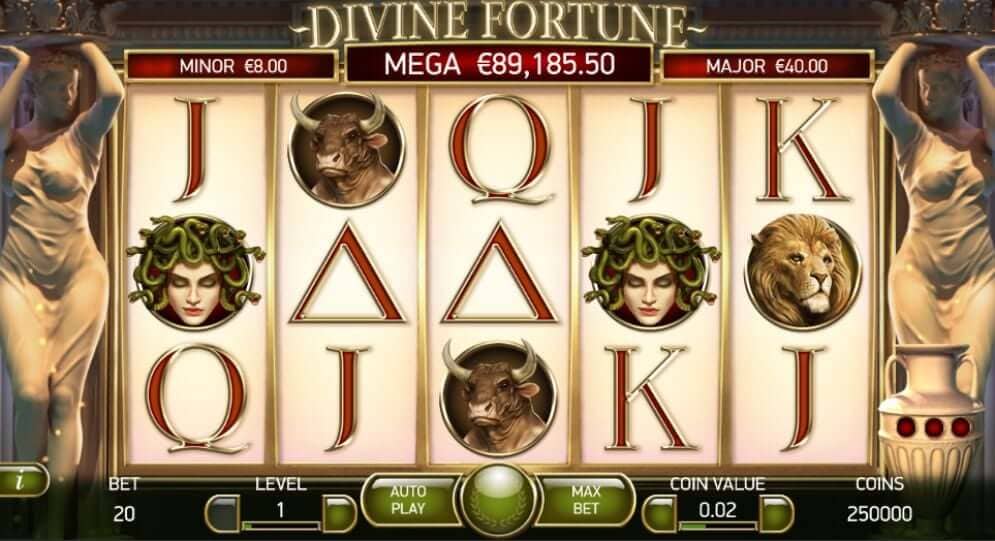 As far as progressive jackpot slots go, Divine Fortune delivers one of the most exciting products of its generation. To start with, only a few progressive jackpots offer major jackpot prizes while maintaining an industry-high average RTP of 96.6%.
We have come to expect this from NetEnt over the years as they deliver yet another beauty. This five reel slot offers 20 pay lines and three jackpot boxes at the top of the machine, named Minor, Major, and Mega.
Set in the midst of Mount Olympus, Divine Fortune creates a thunderous Greek mythological atmosphere that features characters such as Medusa, the Nemean lion, the Phoenix, and more. If players land the wild symbol known as the winged-horse Pegasus, they can win up to 12 free spins.
#7 – Wheel of Fortune Megaways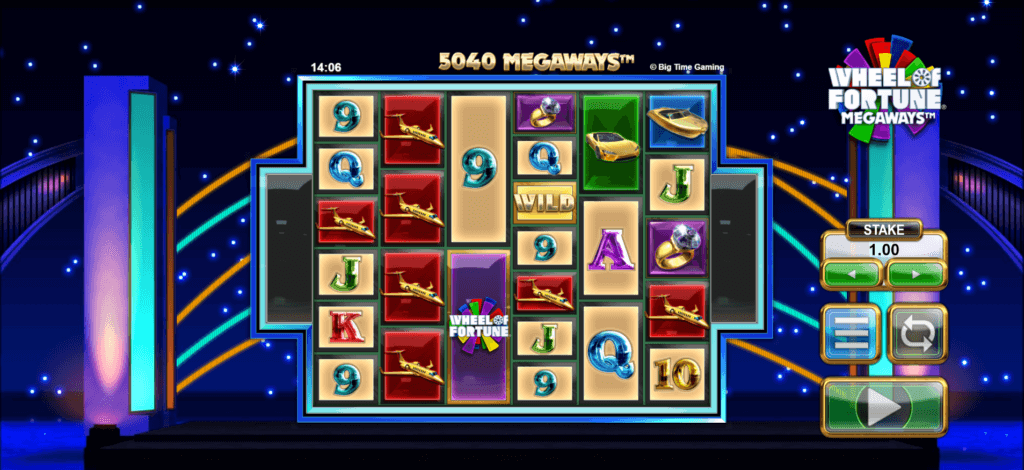 The Wheel of Fortune Megaways was created to add spice to the popular Wheel of Fortune slot game. Originally inspired by the famous tv show, IGT created the Megaways slot version to increase the volatility and, therefore, its maximum winning potential. Now, the slot machine offers 6 rows and 1 million paylines if players hit the free spins round, making it one of the best Megaways slots on Draftkings Casino.
The higher your stake, the higher your potential payout, which can reach a maximum RTP of 96.46%. The min/max stake sits on 0.20c – $100, allowing a maximum payout of x80,000. If you are looking for high volatility-high reward slots at DraftKings Casino, Wheel of Fortune Megaways is a great choice.
#8 – Starburst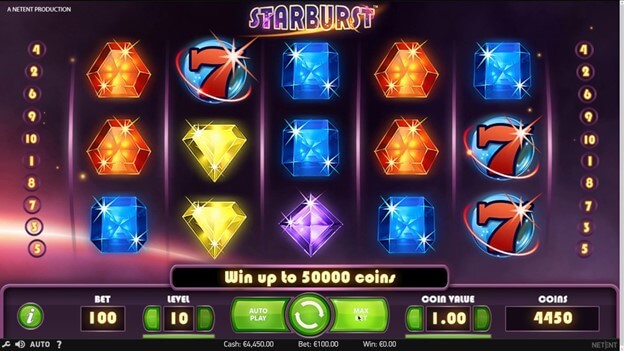 If you think about classic slots, Starburst is one of the first that comes to mind. Since its release in 2012, it has been a massive hit in the online gambling scene. It offers an average RTP of 96.09% and a low variance. This means wins are frequent, and it is one of the few slot machines that allow players to connect tiles from left to right and vice versa. Hence its popularity.
This space-themed classic slot game is yet another NetEnt release and features five reels and three rows, offering 10 pay lines. The slot has great graphics and extremely easy gameplay, making it a complete package for its players. Minimum bets start at $0.10 and go up to $100, with a maximum winnable amount of x500 per stake.
#9 – Bonanza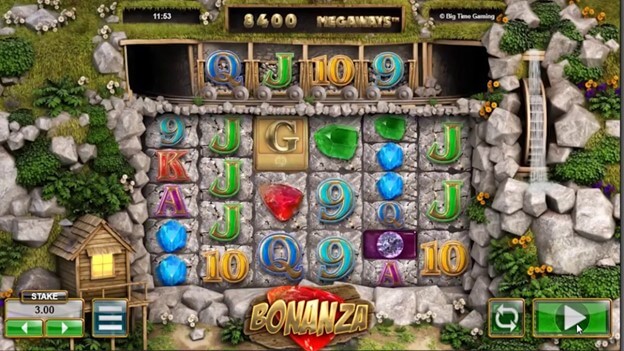 The Bonanza slot game is one of the most popular slots on DraftKings Casino. Players spin the reels that emulate an arcade digging game, with the goal of the game to get diamonds, rubies, sapphires, and gems between all the rocks. The gold slabs are the scatter; if players get any, they win a free spin round. These free spins can be anywhere from 2 to 20.
Software providers Big Time Gaming are the makers, and it features a 6 reel, 7 row slot machine that offers a mighty 117,649 pay lines at an RTP of 96%. As you can imagine, this slot is a medium-volatile game, and minimum bets start at $0.20, with the max bet being $20.
#10 – Guns N' Roses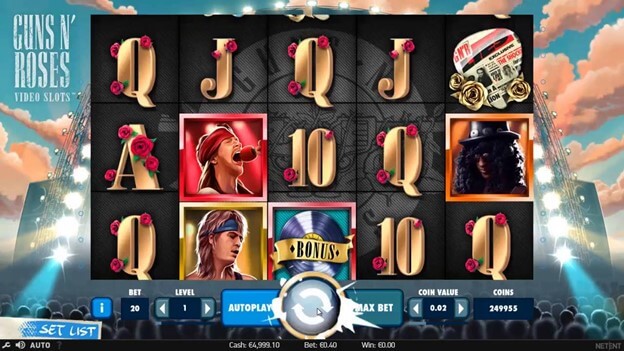 Created by NetEnt, The Guns n' Roses slot machine offers one of the best low variance slot games on the DraftKings Casino app or website. However low its volatility, the excitement tops most other DraftKings casino games with buzzing rock n roll tunes and a toppling RTP of 96.98%. The Guns n' Roses slot machine passes the vibe check with flying colors and offers a maximum winnable amount of 1,250 per stake.
Minimum bets start at $0.20 and go up to a staggering $200. The slot is also packed with free spins rounds, and bonus games to add to the excitement.
#11 – Dead or Alive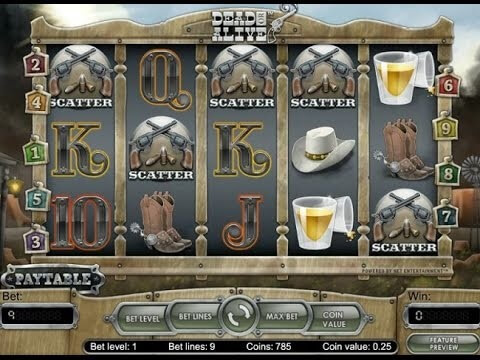 Dead or Alive slot machine is another name that comes into the discussion when we talk about the best slot games. This western-inspired slot machine offers a deadly RTP of 96.82% and a promising bonus round if you hit the wild symbol and scatter. This wild west slot machine is built with 5 reels that offer 9 paylines and a maximum win of 12,000 the stake.
NetEnt is yet again the mastermind behind the popular slot game, evident with its stunning graphics and smooth gameplay, something NetEnt has always excelled at. Offering a max bet of $18, it is not as high as most other top DraftKings casino slots, but it makes up for it in all other areas.
#12 – Jumanji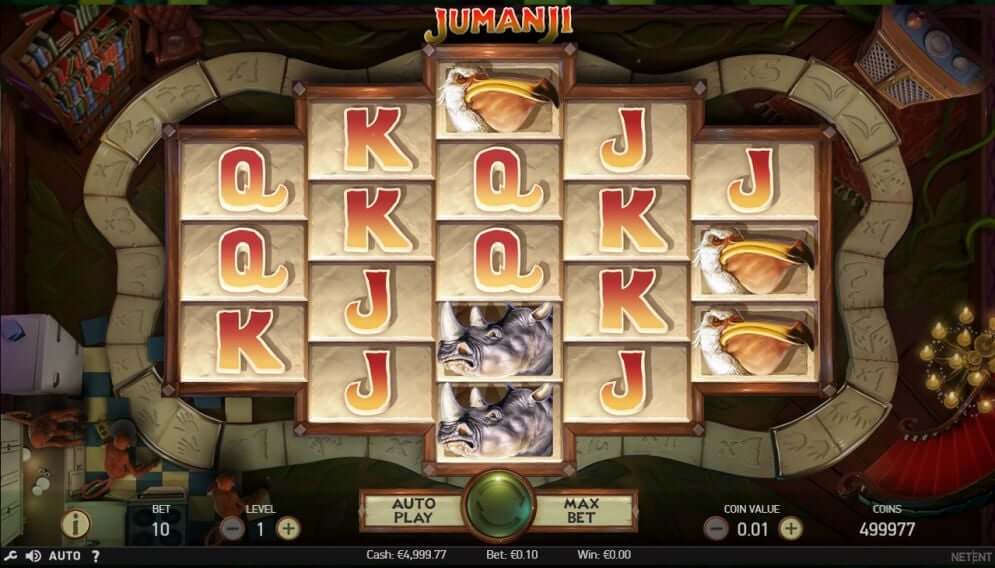 If you have ever watched the Jumanji movie, old or new, you will have a clear idea of the theme and style of the game. This game oozes an Indiana jones-adventure game style and sets off in the jungle of Jumanji, where you will find all sorts of animals and a classic Jumanji box representing the scatter symbol.
Depending on the number of scatters that land, players benefit from bonus game features, free credits, and re-spins. Jumanji is a video slot game with 5 reels and 36 paylines, that produces an RTP of a NetEnt average of 96.33%.
#13 – 9 Masks on Fire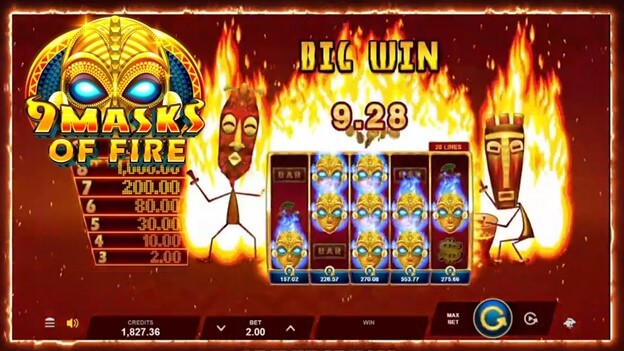 Masks on Fire is truly one of the most unique slots at DraftKings casino. Its tribal African theme is mixed with your standard online slot game theme to bring a mixture of exciting gameplay. It was created by the highly respected Microgaming and features a 5 reel slot with 20 paylines that offers a max win of 7,500 times your stake. If you spin the bonus wheel, players can get up to 30 free spins with an x3 multiplier. Its RTP sits at a DraftKings average of 96.24%.
If you want to play slots different from your classic setup, 9 Masks on Fire is a good bet.
#14 – Hypernova Megaways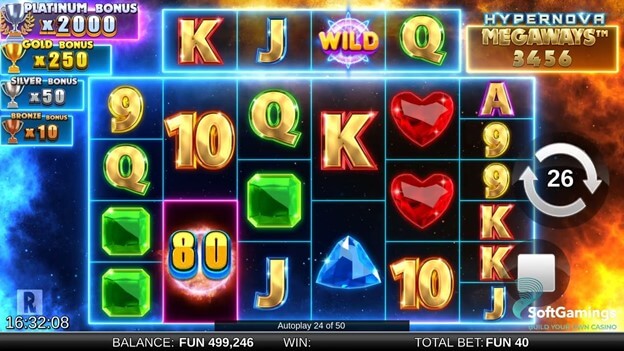 Although it is one of many Megaways slots on DraftKings Casino, it is ranked among the best with its big win potential and straightforward dynamic. Its interface is very simple, displaying the look of any classic casino. The game has no real visual appeal, but do not let that fool you. Its favorable odds, bonus games, and jackpot respins feature set it above the rest.
ReelPlay created this 6 reel, 5 row slot game that offers a solid 117,649 paylines and an RTP of 96.09%. If you line up a few scatters, you can win x10, x25, x250, and even x2000 your stake. This medium to high volatile slot offers bets that start at 0.40c all the way up to $60.
#15 – Book of Oz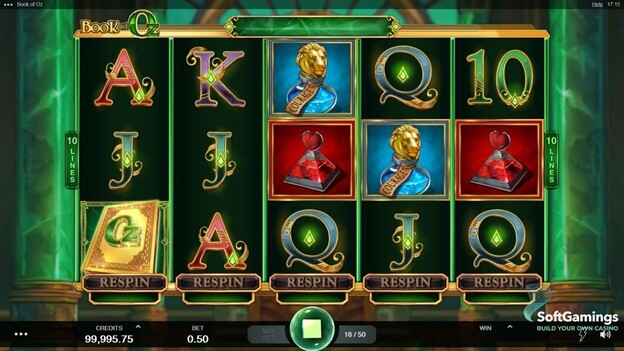 The Book of Oz offers a decent RTP of 96.31%, which is substantially high for a jackpot slot game. It features no bonus rounds, but the jackpot does offer a x500 multiplier. Created by Microgaming, this fantasy slot machine comes in a five reel slot machine filled with emeralds, wizards and mythical characters. There are an average 10 paylines which can see players win a maximum amount of x125,000 their stake.
Bets start at $0.10 and go as high as $25, which is not too bad for DraftKings slots. With a good chance to hit the jackpot and intriguing free spins features, the Book of Oz slot machine has a lot to offer.
How We Selected These DraftKings Slots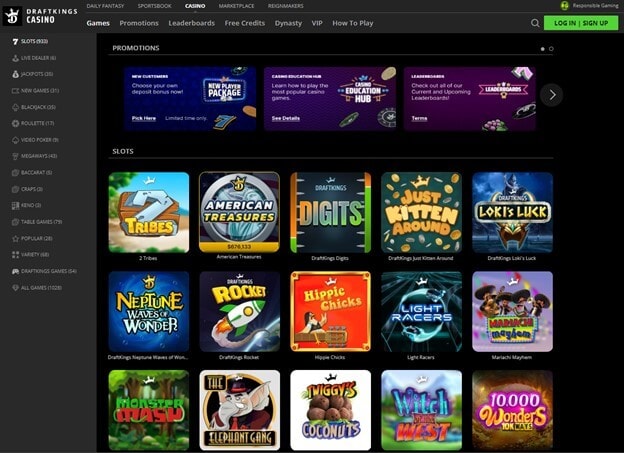 DraftKings slot games come in the hundreds and are amongst the best in the US market. So to trim the numbers, our team looks at specific aspects to help list the best slots on DraftKings casino.
The most important factor we consider is slot games' overall winning chances. By looking at the RTP, volatility, paylines, and maximum winnable amounts, you can determine which slot machines offer high wins and how frequent. While jackpots offer higher wins, so is their volatility. Our team tries to recommend a good balance of low, medium-to-high volatile slot games to give our readers diverse options.
However, when slot games offer close to the same returns and volatility, it becomes essential to dive even deeper. This is where the bonus features, free spins, respins, and bonus games come into account to help separate the good from the best.
However, if you are a gambler looking to play games for excitement rather than the return, our team also chose slot games that offer the best gameplay. We look at the graphics, gameplay style, audio, navigation, and special features. No one wants to play a game that does not visually appeal to them, so our recommended list is also the best and most popular slot machines based on their gameplay.
If you are still determining which slot game to play, we recommend you try the free casino play option. On DraftKings, you can play the demo mode of any slot game. This gives you a chance to try out the game first before dropping money into something you do not know if you will like or not.
Play the Best DraftKings Slots with a Casino Bonus!
Players can enjoy all these DraftKings casino games with a casino bonus if they sign up for the first time. Look at the DraftKings website for how this deposit bonus works and enjoy the fruits of being a new customer. This includes not only the slot games but all the games DraftKings offers. From online slots, table games, live dealer games, video poker, and more.
Using our links is how you can qualify for the DraftKings Casino promo, where you can get $50 in casino credits and a first deposit match of $2,000. To claim, just head over to casino.draftkings.com.
There is no DraftKings slots promo code needed. All you need to do is follow the steps on the website, register, and receive your bonus funds. Sign up today and enjoy!